This is a sponsored post written by me on behalf of NABISCO Cookies and Crackers. All opinions are 100% mine.
Holiday Party Planning + Roasted Pepper Cheese Bites Recipe
Are you hosting a Hanukkah or Christmas party this year? Throwing an amazing holiday party doesn't have to be hard or stressful. Nor does it have to take all of your energy or empty your wallet. With a little careful planning, and a few tricks and tips, you can throw a holiday party that everyone will remember – and one that you can enjoy just as much as your guests! For example, using easy and delicious recipes that can be made ahead of time is one of the best ways to save time and reduce stress.
This recipe for Roasted Pepper Cheese Bites is one such example, and it makes a great appetizer while guests are waiting for everyone to arrive! Don't miss the rest of my tips and tricks for an enjoyable holiday party below the recipe!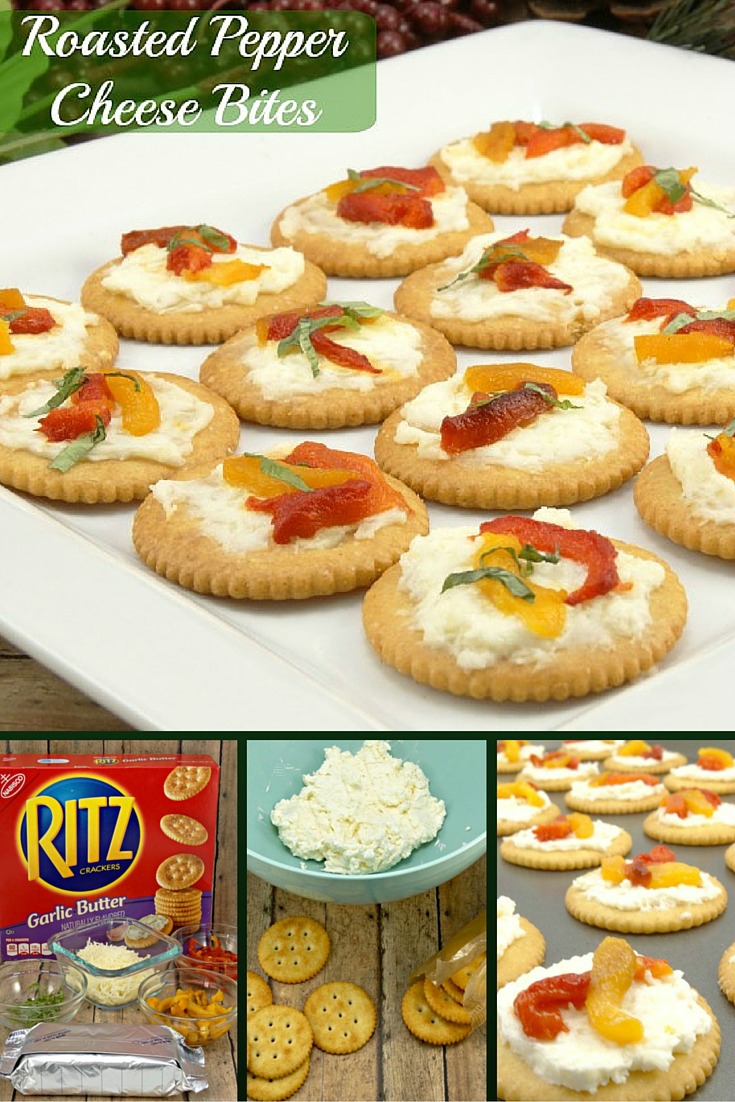 Roasted Pepper Cheese Bites Recipe
This simple, yet delicious recipe will take you just minutes to make but tastes as though it took hours! Don't worry, it'll be our secret! Oh, and to make things even easier, the handy-dandy printable version of this recipe is below.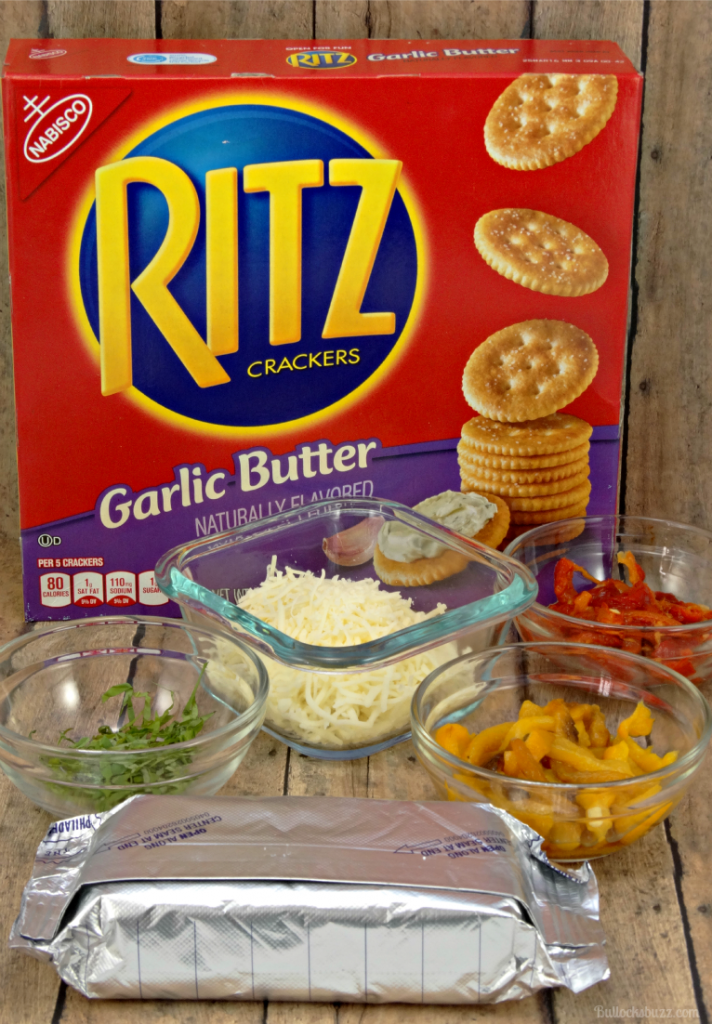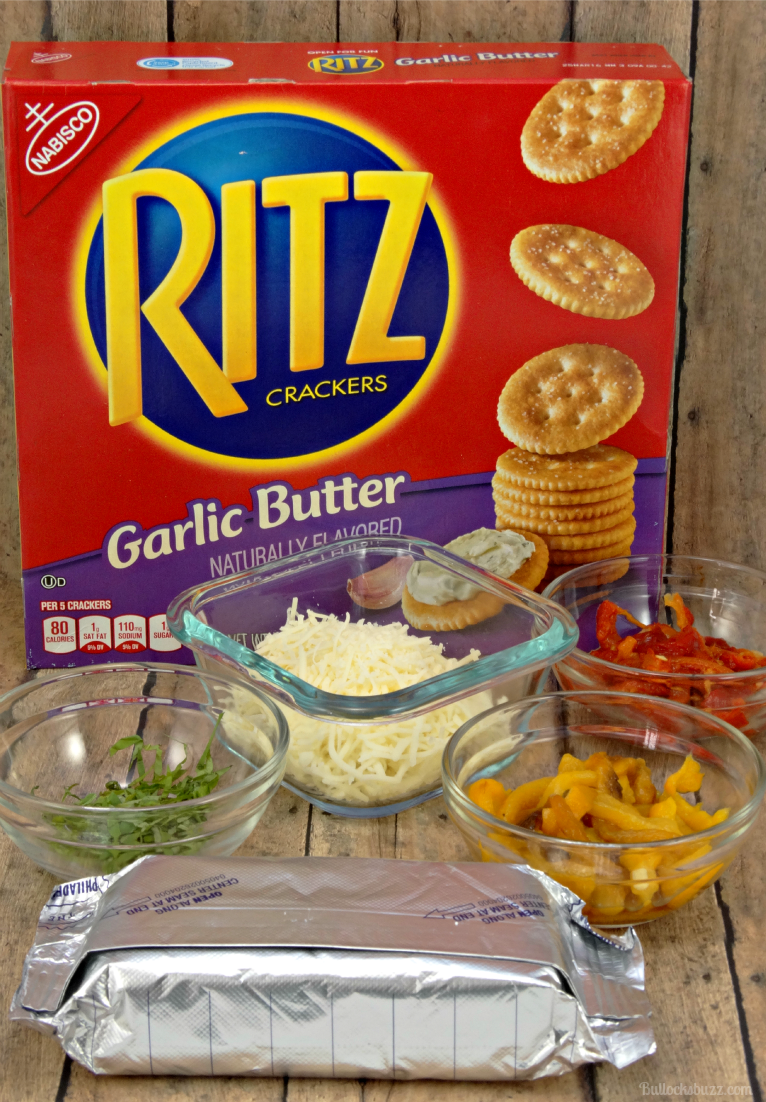 What You Will Need to Make Roasted Pepper Cheese Bites Recipe
4 oz brick of cream cheese, softened
1/3 cup finely shredded mozzarella cheese
24 RITZ Garlic Butter crackers (for a healthier option, substitute with RITZ Whole Wheat)
1/3 thinly sliced, mixed roasted red and yellow peppers (I chose to roast my own, but you can buy them in jars).
2 tsp. fresh chopped basil
What To Do to Make Roasted Pepper Cheese Bites Recipe
Preheat the oven to 350°F, then begin by mixing the cream cheese and mozzarella in a medium bowl until blended.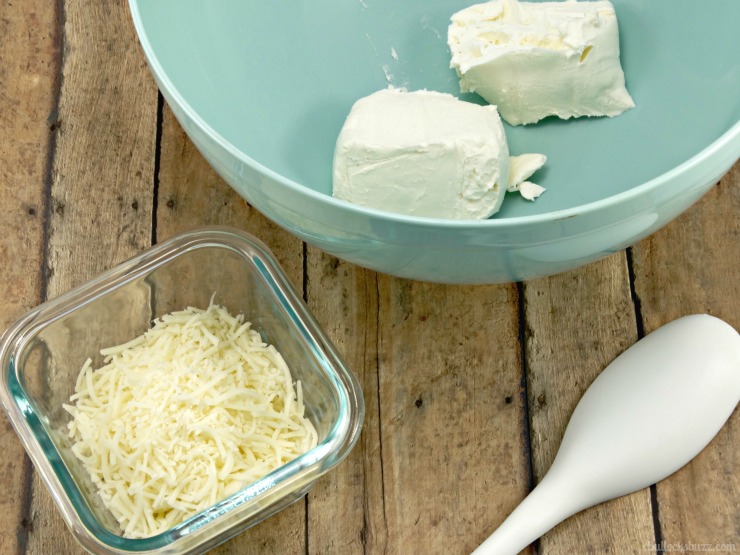 Spread this topping onto the crackers, being a bit generous.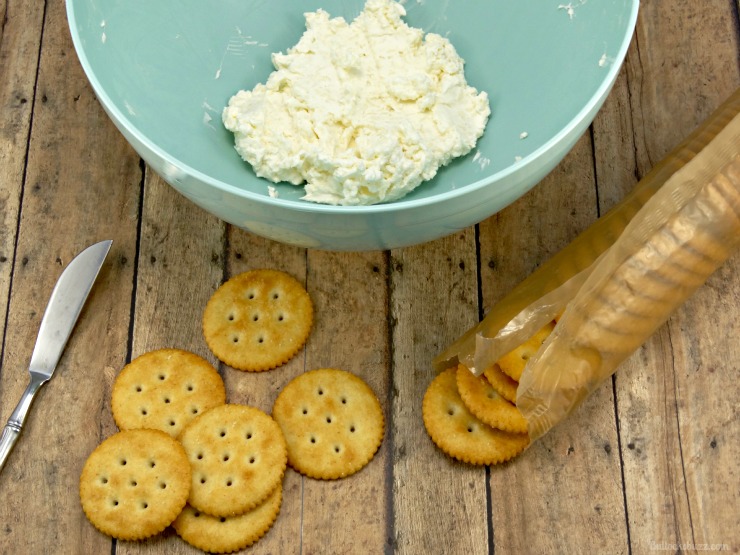 To make things easier, as you finish topping each cracker with the spread, go ahead and place it on a baking sheet. Next, top the crackers with the red and yellow peppers.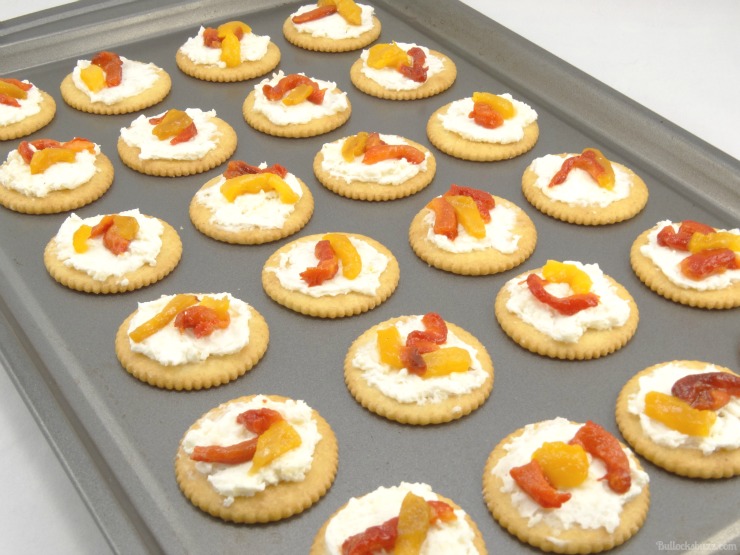 Place in the oven and bake for 5 minutes.
Once finished, remove from the oven and sprinkle with basil. That's it!
See, I told you it was easy! Don't they look delicious?! They taste delicious, too! Now, as promised, here are some more party planning tips and tricks to help you throw a holiday party everyone will love!
6 Easy Holiday Party Planning Tips
1. Decide What Type of Party You Want
Before you can begin to plan, you need to decide what type of party you want to host. Are you wanting a casual gathering like a cocktail party with some light foods and drinks, or would you prefer a sit-down dinner? Casual or formal? Large or small? Once you figure out exactly what you want, it's time to start planning the details.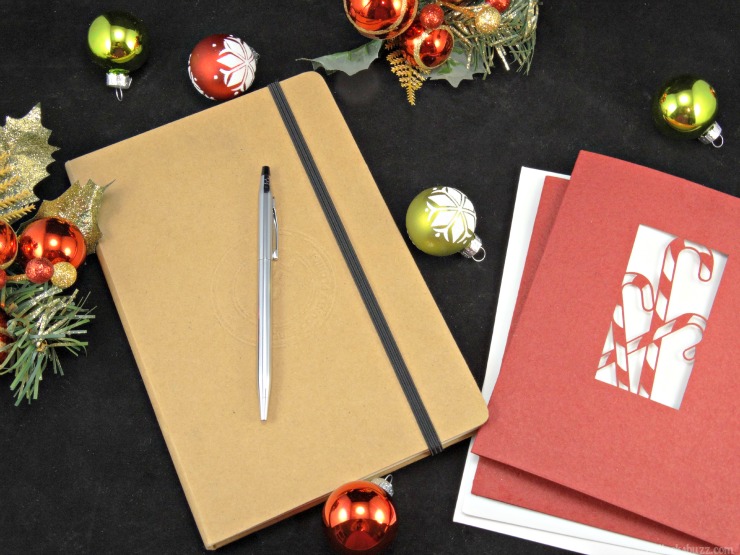 Tip: To make everything more organized, get a small notebook and dedicate a few pages for each detail including the guest list, the menu, decor you will use, and a schedule of what needs to be made and when. This way everything is in one easy- to-locate spot, and you can also keep any special notes – such as a guests' food allergy – where you will be sure not to forget.
2. Put Together a Guest List and Invitations
Next, determine the date, time, and guest list. Then, once you have your guest list together, decide how you're going to get the word out. Are you going to send out invitations via snail mail, or send out emails, or just call everyone?
Tip: Send out the invites at least four weeks in advance, as calendars fill up quickly during the holiday season.
3. Select the Menu
Selecting foods that can be made ahead of time, preferably the day before, will save you time and stress. Be sure to include one or two simple appetizers for guests to nibble on while waiting for everyone to arrive.
4. Decide on Decor
Whether setting up a buffet-style table or designing a holiday tablescape for a sit-down dinner, think small as you want to save space for the food which will also be the main focus. For example, create a low arrangement of blooms instead of a large centerpiece. Then use small accents, such as votive candles, to fill any empty spots on the dining or buffet table.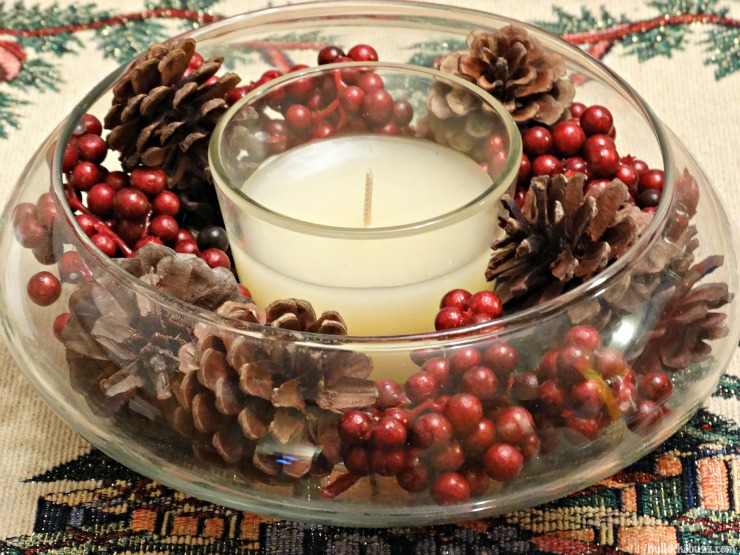 Tip: For an easy and pretty food presentation, use oven-to-table serving ware instead of glass or metal baking dishes. This looks nice and keeps the food warm, plus it saves a lot of time on both set up and clean up. No more worrying about which food should go on what serving platter, or where each item should go on the table. If you don't have these types of dishes, another trick is to label what you are using ahead of time, so you know exactly where everything goes when it comes out of the oven.
5. Prep Ahead of Time
The day before, start making the foods and drinks that can be made ahead of time. Also, for those dishes that cannot be made ahead of time, get as much of the prep work done as you can. This way, on the day of the party, all you will have to do is set up the already-made food and finish up the remaining steps of the food that has to be prepared the day of. The day before is also when I set out my decor, and lay out the table settings including the plates, napkins and silverware.
Tip: On the day of the party, add at least one extra hour to your prep time for any last-minute emergencies. This will also ensure you have time to get ready without rushing, and to relax before guests arrive.
6. Enjoy!
Now all that's left for you to do is sit down and relax. Be proud of yourself and enjoy your wonderful creation!
Tip: About 5 minutes before your guests begin to arrive, set out those quick and easy-to-make appetizers we talked about above.
Do you have any special holiday party planning tips, tricks or ideas? I'd love to hear about them! Share with us below!
Happy Holiday Planning
Yield: 12 crackers
Roasted Pepper Cheese Bites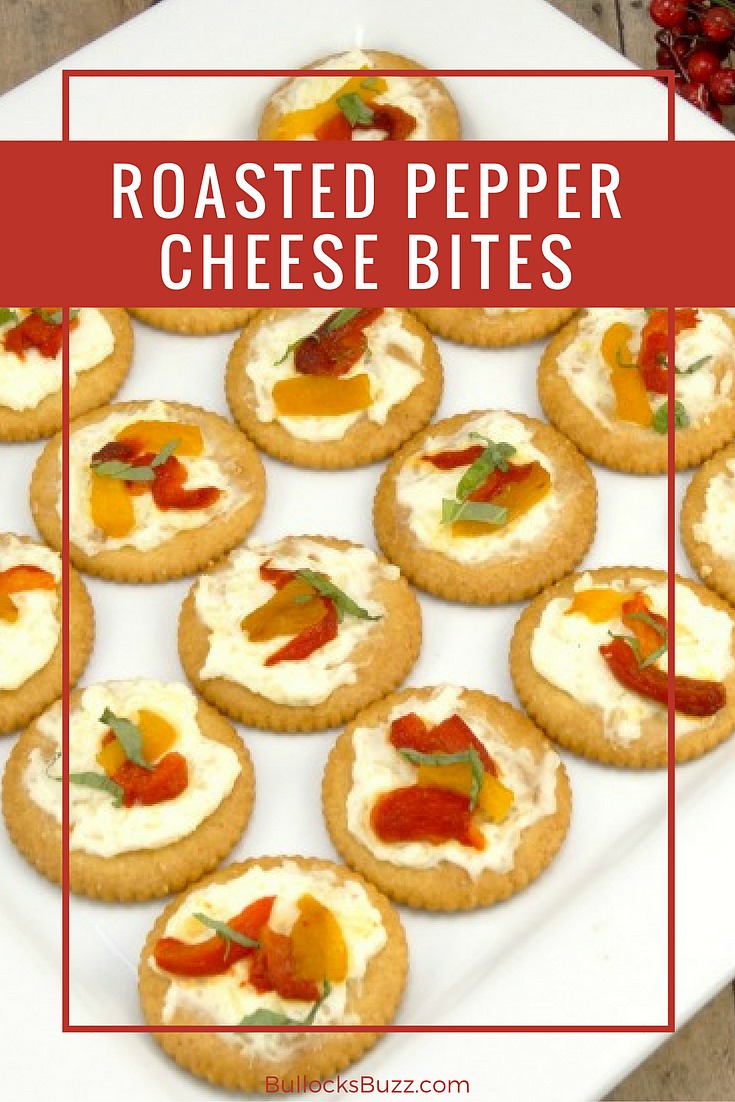 An easy and delicious appetizer perfect for your holiday party that takes just minutes to make! Watch how quickly they disappear!
Ingredients
4 oz brick of cream cheese, softened
1/3 cup finely shredded mozzarella cheese
24 RITZ Garlic Butter crackers
1/3 thinly sliced, mixed roasted red and yellow peppers
2 tsp. fresh chopped basil
Instructions
Preheat the oven to 350°F.
Mix the cream cheese and mozzarella until blended; spread onto crackers.
Top with peppers.
Bake for 5 minutes.
Sprinkle with basil.
Notes
Tip: Substitution - prepare using RITZ crackers with Whole Wheat .

Adapted from Nabisco
Nutrition Information:
Yield:
4
Serving Size:
3 crackers
Amount Per Serving:
Calories:

235
Total Fat:

16g
Saturated Fat:

8g
Trans Fat:

0g
Unsaturated Fat:

7g
Cholesterol:

33mg
Sodium:

320mg
Carbohydrates:

18g
Fiber:

1g
Sugar:

3g
Protein:

5g
Nutritional information is automatically calculated with ingredients and serving size and may not be accurate. Please always double check with your own nutritional apps as well.