With portable technology taking greater and greater advances, almost anything is possible these days. Bluetooth, one of the highest-regarded advances in hands-free technology, is being added to more and more portable devices daily, giving users the option to talk hands-free and watch videos and listen to music wirelessly where ever they go. I love trying out the latest in technology, so when SimplyGlobo offered me the opportunity to review one of their SimplyVibe Bluetooth Wireless speakers, there was no way I was going to turn it down! Especially since I have some new toys I want experiment with using that Bluetooth technology!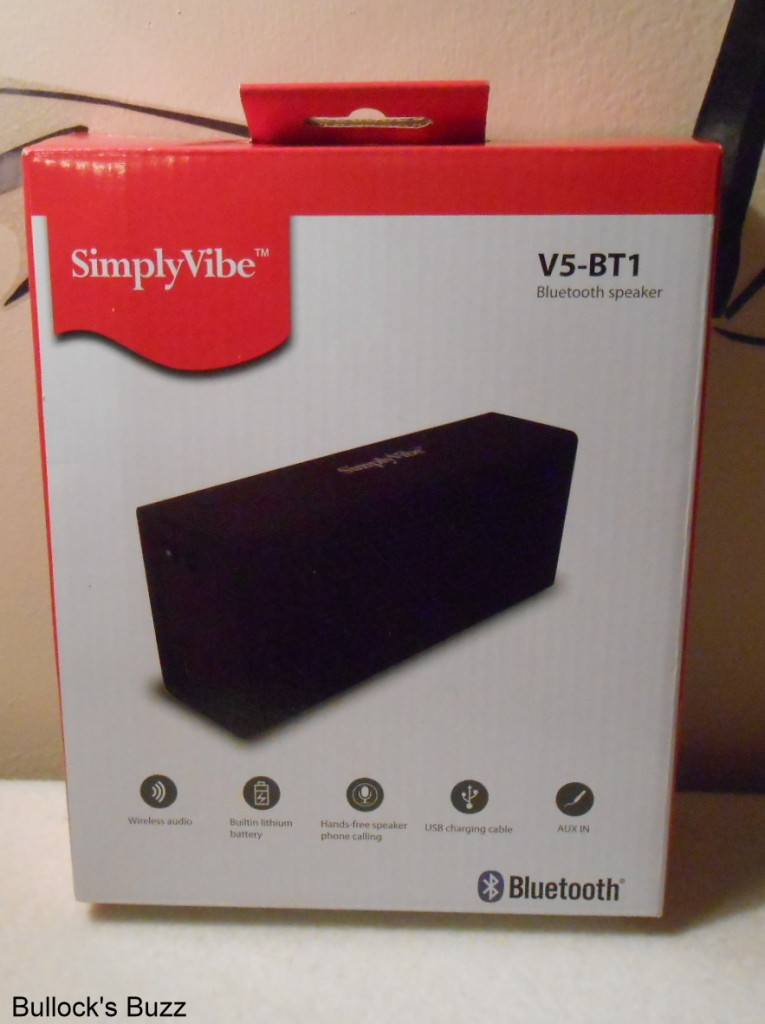 SimplyGlobo is known for their high-quality products including top-of-the line shredders, comfortable air mattresses and high-tech, wireless speakers. I was sent the SimplyVibe V5-BT1 Bluetooth Wireless Stereo Speaker which has a ton of great features along with great sounds! The acoustic, portable speaker is available in both black and white, and comes with a USB to Micro USB charging cable, a 3.5mm to 3.5mm audio cable and an instruction manual. The speaker itself is quite small, measuring only 6″ long, 2.5″ tall and 1.5′ wide, and is coated in a soft-touch rubberized finish. On the bottom are two rubber feet to hold it up off surfaces and keep it from sliding around.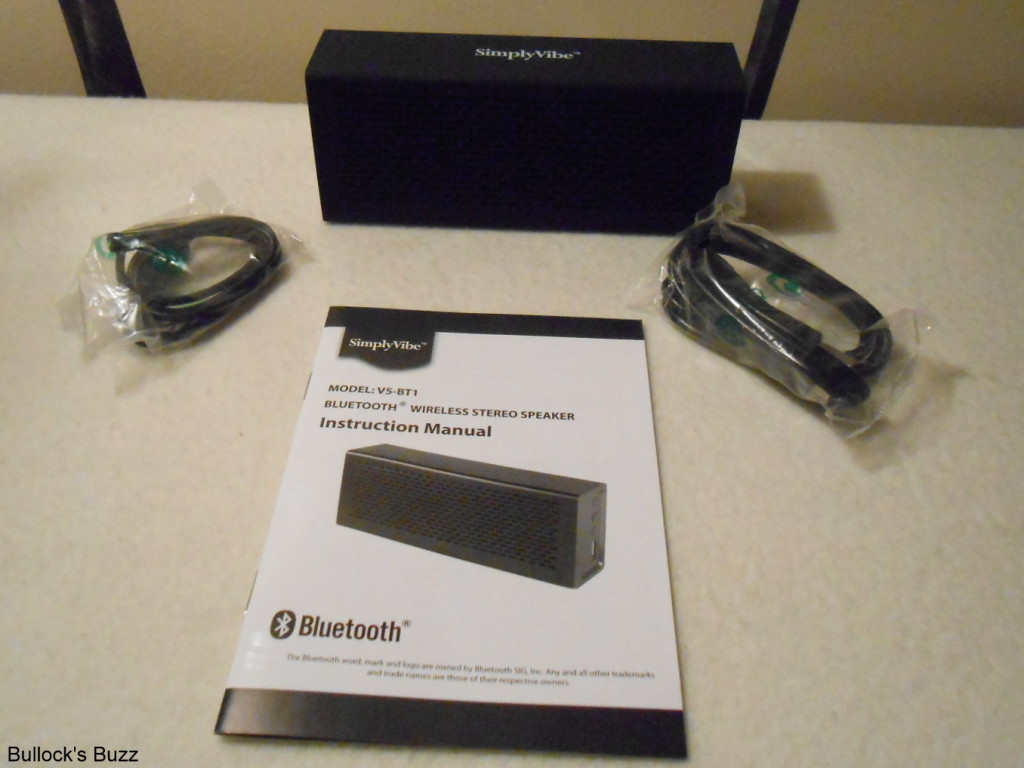 The V5-BT1 uses the Bluetooth 2.1 Platform, and can operate up to a distance of 33 feet. Pairing it with your device is easy, and takes just a few moments with the simple push of a button. This portable Bluetooth speaker can be paired with cell phones, tablets, MP3 players, gaming systems and any other Bluetooth capable device. And for non-Bluetooth enabled devices, it also comes with a line-in feature so you can pair the device directly to the speaker.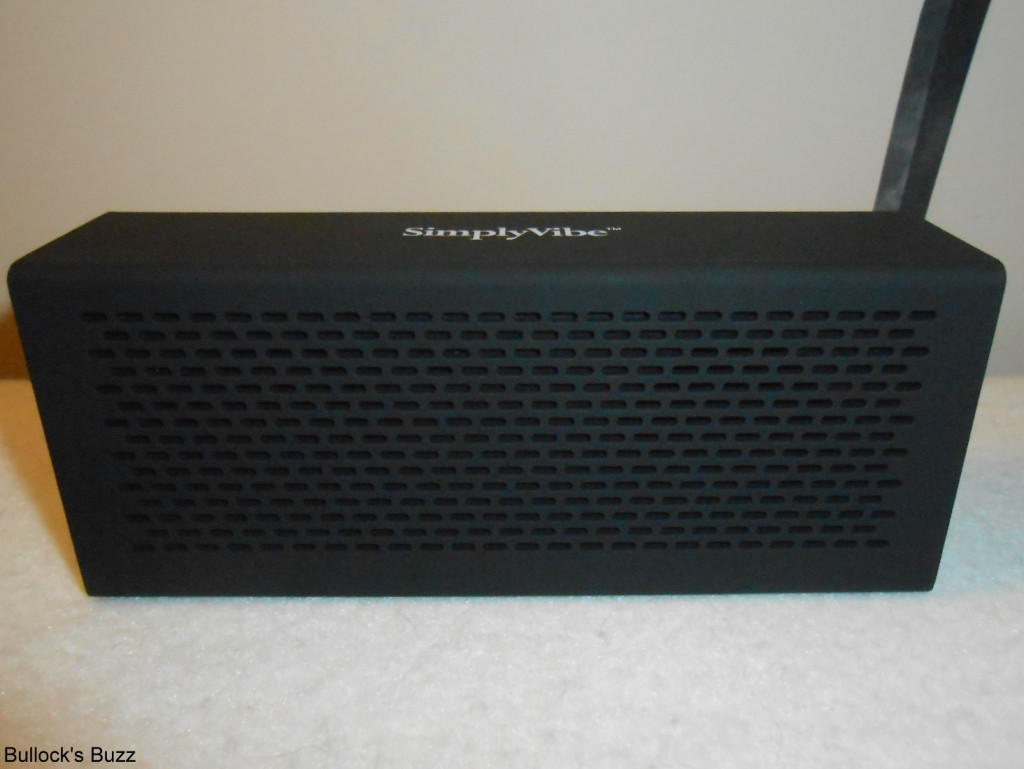 The speaker has a built-in, rechargeable 1,500mAh lithium-ion battery with an operation time of up to 18 hours of music streaming. It is also equipped with a handy charging out feature which lets you support your other portable devices such as cell phones and iPods with a back-up power supply. The smart battery check feature lets you easily check the status of the battery based on the number of LED lights that light up on the side with a simple button push.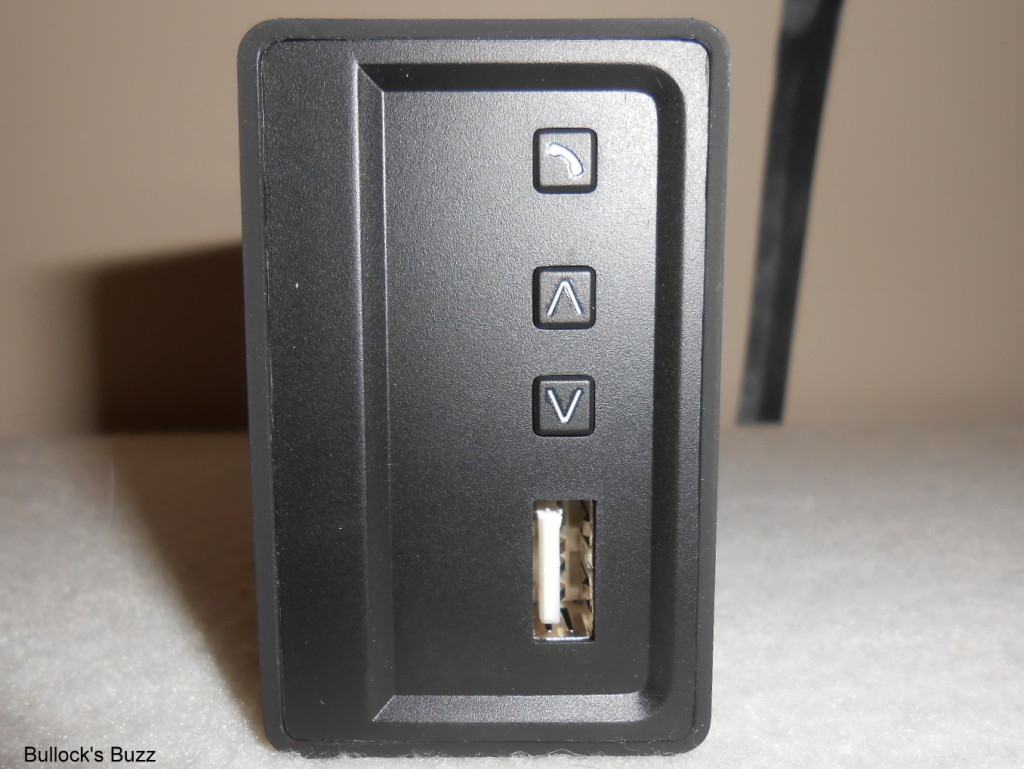 The first thing I noticed was the incredible sound quality for such a small speaker. I was honestly expecting a slightly tinny sound with more treble than anything. Instead I heard rich, full sound, thanks to the two speakers on the front and the passive woofer on the back. I love that this speaker has such amazing sound and is small enough to take anywhere you go.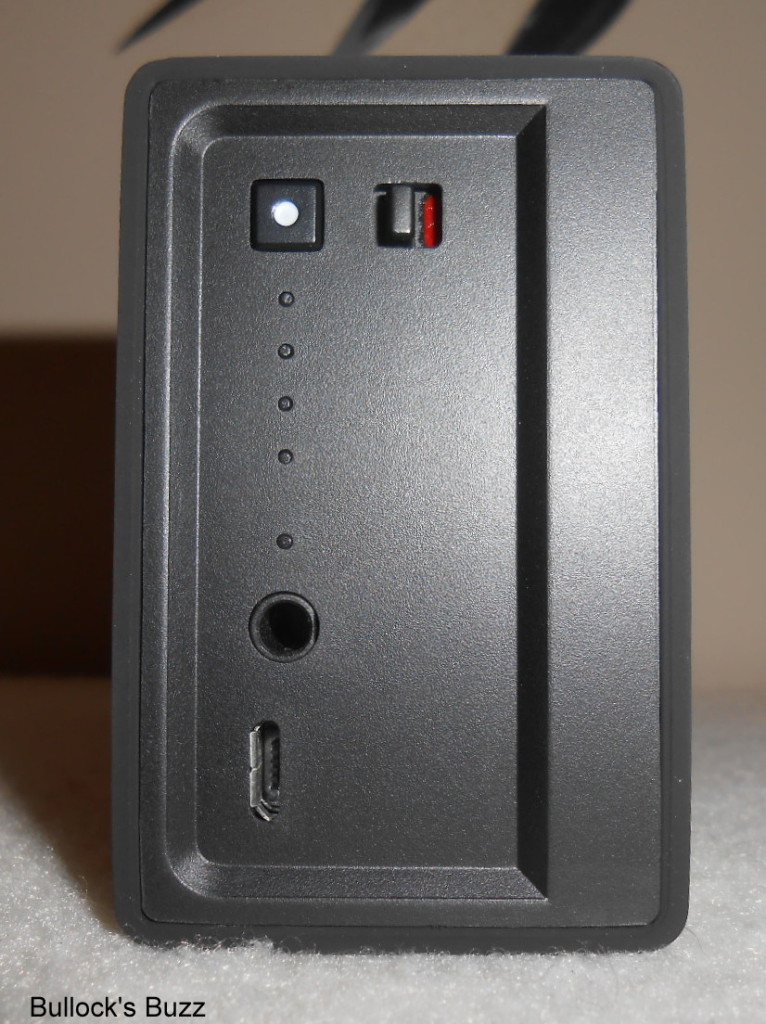 If you are listening to music when you receive a call, the music will pause and you will hear a tone play. You can then answer the call either using your phone or by pushing the button on the side of the speaker that has the picture of a phone. You can clearly hear the caller, and the speaker's built-in microphone lets the caller clearly hear you without any echo or hollow sound. It also lets you know when you have a text message or voice mail, and I love that I have the option to reply to text messages using my voice, instead of my hands, giving new meaning to the term hands-free!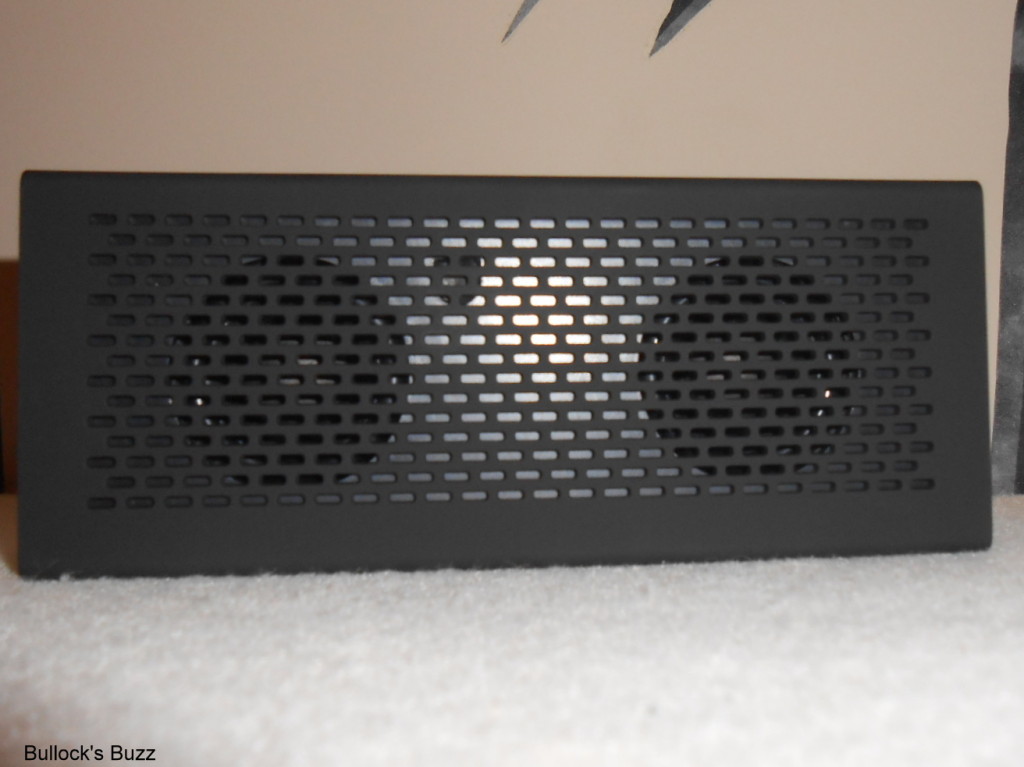 Who would have thought that such a small speaker would be capable of such great sound and so many features! You can easily take it where ever you go and enjoy listening to your favorite songs and videos at any time. It is also perfect for personal calls, conference calls and Skype, making these types of communication much more user-friendly.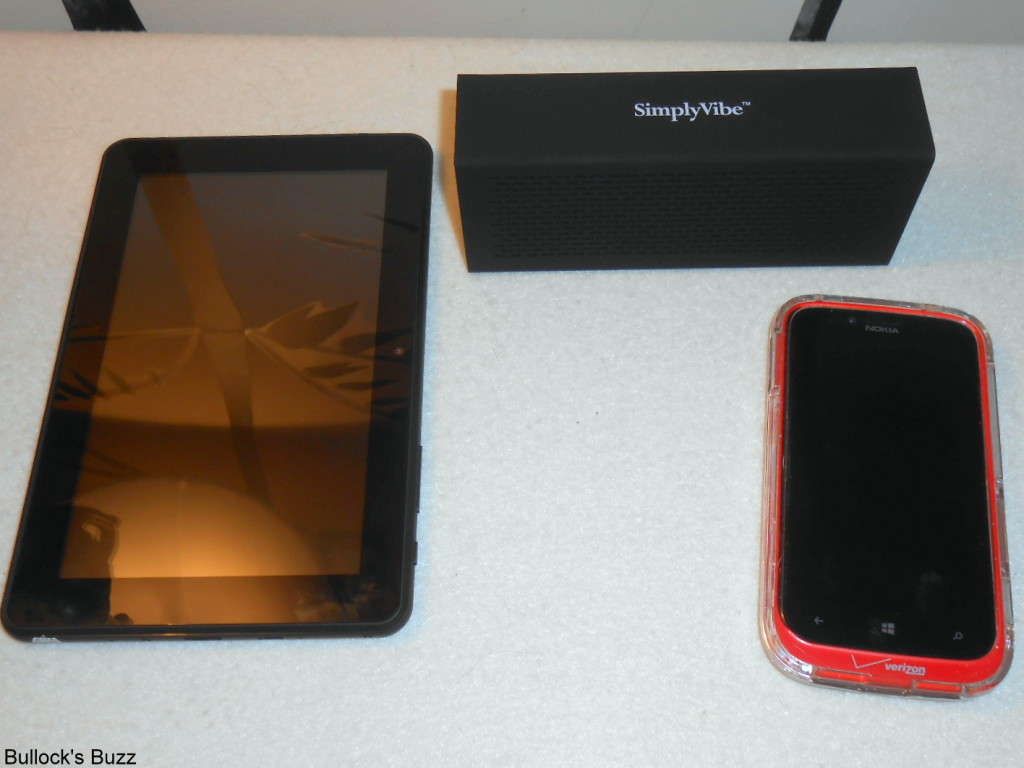 To purchase the SimplyVibe V5-BT1 Bluetooth Wireless Speaker System, visit SimplyGlobo.com and look under Wireless Speakers. Ordering it is quick and easy, and they even offer free shipping! You can also find it through Amazon.com, Sears and other locations both online and off.