Winter Skin Care and Glow-ology Skin Care Products
As the seasons change, you skin care needs change as well. Winter is one of the toughest seasons on skin, not only on your face, but on your hands and body, too. The cold, dry air, bitter winds, low humidity and increased central heat indoors can all cause your skin to look and feel tight, dry, rough and flaky.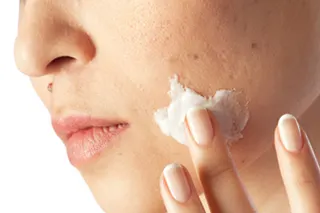 Here are six tips for taking care of your skin during Winter.
1. Exfoliate
Dead skin cells block moisture from sinking into your skin, leaving you with rough, scaly, dry patches. Make exfoliation a weekly part of your Winter skin care routine. When picking a product, look for a super-gentle exfoliator, and use it once to twice a week, gently rubbing in small circles all over your body – especially on elbows, knees and heels.
2. Cleanse
Although a long, hot shower or bath can feel amazing, that hot water actually pulls moisture right out of your skin. Take quick, warm showers instead, using mild face and body cleansers. If your regular cleansers contain glycolic or salicylic acid, opt for a more hydrating version that contains moisturizing ingredients during the cold months. Also, for skin that has become so dry it is itchy, take a lukewarm bath with oatmeal or baking soda for relief.
3. Moisturize
Hydrating skin is one of the most important steps you can take. Look for thick and rich ointments and creams, or oil-based lotions for the winter. You can also look for lotions containing "humectants," (including glycerine, sorbitol, and alpha-hydroxy acids) which work to attract moisture to your skin. Moisturizing at least twice a day is ideal— and applying moisture to damp skin within 2 to 3 minutes of getting out of the shower helps seal that dampness into the skin.
4. Use Sunblock
The Winter sun — combined with snow glare — can damage your skin just as it does during the hot, Summer months. Protect your skin from those harmful rays by applying a broad-spectrum sunscreen lotion with an SPF 30 or more 30 minutes before going outside. If you stay outside for long periods of time, reapply frequently. Also, it's a good idea to carry a sunscreen powder for touch-ups.
5. Invest in a Humidifier
Whether your heat is gas or electric, that hot air they emit is extremely dry and pulls the moisture right from your skin. Consider investing in a humidifier to add more moisture to the air, which in turn will help prevent your skin from drying out. If possible, place several small humidifiers throughout your home in order to help disperse the moisture more evenly.
6. Dress to Protect
When heading outdoors, dress for the weather with a hat, scarf, and gloves to avoid windburn and prolonged exposure to cold, dry air. Wearing layers allows you to remove clothing as needed to prevent overheating and sweating which leads to itching and scratching, and be sure to wear loose-fitting cotton fabrics next to your skin. Avoid wearing rough materials such as wool right next to the skin as they can be irritating. Also, be sure to avoid wet socks and gloves which can irritate your skin and cause itching, cracking, sores, or even eczema.
Glow-ology Makes Winter Skin Care Easy
As I mentioned above, one of the most important steps in your Winter Skin Care routine should be moisturizing. While keeping your face hydrated is important, many people forget about their hands and body which need hydration just as much as your face. Glow-ology makes an entire line of luxurious organic skin care products ideal for keeping your skin soft and hydrated all year round.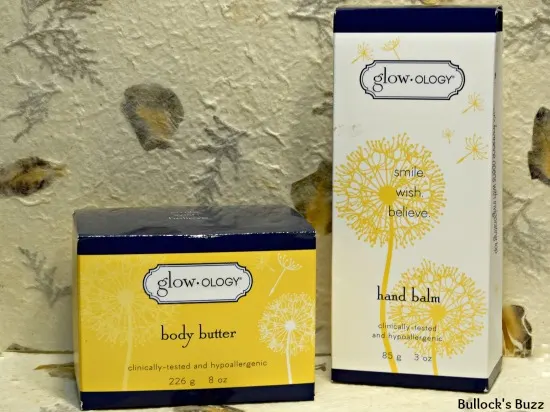 Made right here in the U.S.A., Glow-ology products are made with safe, natural and organic ingredients. They contain absolutely no parabens, phthalates, sulfates, petrolatum, dyes, formaldehyde donors, GMO's, triclosan or PPG's. Plus, they are cruelty-free and never tested on animals. Their products are also all clinically tested, hypoallergenic, and dermatologist tested for sensitive skin.
The Glow-ology product line consists of four incredible scents – Smile, Imagine, Renew and Love – and includes hand wash, hand balm, hand lotion, body wash, body lotion, and body butter. While I love the entire Glow-ology line, two of my personal favorites – especially for Winter skin care – are their Hand Balm and Body Butter.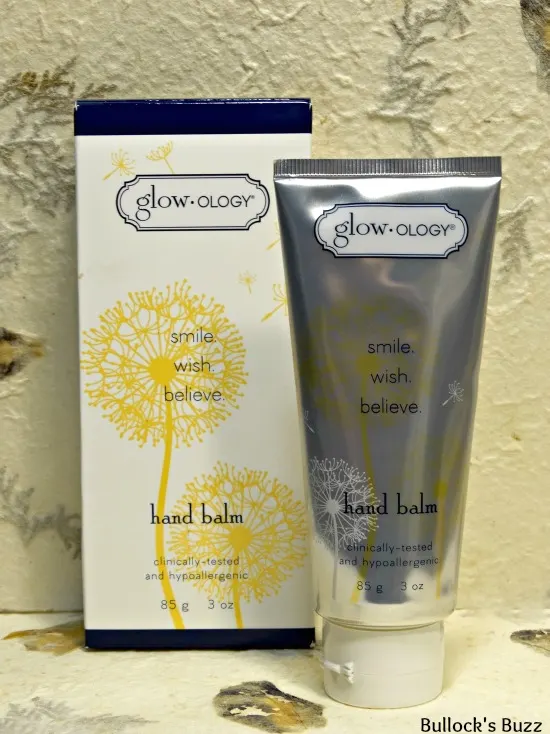 Glow-ology Hand Balm: Smile
The ultra-moisturizing Glow-ology Hand Balm contains pure shea butter and natural alpha-hydroxy acids which work to both exfoliate and soften dry rough skin on your hands, while providing long-lasting moisture. Its light, almost whipped cream texture is quickly absorbed and the benefits are apparent immediately. I love the gentle, lingering scent of Smile which is an invigorating and energetic blend of juniper and pineapple with hints of peony and freesia, all counterbalanced with violet leaf and neroli. This refreshing scent lingers without being over-powering.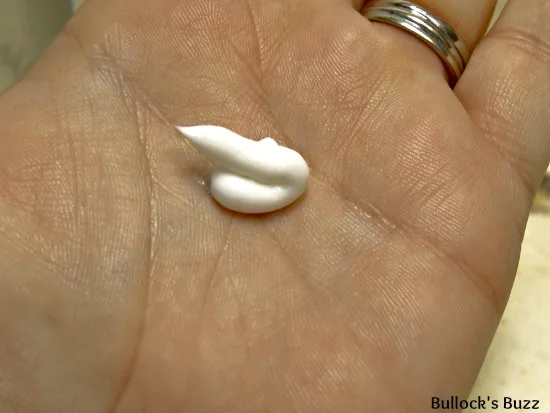 Glow-ology Body Butter
Thick and creamy, this Glow-ology Body Butter is packed full of natural vitamins and organic ingredients to provide your skin with the moisture it craves. It also works to gently exfoliate while providing hours of long-lasting hydration. A small amount is all I need to have incredibly soft, moisturized skin on my arms, legs, back and the rest of my body. Like the Hand Balm, the rich scent of juniper, pineapple, peony and freesia counterbalanced with violet leaf and neroli, awakens and invigorates, and leaves my skin smelling wonderful for hours.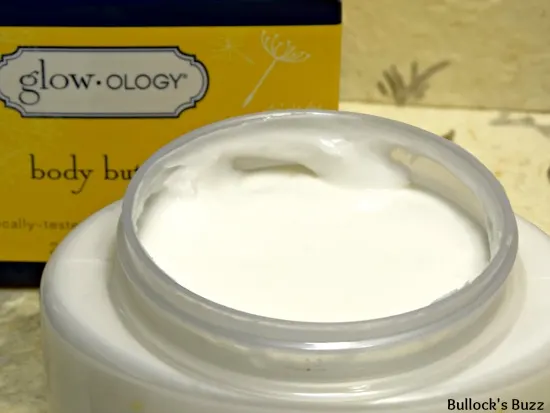 Where to Find Glow-ology
Glow-ology can be purchased both online and off. Use the location finder on their website to find a store near you.
Connect with Glow-ology: Shop | Facebook | Twitter