This bright and colorful St. Patrick's Day Dessert Charcuterie Board is SO much tasty fun! From shamrocks to rainbows plus a pot of gold, this sweet Dessert Charcuterie Board for St. Patrick's Day has it all!
Charcuterie boards, or food boards, are all the rage these days. Take a look at Pinterest or Instagram, and you'll see all sorts of delicious creations. Best of all, charcuterie boards are no longer just about meats or cheese. You can find them for pretty much every food group and meal. After seeing so many great ideas, I just had to make one of my own! So today I'm sharing my first attempt at a charcuterie board that's perfect for parties – an adorably sweet St. Patrick's Day Dessert Charcuterie Board!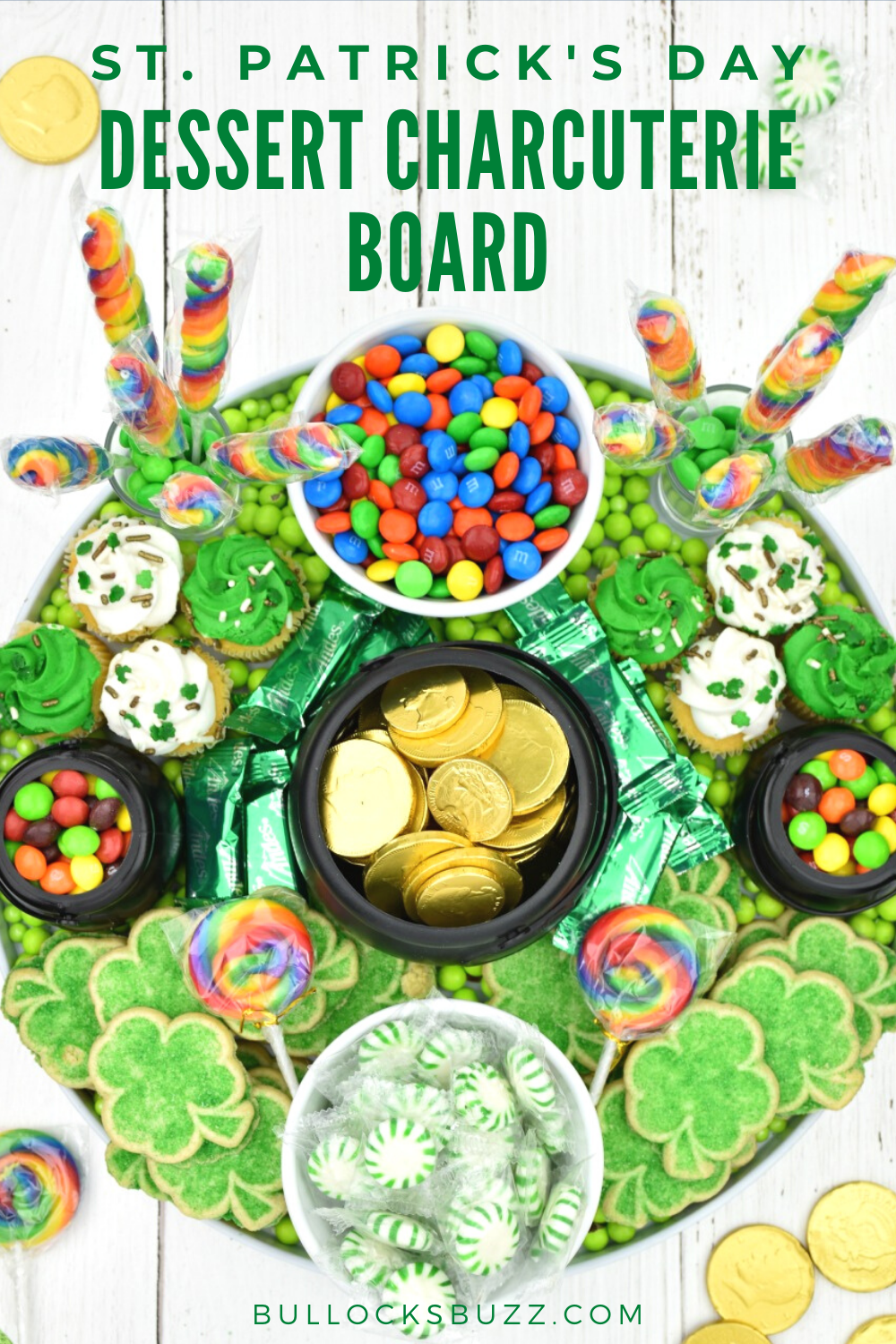 What is Dessert Charcuterie?
Dessert charcuterie boards are the newest fun way to serve dessert. They're the latest version of the dessert table and are mind-blowingly easy to create. You mix and match your favorite sweets and snacks, then lay them out on a board or platter. Easy as pie!
They are also THE way to go when you're serving a crowd. A charcuterie is perfect for sharing! There is some prep involved when making them, but they're very little work once the guests arrive. Plus, they make for a deliciously-beautiful presentation.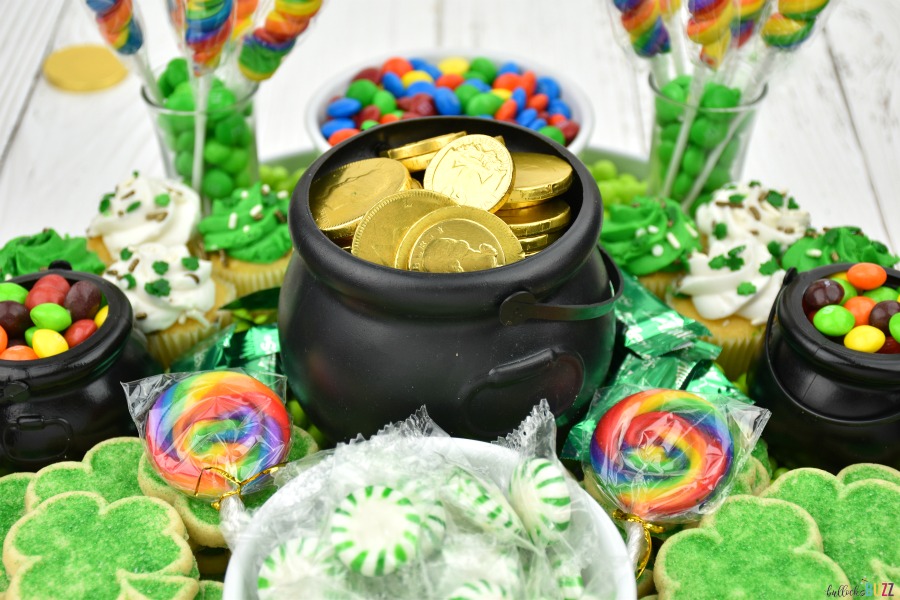 What Goes on a Dessert Charcuterie Board?
Pretty much ANYTHING goes when deciding what to put on a dessert board. If it's a treat or dessert, add it! You can use all homemade treats, store-bought treats, or a combination of both.
You can also add some delicious dips to your dessert board, just like you'd add to a chip and dip tray. For example, this no-bake Patriotic Funfetti Cake Cheese Ball would go perfectly with a dessert-themed Fourth Of July Charcuterie Board!
And speaking of themes, charcuterie boards are also incredibly versatile. They can be made to fit any occasion or holiday simply by changing the overall theme.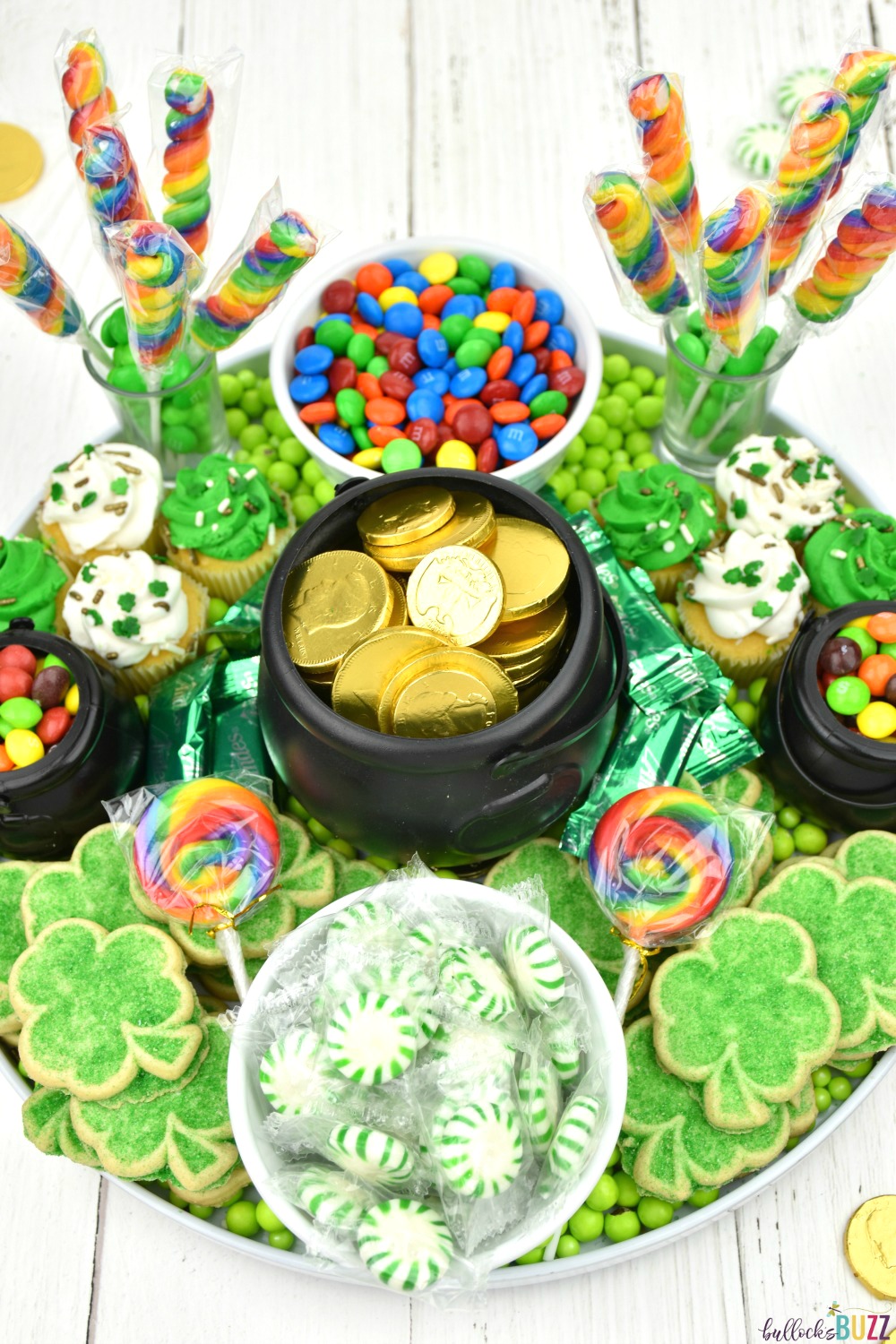 How to Make a Dessert Charcuterie Board
Making a St. Patrick's Day dessert charcuterie board is extremely easy and there's really no wrong way to make them. Below are some yummy tips to help you get started!
I believe that the best dessert charcuterie boards always provide three things:
A fun theme.
A variety of treats, colors, and textures.
An abundance of offerings and fillers.
Therefore, to make a dessert charcuterie board, you'll need to do a bit of planning before you get started.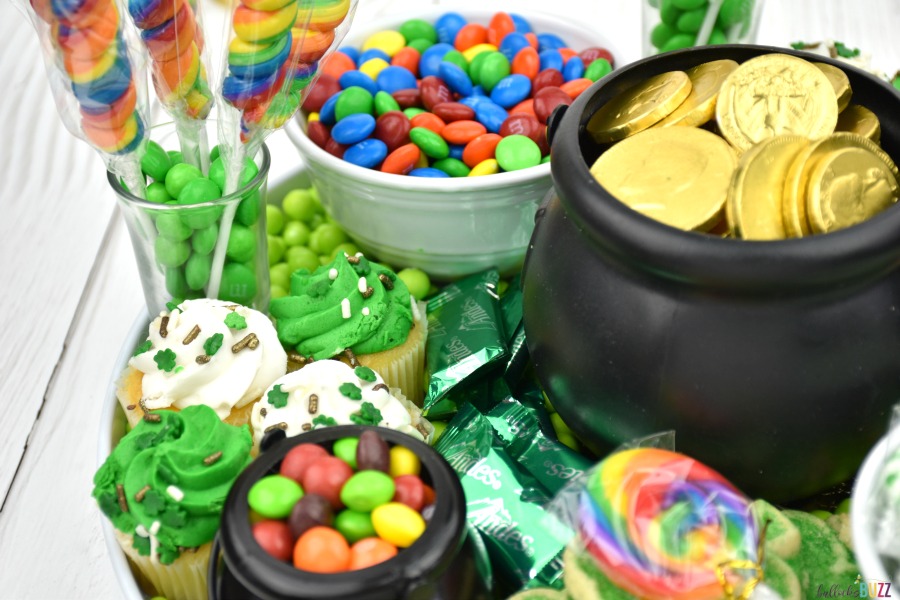 Choose a Platter to Use for Your Dessert Charcuterie Board
When choosing a platter for your charcuterie board pretty much anything goes (you'll notice this is an ongoing theme with charcuterie boards, lol). I've seen them made with cheese boards, serving trays, chargers, and more. I personally like to use a Lazy Susan as guests can easily spin it around to get to the desserts they want. Whatever you choose, just make sure it is large enough to hold enough food for the number of people you are serving.
Pick a Theme
Next, decide on a theme. Your theme could be based on a holiday (like this St. Patrick's Day Dessert Charcuterie Board), a special occasion like an anniversary or birthday, a specific color, a certain cuisine, date night, girls' night, heck, even a movie theme! Again, anything goes!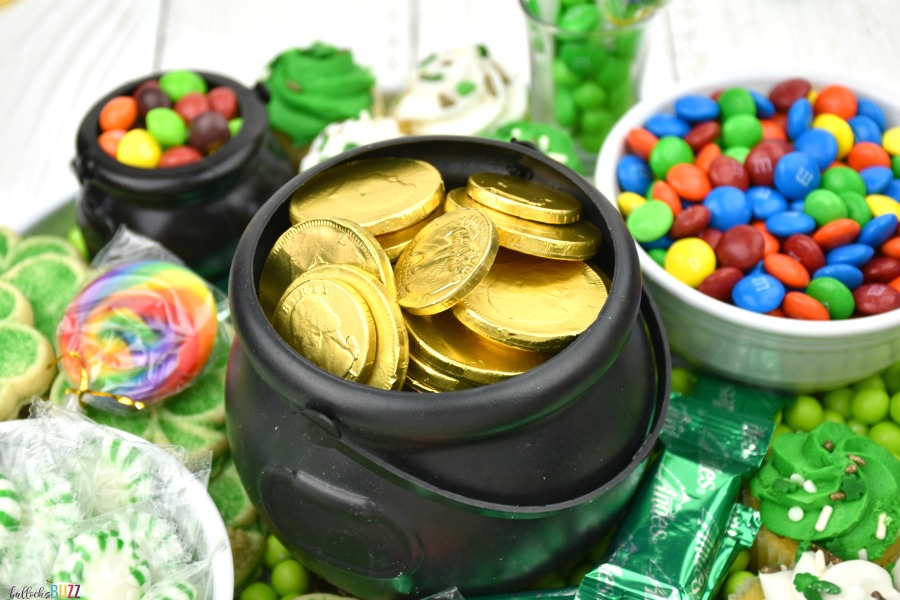 Decide on a Centerpiece
After choosing your theme, decide whether or not to add a centerpiece. This could be, for example, a cake in the middle, a football-shaped bowl of dip, or even 2-3 small bowls or containers filled with items to create texture and height – as I did with the pot of gold and two smaller bowls.
Pick a Variety Of Treats
Next up, pick the treats to serve. You'll want to provide a nice variety of desserts when selecting foods to add. Most people add 8-12 different items to put on a dessert charcuterie board. Having a wide variety will not only appeal to people's tastes but it will also make your dessert board visually appealing with all the different colors and textures.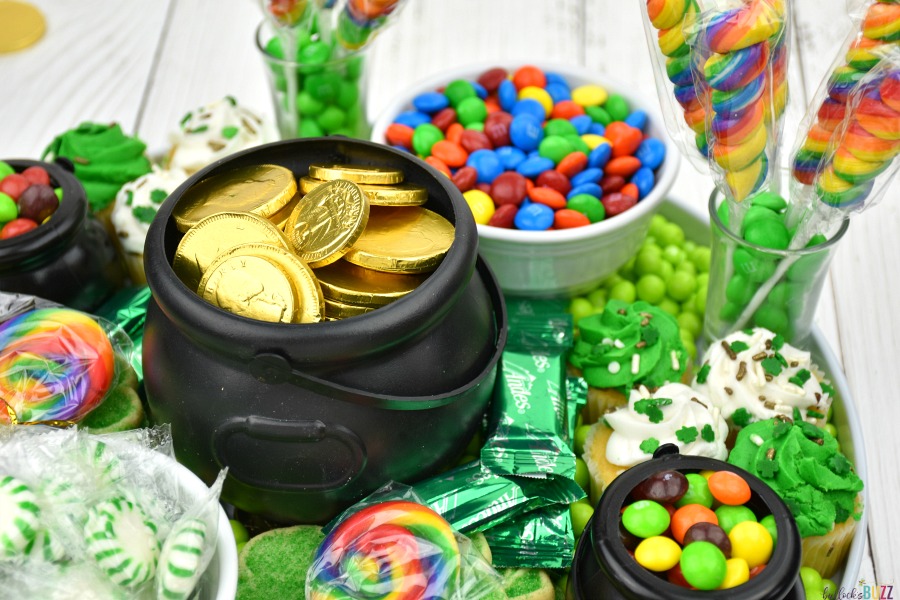 Putting It All Together
Now that the planning part is out of the way, it's time to put it all together. Here are a few tips to help:
use smaller dishes and containers to divide things up and add more visual interest.
arrange your items in small groups all over the board.
start with placing the centerpiece and/or bowls on the board and fill them first.
then add the rest of the candies and treats around those.
be sure to completely cover the entire board or tray so it's full.
use small candies or nuts to fill in any holes or gaps.
alternate colors and textures as you lay out your treats.
don't be afraid to do a bit of rearranging at the end to get the look you want.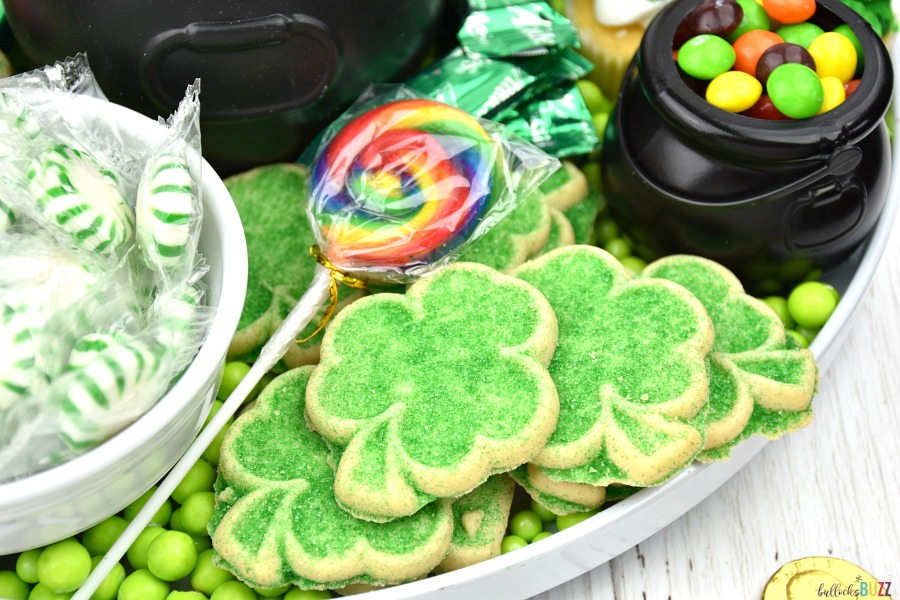 St. Patrick's Day Dessert Charcuterie Board
This eye-catching Dessert Charcuterie Board for St. Patrick's Day is SO much tasty fun! From shamrocks to rainbows plus a pot of gold, this colorful sweet treat has it all!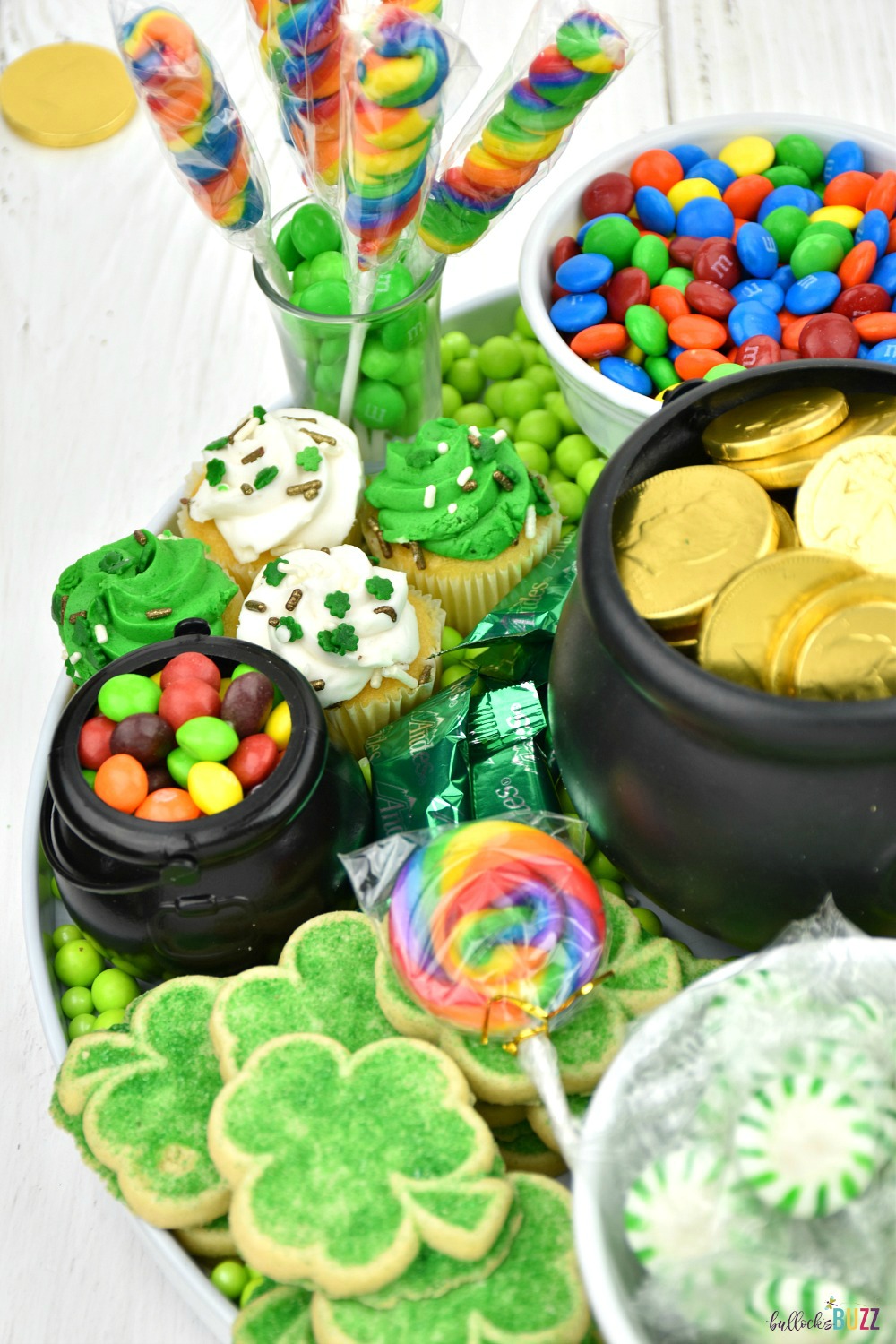 Disclosure: This blog post contains affiliate links for products or services I think you'll like. This means if you make a purchase from one of these links, Bullock's Buzz will make a small commission at no additional cost to you. I only recommend products that I use and love.
Ingredients for St. Patrick's Day Dessert Charcuterie Board
For this St. Patrick's Day Dessert Charcuterie Board, I purchased the majority of the items from Amazon, and the baked goods from Walmart. You can also find great selections online at Oriental Trading and Party City. I used:
The small and mini plastic candy cauldrons came from Amazon as well.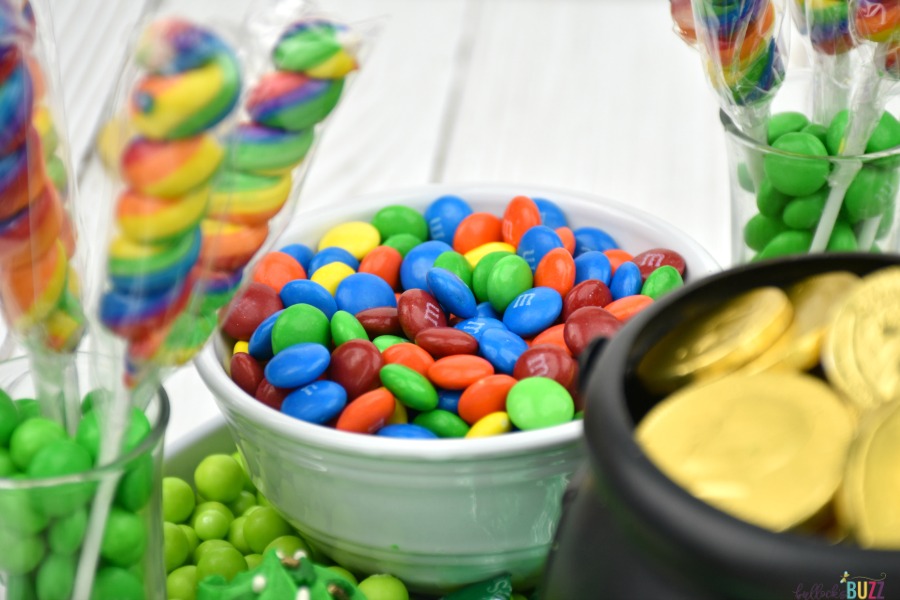 How Long Does it Take to Make a St. Patrick's Day Dessert Charcuterie Board?
Charcuterie Boards come together pretty quickly. While I didn't really time myself, I did look at my starting time and finishing time. In all, it took me about 20 to 25 minutes to put together. That includes stopping several times to take many pictures for this post, too!
I hope you love this St. Patrick's Day Dessert Charcuterie Board as much as I do! It's so easy and fun. If you give it a try, I'd love to know! Leave a comment below, rate it, and tag a photo @bullocksbuzz and #bullocksbuzz on Instagram or Facebook so I can see your St. Patrick's Day creations!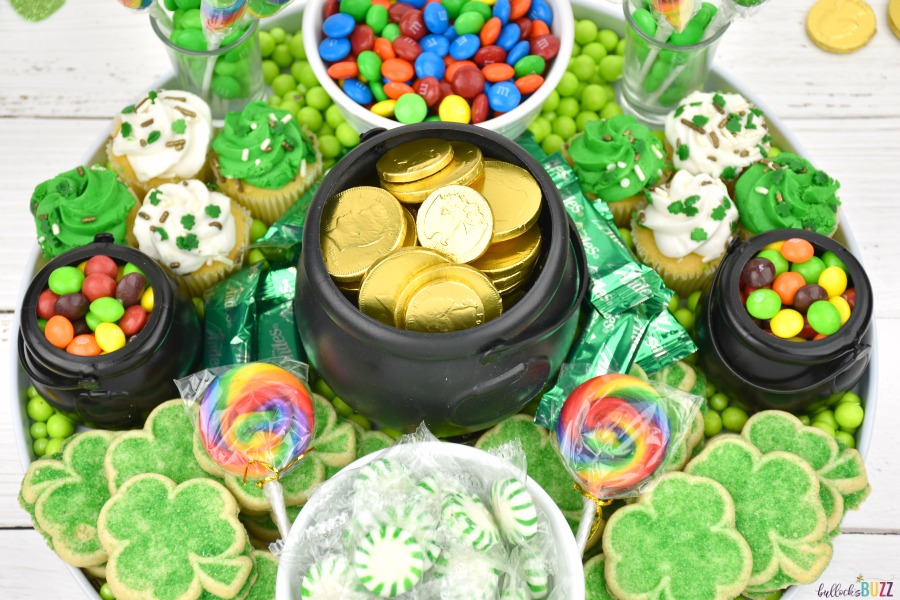 More St. Patrick's Day Recipes
Looking for more tasty treats for St. Patty's Day? Give these a try!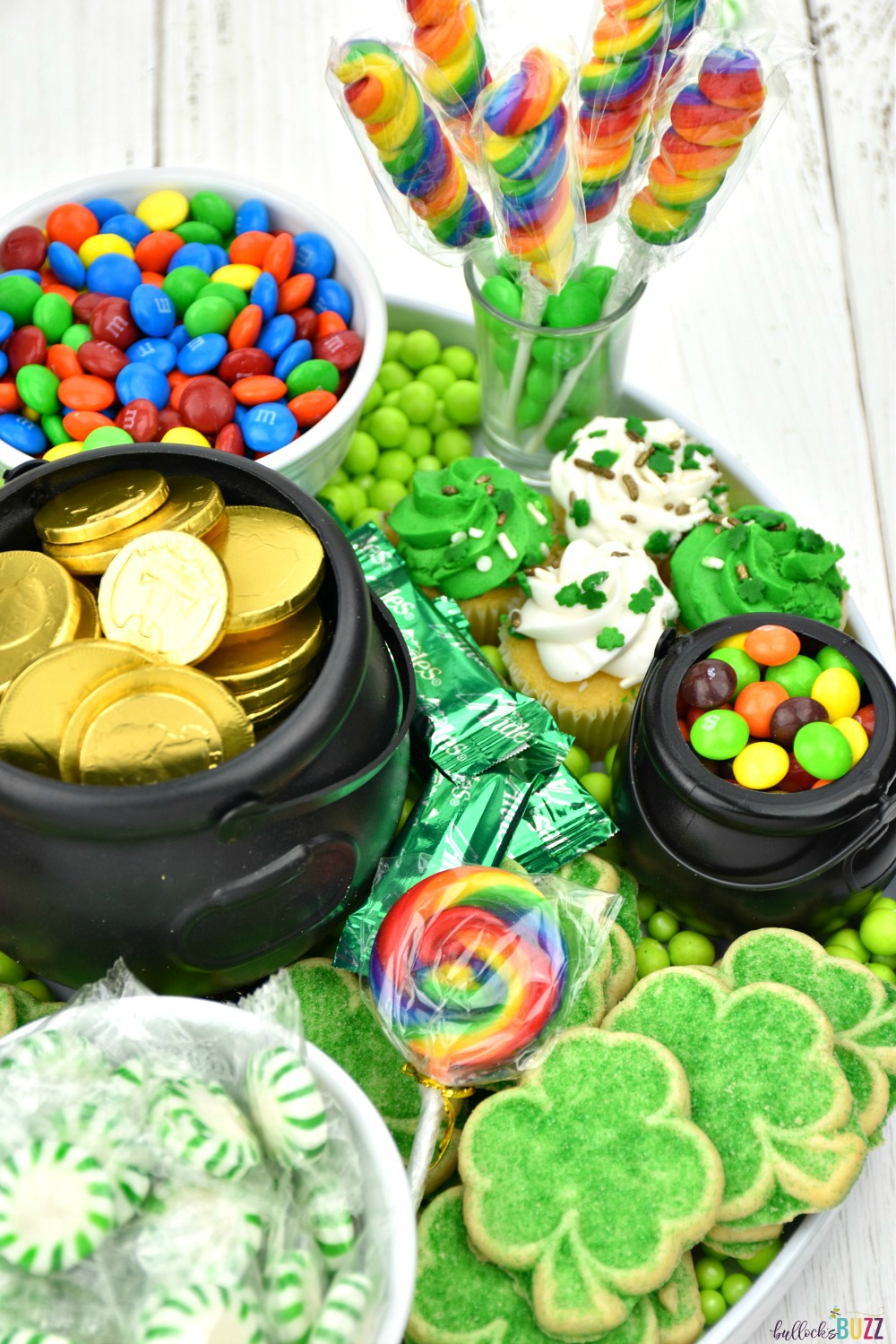 St. Patrick's Day Dessert Charcuterie Board Recipe – Printable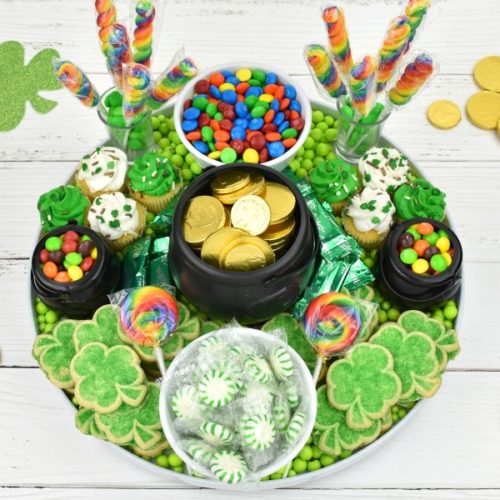 Ingredients
1

package

Shamrock Cookies

1

package

St. patrick's Day Cupcakes

mini

2

cups

Sixlets

lime green

1

cup

Sixlets

dark green

2

bags

M&MS

2

bags

Skittles

1

package

Andes Chocolates

1

package

Chocolate Gold Coins

1

package

Starlight Mints

10

Rainbow Twist Lollipops

10

Rainbow Swirl Lollipops
Instructions
Place centerpiece or bowls with small candies in center of board.

Fill in around the bowls with other treats.

Use Sixlets to fill in any small spaces or gaps.
Notes
Nutritional values are not guaranteed to be accurate.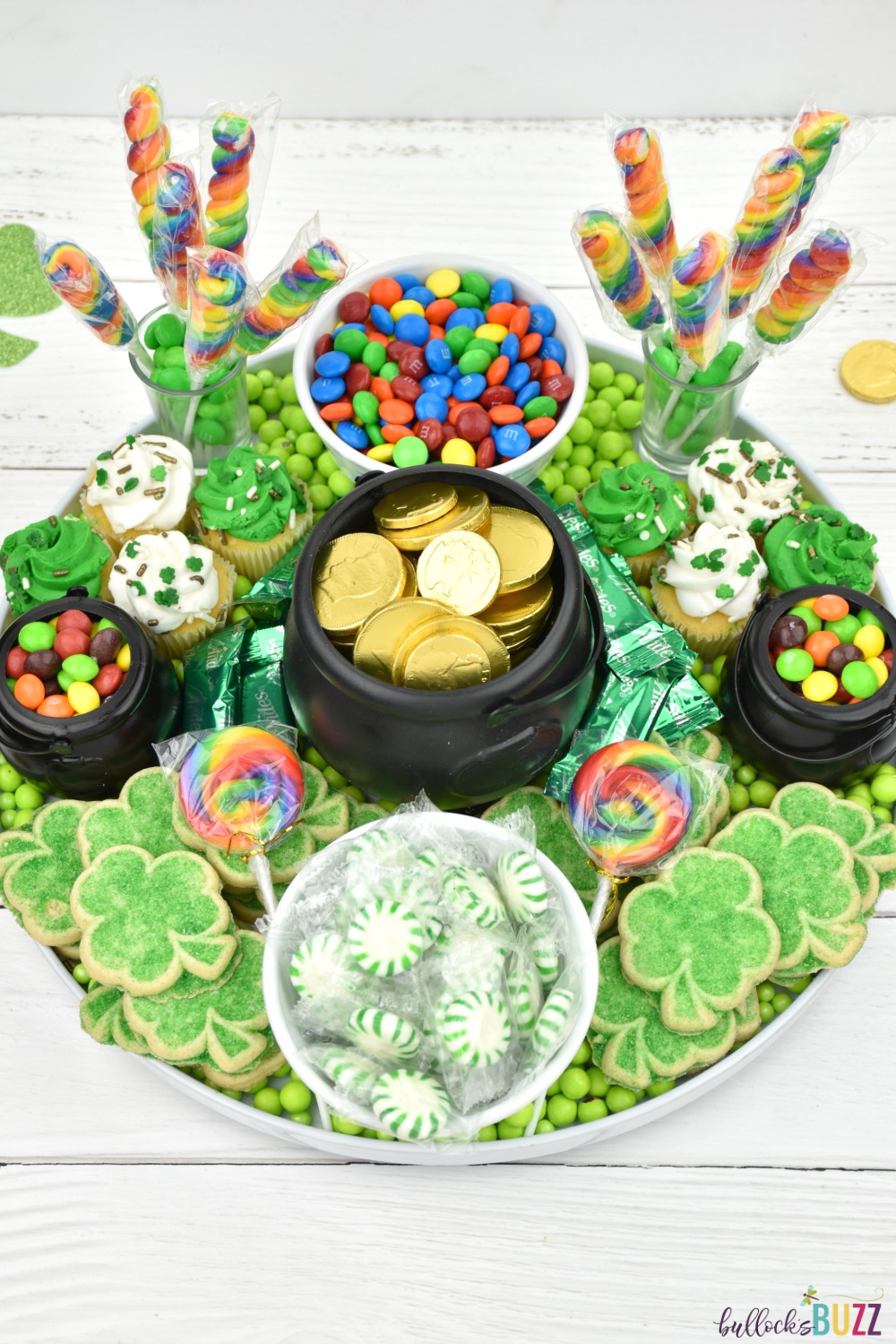 Hungry for more delicious recipes for holidays and every day? Check out these recipes on my other blog, Sweet and Savory Morsels!