Can A Metal Folding Chair Work as a Desk Chair?


It's hard to believe that 2016 is already here. Twenty fifteen absolutely flew by! The beginning of a new year is always an ideal time to lay out new goals, and one of mine is to turn our extra bedroom into a workable, organized craft room and home office. The space is perfect, bright with lots of windows and plenty of room to set up and store everything I need for both blogging and crafting.
Luckily, I even have all of the furniture I need – well, almost. You see when my dad passed I inherited his beautiful old, leather-topped oak desk with lots of surface area and several nice, big drawers. The only thing missing? A comfortable chair that will fit in the desk's rather narrow kneehole space – a space that is really only big enough for a metal folding chair.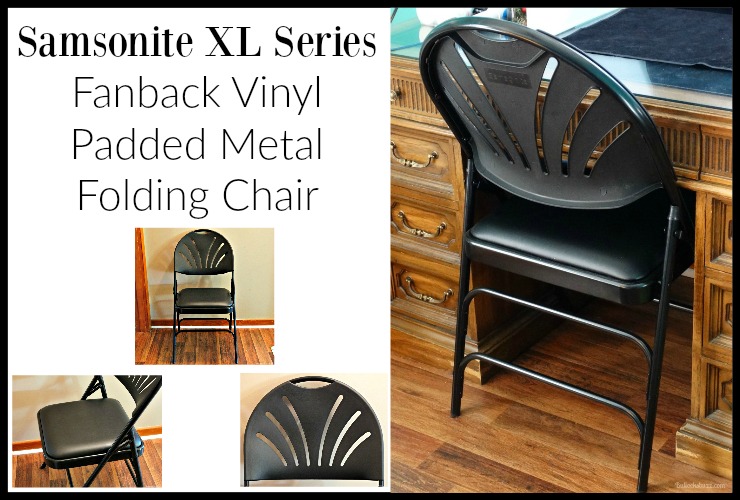 Now I know all about the importance of proper posture when sitting at a desk, the correct typing position, ergonomic chairs and all that, and believe me I have gone through several chairs trying to find one that meets all of that criteria and will still fit (with and without me in it) comfortably and neatly into that space. Unfortunately, I've not had much luck.
Fortunately, I do most of my blogging in the den, and am planning on using that desk mainly for photography and crafting, with the occasional typing. So, when I was offered the opportunity to try a newly designed metal folding chair by Samsonite, I figured, hey, why not?! If it doesn't work as a desk chair, I could always use it as an extra chair for company.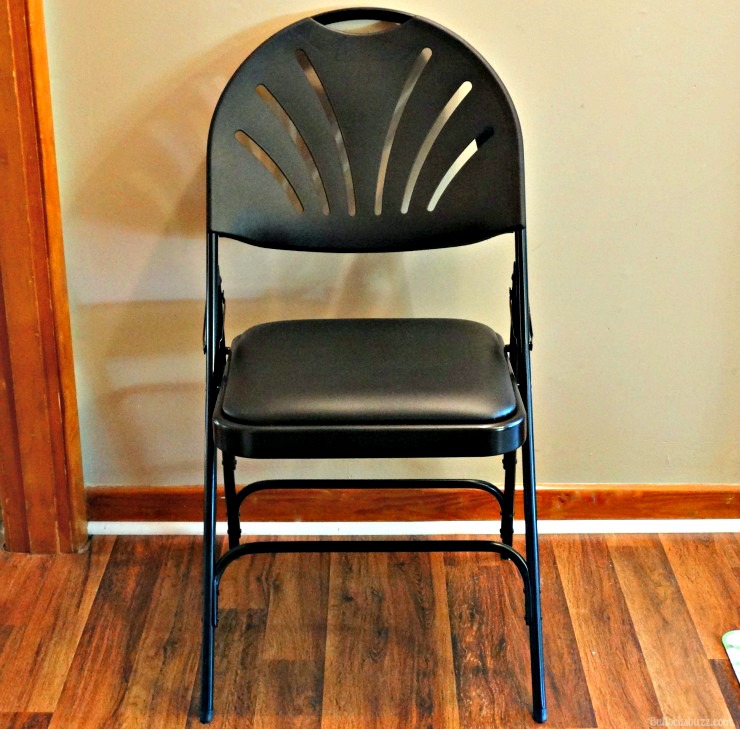 Now I know what you are thinking. A metal folding chair as an office chair? There is no way that's going to be comfortable, much less provide the support the back and body needs when working at a desk. That's pretty much exactly what I was thinking, until the chair arrived that is.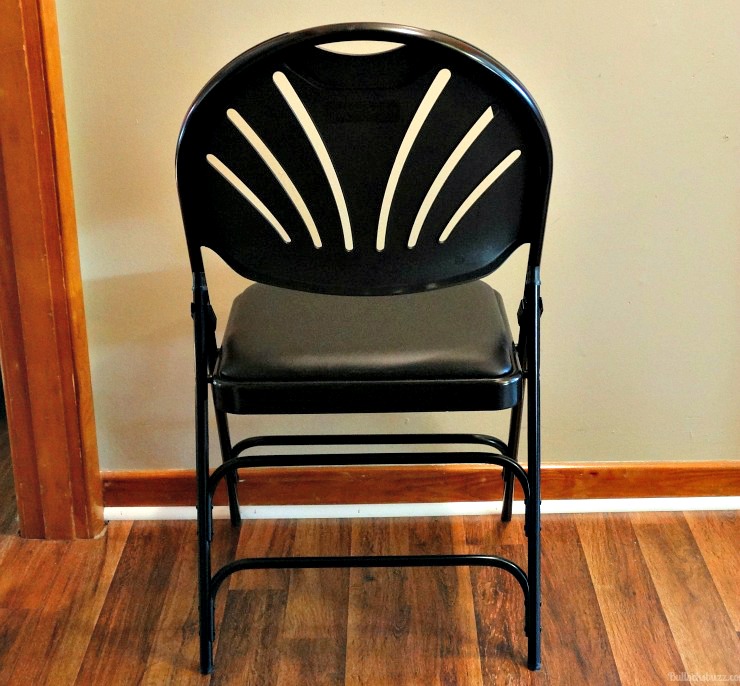 One of several folding chairs offered on foldingchairsandtables.com, the Samsonite XL Series Commercial Grade Fanback Vinyl Padded Metal Folding Chair is surprisingly comfortable and very well-built. With an 18 gauge powder coated steel frame the chair is strong and durable, yet it weighs just 12 pounds, making it light enough to carry wherever you need.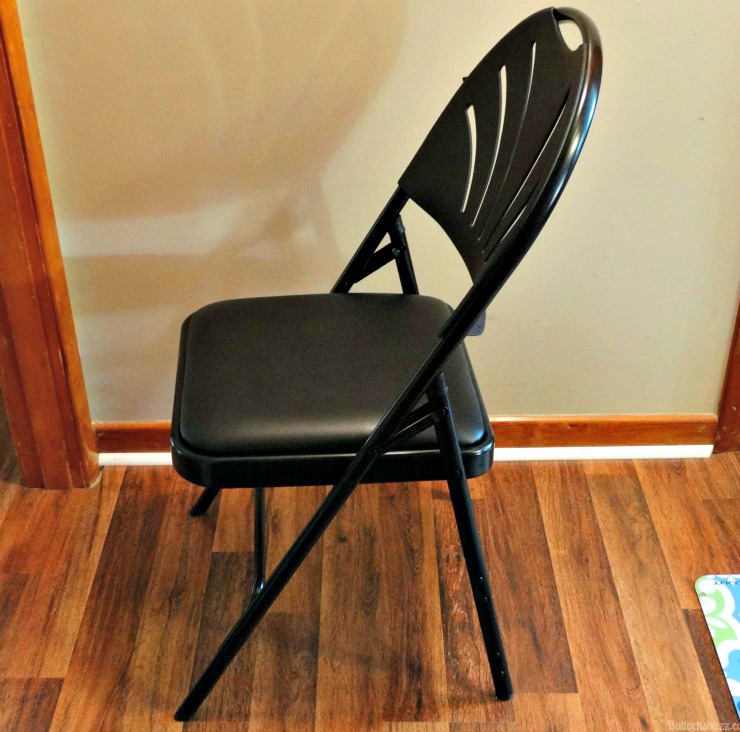 The heavy gauge steel, along with triple U-shaped riveted leg braces and double hinges, allows this chair to support up to 400 pounds! And since the steel is powder coated, it is more scratch and wear resistant which helps it look new longer. Footcaps on the bottom of each leg keep the chair from sliding around and damaging floors.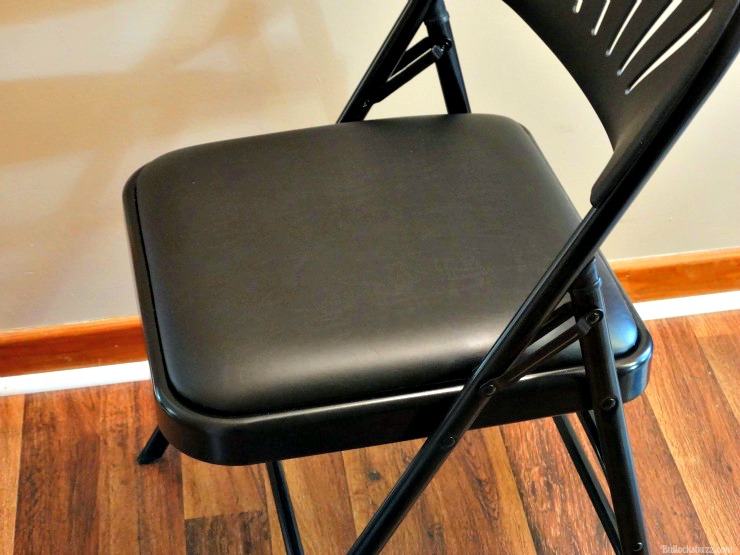 The chair measures around 36.25 inches in height, 9.25 inches in width, and 23.25 inches in diameter, and has an actual seat height of 18.5 inches – making the perfect size and height for many tables, and for my desk!
The extra-large seat is covered in a soft, smooth vinyl, and is very well padded, while the back has a fan-shaped design which allows for greater airflow, and, it seems to me, provides even more support for your upper back. Plus, since the back is made from polypropylene, it has some flexibility to it as well.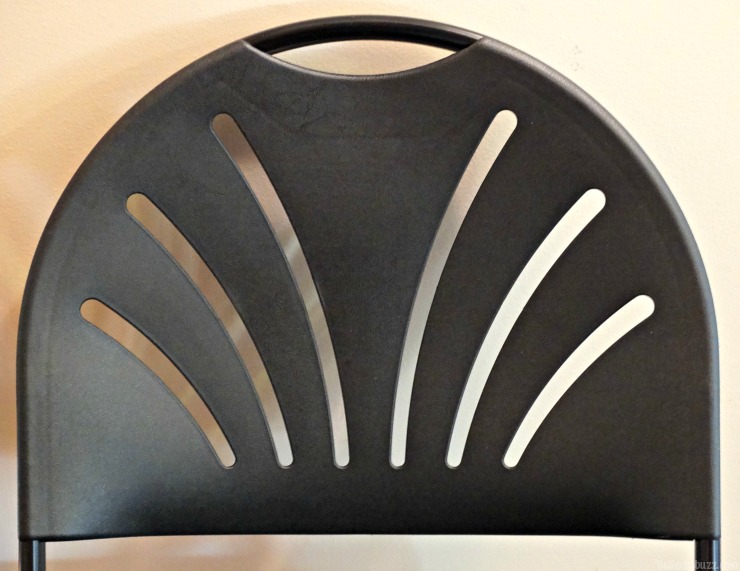 I've been using this chair for well over a month now, and I have to say for a metal folding chair it is incredibly comfortable! The slightly flexible, fan-shaped back provides plenty of support for my back, and helps keep me from slouching. Plus the seat is nice and cushy – even after sitting for several hours.
When I need to move it out of my way, I can simply fold it up and lean it against the wall. And it really comes in handy when we have lots of people over and need an extra seat! Best of all, it is just the right height and width for my desk!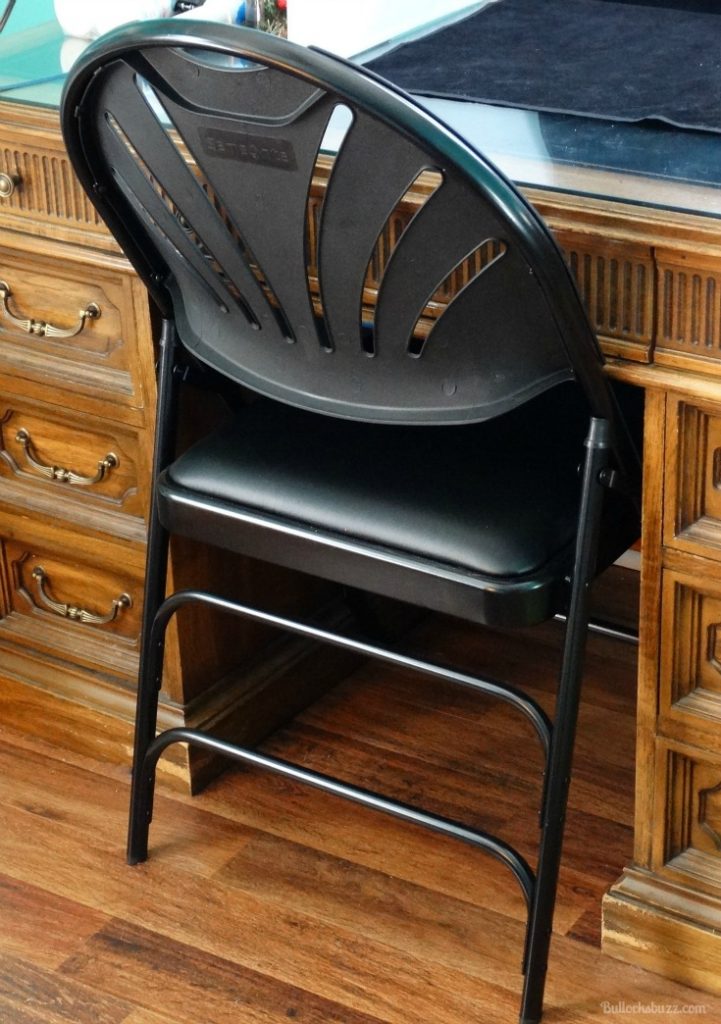 If you need a metal folding chair for your office, party or event, I can honestly say the Samsonite XL Series Commercial Grade Fanback Vinyl Padded Metal Folding Chair is definitely worth looking into! You can find it in both black or beige, and it retails for around $52 on foldingchairsandtables.com.
And if you want something a bit fancier, you can also opt for fabric covering on the seat instead of the vinyl. Take a seat for yourself and you'll see why the Samsonite XL Series Vinyl Padded Metal Folding Chair is one of the best folding metal chairs around!
Connect with FoldingChairsandTables.com: Web | Facebook | Twitter
Do you have a goal for the new year? I'd love to know about it! Share with us below!