2013 Holiday Gift Guide Suggestion
Please note, I added Amazon affiliate links to make shopping easy. If you make a purchase through these links, I'll make a small bonus at no extra charge to you
Stone Wave Microwave Cooker with Recipe
Many of you know what it is like trying to work a full-time job, while already working full-time as a wife and mother. And I am sure you can relate when I say that anything that saves time, is a big bonus. So when I was offered the opportunity to try the Stone Wave Microwave Cooker, I was more than happy to give it a try!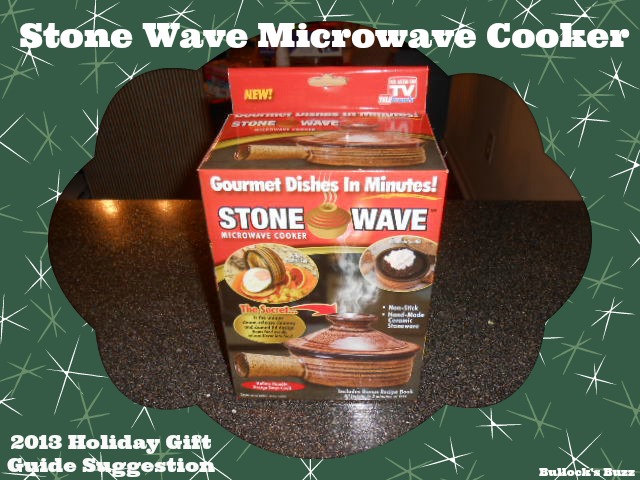 As Seen on TV's Stone Wave Microwave Cooker is an innovative, hand-made stoneware cooker that you can stick in the microwave and it will cook flavor-packed dishes in just minutes. The secret is a specially designed chimney that allows just the right amount of steam to escape and a unique, domed lid which allows the heated air to continuously re-circulate cooking the food evenly and infusing the flavor.
The ceramic stoneware surface is non-stick so there is no need to cook with unhealthy butter, fats or oils to cook, and it is extremely easy to clean. It's unique, hollow handle remains cool to the touch so you can remove it from the microwave without worrying about burns. You can even eat right out of the Stone Wave so there is less mess to clean.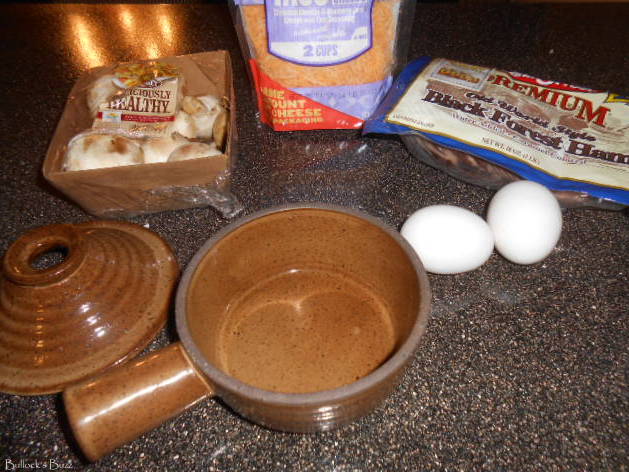 I just had to give it a try to see if everything they claim was true. Since I usually cook my husband an omelette sandwich for his breakfast in the mornings, I decided to see how well it would turn out using the Stone Wave cooker. Following the instructions in the included Stone Wave 5 Minute Recipe book, I cracked two eggs into the cooker, and made sure to whisk them completely (the more you whisk, the fluffier the omelette). I then finely sliced some mushrooms, onions, ham, salt and pepper and mixed it together. Finally I added some finely shredded cheese directly on top of the egg mixture, placed the lid on the cooker, and stuck it in the microwave for 1 1/2 minutes.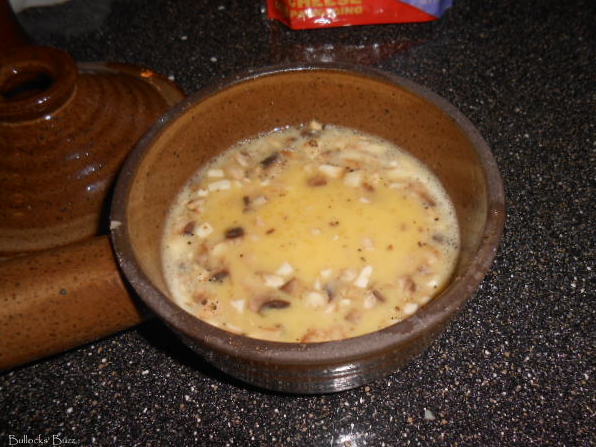 I couldn't believe how delicious the omelette came out! It was not rubbery or dried out like I was expecting, instead it was fluffy and moist, and full of flavor! It took less than half the amount of time it takes me to cook one on the stove. Plus, it is the perfect size to fit on a piece of bread for my husband's breakfast omelette sandwich.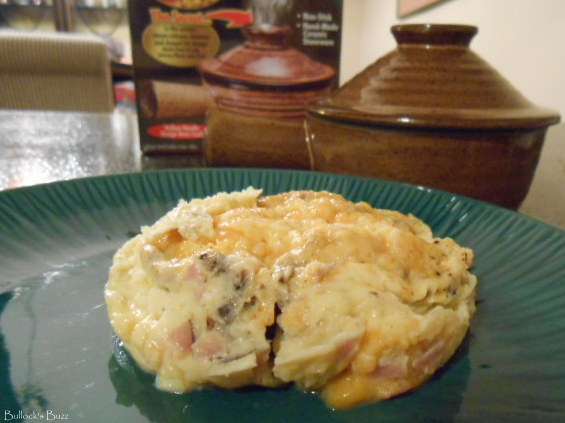 The Stone Wave cooker can be used to cook everything from Shrimp Scampi to a Baked Banana dessert, all of which will cook in just minutes! And since you can fit multiple cookers in the microwave at once, you can cook a complete balanced meal in minutes! After that yummy omelette, I cannot wait to try some other recipes and dishes! You can find great recipes and product reviews from my friends at the Village Bakery!
UPDATE: Thanks to our reader ED for the link to the recipe booklet for those looking for the booklet or more recipes! You can find coupons for the Stone Wave and other kitchen accessories here.
To order your Stone Wave Microwave Cooker you can either find it on Amazon (affiliate link) or visit https://www.stonewave.com. I think you'll love it!
Disclosure of Material Connection: I received one or more of the products or services mentioned above for free in the hope that I would mention it on my blog. Regardless, I only recommend products or services I use personally and believe will be good for my readers. I am disclosing this in accordance with the Federal Trade Commission's 16 CFR, Part 255: "Guides Concerning the Use of Endorsements and Testimonials in Advertising."