2013 Holiday Gift Guide Suggestion: Teach the World, Change The World Alphabet Floor Puzzle
One of my favorite activities as a child was working on puzzles. I loved trying to figure out which piece went where, and enjoyed being able to see the results of my efforts. As a teacher, I recognize how puzzles can help improve a child's cognitive skills, as well as their small muscle coordination and hand-eye coordination. And depending on what the puzzle depicts, many learning opportunities can be presented, too. As a stepmom, I know puzzles can provide opportunities for family interaction, as well as give parents those precious minutes of distraction-free peacefulness.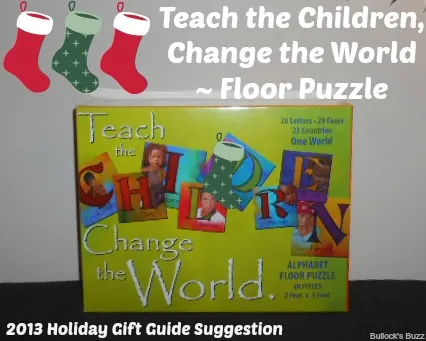 I recently had the opportunity to review a unique and beautiful alphabet floor puzzle produced by Teaching the World Through Art that was designed by Caryn West and inspired by her book, The Trouble with the Alphabet. Her book is a wonderful compilation of art, poetry, short essays, and informational resources that address some of the world's toughest issues facing our children today. It is also a campaign to raise awareness, promote understanding, and inspire action through a unique brand of educational products.
From this book came the puzzle 'Teach the Children, Change the World', a 48 piece alphabet floor puzzle consisting of 26 letters, 29 faces and 25 countries. Each large and chunky piece is perfect for little hands, and has an "Easy-Clean" surface so it can be kept clean and looking new. When together, the puzzle measures a large 2′ by 3′, and makes a beautiful picture with an important message.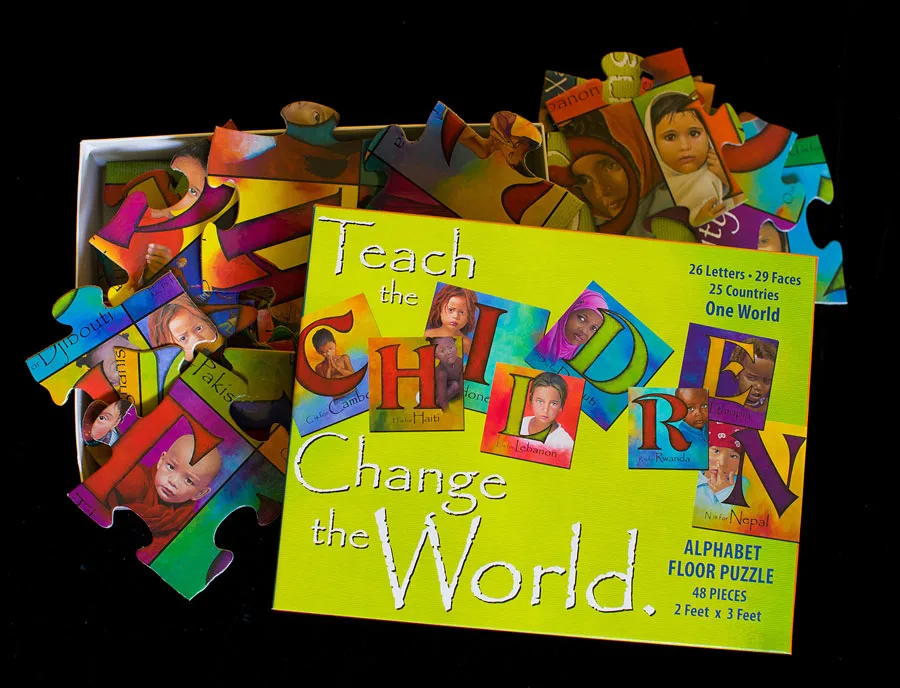 Each piece of this alphabet floor puzzle has a different letter of the alphabet which represents a different country and has a beautiful portrait of a child from that country. Four of the pieces have the words Peace, Freedom, Equality and Hope, and are placed in different spots throughout the puzzle so that finished product is a beautiful collage of colors, letters and multi-cultural children. At the very bottom is a picture of the top quarter of our planet, along with a message of hope and encouragement: "You Can Change The World".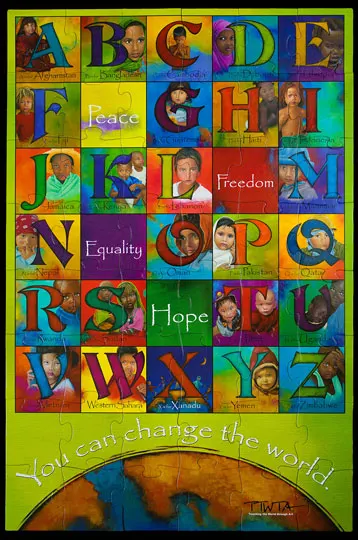 The Teach the Children, Change the World alphabet puzzle is a beautiful piece of art that instills in children an important lesson: all people who live on this planet should come together in peace and harmony to form One World, regardless of where they live or how they look.
It tells our children that together, they can change the world from a place of war, difference and hate to a place where all people are united and share this one world we have. Peace, Equality, Freedom and Hope.
This alphabet floor puzzle retails for around $15 and can be purchased on Amazon (updated from Ebay where the item is no longer avilable – 2/6/19). It would make a wonderful inexpensive and meaningful Christmas present!
If as parents and teachers "we are to teach our children not just to read, write, and compute, but to better understand each other and the world, and if we are to change the world for the better…what better place to begin than with the ABC's"?