One of the most important lessons we as parents need to teach our children is how to manage money. Unfortunately, the majority of schools don't have many state requirements for teaching financial literacy. In fact, right now in the United States, only 7 states require high school students to pass a basic finance test in order to graduate! That makes it very possible, depending on where you live, that your child may never spend even one hour talking about this important topic before being on their own! While teaching kids financial responsibility seems like a daunting task, it doesn't have to be. Here are 5 simple tips for teaching children about money and money management skills.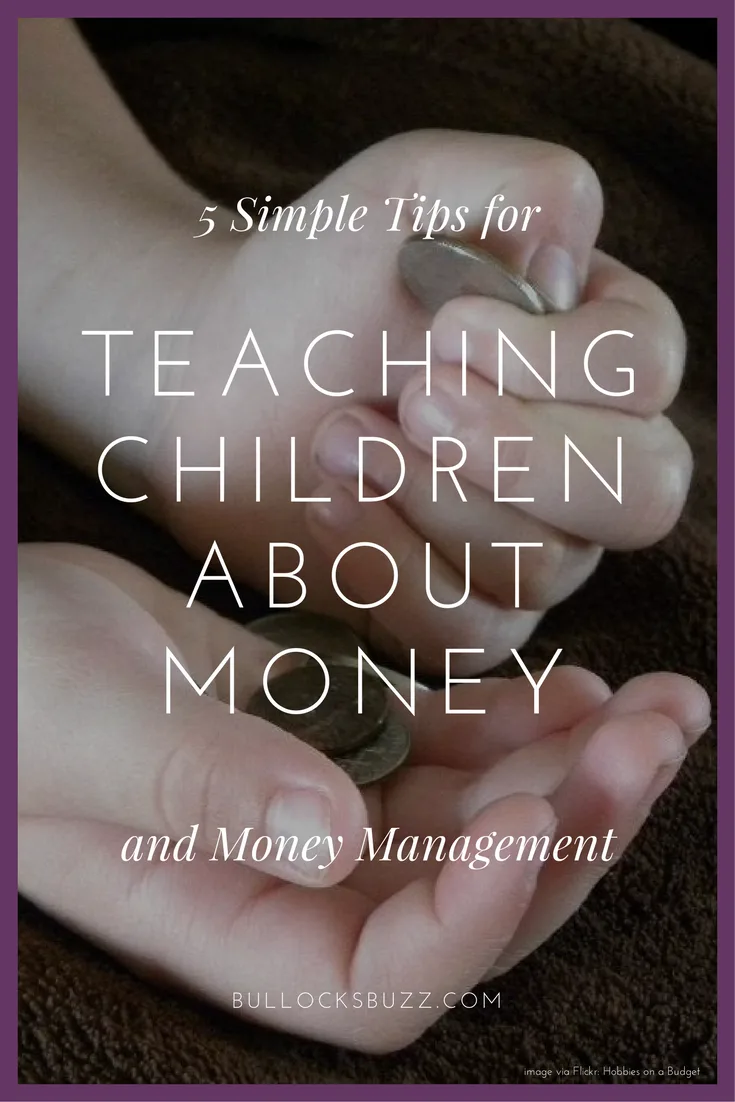 Teaching Children About Money – 5 Simple Ways
1. Start Teaching Children About Money Early
Teaching children about money can begin as early as age three or four, or whenever your child begins asking about money. The earlier you start, the more experience they will have learning about and handling money. Lessons at first should be very basic. For example, start out by explaining that you have to work to earn money. As your children grow and mature, you can gradually get into more in-depth instruction.
2. Set a Good Example
Just as with everything else, children learn by the examples we set. They are also more likely to learn from what they see us do versus what we say. They watch what we do at the grocery, the mall, the bank , etc., and they copy or mimic our financial attitudes, values and behaviors. If you set a positive example for them, they'll be much more likely to follow it when they get older.
3. Talk to Your Kids
I was raised to believe that talking about money was taboo, even with your own family. Well I am here to tell you that that mindset is wrong. You wouldn't want your children learning about sex and drugs from someone else, so why would you want someone else teaching them about money.
Talk to your children about how you earn money and how you spend it. Explain the differences in paying with a check or cash versus a debit or credit card. When you get money from the ATM, explain that the ATM is a way to access the money you have made by working hard and saving. And that when you take money out of the ATM it is taken from your bank account and you'll have less in your account to spend later.
When you take your child to the grocery store, explain your purchasing decisions. For example, "We are buying these bananas because they are on sale," or "We're using coupons I clipped from the newspaper to help us save some money".
In addition, you should also be open to discussing your own financial mistakes, as long as the lesson is something your children are old enough to understand.
4. Encourage Them To Earn it
A popular way for teaching children about money is by giving them an allowance. Consider giving your child some chores around the house to earn their allowance. Besides building a work ethic, your child will learn responsibility, accountability and time management. Additionally, when children receive an allowance they begin to learn basic budgeting and rationing skills. And as they manage their allowance money, their money management skills will improve.
Give them some general guidelines on how to spend and save their money, but also give them the freedom to make their own financial decisions and their own financial mistakes. Offer advice, but don't tell them what they should do with their money. It's better that they make those mistakes—and learn from them—now rather than later.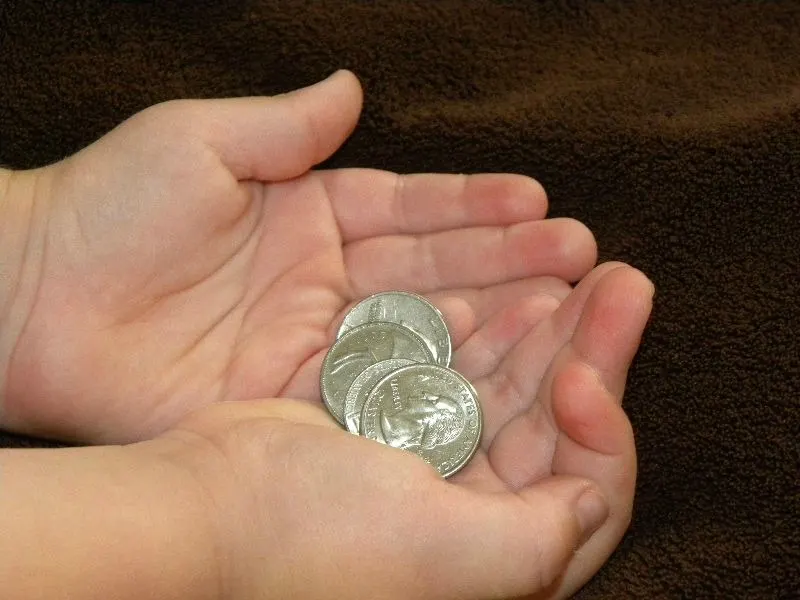 Image via Flickr
5. Hands On Experience
One of the best ways of teaching children about money and money management skills is by hands on experience. A simple way to do this is by using a learning platform like BusyKid. BusyKid is an web-based chore/allowance platform where kids can earn, save, share and invest real money. It teaches children financial responsibility by encouraging them to perform household chores in order to earn their allowance. Children will get a feel for what it's like to earn real money and learn how to make wise financial decisions. Think of it as your child's first job with direct deposit!
BusyKid – How it Works
First sign up for a BusyKid subscription, which costs $14.95 a year for the entire family. Once activated, any family member will be able access the family's BusyKid account from computer, tablet or smartphone.
Once your account is all set up, the app will then intuitively suggest appropriate chores, frequency and recommended dollar amounts based on your child's age. However, these suggestions can easily be customized to fit your needs and budgets.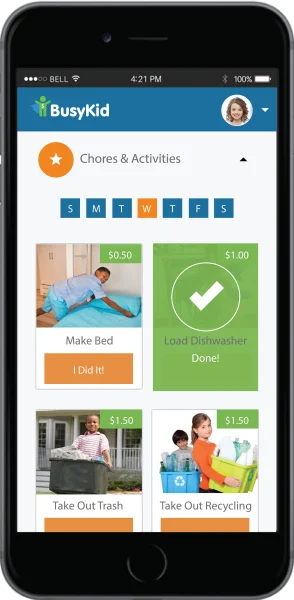 Once the chore is completed, your child can go in and check it off. A text message will then be sent to you asking permission for the allowance money to be moved from your bank account to their child's holding 'account' (a FDIC insured bank) where your child can access their money.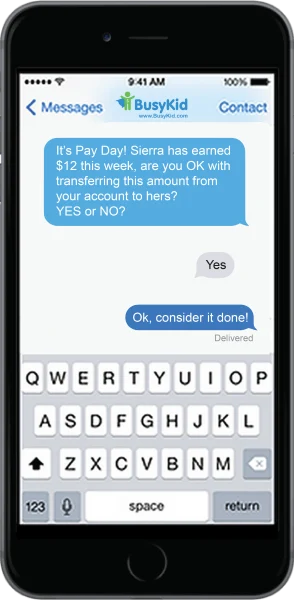 Your child can then choose what they'd like to do with their money. This includes either saving it to go towards a later purchase, sharing it with their favorite charity, buying a gift card from top online retailers, or even investing it in a stock.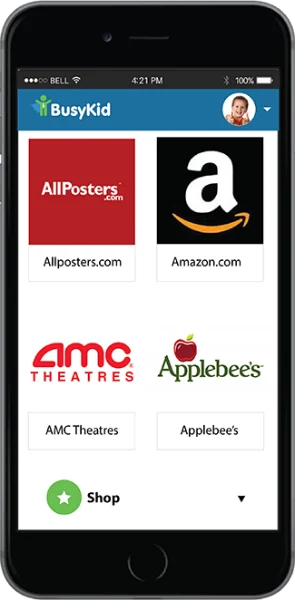 There is also a brand new option. Parents can choose to give their child their very own BusyKid Spend Card, a reloadable Visa® prepaid card where kids can move their allowance in order to spend it in stores or online, or transfer fund to other bank accounts. Adding the rechargeable Debit Card is just $5 per year. By the way, reloadable debit cards are another great way to teach children about managing money!
Are you ready to give BusyKid a try? For just $14.95 a year you can enroll the whole family, and you get 30 day free trial when you sign up! Plus, for a limited time only, the first 2000 new children members will receive $10 to make a stock purchase! Just head to the BusyKid website to get started.
Do you have any tips to share about teaching children about money and money management skills? Let us know in the comments below!