With its spooky dark purple hue and a deadly delicious flavor, the Gravedigger is a hauntingly perfect Halloween cocktail! It's a boozy Halloween drink to die for. 😉
With a little over a week until Halloween things are about to get pretty scary around here! If you can get any scarier than 2020, that is! Today I'm starting my Halloween Cocktail series where I'll be sharing several spine-tingling libations that are sure to put you and your guests in the perfect spooky mood!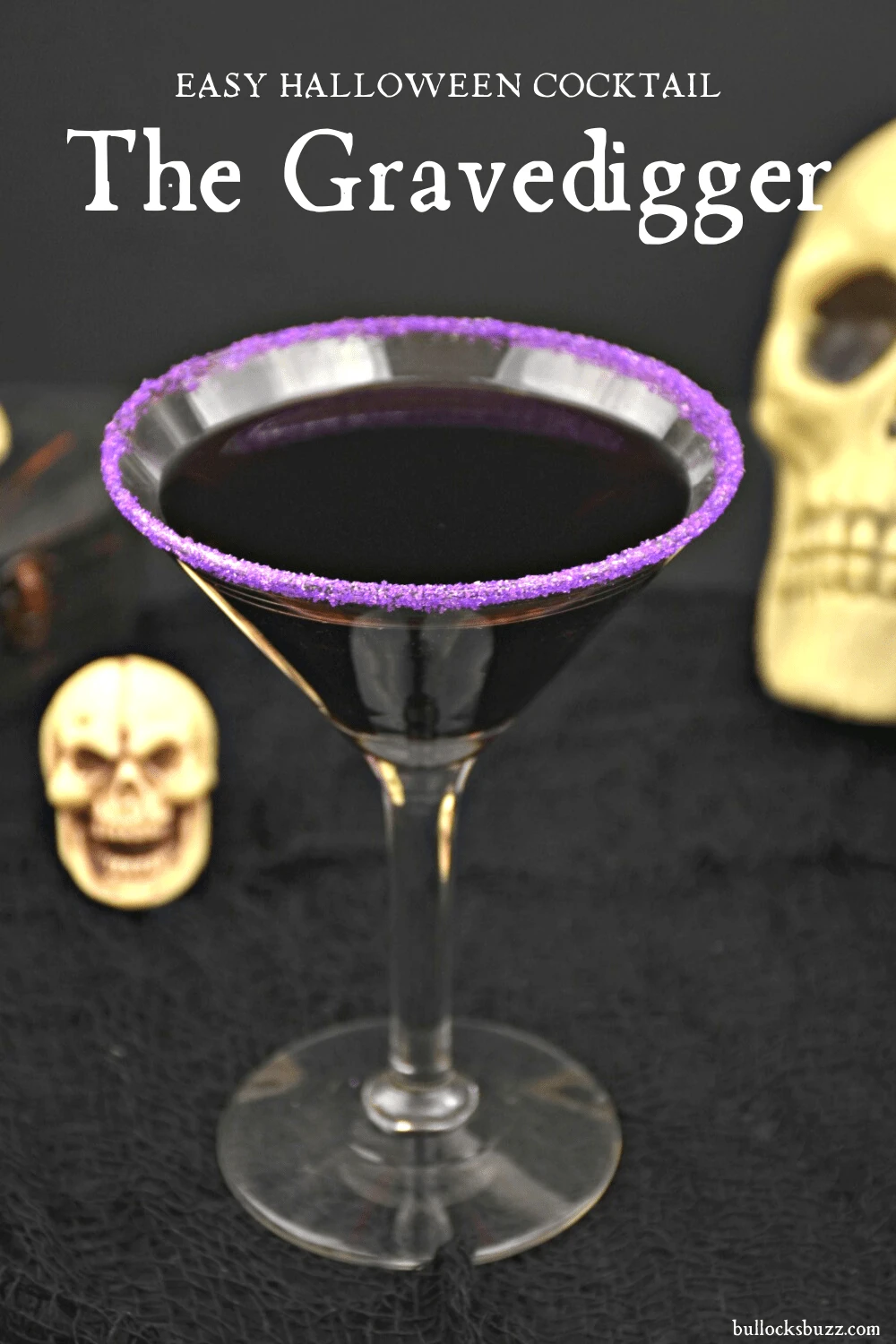 What better drink to start with than the devilishly delicious concoction I call The Gravedigger. This simple Gravedigger boozy Halloween drink tastes of cranberries and rum – a deadly delicious combination.
And its deep purple color lends it the darkness required for a spooky Halloween drink!
HOW TO MAKE THE GRAVEDIGGER HALLOWEEN COCKTAIL
The Gravedigger Halloween cocktail is hauntingly easy to make. It requires just a few simple ingredients including cranberry juice, Bacardi Rum, and Sprite.
A teeny drop of black food coloring gives it a deep purple hue that contrasts nicely with the bright purple sanding sugar along the rim. Together they give this drink a bewitchingly dark and eerie feeling that's perfect for Halloween night.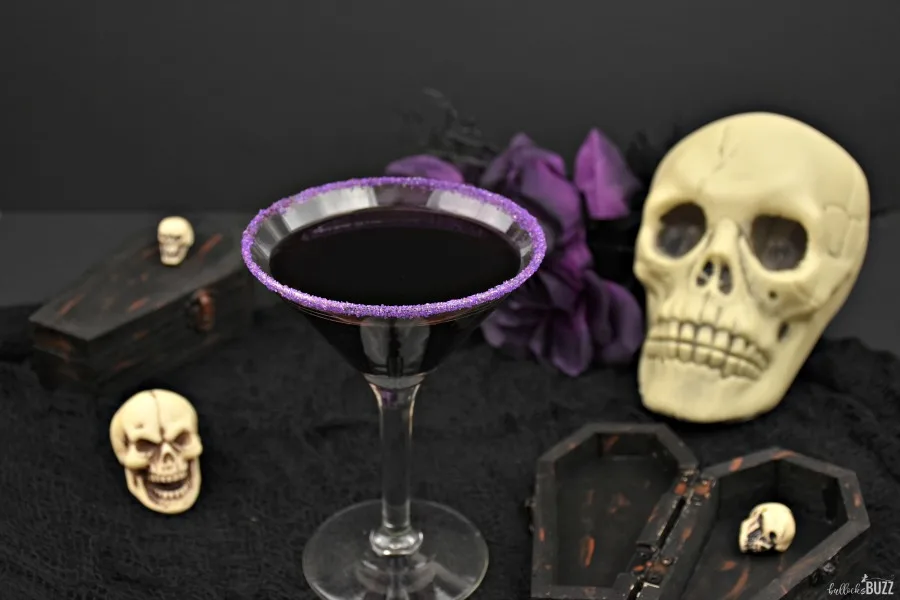 Disclosure: This blog post contains affiliate links for products or services I think you'll like. This means if you make a purchase from one of these links, Bullock's Buzz will make a small commission at no additional cost to you. I only recommend products that I use and love.
BARTENDER'S TOOLS I USED
GRAVEDIGGER HALLOWEEN COCKTAIL INGREDIENTS
Bacardi Rum
Sprite
Cranberry-Grape juice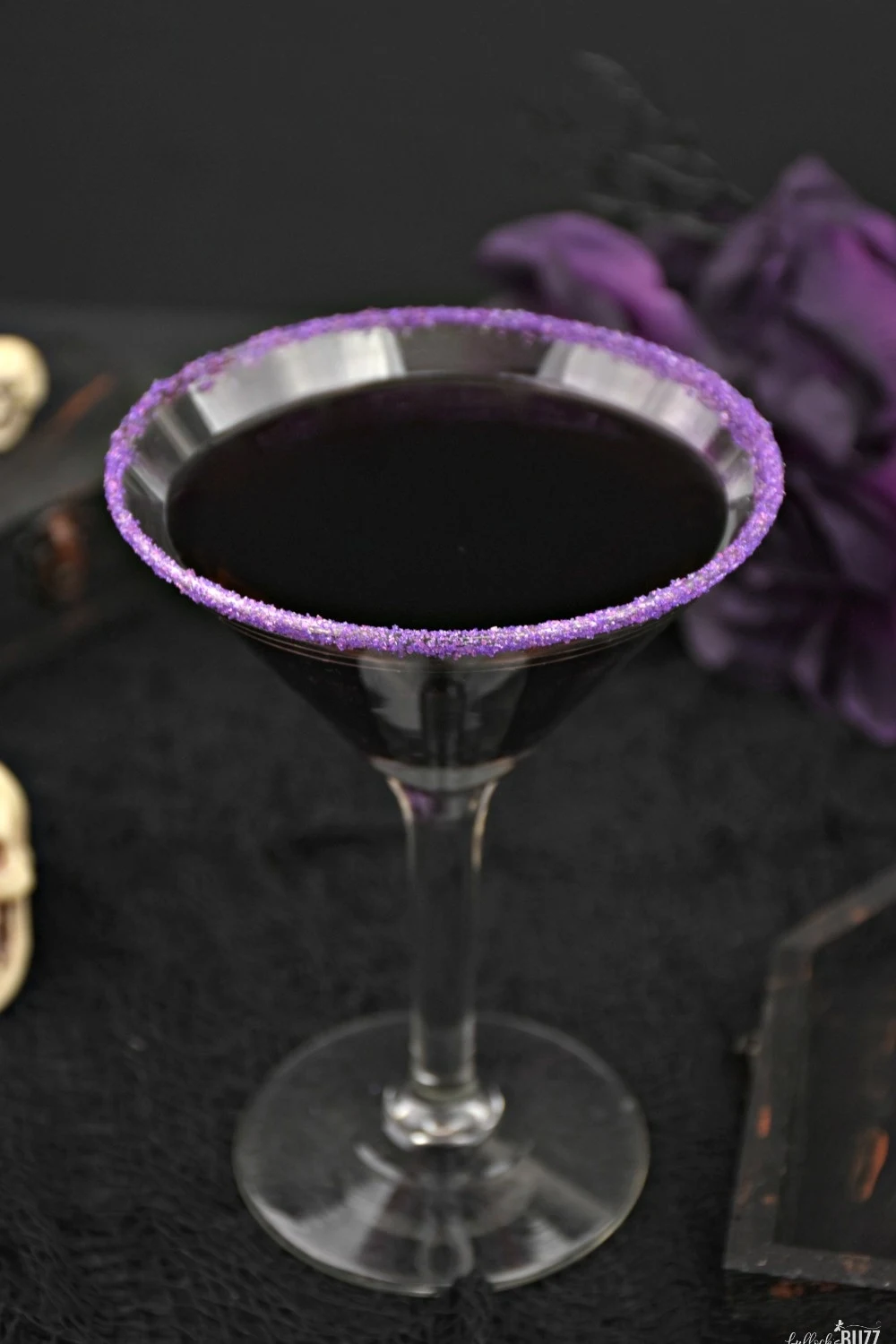 GRAVEDIGGER COCKTAIL RECIPE INSTRUCTIONS
This ghostly Halloween cocktail recipe couldn't be any easier. You can have it ready to go in 5 minutes or less!
Begin by coating the rim of the glass with purple sanding sugar.
Next, combine the rum, cranberry grape juice, and a drop or two of black food gel (a little goes a long way!) in a cocktail shaker.
Shake for about 5 seconds to mix, then pour into a martini glass being careful not to splash the sugar-coated rim.
Slowly top it off with the Sprite, again being careful not to splash the sugared rim.
And that's it! Your Halloween boozy drink is ready to enjoy.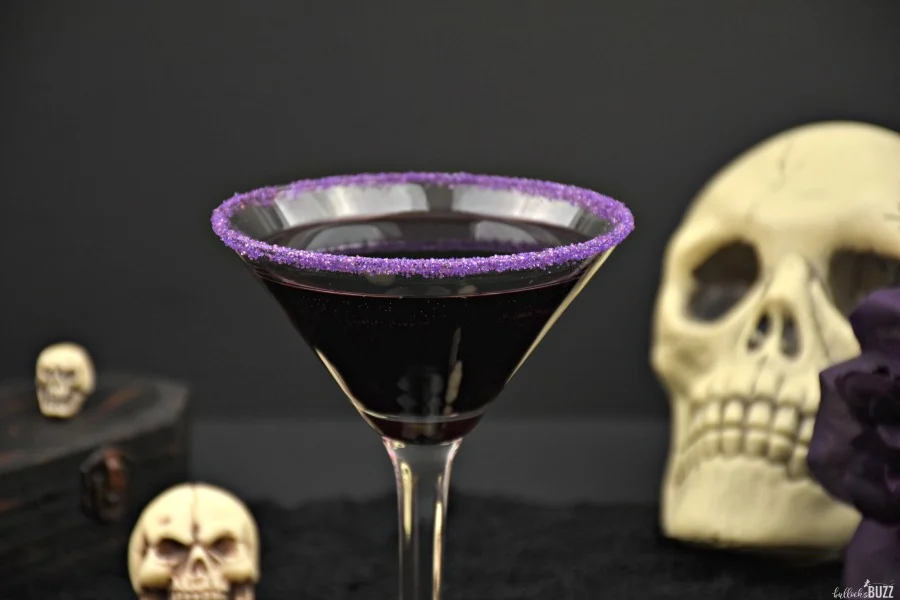 HALLOWEEN COCKTAIL TIPS
Here are a few handy tips for making this Gravedigger Halloween Cocktail even better.
use gel food coloring because it blends better and creates more vibrant colors
if one drop does not give you the dark hue you want, stir in one or two more.
to add some spookier ambiance, consider adding a small piece of dry ice to each cocktail. However, it is extremely important that you wait until the dry ice has completely dissolved before you drink your cocktail. You DO NOT want to ingest the dry ice. Also, use either gloves or tongs to add the dry ice to your drink as it will burn you.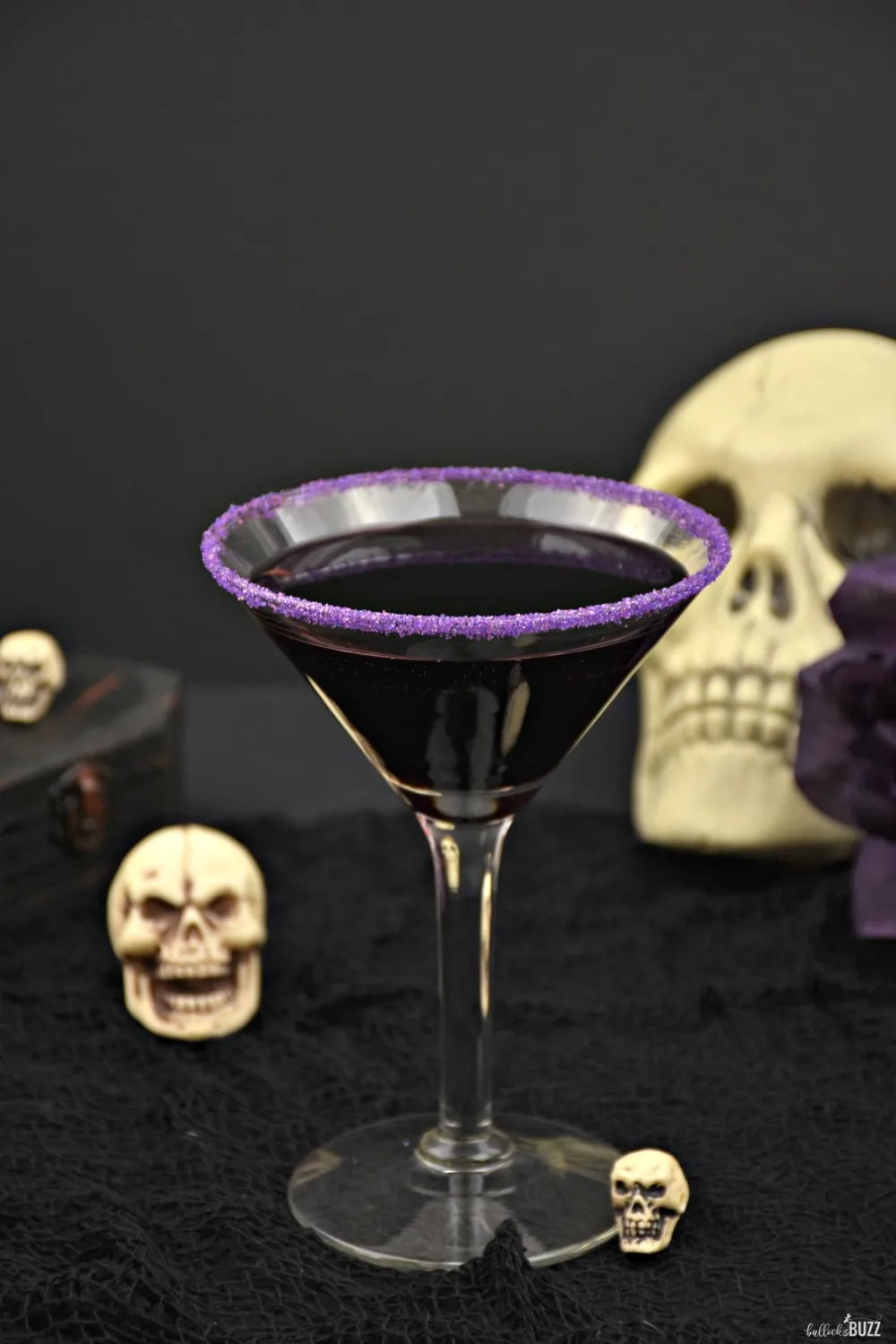 HOW DO YOU MAKE A SUGAR RIMMED GLASS?
Making a sugar-rimmed glass is so easy, it's scary. It's a great way to add a decorative and flavorful garnish to your cocktails. The garnish looks nice and tastes nice, providing a hint of sweetness to combat the bite of alcohol. Plus, it's fun to do, too.
There are two ways you can make a sugar-coated rim. Whichever way you choose, you'll need a plate with a pile of sanding sugar (or salt, etc), and some type of sticky liquid for the sugar to stick to.
For the sugar, make sure the pile is about a quarter of an inch high and wider than the rim of the glass you're using.
The liquid could be some simple syrup, a bit of Sprite, honey, or sugar water. You could also use the juice from a slice of orange, lemon, or lime.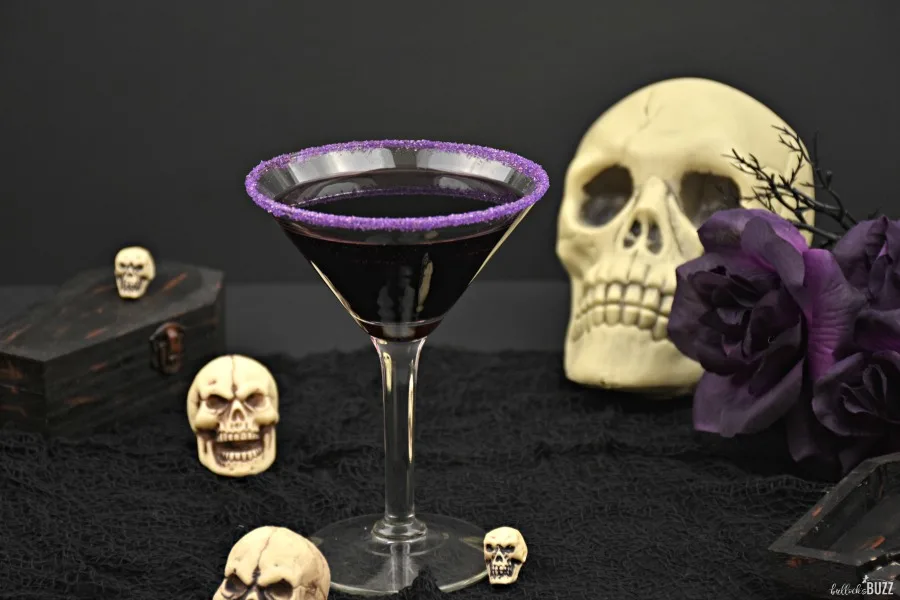 1. DIPPING IN COLORED SANDING SUGAR
The first way to make a sugar-rimmed glass is to:
Coat the rim of the glass with the sticky liquid by using a paper towel, a q-tip, or by dipping it into a bowl of the liquid. If dipping, be sure to raise the glass up and hold it (still upside down) over the dish to allow any excess liquid to drip off.
Place the glass upside down into the dish of colored sanding sugar and gently spin it around until the rim is completely coated.
Once the rim is coated, hold the glass right side up and gently shake off any loose bits of sugar.
2. DIPPING IN COLORED LIQUID THEN SUGAR
The second way to make a sugar-coated rim is to:
Mix the sugary liquid with a drop or two of your chosen food coloring.
Dip the glass rim into the colored liquid and raise it up for a few seconds over the dish to allow any excess to fall off.
Next, dip the rim into some castor sugar. The food coloring will soak into the sugar giving it the color you want.
When finished, give it a gentle shake to remove any loose sugar.
Once the rim of your glass is coated, allow it to dry for a few minutes before carefully pouring your cocktail into the glass. And be sure to pour into the center of the glass so the sugar rim doesn't get splashed.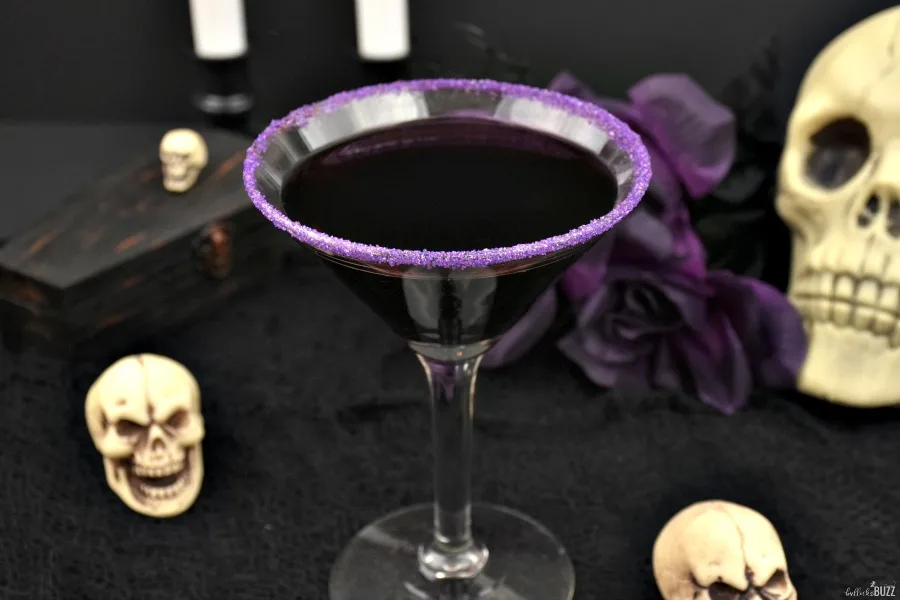 CAN I MAKE A PITCHER OF THIS HALLOWEEN DRINK?
Yes! Most average-sized pitchers hold about 4 servings, depending on the size.
So to make enough for a group, simply quadruple the ingredient amounts. If you still have room in the pitcher, you can increase as needed.
Be sure to check back tomorrow for another spookalicious Halloween cocktail recipe!
GRAB A FREE PRINTABLE RECIPE FOR MY GRAVEDIGGER HALLOWEEN COCKTAIL
If you like this recipe, please rate it! I'd also love to hear your thoughts in the comments below!
Yield: 1 cocktail
The Gravedigger Halloween Cocktail Recipe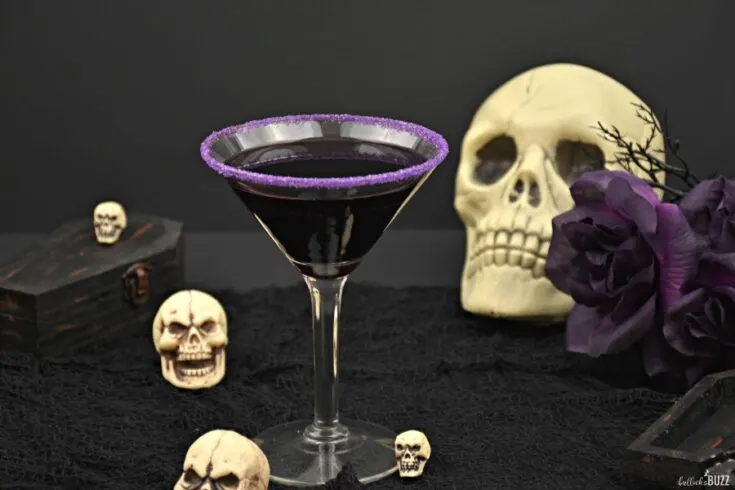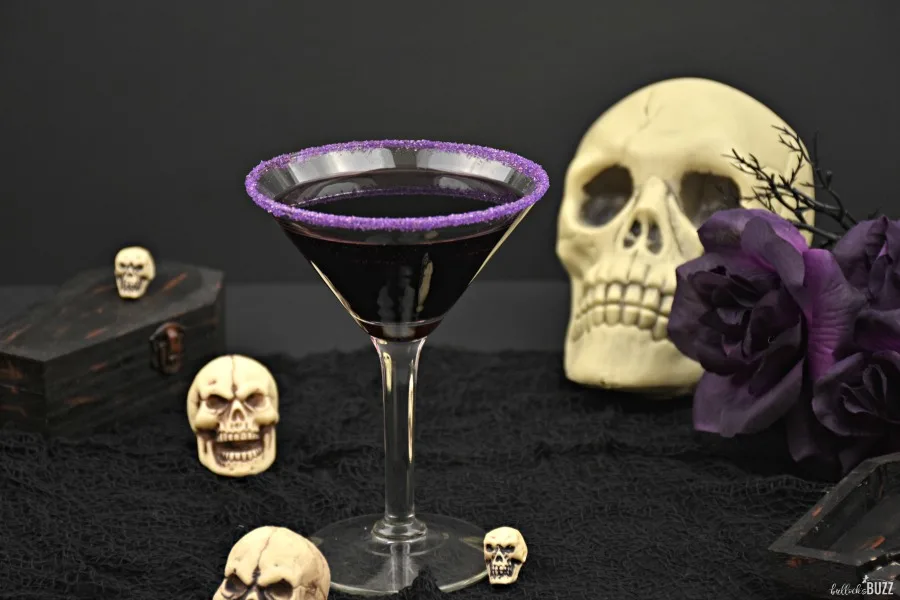 With its spooky dark purple hue and a deadly delicious flavor, the Gravedigger Halloween Cocktail is a hauntingly perfect easy Halloween drink!
Ingredients
2 ounces Bacardi Rum
3 ounces Cran-Grape Juice
7.5 ounces Sprite, or 1 mini-can
1-3 drops food coloring gel, black
3 tbsps sanding sugar, purple
1 tbsp simple sugar, or other liquid
Instructions
Prepare the cocktail glass by swiping the rim with simple sugar, then dipping it into a plate with the purple sanding sugar. Gently swirl the glass until the rim is completely coated.
In a cocktail shaker combine the rum, Cran-Grape juice, and black food coloring.
Shake until well-combined.
Carefully pour into the glass, taking care not to splash the rim.
Slowly top it off with the Sprite, again being careful not to hit the sugared rim.
Enjoy!
Nutrition Information:
Yield:
1
Serving Size:
1 cocktail
Amount Per Serving:
Calories:

469
Total Fat:

0g
Saturated Fat:

0g
Trans Fat:

0g
Unsaturated Fat:

0g
Cholesterol:

0mg
Sodium:

28mg
Carbohydrates:

87g
Fiber:

0g
Sugar:

74g
Protein:

0g
Nutritional information is automatically calculated with ingredients and serving size and may not be accurate. Please always double check with your own nutritional apps as well.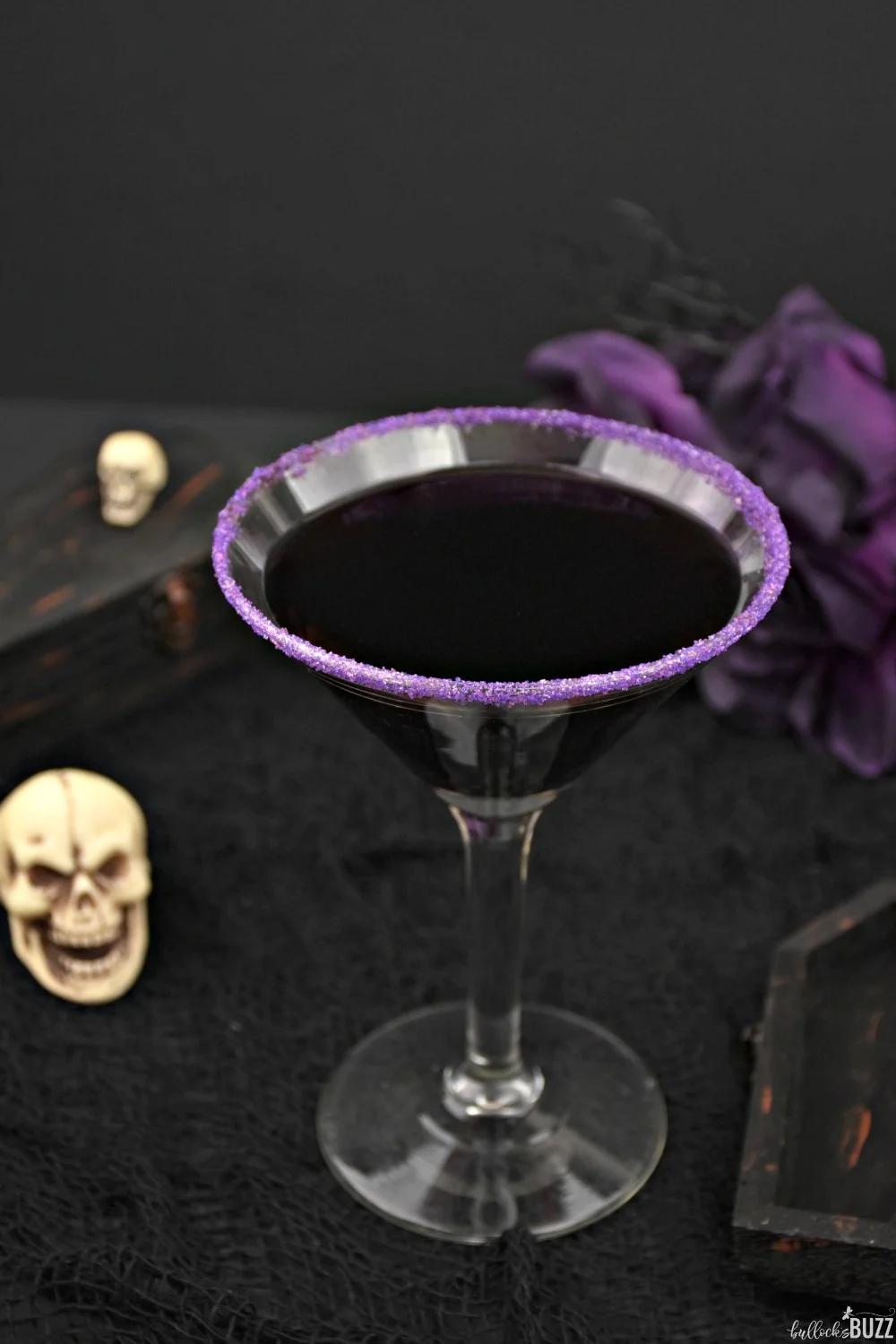 LOOKING FOR MORE TASTY HALLOWEEN RECIPES?
Halloween is one of the best holidays to have fun with festive food and drinks! And while this spooky Gravedigger Cocktail for Halloween is no exception, I think you'll get a scream out of these other easy Halloween recipes!