I received The Wild Hunt free of charge as a participant of a Blog Friendly PR campaign in order to publish this review. All opinions are my own and no compensation was received.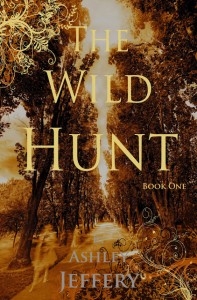 As many of you know, I have a strong love for books. Ever since I was a child and allotted an extra 30 minutes at bedtime to read, before I close my eyes at night, I have to first read. I love all kinds of books, from fiction to non-fiction, Mystery, Thrillers, Comedy and Romance…the list just goes on and on. Every now and then I will come across a book that reaches and grabs me from the first pages, until I am reading into the wee hours of the morning. Ashley Jeffery's book, The Wild Hunt, is one of those books I could not put down once I picked it up!
Synopsis of The Wild Hunt
I see ghosts…
Except my ghosts aren't just floating see-through apparitions. They aren't drifting clouds of mist, or glowing balls of light. My ghosts are the soundless, walking zombies of the dearly departed. The are the rotting corpses of the dead.
I am crazy…
I have never pretended to be anything else. I know that seeing the dead isn't something sane people do. No. I am fully aware of my own psychosis. Too bad knowing and accepting isn't a cure.
But…
Something else seems to be happening around me. People are dying, people I know. And what's worse, the sheriff thinks I'm doing it. Even my silent rotting friends can't help me, not without a voice.
I am not a murderer.
Review of The Wild Hunt
First of all let me point out that although there are walking dead people in this book, it is not a heavy-duty, scary, horror story. In fact, Ashley Jeffery has managed to create an almost new genre, combining suspense and a bit of lightweight horror with fantasy. Think along the lines of Twilight and The Vampire Diaries, though this book has nothing to do with vampires. However, if you liked those series, then you will love this one as well!
Let me introduce you to Lorelai, or Lo, as everyone in the novel calls the main character. Lo has the unfortunate ability to see ghosts, and not the flowing, glowing aimless souls of the departed. Instead she sees them as they died, in their full 'gory'. They follow her every waking step as she struggles not only to discover exactly what it is they want, but how to keep this secret from her family and friends. After all, she already thinks she is crazy, she definitely doesn't need anyone else thinking the same.
But seeing ghosts isn't all Lo has suffered, having learned at too young of an age all about death and misplaced blame. And if seeing goulish ghosts is not bad enough, now people around Lo are dying, and the small town sheriff is convinced she is the killer. As the story progresses, along with Lo we are introduced to new characters, and the better we get to know them, the less we know about their true motives. Is it possible that there are worse things than seeing the walking dead?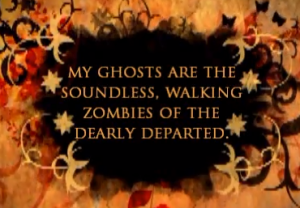 As this is the first in a series, like any good author, Jeffery manages to tell a complete story while opening up an entire new world of possibility, leaving you hanging on to her very last words and wanting to read more. As I grew closer to the end of the book, I was more and more hesitant to turn the pages, knowing that while some things had been answered, new questions would arise and I would be left anxiously waiting for more!
Ashley Jeffery's writing reaches out and grabs you from the first page. Her characters are so well-developed you feel as though you are right there with them. From the very beginning I was drawn into Lo's life, eagerly turning each page, waiting to find out more. And as more characters were added, the author cleverly wove their lives together revealing a story where people may not be what they seem, and their intentions are anyone's guess.
I truly like Ashley Jeffery's writing style. The pace is perfect, and from the very first couple of chapters I was hanging on to her every word, reluctant to put the book down for the night. She draws you in deeper and deeper with every page you turn. At no point did my interest wane, instead the more I read, the more I wanted to keep reading! As a result, I finished the entire book in four nights! To me, those are true signs of a great story!
There is only thing I noticed, and that is there are several grammatical errors. However, people have to understand that this is going to happen with indie or self-published books. There are going to be errors because the author is paying for everything herself, and getting a professional editor can cost thousands of dollars. I will be the first to admit that I will sit there and correct the errors in my head as I read along, but this story is so well told, I was easily able to look beyond the errors and enjoy every page to the very end. I still highly recommend this book, and cannot wait to read the next book in the series!
Where You Can Find The Wild Hunt
The Wild Hunt is available for purchase through Amazon. And you can learn more about Ashley Jeffery, as well as keep up with her latest writings, by visiting her on Goodreads.
Giveaway for The Wild Hunt
Thanks to the author's generosity, one lucky Bullock's Buzz fan will win a swag pack filled with The Wild Hunt goodies, including a signed copy of the book! This giveaway is open to US residents only, age 18 and older. This giveaway will end August 27th at 11:59pm CST. and the winner will be selected using Random.org. Bullock's Buzz is NOT responsible for shipping of the prize. By entering, you are agreeing to the above terms. To enter, follow the simple instructions below.
GOOD LUCK!
Mandatory entries (you must complete all of these):
Become Ashley Jeffery's fan on Goodreads.
Tweet this: Win a signed copy of #TheWildHunt by Ashley Jeffery & a bag full of goodies on bullocksbuzz.com! @BlogFriendlyPR @AlainaBullock
Leave a comment letting me know you completed both tasks. Be sure to leave a link to your tweet, AND your name AND your email so I can contact you if you win!