I love slipping into bed between crisp, clean and incredibly soft sheets! There is nothing that feels better at the end of a long, tiring day. Some might even say I am bit picky about my sheets, wanting them to not only be soft, but to fit the bed perfectly and to have that slightly cool feeling while keeping you warm. I want them to be light, not heavy, so when you lift them up in the air like you used to when playing 'parachute' in gym class, they gently float down to cover you up.
The majority of time when talking about the softness of sheets, people refer to the thread count, figuring it is the most important thing to look for when selecting sheets. Even I grew up thinking the higher the thread count, the softer the sheet. This line of thinking was quickly disproved when I received a Percale sheet set for review from the Linen Place.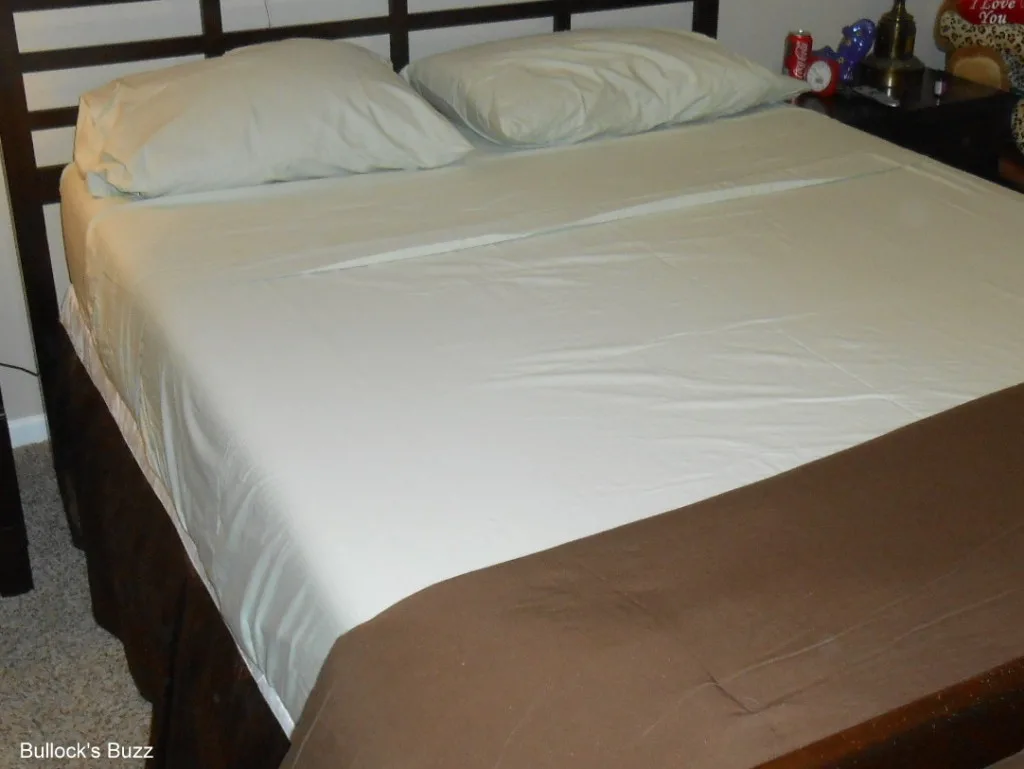 Despite popular belief due to marketing, thread count is by no means the only indicator of the softness and quality of sheets. Instead, it is a combination of factors such as the type and quality of the fiber used (cotton, silk, fleece, etc), the fineness of the yarn (the size of the yarn, thick or thin), the finishing treatment of the fabric (not treated properly), and the construction and thread count. For a more detailed explanation, visit The Truth About Thread Count on the Linen Place website. In the meantime, let me give you an example.
Awhile back I bought a set of sheets pretty much based on thread count. And while my budget was tight, I was still pleased to be able to get a set marked as 600 thread count which I figured had to be better than 200. I paid no attention to anything else, after all, all I had heard for years was "thread count" this, and "thread count" that.
So I get them home, wash them, put them on the bed, climb in and was immediately disappointed. They are scratchy (low quality fabric used to make the yarn), and they do not have that cool, crisp feeling (not a very fine/thin yarn).
After a few months, tiny pills began to show up all over them (poor finishing), making the set even more uncomfortable. The passage of time along with repeated washing made them no softer, but it did seem to make them even thinner. So while they had a fairly good thread count, they were made with poor quality material, were not finished very well and had poor construction. Lesson learned.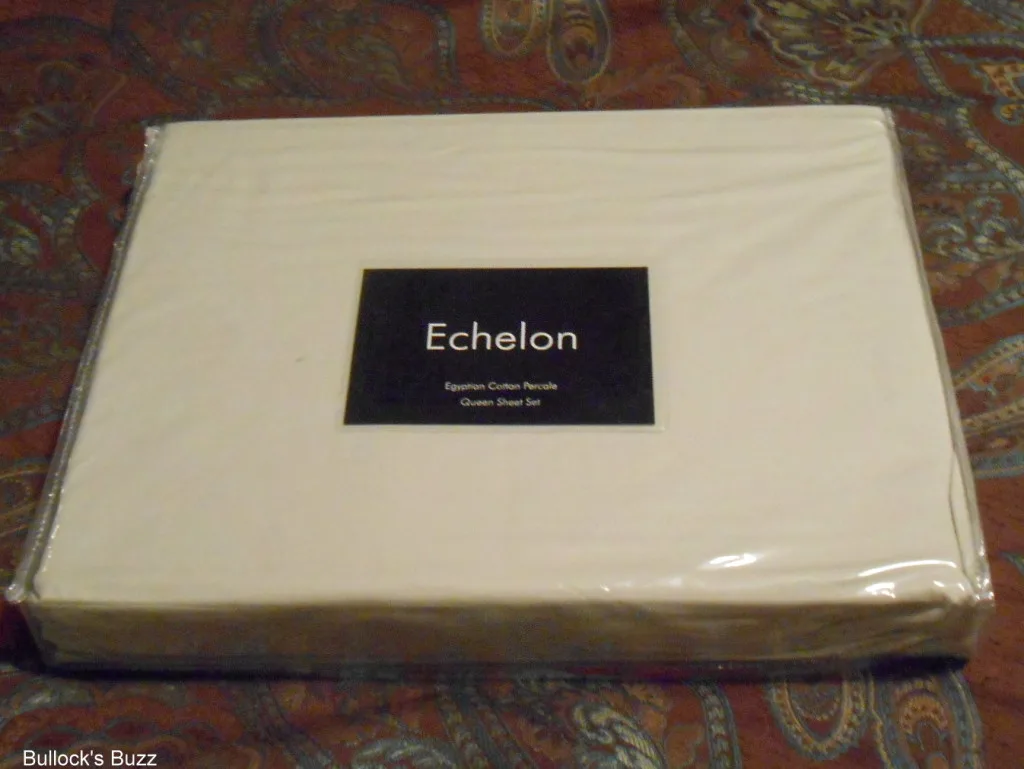 Linen Place sent me a set of Echelon Home Percale sheets in a beautiful, soft green color called Celadon. These sheets have a thread count of 200, and are a single-ply construction Egyptian cotton in a percale weave. Despite all I read about thread count on the Linen Place site, when the sheets arrived and I saw they had a thread count of 200, it was hard not to be skeptical. The queen size set included one flat sheet, one fitted and two queen-size pillow cases.
As soon as I opened the package and touched the fabric, I was a little bit less wary, maybe even leaning towards hopeful. At first touch they were much softer and sleeker than I though they'd be. Of course, touching with your fingers and how they feel when laying in between them are two different things! So the sheets came out, were washed and put on the bed.
As soon as I pulled them out of the dryer, I could tell they were high quality. The soft, pale green color remained exactly as it was in the package with no fading, and the fabric felt sturdy and smooth. In putting the fitted sheet on the bed I could further tell these sheets were great quality by how firm and tightly woven they felt.
The fitted bottom sheet has sturdy elastic around all four sides instead of just two, so when we got the sheet on and pulled it tight, I was thrilled to see it stay that way. We have a memory foam mattress and these tend to be a lot thinner than most standard mattresses. Therefore, finding a fitted sheet that stays tight is near impossible.
Despite the fact that these sheets will fit a mattress up to 15″ deep, it remained taut on our 10″ mattress thanks to that elastic. Even when I climbed on to see if it would bunch up, the elastic kept it firmly fitted to the mattress! YAY!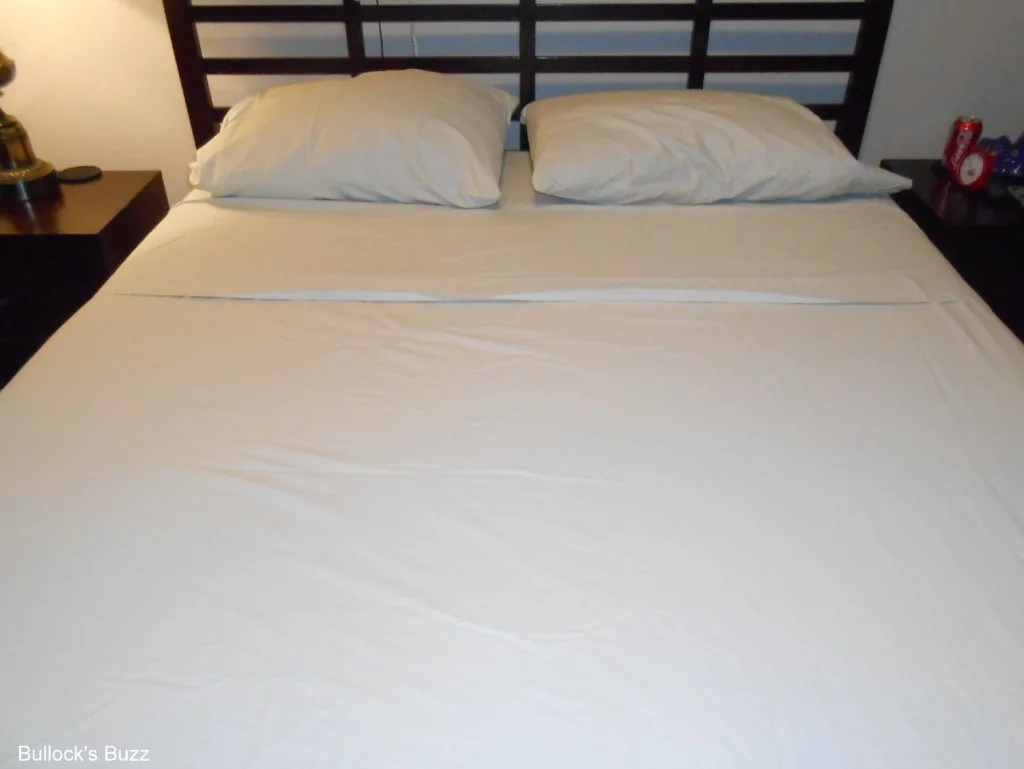 Next came the top sheet. The way it floated to the bed further confirmed the high quality of these sheets. They are lightweight and thin, but not so thin that I can see through them.
Finally, it was the moment of truth! We climbed in got comfy and fell in love! Truly, this set is incredibly soft! We have a set of bamboo sheets that literally feel like silk, and while these are made of a totally different material, they too are incredibly soft and comfortable!
Plus, they breathe. So while they keep you warm, they also remain cool feeling so you don't get overly warm. If I didn't know better, I would think these sheets cost over $100!
The Echelon Sheet Sets are available in sizes Twin up to California King. You can order them in several colors including White, Cloud Blue, Celadon, Parchment and Greystone. Prices will vary from $69 and up depending on size. To order simply visit Linen Place online. And while you are there, be sure to check out their great selection of blankets, comforters, towels, shower curtains, bath rugs and more!