2014 Holiday Gift Guide
As our children grow there are plenty of lessons we as parents want them to learn. Some we are able to teach them, while other they have to learn through experience. But either way we can can help reinforce those lessons through talking, activities and even reading.
The Baby's Brilliant Read Along book series was created to provide parents with another useful tool to enrich their young children's lives and to help educate them in a fun and meaningful way. Today we are excited to introduce the second book in the series, "There's Is Nothing Like Sharing", written with the purpose of helping young children learn one of life's most important lessons, sharing.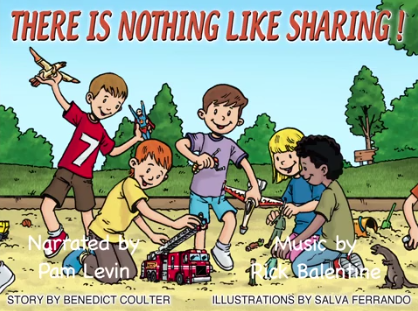 Written for children ages 2 to 5 years, "There's Nothing Like Sharing" is the adorable short story of little Jack and his brand new toy, a shiny red fire truck. Jack can hardly wait for a new day to begin so he can head to the park and play with his new toy. When the day finally dawns, he is ready to go! Jack and his mom head down the street to the park where Jack hopes to spend the entire day with his beloved new toy. Soon though another boy comes over and wants to play. Jack, like all young children have done at one point in time, quickly grabs his fire truck and says "Mine"! As time passes by, and Jack continues to play alone, he soon starts to notice how much fun the other children are having. Laughing and playing and…sharing their toys! Now Jack has a decision to make and a lesson to learn.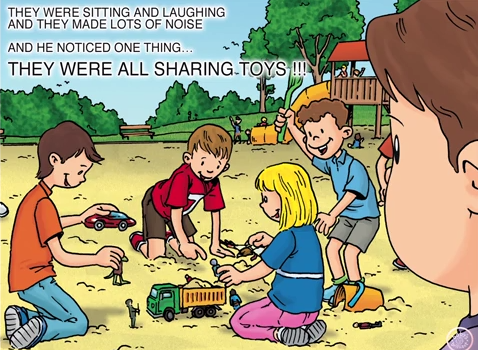 Written with fun, rhyming text, and bright, colorful illustrations, "There's Nothing Like Sharing" will capture the attention of your children and have them asking you to read it again and again! Toddlers will enjoy hearing you read it aloud, and beginning readers will be able to easily repeat the simple text and fill in the rhyming words. Using likeable characters and familiar situations to which every child can relate, this storybook is a great way to help children learn the importance of sharing.
"There's Nothing Like Sharing" will be soon available for purchase through Amazon.com. You can also find it on YouTube where together the narrator's gentle, yet descriptive voice, colorful illustrations and background music make for a captivating story time! The first book, "It's Alright to Look Different", a story that teaches our children the importance of friendship and anti-bullying is already available in both hardcover and paperback format. Plus, there is a Spanish version available as well. And if you are looking for an educational app that stands apart from the rest, be sure to check out Baby's Brilliant!
The Baby's Brilliant app is a wonderful way to introduce babies and toddlers to the world they live in. Using beautiful music and engaging videos, the app teaches them concepts like letters, numbers and colors, as well as provide a tool to help them relax at naptime and bedtime. Available in the App Store for iPhone and iPad.