I love Summer! Long, lazy days filled with outdoor barbeques, warm weather recipes, family gatherings, and a host of other fun activities. There's not much that can put a damper on a perfect Summer day. Well, nothing except mosquitoes, that is.
Seriously guys, I know a lot of states claim the mosquito as their state bird. But here in Alabama, it really should be! Mosquitoes down here thrive. Especially in the summer due to the hot temps and constant afternoon storms which in minutes can turn a pleasant afternoon into a blood-thirsty vampire-filled sauna.
Which is why each summer the first thing we buy is some type of mosquito repelling product
. And this year, I've found a great one – the Thermacell Halo Mosquito Repeller Patio Shield.
Please note, this post may contain Amazon affiliate links to make shopping easy. If you make a purchase through these links, I'll make a small bonus at no extra charge to you.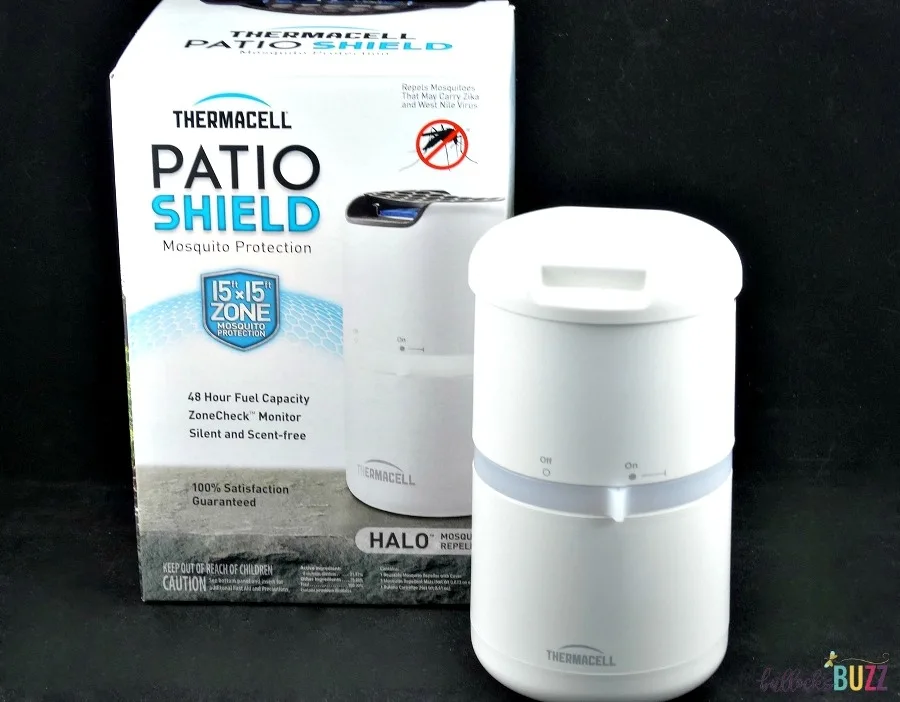 Thermacell Halo Mosquito Repeller Review
The Thermacell Halo is an all-natural, portable mosquito repeller that works without the use of DEET to provide continuous protection from mosquitoes – including those that carry Zika, West Nile and other illnesses.
The compact, cordless mosquito repeller works by using Mosquito Repellent Mats that are soaked in allethrin. Unlike DEET, allethrin is natural and comes from the chrysanthemum plant which is known for keeping certain bugs away.
A small butane cartridge heats up the repellent-soaked mat inside the ThermCELL, activating it and spreading it into a 15 by 15-foot zone of protection from mosquitos, black flies and other biting insects. Operation is silent, virtually odor-free, and there is no open flame.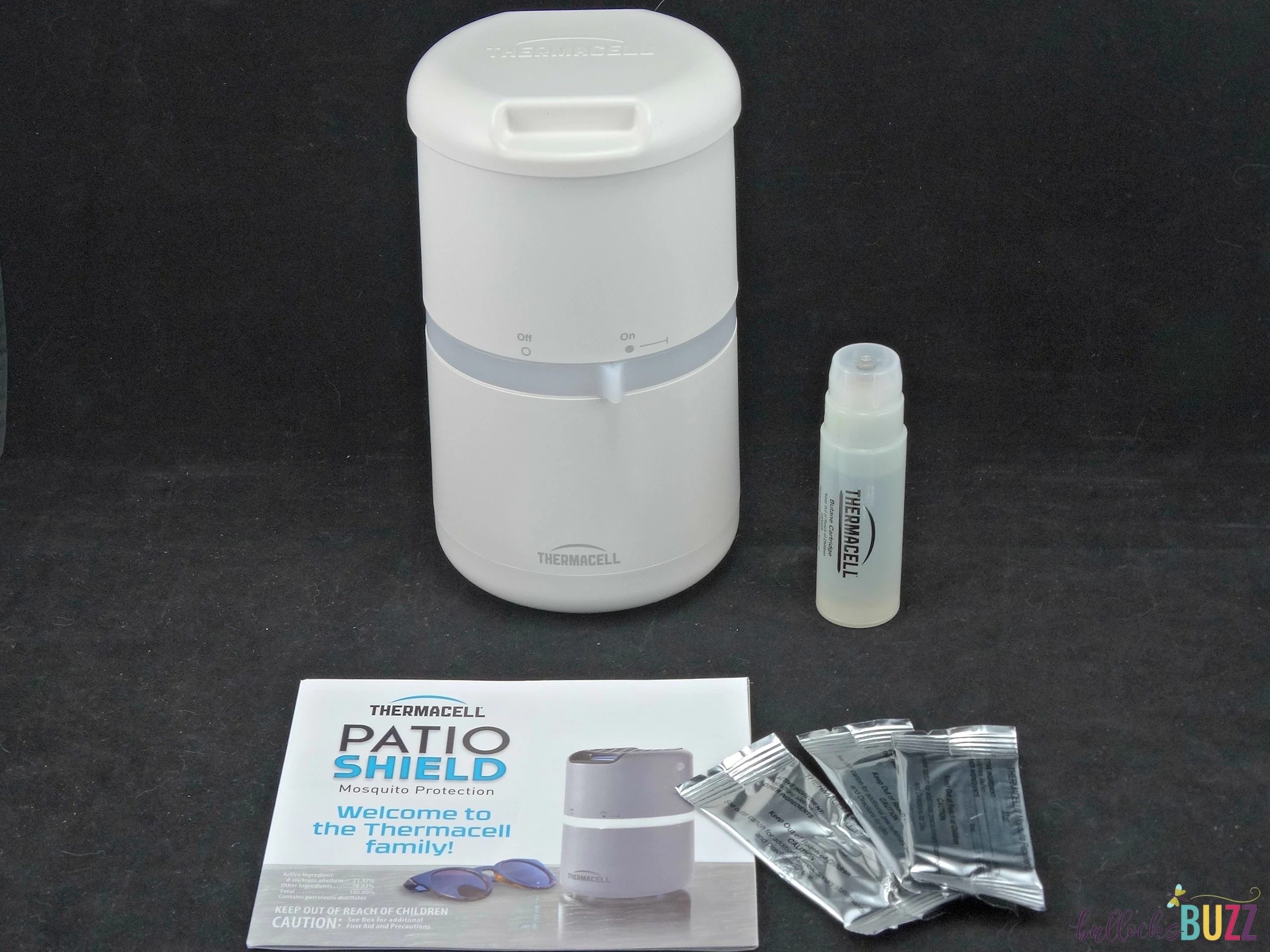 Each unit comes with 1 Halo repeller, 1 butane cartridge, and three repellent mats. No cord is needed, but it does use 4 AA batteries. The batteries are what operate the ZoneCheck™ indicator light only, as the mosquito repellant and light feature work independently.
The unit will also accept up to 4 cartridges for 48 hours of fuel runtime, although it can be used with as few as one. The number of cartridges will not affect performance.
Setting Up the Thermacell Halo
Setting up the Thermacell Halo Mosquito Repeller is pretty simple. You just remove the bottom panel, pull out the battery pack, insert four AA batteries, then replace it.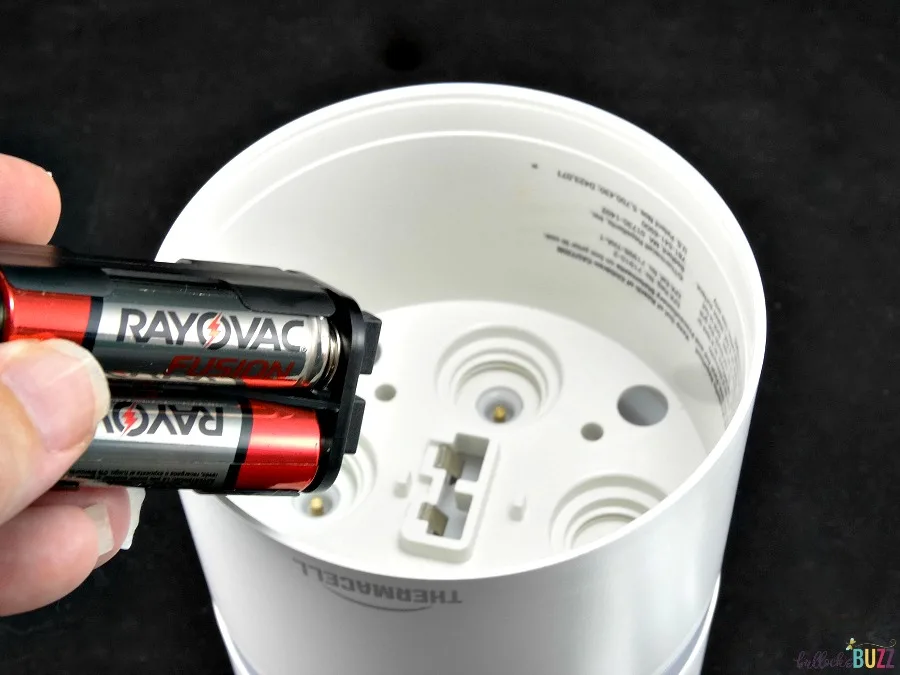 Next, remove the cap from the butane cartridge and insert it into one of the slots twisting to lock it into place.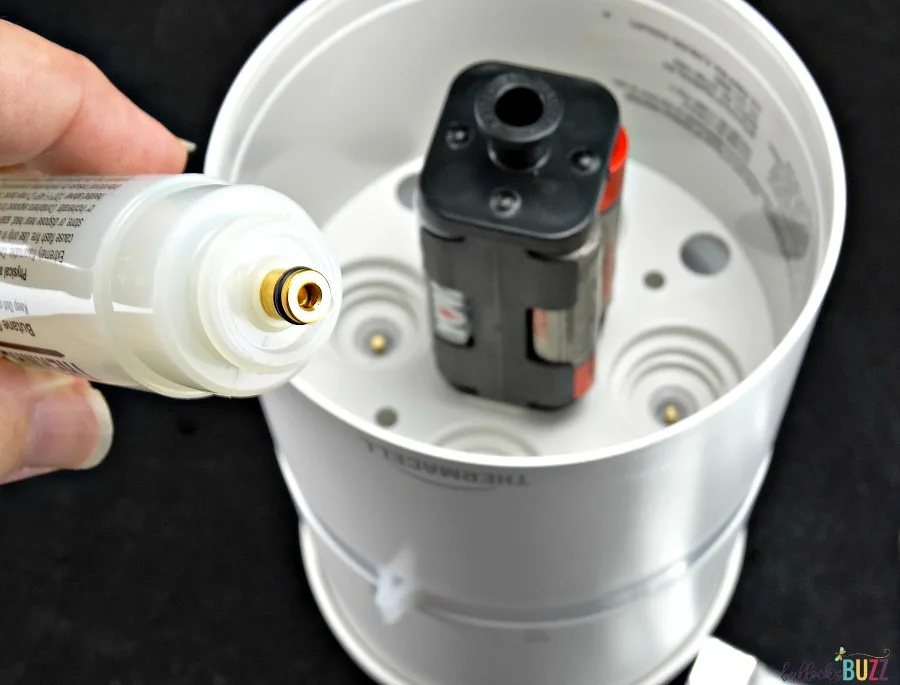 You then replace the cover, turn it right-side up, and pull off the top cover. Insert one of the Mosquito Repellent Mats
under the grill and you are ready to go.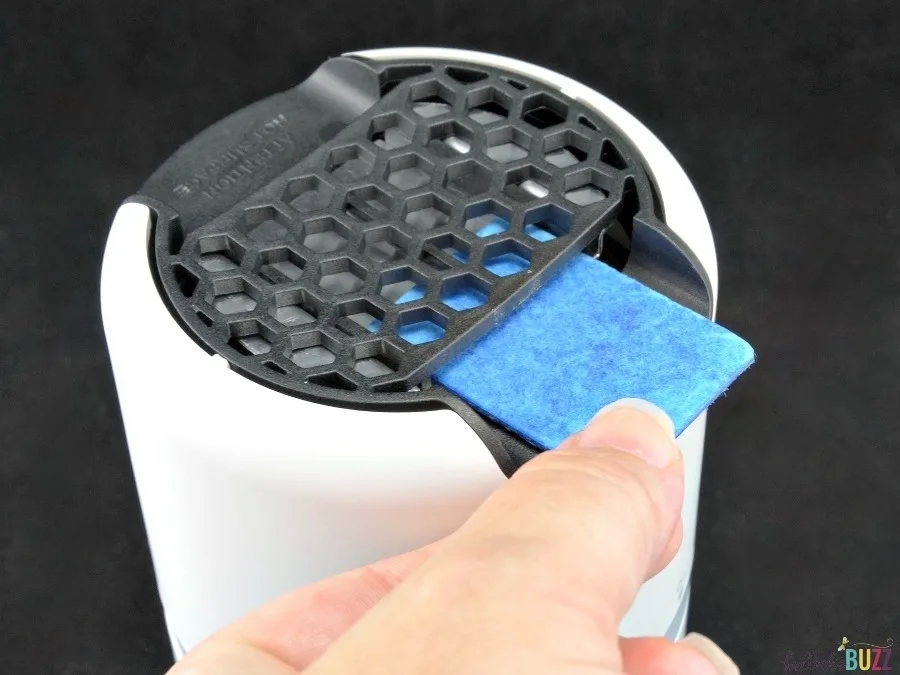 Place the unit on a flat surface, and slide the power switch to 'ON'. Wait about 5 seconds, then push the switch a little more to the right until you hear a click.
A white light will begin to flash as the Halo creates the Zone. Once the flashing light turns solid, you know the unit is operating.
A tiny orange light inside the viewing window, also lets you know the machine is working.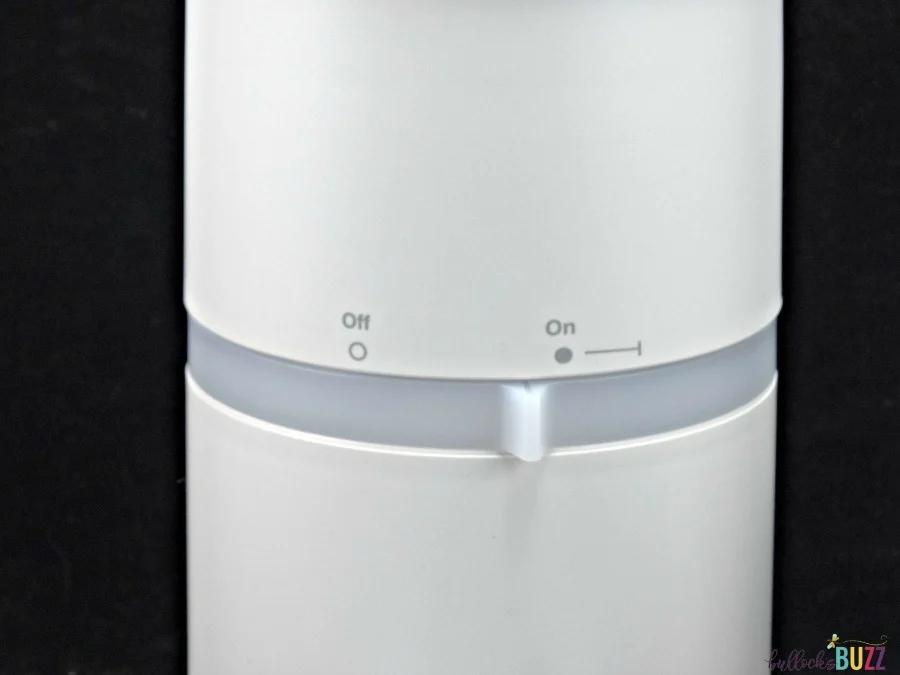 A few more points worth mentioning include:
the modern-looking Halo measures 6.25″ x 5.5″ x 9.1″, and weighs 1.51 lbs.
you may notice a small amount of mist when the machine is working, it's completely normal.
the grill on top of the unit can get hot with use, so be careful. However, I've never felt it get hot enough to burn anyone.
How Well Does the Halo Work?
I've been using the Thermacell Halo Mosquito Repeller for the past two weeks, and so far I've been quite impressed! My husband and I like to sit outside on the porch after dinner, and thanks to the Thermacell Halo, we can now actually enjoy it. The porch is about 11″ by 6″ and the Thermacell Halo has no problem keeping the area mosquito-free!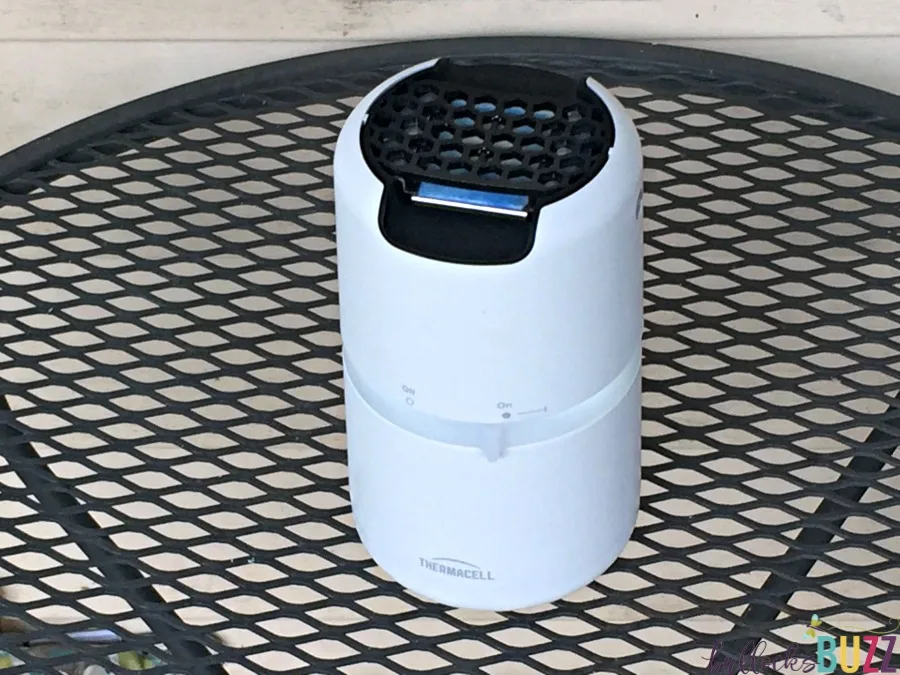 However, the best test was yesterday at our Fourth of July gathering. About 20 people were outside talking while we were grilling. We placed the Thermacell Halo Mosquito Repeller right in the middle of a big circle of chairs, and not one person received a mosquito bite the entire time.
I actually had several people ask where they could get one!
A Few Things to Consider
As much as I like the unit, there are a two things I wish were a bit different. First of all, it can take a few minutes to get it to create the zone. The instructions say it can actually take anywhere from ten to thirty minutes depending on the size of the area.
I am not sure if it is using up the butane during this time or not. When using it on our front porch, there were a few times where it took a good 15 minutes, while other times it started working within two minutes. However, once it starts working, it really works!
Secondly, the Mosquito Repellent Mats work for 4 hours each, and since the unit is compact, the propane cartridges are small, too. This means that each cartridge only lasts 12 hours a piece. While you can easily buy refills of both, you may want to consider how you plan on using the Halo to see if it is cost-effective.
If you are wanting something that works continuously 24-7, you may want to consider other options. If you want something to keep those pesky 'skeeters away so you can enjoy sitting outside or for cookouts and campouts, the Thermacell Halo Mosquito Repeller is perfect!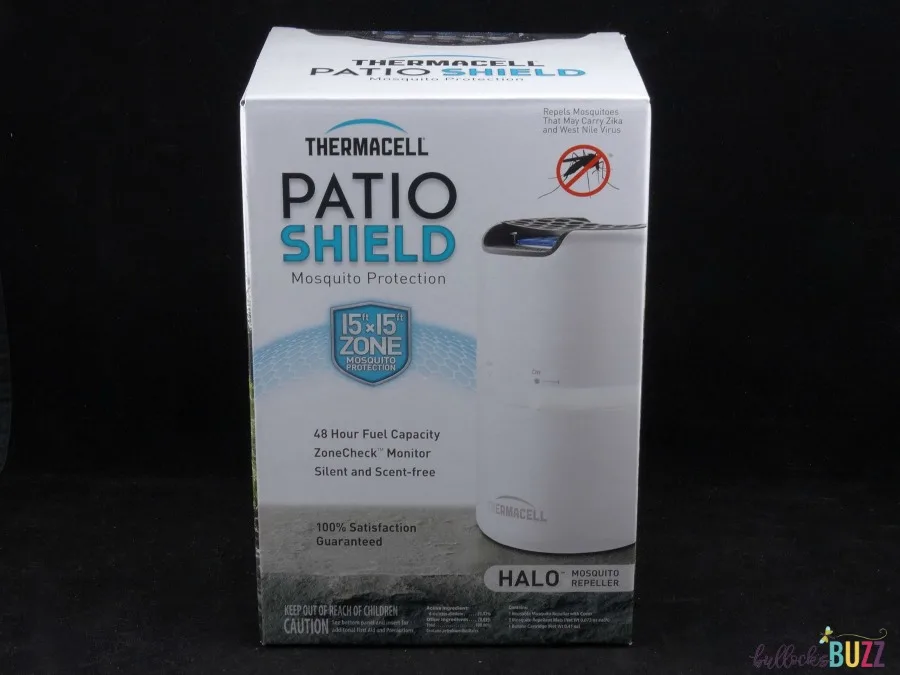 Where Can I Get a Thermacell Halo?
The award-winning Thermacell Halo Mosquito Repeller Patio Shield comes in three different color options: grey, white and black. You can find the Thermacell Halo Patio Shield online through Amazon, as well as at your local Walmart, Lowes, Home Depot, and other stores.
If you'd like to enjoy the outdoors without the annoying biting and buzzing of mosquitoes, then check out the Thermacell Halo Patio Shield Mosquito Repeller today!