Take your home theater to a whole new level with the Edifier R980T Bookshelf Speakers!Please note, this post may contain Amazon affiliate links to make shopping easy. If you make a purchase through these links, I'll make a small bonus at no extra charge to you.
Edifier R980T Bookshelf Speakers
Let's face it, going to the movies is way too expensive. Even a small family of 3 will pay at least $50 dollars, and that's not counting the popcorn and drinks! Now you can get the full stereo sound of the movie theater experience without having to pay thanks to the Edifier R980T Bookshelf Speakers.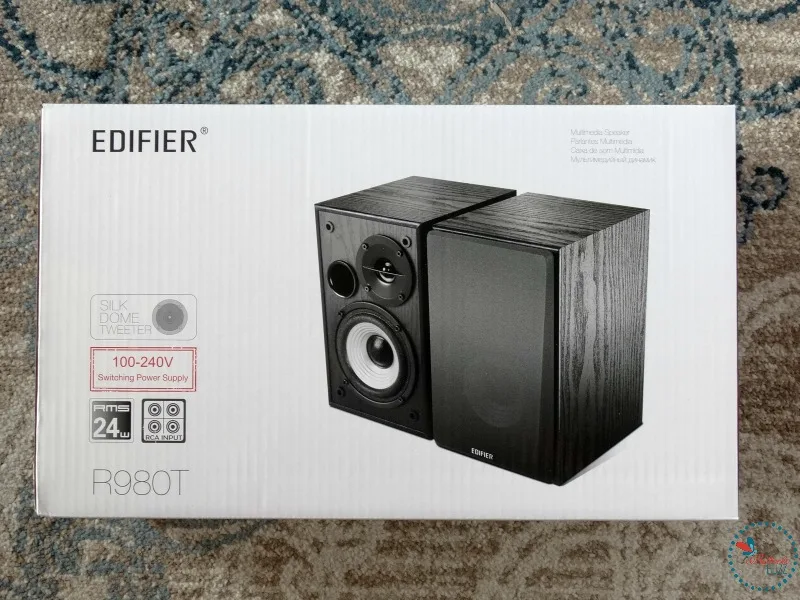 I have a nice big screen TV, but my space is quite limited when it comes to adding a set of speakers. The Edifier R980T Bookshelf Speakers are incredibly compact. Measuring approximately 14 inches wide, 22.6 inches high and 19.7 inches deep, they are the perfect size for bookshelves, mantles, end tables, your desk or even to mount.
Edifier R908T Bookshelf Speaker Specs
And while the Edifier R980T bookshelf speakers may be compact in size, in sound they are anything but! Producing a total 24 watts of sound (12W RMS each), each speaker contains a 4-inch bass driver and a 13 mm tweeter that clearly and crisply replicates enjoyable sound for listeners without any buzzing or distortion. In fact, the Edifier R980T bookshelf speakers are specifically designed for enhanced bass, calibrated with a flared bass reflex port that is encased in a 100% medium-density fiberboard wooden enclosure. Plus, there is no need for an amplifier or receiver, just plug into the source and play!

Edifier R908T Bookshelf Speaker Features
On the back of one speaker is an ON/OFF button, a volume knob, and a knob to adjust the bass to your preference. There are also 2 RCA inputs allowing you to be connected to more than one audio device. No more going back and forth plugging and unplugging between your tv, computer, record player or PC. You can easily listen to whatever it is you want at any time. And since the speakers are so lightweight, it's no problem to access the controls.
The Edifier R980T Bookshelf Speakers not only sound great, they look great, too! Each magnetically shielded speaker is encased in a dark, classic wood finish that looks stylish and works to minimize acoustic resonance. They'd honestly look great in any room or office!
How do really they sound?
I remember years ago I had a really good set of speakers I'd inherited from my dad. These speakers were HUGE and took up so much space. Plus they were so heavy moving them was a chore. The Edifier R980T bookshelf speakers are much smaller and lighter, but they sound just as good – if not better than – the others.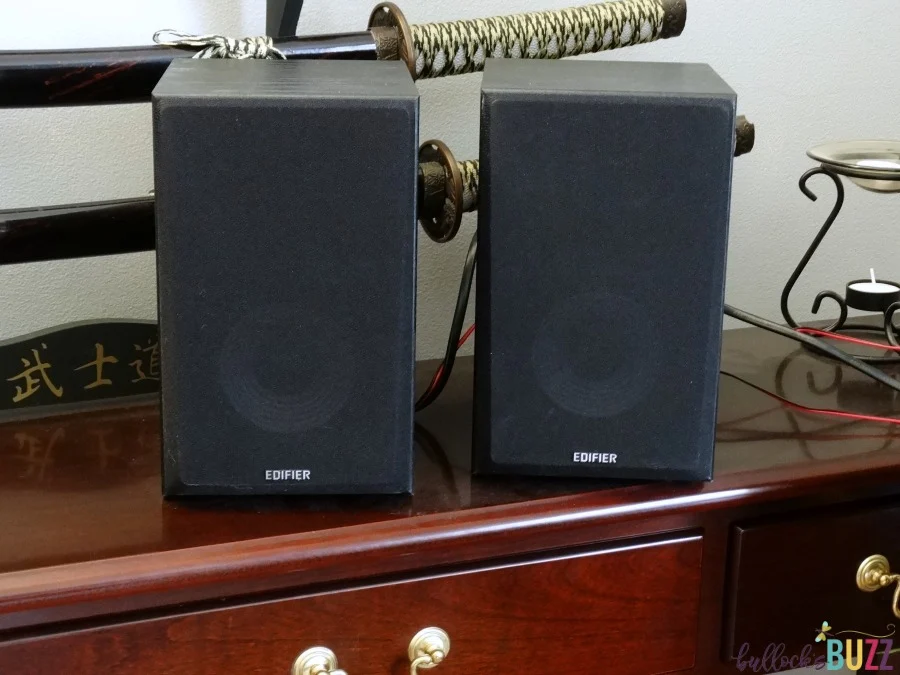 If you are worried about sacrificing sound quality just because you are short on space, the Edifier R980T bookshelf speakers are definitely worth checking out! You can order them directly through the Edifier website or through Amazon (aff. link). The speakers come with both RCA and 3.5mm cables, as well as a good amount of speaker wire. Plus, they also come with a 2 year warranty – guaranteed high quality and reliability with hassle-free parts and labor in USA and Canada.