Your family is one of your main considerations when it comes to buying a new car. You want a car that is not only large enough, comfortable, and roomy, but also safe. Below are several of the top safety features for family vehicles you should consider when looking for a new family car.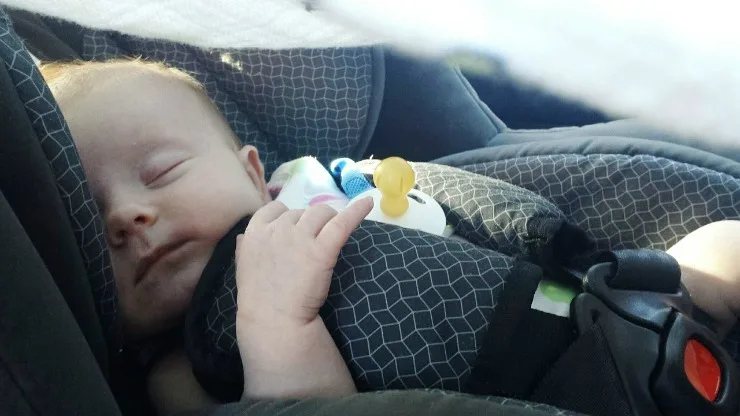 Buying a New Family Car? Consider These Top Safety Features for Family Vehicles
High crash test scores
While a test score isn't exactly a safety feature, it is extremely important as it gives you an idea of the protection offered by the vehicle. There are two types of ratings you will want to look for. The first is either a four-or-five-star crash test rating on both front and side impact tests from the National Highway Traffic Safety Administration (NHTSA). The second is a "Good" rating from the Insurance Institute for Highway Safety (IIHS) for 40-mph frontal offset and side-impact tests. This particular test is designed to measure the level of occupant protection when a vehicle is struck by an SUV or pickup truck.
Front Airbags
The second safety feature worth considering is a front airbag system. While many vehicles come with standard airbags, take it a step further and look for one with Advanced Frontal Airbags. These particular airbag systems have sensors that take into consideration factors such as occupant size, the position of the seats, and the severity of the crash to determine the level at which both the driver and passenger front airbags will inflate. Not only are these airbag systems better designed than current airbags when it comes to saving lives, but they also help reduce the risk of airbag-related injuries or death to children and small-framed adults.
Side-impact and side curtain airbags
In addition to front airbags, also look for vehicles that offer side-impact and side curtain airbags. The side-impact airbags are mounted in either the seat backs or the doors and offer protection to the upper body/torso during side-impact crashes. Side curtain airbags (also known as head curtain airbags) often run the length of the cabin and provide head protection for outboard occupants in side-impact collisions. These systems also work to protect occupants in case of a rollover by helping to keep everyone inside the vehicle.
Stability Control
A vehicle's stability control system uses sensors to monitor how closely your vehicle's path matches your intended path based on steering, throttle, and braking. When needed, this system can actually apply braking forces to individual wheels and reduce engine power to help prevent skidding and sliding. It also helps the driver maintain control during emergency maneuvers, and really comes in handy on vehicles with a higher center of gravity.
Antilock Braking System (ABS)
Antilock braking systems prevent your vehicle's brakes from locking up by rapidly applying intermittent brake pressure. As you know, a locked-up wheel (or wheels) will slide and cause you to be unable to steer around potentially dangerous collision. ABS helps give the driver more steering control as well as allows for shorter stopping distances on slippery surfaces.
Tire-pressure monitoring system
Another useful safety feature for family vehicles is a tire pressure monitoring system. In most cases when a tire fails it is due to it being under inflated. While nothing replaces the importance of regularly checking your tire pressure, a tire pressure monitoring system can help by letting you know via a dashboard warning light when a tire is low on pressure.
Rear parking sensors or rear-mounted camera
Unfortunately, back-over accidents are becoming more and more common, especially in larger vehicles and mini-vans. Children and pets are the most common victims. To help avoid this happening, look for a vehicle that offers either a rear-view camera or rear parking sensors. The camera allows you to easily see what is directly behind you, and in some cases around the entire car. The rear parking sensors will alert you via audible beeps if you are getting close to an object behind you. Some systems use pillar-mounted light displays as well.
Child Seat Compatibility
Something all parents should have in mind when choosing a car is your child's safety seat compatibility. In fact, when looking for a new car, bring the seat along so you can install it during a test drive. All 2002 and up vehicles come with the LATCH (Lower Anchors and Tethers for Children) system standard in the backseat. This provides a more secure means of installation for child safety seats through the use of tethers. In addition, newer vehicles come with Automatic Locking Retractor/Emergency Locking Retractor (ALR/ELR ) seatbelts which allow parents to lock down safety seats without tethers provide an added measure of safety or those that do.
Automatic crash notification
Although no one likes to think about it, if the worst happens and you and your family are in an accident, you will want to ensure that help arrives as fast as possible. Many vehicles today offer what is known as an onboard automatic crash notification system. Some of the most common ones include OnStar, Lexus's Lexus Link, and BMW's BMW Assist. These systems will automatically summon emergency assistance and will identify your location to rescue personnel. They can also be used for common roadside assistance such as flat tires or breakdowns.
In Conclusion
Kids are our most precious cargo, so when shopping for a new family car, I hope you will seriously consider these safety features for family vehicles! All reliable dealerships, such as those in the Elliot Auto Group, will be able to tell you which safety features are available on each car you are considering. Pick the ones that you feel will work best to help protect your family.