Why sweep when you can vacuum instead? The Toppin Cordless Vacuum is lightweight, versatile, and designed specifically for hard floors eliminating the need for a broom!
With a husband who works construction, two cats that love to shed, and family and friends who visit often, my floors have to be cleaned on a regular basis.
Because our house is all hardwood and tile floors, dust, cat fur, dirt, and other debris gather easily.
Since I can't stand seeing dirt on my floors, I have to sweep each and every day. To say that I am tired of sweeping every day, is putting it kindly!
So when Toppin reached out about reviewing their new cordless vacuum, I was thrilled!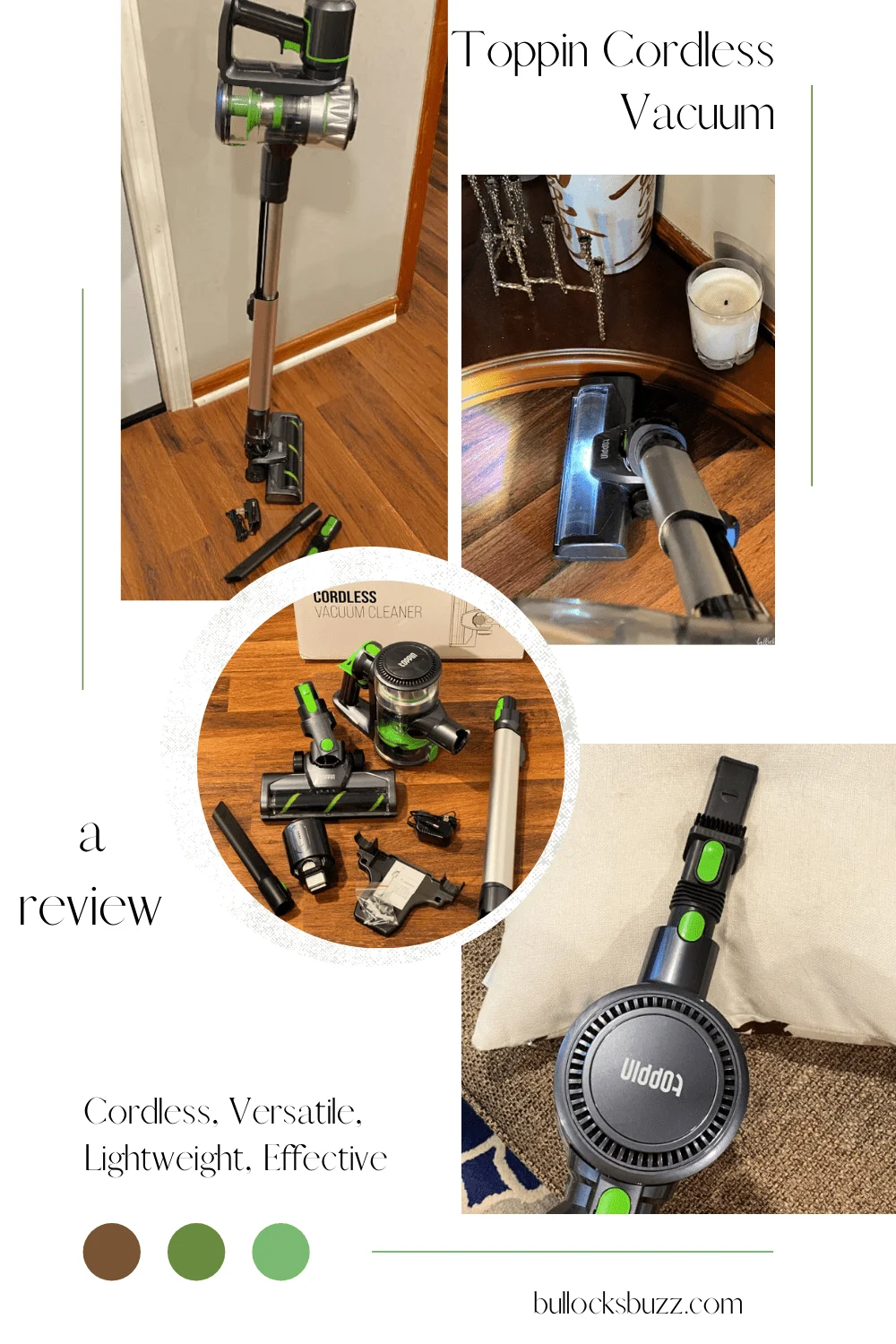 DISCLOSURE: Complimentary product was provided for this review, however, all opinions expressed are my own.
Since I've been using the Toppin cordless vacuum, daily cleaning has gotten SO much easier and my floors have never looked better!
Who is Toppin?
Toppin is a small home appliance brand that uses powerful and innovative technology to create high-quality, premium products in the home comfort category.
Their products are designed to help you live a cleaner and more healthy life and include stylish and convenient items such as humidifiers, air purifiers for small and large rooms, and automatic soap dispensers.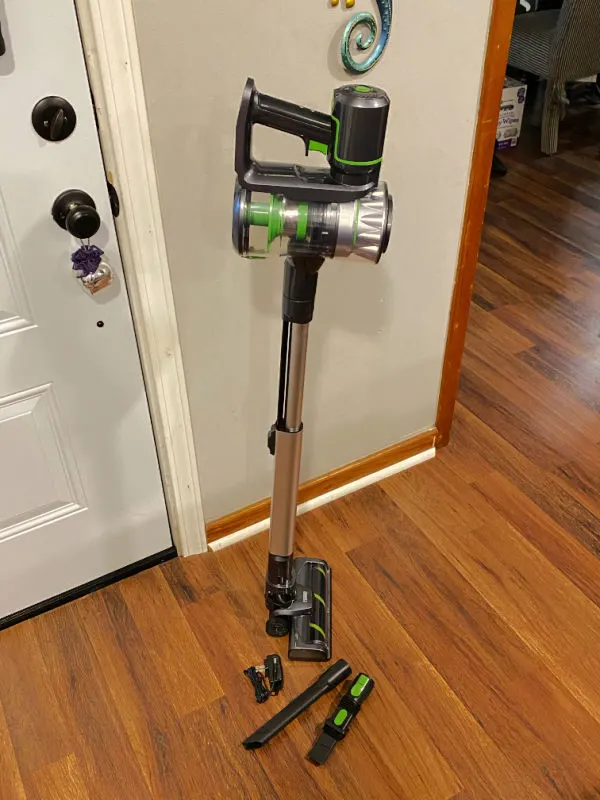 The company's goal is to keep their customers living in a comfortable environment in an easier way. And the Toppin cordless vacuum cleaner does just that!
Toppin Cordless Vacuum
The Toppin cordless vacuum (model TPVC001) is a small, yet powerful, vacuum designed specifically for all kinds of hard floors. It's perfect for use on hardwood, laminate, and tile, as well as low-pile carpeting.
It is not, however, designed for use on high pile (over 15mm thick) carpeting. So while it won't work very well on thick carpeting, it does work very well on hard floors making it a great option for those who don't like to sweep.
And while this vacuum may be small in size, it was made to be mighty. Plus, it's packed full of handy features that make cleaning a variety of items much quicker and easier.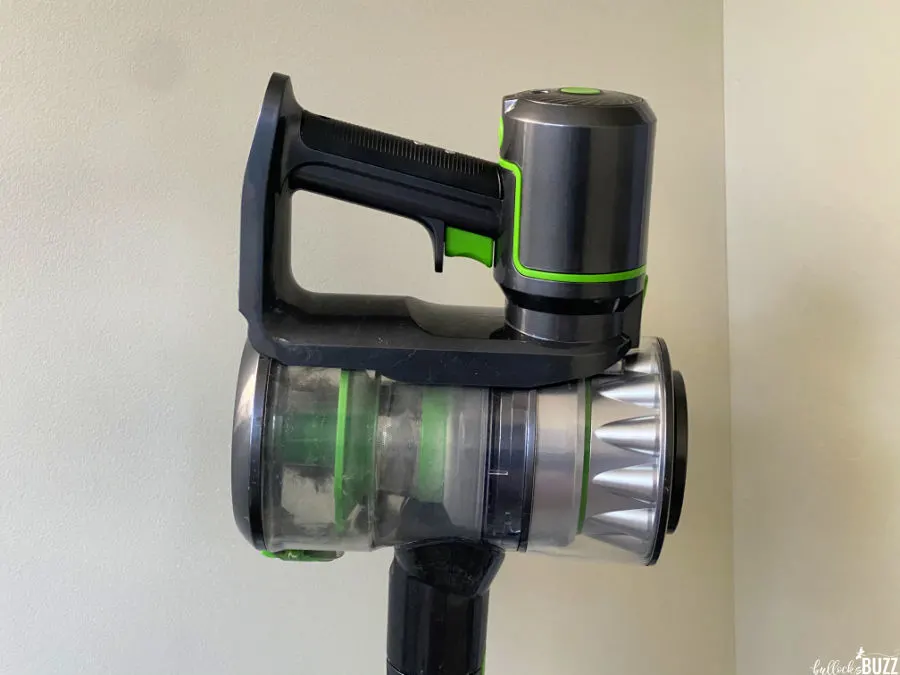 Toppin Cordless Vacuum Features I Love
After using the vacuum for several weeks, I couldn't be happier with it! It really has become a favorite and has many features that I love. Here are a few of my favorite features…
1. It's Cordless
One of my favorite things about this vacuum is that it is 100% cordless. Corded vacuums tend to keep you tethered near an outlet. And it doesn't take much for the cord to get in your way or to become a tangled mess.
The Toppin cordless vacuum gives you the freedom to go from room to room without having to plug and unplug. Plus, there are no worries about running over the cord.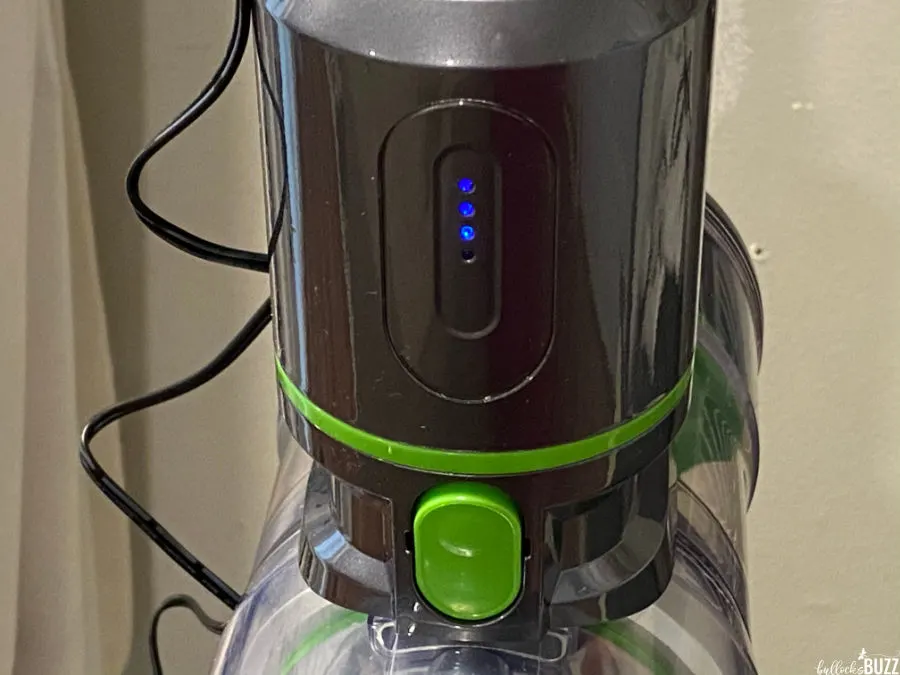 It also has a handy battery level indicator to let you know when it's nearing time to recharge, and when it's finished charging. And speaking of charging, it takes around 4 hours to get a full charge.
While I have yet to use it for as long as it takes to run out the charge, according to Toppin, the 2200mAh lithium battery provides up to 35 minutes of runtime. To me, that is more than enough time to vacuum whatever needs vacuuming. Plus, I get several uses out of each charge.
2. The Brush Roll is Tangle-Free
To me, there's not much worse than having to stop vacuuming in order to untangle and unroll human hair, pet hair, strings, and other debris that wrap around the brush roll.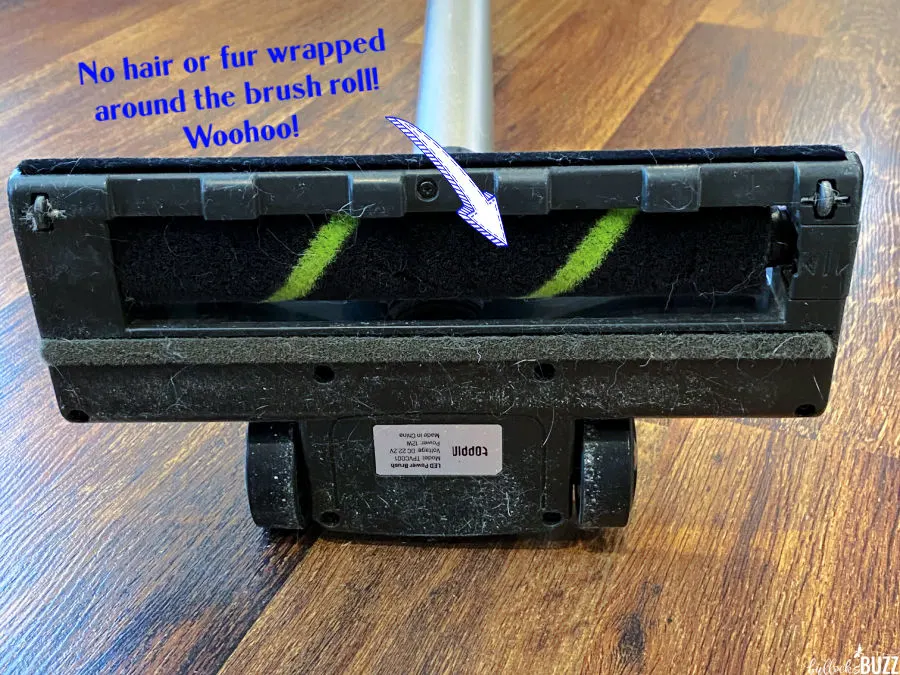 Sometimes it can be next to impossible to untangle and remove. Not to mention all of the dirt that falls out as you work to get it untangled!
Toppin's brush roll, however, is designed to help prevent this from happening while you're vacuuming. The 35mm-wide brush roll is made from a combination of soft wool and carbon fiber wool. These materials work to resist and reduce the amount of hair and other things from wrapping around the roller.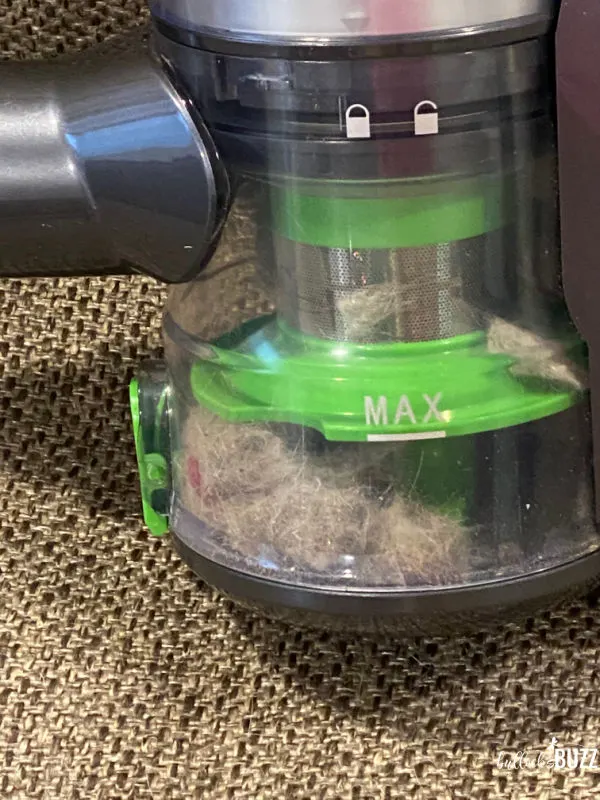 3. The Vacuum Has Strong Suction
As I mentioned before, the Toppin cordless vacuum may be small, but for its size, it's powerful! The 130W vacuum features two speeds and provides around 12kPA of suction power. This is powerful enough to vacuum up whatever I need including pet hair, dirt, crumbs, dust, and other debris.
It also easily removes cat fur from my furniture, throw pillows, and curtains. It picks up the bits of cat litter that the cats track out of their boxes. And it even gets the dry cat food that my cats somehow manage to get all over the floor by their bowls.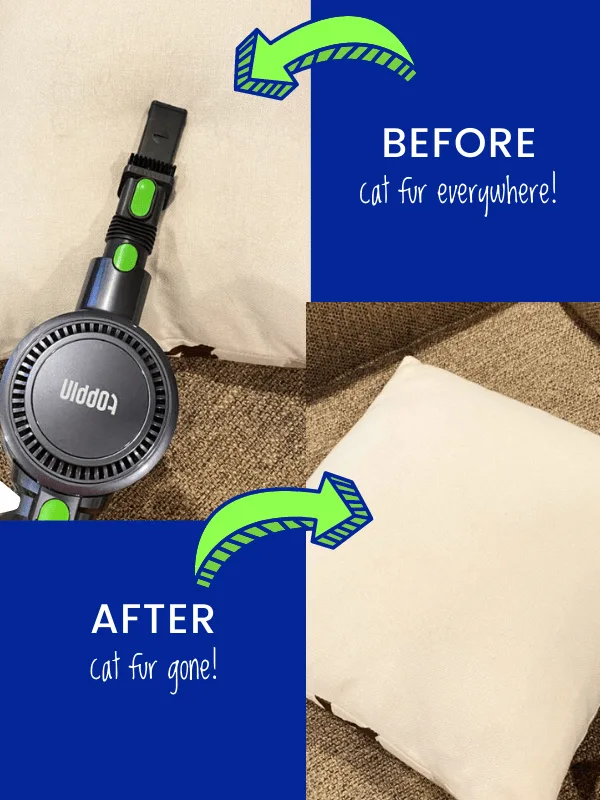 Dirt, grass, small pebbles, and crumbs in my car are no match for it. And the dirt that gets tracked inside my house is sucked up in seconds. It also does a great job of cleaning my air vents and leaves my low-pile area rugs looking great.
And did I mention that it's not excessively loud when running? In fact, according to Toppin's specs, the noise level is ≤74 dB –which my cats (and myself) greatly appreciate. 😉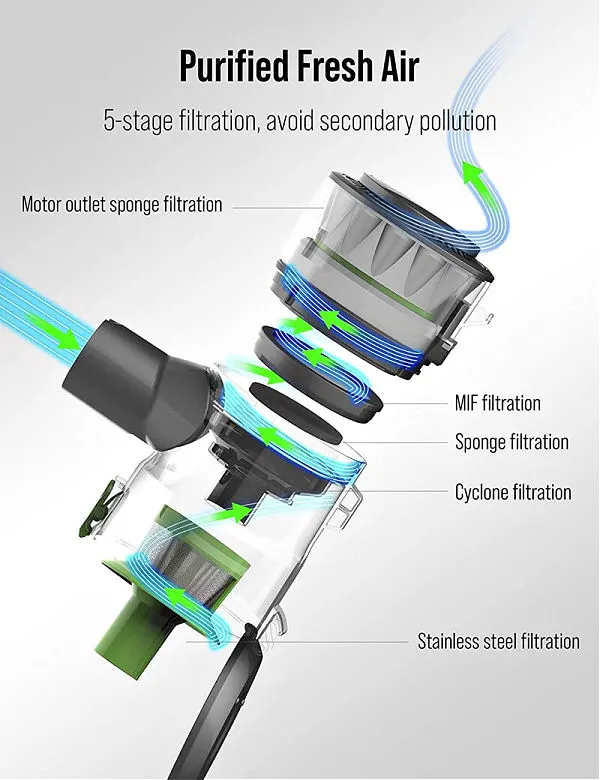 4. It Has a Great Filtration System
The Toppin stick vacuum also features a 5-Layer efficiency filtration system. Its cyclone technology combined with a high-density filter is capable of cleaning up to 99% of fine dust and particles while preventing secondary air pollution.
You not only get a great cleaning experience for your floors, but it also makes the air you breathe while vacuuming cleaner.
5. It's Very Versatile
Another one of my favorite things about this vacuum is its versatility. You can use it as a stick vacuum, whose adjustable handle and swivel head allow it to reach under and around furniture and around corners.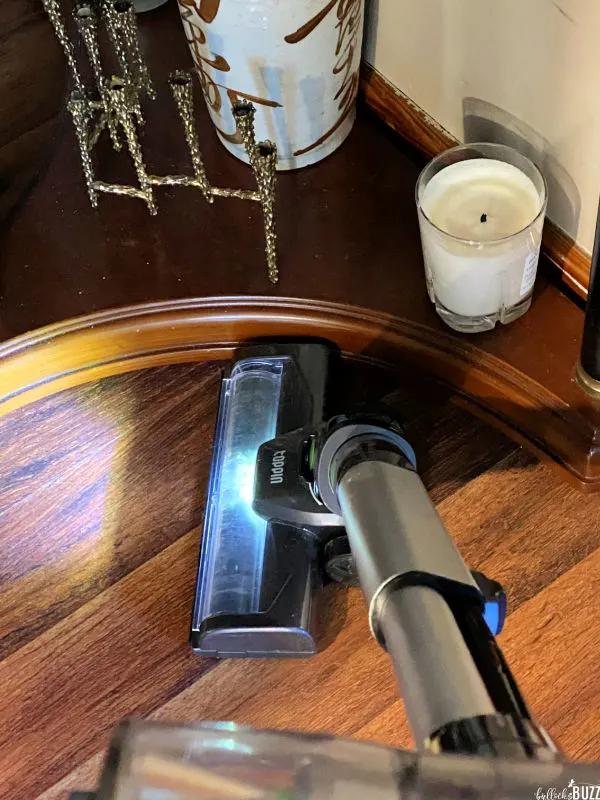 Or, with a simple push of a button, you can convert into a handheld vacuum that is so lightweight, reaching spots above your head is no problem.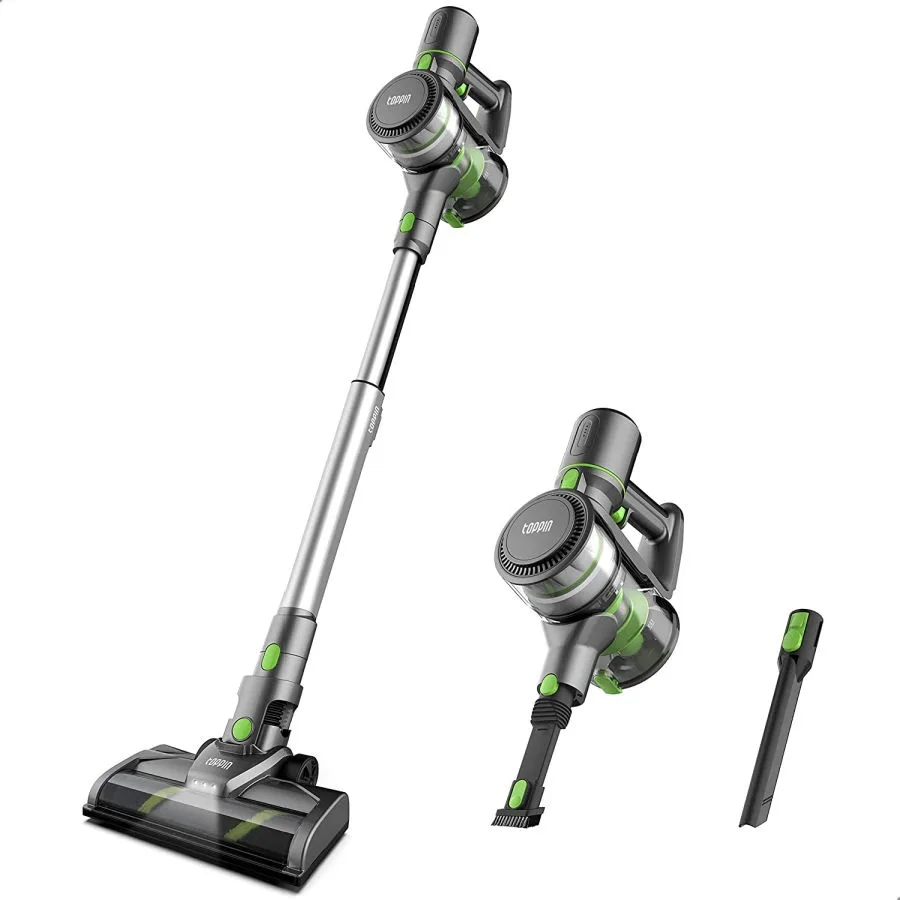 The two included attachments make it a cinch to clean a variety of items such as throw pillows and furniture and vacuum cracks and crevices, stairs, and other hard-to-reach areas.
I've even used it to clean out my kitchen cabinets as well as that space on top of the cabinets.
Plus, the LED headlights make it easy to see and clean up the dirt from beneath furniture, inside closets, and other dark places.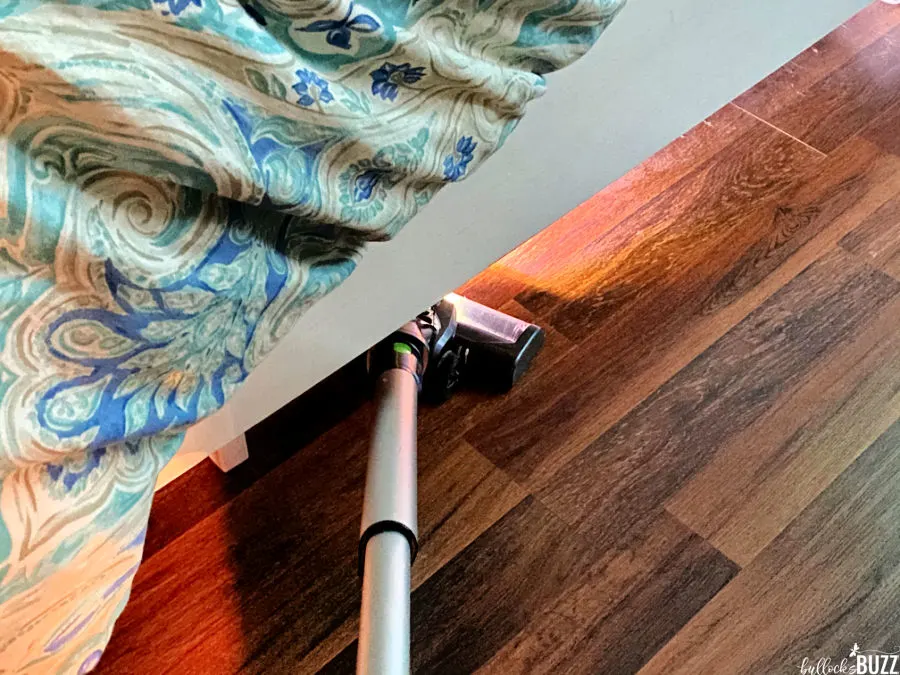 6. It's Light-Weight
At a mere 3.08 pounds, the Toppin cordless vacuum is very light-weight – which I love. It is so lightweight that it's incredibly easy to use, move from room to room, and store. Vacuuming has never felt so effortless!
Speaking of storing, it even comes with wall mounting hardware. Plus, its lightweight and small size make it ideal for storing in a closet or on the wall. You can even hang it on the wall and charge it at the same time, saving you storage space and time!
7. Cleaning the Canister and Filter Is a Breeze
Another great feature of this cordless vacuum is that it's easy to clean. Just like all cordless vacuums, the canister needs to be cleaned out after use. This is easily done with a simple push of a button.
And, just as with other vacuums, the filter also needs to be cleaned on a regular basis to prevent clogging and suction loss.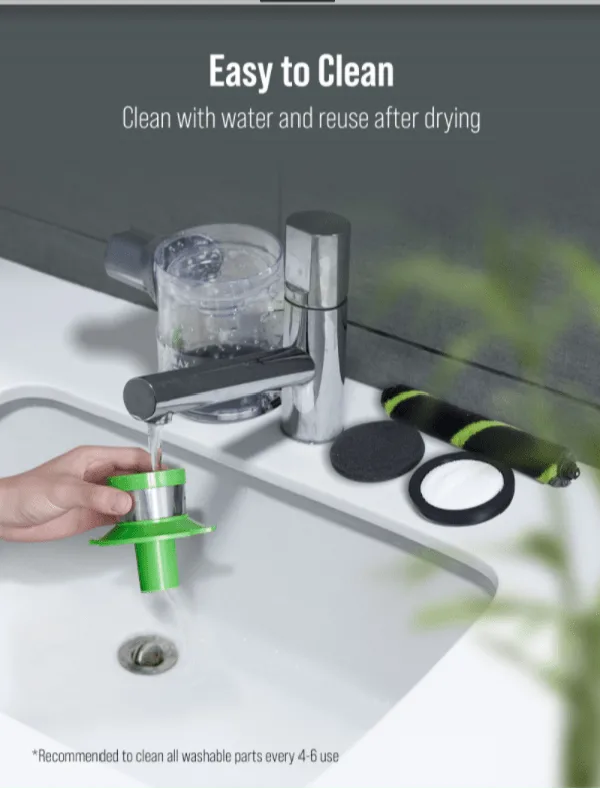 To make this simple, both the filter and the canister can be completely detached from the vacuum and washed with water. Once finished, ensure that both parts are completely dry before reattaching them and using the vacuum.
Since the brush roll is designed to resist and reduce hair wrap and attachment, so there's not much to clean there either.
Toppin Cordless Vacuum Review
I've only had the Toppin Stick Vacuum for a few weeks now, but I've used it several times on a variety of jobs. So far, my first impressions are pretty good.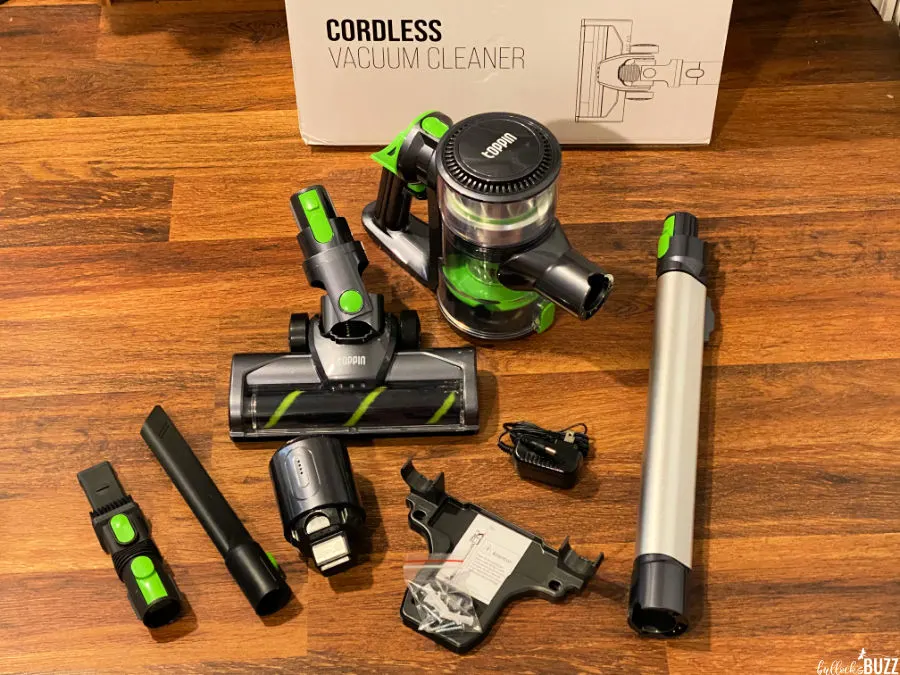 When the cordless vacuum first arrived, it had to be put together. However, the Quick Start instructions were clear and precise and within minutes the vacuum was together and ready to go.
Since then I've used it to vacuum my floors and area rugs, and even my Venetian blinds. I've used it to clean my couch, the curtains, the air vents, and even my car.
The Toppin cordless vacuum is exactly what I needed — an easy way to clean my floors and hard-to-reach areas.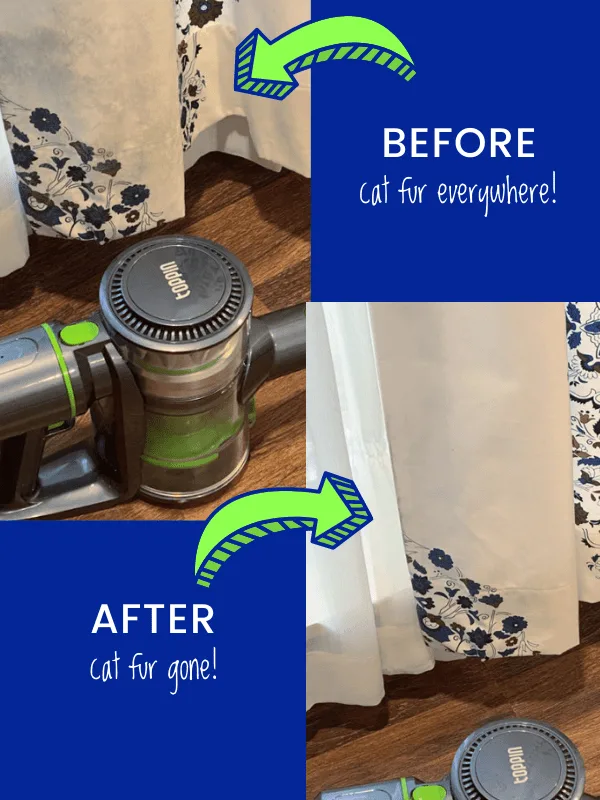 In my opinion, the Toppin cordless vacuum is perfect for hard floors, quick clean-up jobs, deep household cleaning, and getting into areas that my other vacuum can't reach.
Overall, I am very happy with this vacuum!
Where Can I Buy A Toppin Cordless Vacuum?
If you're in the market for a well-designed, compact vacuum that's lightweight, and versatile, then you'll love Toppin's cordless vacuum!
Get one of your own at Amazon.com.
OR
Visit the Toppin website and use the code Bullock15 for 15% off (discount for purchases made through the Toppin website only.)