Trakline Belts Review and Special Promo Code
Why is it that men (and even women) have such a hard time finding a decent belt? One that not only looks nice, but fits perfectly and lasts longer than a year or two? Over the years of shopping with my husband, I've noticed that every time he finds a belt, he winds up either having to punch a new hole or wear it a tad too big or too tight. I know he would love to have a belt that is not only made from top quality leather, but is of fine craftsmanship, versatile and stylish. And then we found it – the Trakline Belt by Kore Essentials.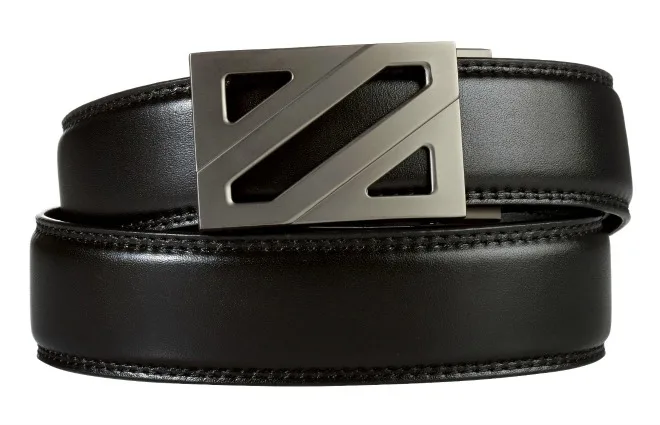 Trakline Belts for Men
Trakline belts are built to last*. (*CORRECTION: I had originally mentioned that the belts were made here in the USA. A reader pointed out that that was incorrect. I've now changed this review to reflect that.) The belts are all handcrafted, and are made of Full-Grain, 100% genuine leather with double stitching (XL belts are made with genuine leather). This high-quality leather not only looks great, but it wears well, looking better and better over time. As for the buckles, the stainless steel ones are made of hand-pressed, 16 gauge solid stainless steel, and the alloy buckles are made of a high-metal content zinc alloy.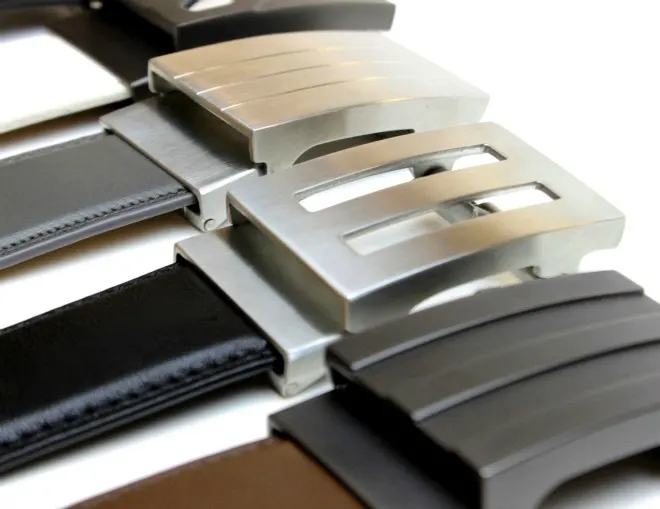 What really sets these belts apart is the fact that instead of belt holes – which we all know eventually get stretched out of shape, worn out, or you have to create more – the Trakline Belts have an innovative 10″ long hidden track system sewn onto the back of the belt. This track system essentially works like a giant zip tie and gives you a precise fit every time you put it on. With more than 40 sizing positions set apart in 1/4″ increments, Trakline belts are 8 times more adjustable than a regular belt (which usually has just 5 holes set 1″ apart).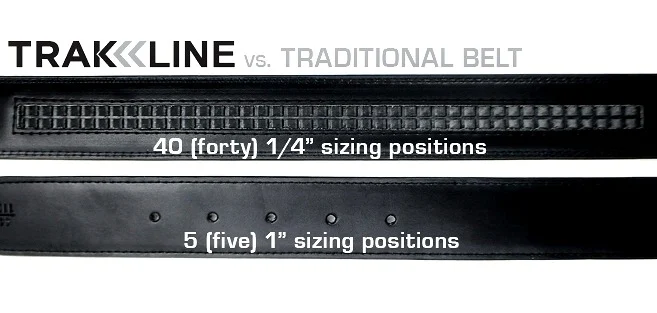 As the belt loops through the buckle, the track system on the back of the belt locks into the buckle and prevents it from pulling back the other way (like a ratchet). To tighten the belt, you simply push the non-buckle side of the belt through the buckle and pull. As you pull you can hear a faint clicking as the buckle latches onto each of the tracks.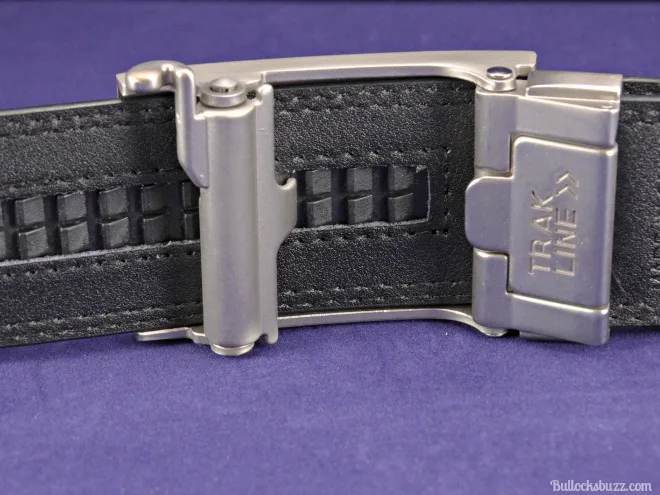 To release or adjust the belt, there is a discreet lever on the bottom side of the buckle that you lift up with your thumb and then just slide the belt back the other direction.
Trakline belts are also very versatile and interchangeable. They will fit any size waist from 24" up to 44" , and the XL will fit up to 54″. The belts themselves are available in four great colors including black, brown, gray and white, and the buckles are available in 9 different styles. Furthermore, some of the buckles are available in your choice of stainless steel or alloy, and the alloy buckles even have multiple color finishes from which to choose! Plus, the buckles can be switched from belt to belt as long as buckle and belt are both standard or both slim widths (so you can't put a standard belt into a slim buckle). They all have a classic style that looks great with both casual or dressy clothing.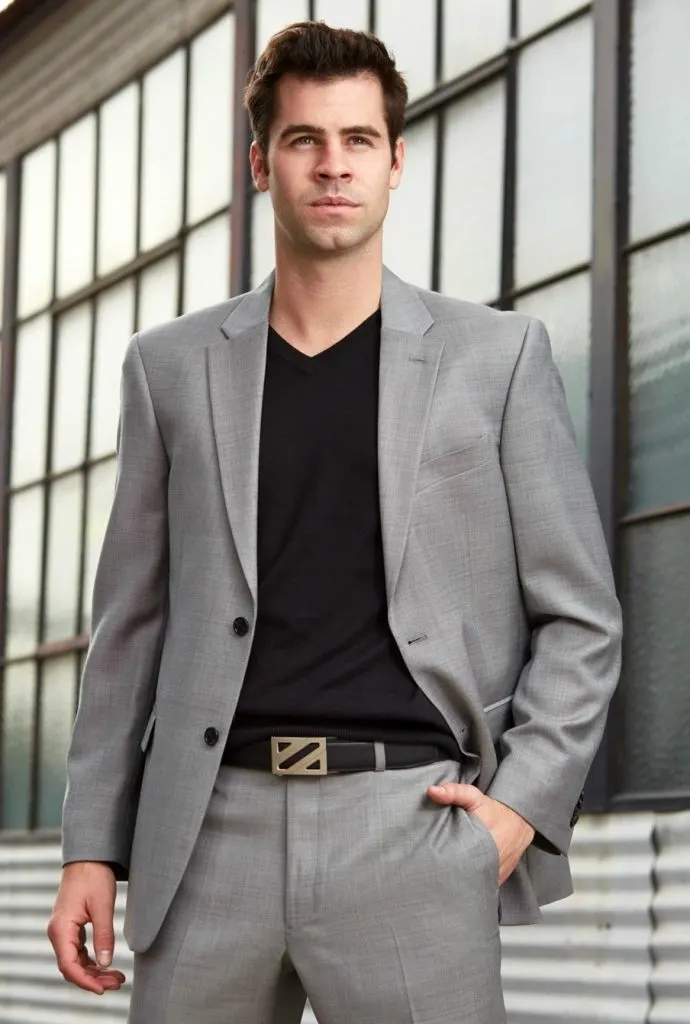 All of the standard and slim Trakline belts are crafted to be 52″ long. Therefore, when your belt arrives, some trimming is usually needed which can easily be done with a pair of household scissors. Why 52″? Because 6″ to 8″ is needed to pass through the buckle and into the first pant belt loop. In addition, the 10″ long "trak" on the back gives you plenty of room for adjustment as your waist fluctuates in and out during over the course of the day. Once your belt arrives, make sure you try it on first, then trim off the excess leather to attain your optimal size range. If you look on the back of the belt, you will see where they have trim marks printed to help you see exactly where to cut in order to get your perfect fit.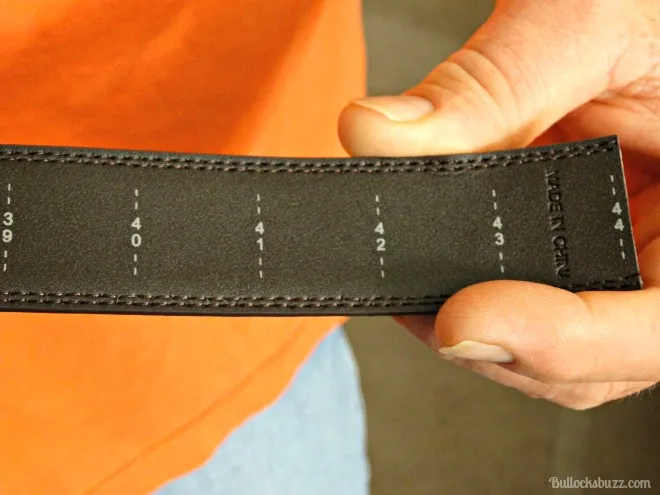 My husband has both the Intrepid and the Icon buckles and they are by far his favorite belts. Not only do they fit him perfectly, but since the buckles are interchangeable and can be worn on either belt, he really has a total of 4 different looks from 2 belts! I love that they go great with whatever style clothing he is wearing – whether he is dressed casually in jeans or dressed up for a night out.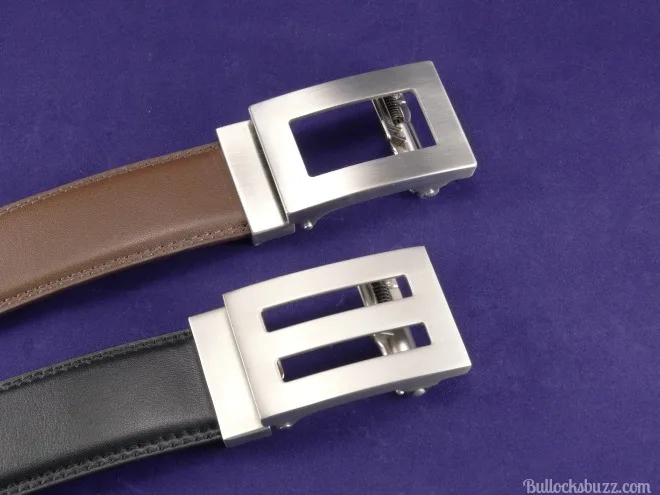 Trakline also offers a really nice closet belt hanger that holds one to two Trakline belts in your closet. The buckle simple zips up onto the track of the hanger where it is held securely in place!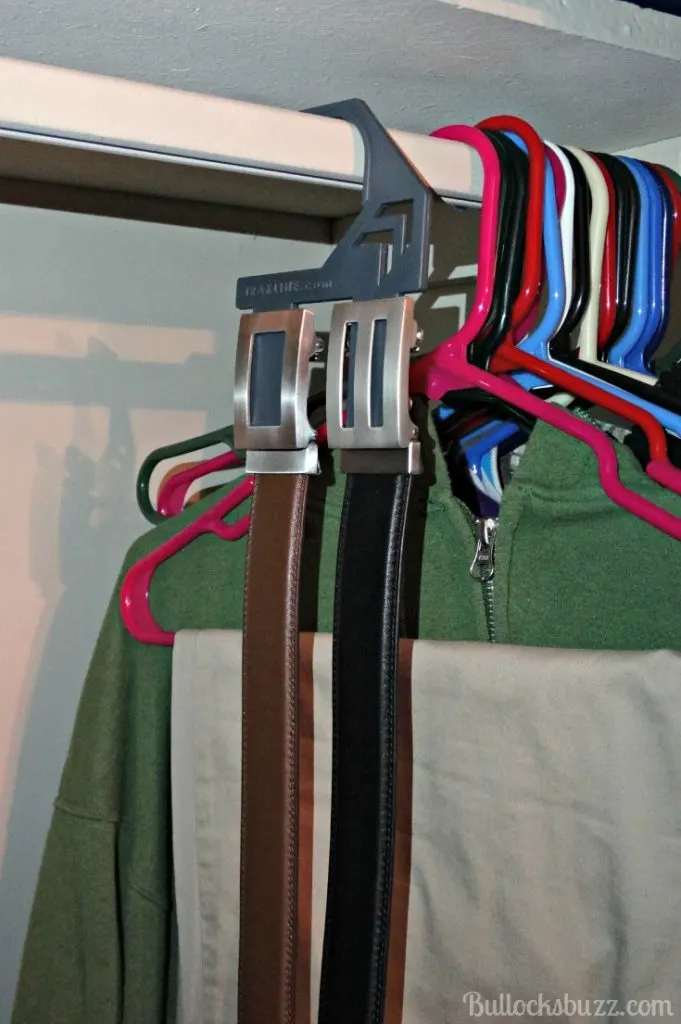 Trakline Belts can be purchase directly through the Trakline website. All belts and buckles come with a 30-Day Money Back Guarantee, and a 1-Year Warranty against defects or breakage.
Save on ALL Trakline Belts with This Promo Code
Guys everywhere love these belts! Why not get one for the men in your life – Father's Day will be here before you know it, too! Get your shopping done early and take advantage of these great savings: Get 15% OFF ALL TRAKLINE MENS BELTS by using promo code Kore15 at checkout!
WIN A TRAKLINE BELT! A $69 VALUE!
Feeling lucky? You could win a black leather Trakline belt with the stylish Evolve stainless steel buckle! Enter HERE