2015 Holiday Gift Guide Suggestion! BUY IT HERE (affiliate link)
TriDerma Skin Care Products: Fast Healing Formulas using Natural Botanicals
The colder temperatures, dryer air and biting winds of Fall and Winter can wreak havoc on our skin. Add in the common effects of aging, diet and genetics, and you can have quite the fight on your hands. While it's no secret that women want perfect skin, getting that ideal complexion is a whole other story. TriDerma® offers an entire line of skin care products that target specific problem areas and conditions to help you attain beautiful skin.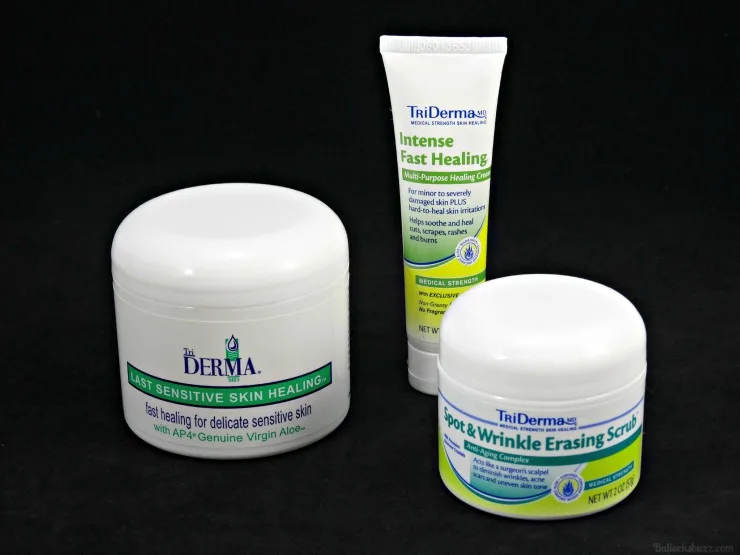 TriDerma's medical strength formulas are made using only the finest quality, hand-selected ingredients, including Certified Genuine Virgin Organic Aloe, moisturizers, and other carefully selected botanicals. Originally sold only to doctors, estheticians, plastic surgeons and medical supply stores, TriDerma's products were soon brought into retail stores without changing any of their premium medical strength formulas. Their true skin care products work to target and help heal a variety of skin problems and conditions including aging, acne, dry skin, other types of problem skin, diabetic skin care, post-surgical skin care, first aid, foot care, and even baby skin care.
Now well out of my 20's I find that it is harder for my skin to stay soft, supple and moisturized. The recent change of season isn't helping at all either. Instead the colder, dryer air is making my skin even more dry, my skin tone less even, and I've even developed some slightly red, itchy areas to each side of my nose. Having always had sensitive skin, I have to be careful which products I use. Over the last several weeks, I've been trying a few of TriDerma's products, and so far I love the results! To battle both dryness and uneven skin tone, I've been using both the TriDerma Spot and Wrinkle Erasing Scrub and the Last Sensitive Skin Healing Moisturizer. And for faster healing of cuts, scrapes, rashes and burns, the TriDerma Intense Fast Healing Cream.
TriDerma Spot and Wrinkle Erasing Scrub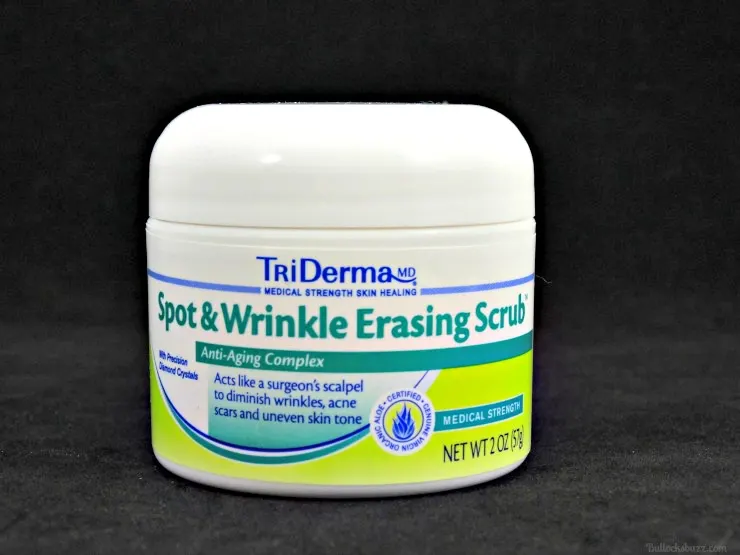 The Spot and Wrinkle Erasing Scrub gently scrubs off impurities and dead, dry skin, while working to stimulate faster collagen production and diminish the appearance of fine lines, wrinkles, acne scars and uneven skin tone. This creamy scrub has a very pleasant, clean scent, and a small amount is all I need to thoroughly exfoliate my face and neck. I've always been a fan of scrubs, and this one is definitely up there with my favorites. Some scrubs I have used in the past are full of large, coarse granules, where others have had so few I don't understand how they could be qualified as a scrub. TriDerma's Spot and Wrinkle Erasing Scrub is full of tiny "precision diamond crystals" which I can feel working to exfoliate all the impurities and old, dull skin. As soon as I rinse it off, my skin feels incredibly soft, and looks much cleaner and healthier, too. After using it once a day for the last 3 to 4 weeks, I can see a definite improvement.
Last Sensitive Skin Healing Moisturizer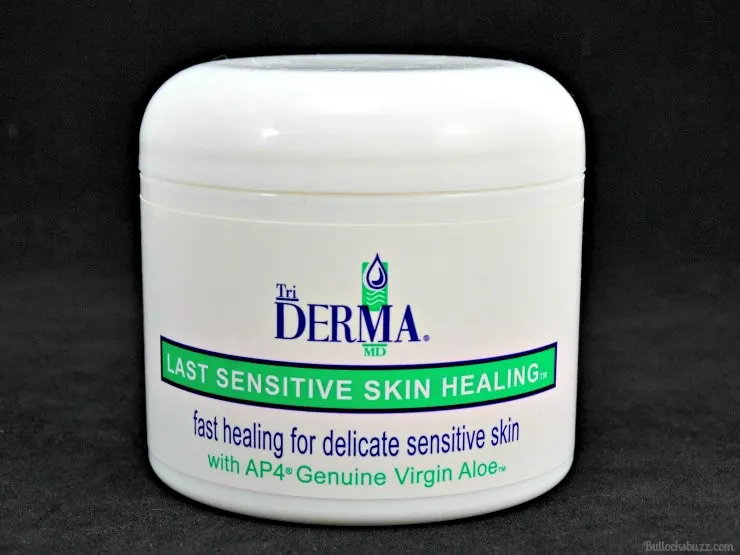 I've also been using TriDerma's Last Sensitive Skin Healing Moisturizer on my face each day after washing and/or exfoliating. Ideal for delicate, sensitive skin, this lightweight, creamy moisturizer has a very light and pleasant clean scent. Aloe and Allantoin work to soothe, protect and heal the skin, while their natural anti-inflammatory and antibacterial properties fight bacteria to help improve skin tone, prevent moisture loss, and regulate oil production. The result is silky soft skin. According to the bottle, this particular formula is also ideal for nourishing and healing blemishes, teenage or adult acne, razor burn, hormonal breakouts or after skin resurfacing procedures.
A little bit is all it takes, and I love how it instantly absorbs into my skin without leaving any greasy or oily residue or sheen. Since it states that this moisturizer can be used for face and body, I've also been using it on this annoying dry patch that kept appearing on my arm. Within two weeks that dry patch was gone!
TriDerma Intense Fast Healing Multi-Purpose Healing Cream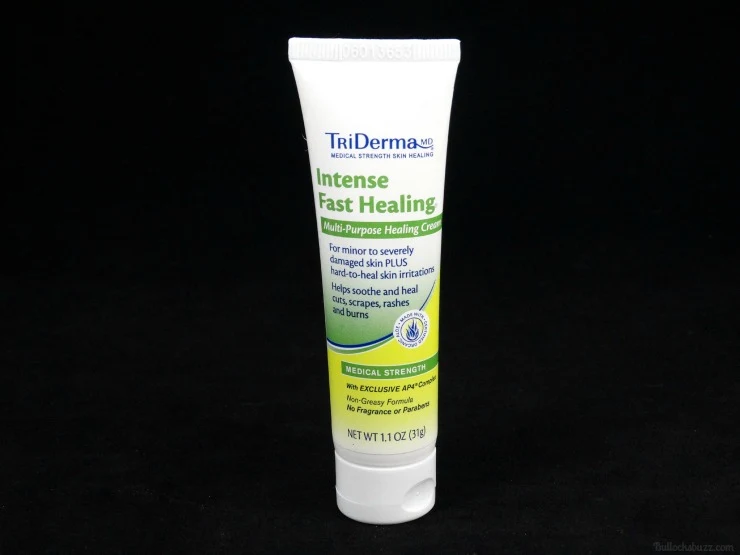 Another TriDerma product my family and I have been using is from the TriDerma First Aid line called Intense Fast Healing Cream. This medical strength, multi-purpose healing cream for minor to severely damaged skin works quickly to soothe and heal cuts, scrapes, burns, rashes, and other hard-to-heal skin irritations. With no fragrance or parabens, this non-greasy, lightweight formula seems to work pretty well. So far I've used it on a minor burn from cooking, and multiple scratches and scrapes on my stepson. You simply apply a generous amount to the affected area several times a day. It absorbs quickly and does not leave any residue. My burn quit hurting fairly quickly and was pretty much gone a day later, while the various scrapes and scratches were also quickly taken care of.
More About TriDerma
Overall I've been quite impressed with these TriDerma products. If you'd like to try these or other TriDerma products, you can find them at your favorite local retailers and drugstores (you can search for a store near you through the store locator on their website). However, not every store carries all of their products – but you can always give them a call and they'll place the order for you over the phone, or you can order directly through TriDerma.com. You may notice that their prices are a just bit higher than some, but for products that really work, I think it is well worth it!