One of the most important lessons parents can teach their children is how to budget money. And one of the best ways my husband and I have found to help teach our child is by using VISA or Mastercard gift cards. By now everyone is familiar with how these gift cards work. You simply purchase the card for the amount you want, and it can then pretty much be used in lieu of cash anywhere a regular credit card can be used.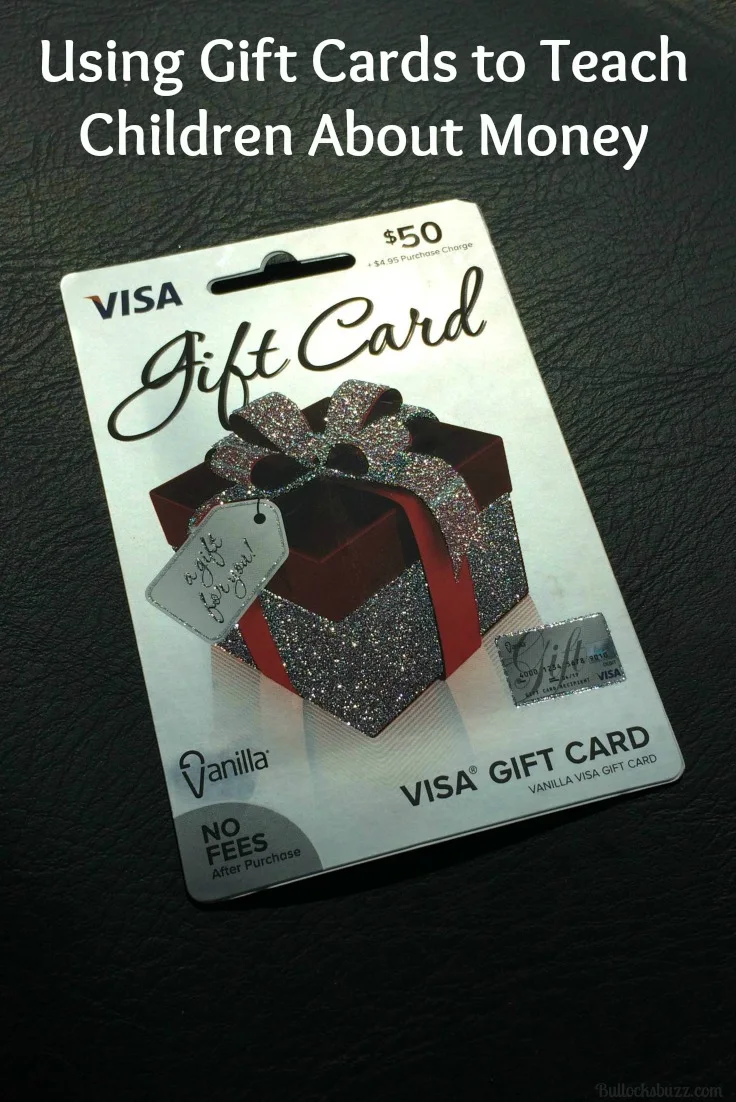 Benefits of Using Gift Cards to Teach Kids Money
The benefits of using a gift card to teach kids about money are many. First of all, using a gift card with a set amount helps teach children about setting and sticking to a budget, because when the money is gone – they are done spending! In addition, there are no interest charges and over-the-limit and late fees, there are no worries about overdrawing an account, there is no reporting to a credit agency, and both you and your child get to see how and where the money is being spent.
How to Use a Gift Card to Teach Kids About Money
My husband and I have a simple plan we follow every time we give our son a gift card for his birthday or a holiday or for his allowance. At the same time we give him the gift card, we also make a spending chart on a piece of paper. This chart is divided into four columns and several rows. The first column is titled AMOUNT, the second is ITEM PURCHASED, the third is COST and the fourth is REMAINING BALANCE. From there it's easy, every time he makes a purchase he writes down the appropriate information in each column.
This way he can see exactly how much money he has left, and can get a good idea of what he is spending his money on. Plus, there is the added benefit of the similarity to balancing a checkbook, so when he is old enough for a checking account, he will already understand the basic concept behind, and be in the habit of, balancing his checkbook.
Vanilla Gift Card
While you can always choose to use a reloadable card, at this time we prefer not to. Instead, we make sure we chose a card that does not have any fees other than the original purchase or activation fee like the Vanilla VISA gift card. This particular card comes with a one-time purchase fee of $4.95, and that is it. No additional fees are charged at any point. It is available in $25, $50, and $100 denominations, as well as a variable load option ($20-$500); and it can be used at tons of locations in the US, both online and off.
While no PIN number is required, if your child wants to add one, he or she can simply by entering the PIN of their choice during the very first transaction. In addition – and we all know that kids will be kids – if the card is accidentally lost or stolen, as long as you have the card number written down and have provided the identifying information (we do this with every card as soon as it is opened), the account can be frozen and a replacement card sent with the remaining balance issued on it.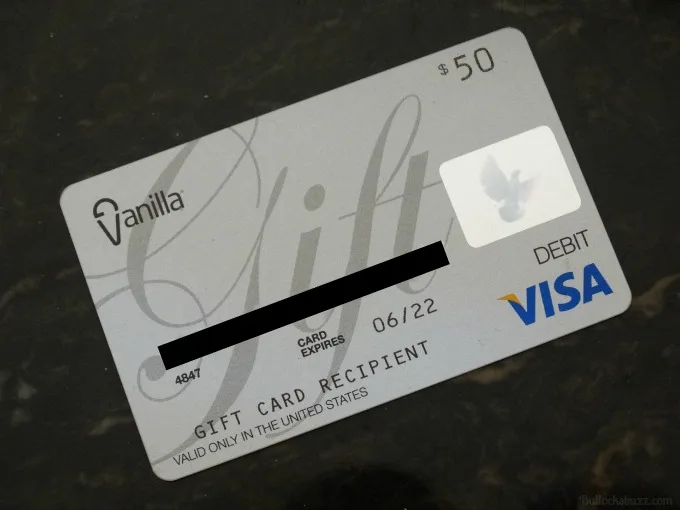 Other Great Uses for Gift Cards
Give Them as a Gift
In this season of high school and college graduation, a gift card is a great way to say congratulations! And with Father's Day right around the corner, they also make a wonderful way to say I Love You. Oh, and did I mention, gift cards are perfect for those gift recipients who are a bit difficult to shop for?
Save for a Trip or Special Treat
If you have been wanting to take that exotic vacation or give yourself a special treat, using gift cards are great way to save. Simply buy whatever denomination you want, and put each card away until you have enough saved for what you need. Do not use those cards for anything else except the intended vacation or treat. Or, you can purchase a prepaid debit gift card, like the MyVanilla Prepaid VISA, and each payday put a specific amount of the card until you are ready to go. Use that card for the specified purpose only. Best of all, you won't come home to an exorbitant credit card bill that you'll be paying on for months!
Use Gift Cards for Traveling
Carrying lots of cash while you travel is not the best idea. Instead, purchase a pre-selected amount of gift cards, and use those instead. Just make sure you read the cardholders agreement as some cannot be used outside the continental US.
Create a living expenses budget
Buy a pre-determined amount of gift cards, and use those for your weekly living expenses such as workweek lunches, mid-morning lattes, and snacks. Once that money is gone, you know it is time to brown bag it! Alternately, again you could use a prepaid card, and load $30 to $50 a week onto it for the same.
Limit your spending and budgeting
Purchase a pre-determined amount on a gift card to be used for specific purposes. For example, purchase a $500 card for your monthly groceries, and $600 card for that month's bills, etc. That way you know you have that money to use towards those purposes only. Another example: get a $300 gift card to be used towards monthly eating out and entertainment purposes, and once you spend it all, you know you will not be going out to eat anymore until the next month. It's a great way to keep from overspending!