Kids and families will be laughing and having fun trying to guess the words and phrases in this free and exciting Valentine's Charades printable game!
Valentine's Day is another one of my favorite holidays! There are so many great things to make and share with you – like this DIY Valentine's Day Coffee Mug and these Homemade Jolly Rancher Rainbow Hearts!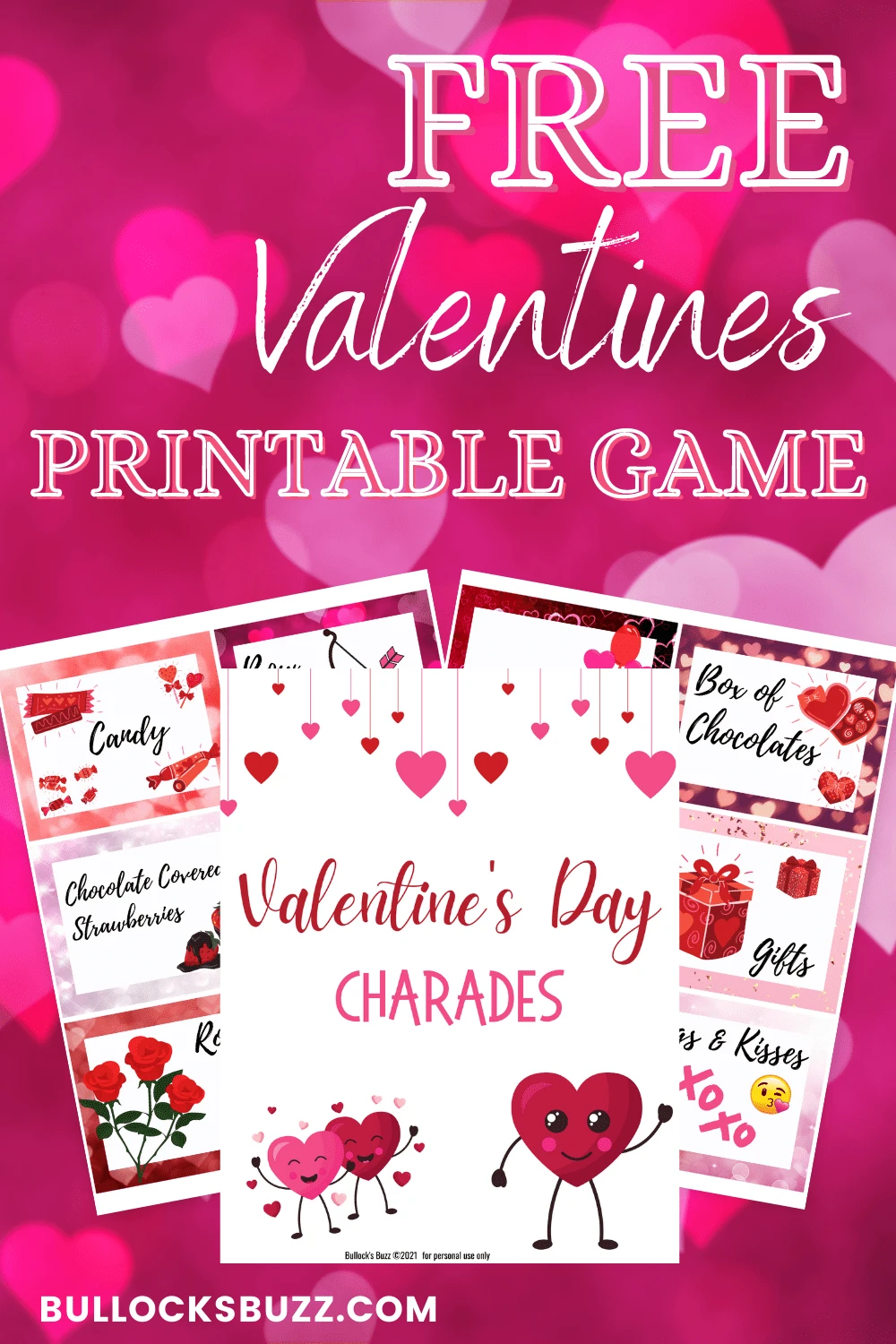 This year I wanted to share something a little different, something that the whole family could enjoy together – a fun-filled free Valentine's Charades printable game!
Valentine's Charades is a fantastic game to play with family or friends of any age! It's perfect to play at home, in large or small groups, or even at school parties!
It's also very easy, requires few materials, and encourages the use of imagination. Plus, it keeps everyone laughing and having a good time!
All you need to play this Valentine's Charades printable game are these ready-made cards, your imagination, and the willingness to have fun!
HOW TO MAKE VALENTINE'S CHARADES PRINTABLE GAME
This Valentines Charades printable game is perfect for kids and adults of all ages. Plus, it's free to print off and play!
This printable game comes with everything you need to host a fun-filled event. There are 4 pages (not including the cover page), each of which has 6 different Valentine's Charades clues that are ready to be downloaded and printed.
TOOLS YOU MAY NEED
Disclosure: This blog post contains affiliate links for products or services I think you'll like. This means if you make a purchase from one of these links, Bullock's Buzz may make a small commission at no additional cost to you. As always, I only recommend items I use and love.
WHAT TYPE OF PAPER SHOULD I USE FOR THIS PRINTABLE GAME?
Not sure of the best type of paper to use? You could really print this holiday game on any type of paper. However, I've found that a higher-quality paper weight (65lbs+) or cardstock works the best. But if you are planning on laminating this printable game, then you could use regular weight printer paper.
PRINTABLE VALENTINE'S DAY GAME PDF INSTRUCTIONS
To get started, download the printable Valentine's Charades game PDF from the link. Locate the file on your computer, it should be in the download file.
Check that you have paper in your printer, then click to open the file and select the print option. Don't forget to check that you are printing in color!
Once all of the pages have printed, use scissors to cut the Valentine's Charades clues into individual cards.
Next, fold the cards in half so the players can not see the printed clues as they are choosing them.
Then put the folded clues into a bag or container that's easy to reach into, and you're ready to play!
Tip: Want your Valentine's Charades printable game to last for years? Laminate the pieces and then store them in an envelope, file folder, or binder to keep it in good shape!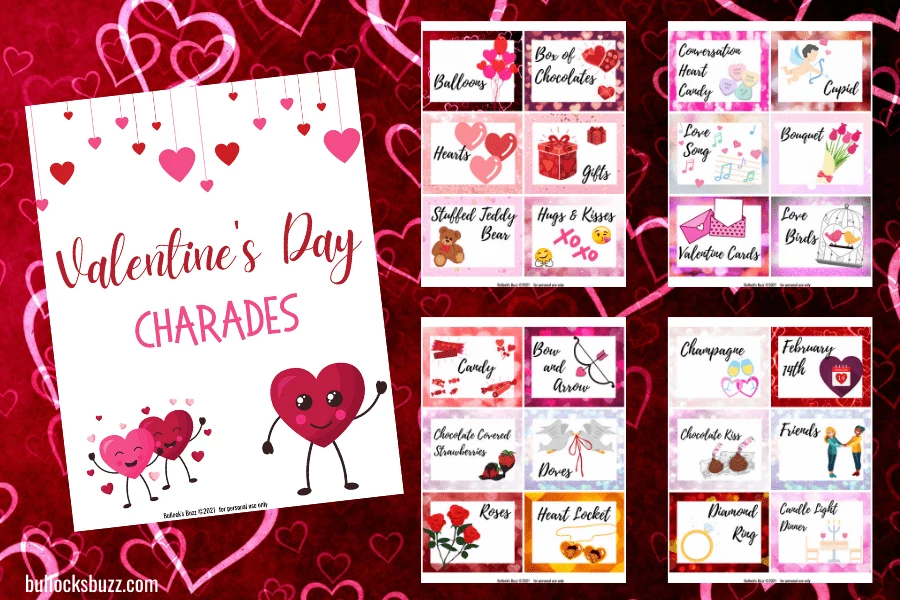 HOW TO PLAY VALENTINE'S CHARADES PRINTABLE GAME
Valentine's Charades can be played in several different ways – the most common being in teams or as a large group. The object of the game is for a player to choose a clue and then act it out for everyone else to guess. Don't let the other players see the clue!
Just like in regular Charades, the player that is acting out the clue can not talk, use lip movements, or point at objects in the room. He or she can, however, use some common Charades hints (see below) to help their team out.
You can either set a time limit (usually 1 to 3 minutes) in which the person or team has to guess the correct answer or, if you enjoy long games, simply let people guess until they get the correct answer.
TO PLAY AS A GROUP:
When playing as a group, select someone to be the timekeeper. Then, when ready to play, choose one person to start the game.
That person (aka the actor) will then pick a clue from the container and have 10 seconds to think about the clue before acting it out for everyone else to guess.
The first person to correctly guess the Valentine's Charade is the next one to act out a clue.
If no one guesses the clue within a certain amount of time then the timekeeper can choose someone else to act out the clue.
Play continues until all cards have been selected.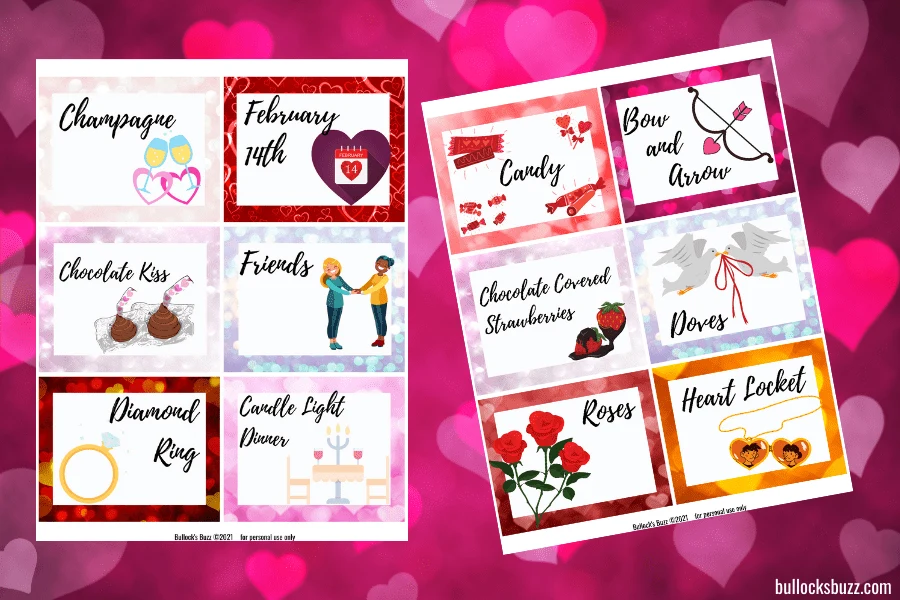 TO PLAY IN TEAMS:
Divide the Valentine's Charades players into two teams, and then decide which team will go first.
Each team will take turns having one team member (aka the actor) take a card from the container without looking, and read what's on the card. The actor will then have 10 seconds to think about the card before the timer starts (if using one).
He or she then has to act out the words on the card without speaking, until the rest of the team can guess the object or phrase.
The team can shout out answers until they guess the right answer. If they guess the clue within the time limit then they get a point.
But if the team does not get the right answer within the time limit then the other team has one chance to answer. And if they guess it correctly, then they get the point.
The team with the most points at the end, wins.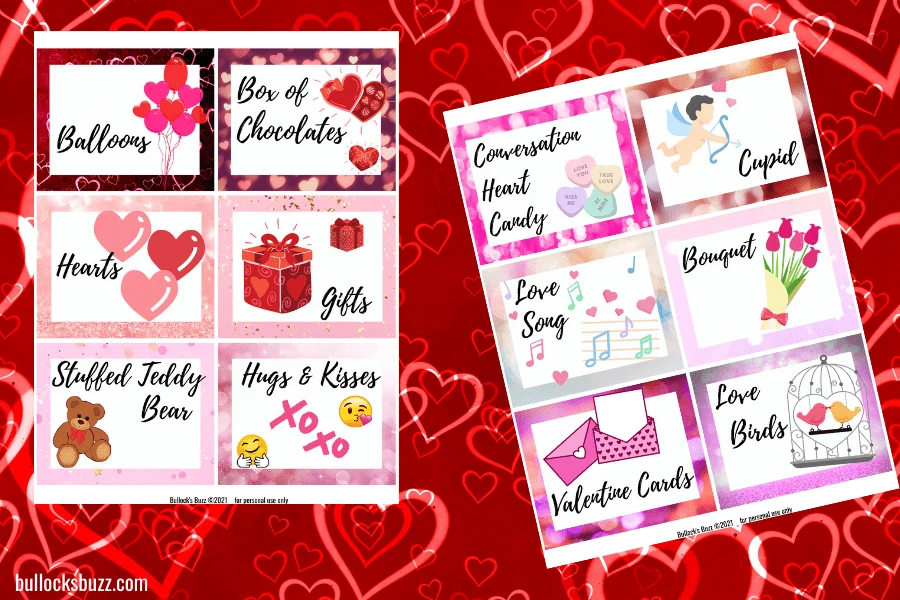 CHARADES CLUE HINTS
Players can use these common Charade Clue Hints to help their team during the game since the actor can't talk. But be careful because using them can take up time and if you're playing with time limits, then you may use up your allotted time.
Number of Words – hold up one finger per word and then tap the finger of the word that the players are trying to guess.
Rhyming Word – tap on your ear for "sounds like".
Song – pretend to sing.
Movie – use your hands to pretend like you are cranking an old-fashioned movie camera.
Book – act like you are opening a book with your palms closed, then open.
TV Shows– use your hands to draw a square or rectangle in front of you to signify a TV show.
Quotes – make air quotes with your fingers when your clue has a quote or a phrase.
LOOKING FOR MORE VALENTINE'S IDEAS?