Now that the holidays are over and the second half of the school year has begun, lunch boredom is quickly taking hold. It's hard enough to pack a lunch that your children will actually eat without them getting tired of the same old thing, too.
Luckily, I've learned that all it takes is a little creativity and even the most common lunch foods can become fun once again. And since February 14th is right around the corner, there's no better time to get creative and make this owl-themed Valentine's Day Lunch for kids!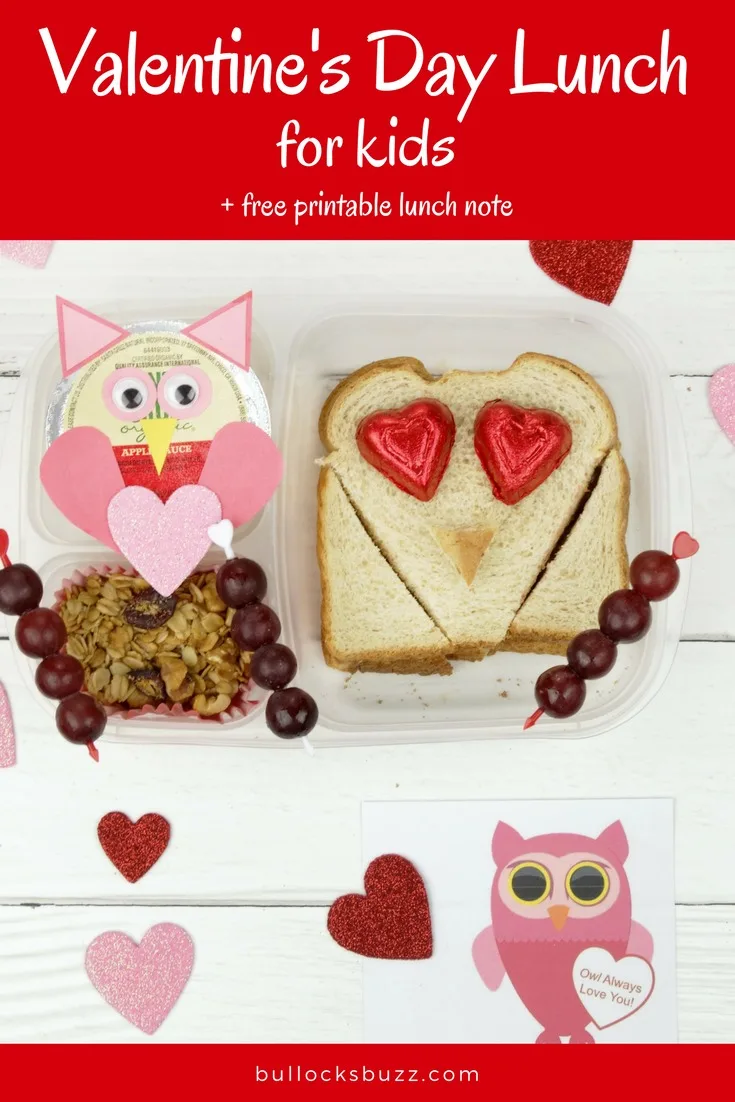 Owl Always Love You Valentine's Day Lunch & Lunch Note
This fun and delicious Valentine's lunch is one your children are sure to love! Made with Santa Cruz Organic products, it's good for them, too! I've also included a sweet Valentine's lunch note you can download, print, and use!
And if you are thinking, "Who has the time to make all of this and put it together into a lunch?" I believe you'll be surprised at just how easy it is. It literally took me about 10 minutes to make the applesauce container owl, prepare and cut the sandwich, skewer the grapes, and then put it all together in a bento box. So, are you ready to see how to make this Owl Always Love You Valentine's Day Lunch?
Valentine's Day Lunch for Kids Supplies and Ingredients
To make this cute Valentine's Day lunch box theme you will need the following ingredients and supplies:
Santa Cruz Organic Peanut Butter (we love their Creamy Dark Roasted Peanut Butter!)
Santa Cruz Organic Fruit Spread (Strawberry is our favorite!)
Santa Cruz Organic Applesauce (4 oz. container)
sandwich bread
red grapes
2 small chocolate hearts
3 small heart skewers (I found mine at our local dollar store)
1 piece each of red, pink, and yellow construction paper
1 small glitter foam heart
2 wiggly eyes
glue
Valentine's Day Lunch for Kids Instructions
Applesauce Owl
This Valentine's Day Applesauce Owl is super simple to make and oh so cute! To get started, you will need to cut out the following shapes from construction paper:
2 small red triangles for the ears
2 small pink triangles for the inside of the ears – make sure these are a tad bit smaller than the red ones.
1 small yellow triangle for the beak
2 small pink circles for the eyes (I traced a dime to make my circles)
1 red heart, cut in half for the wings (I made my heart about 3″ tall)
Once you have everything cut out, you simply glue it into place on the container. That's it! Your Valentine Owl is complete!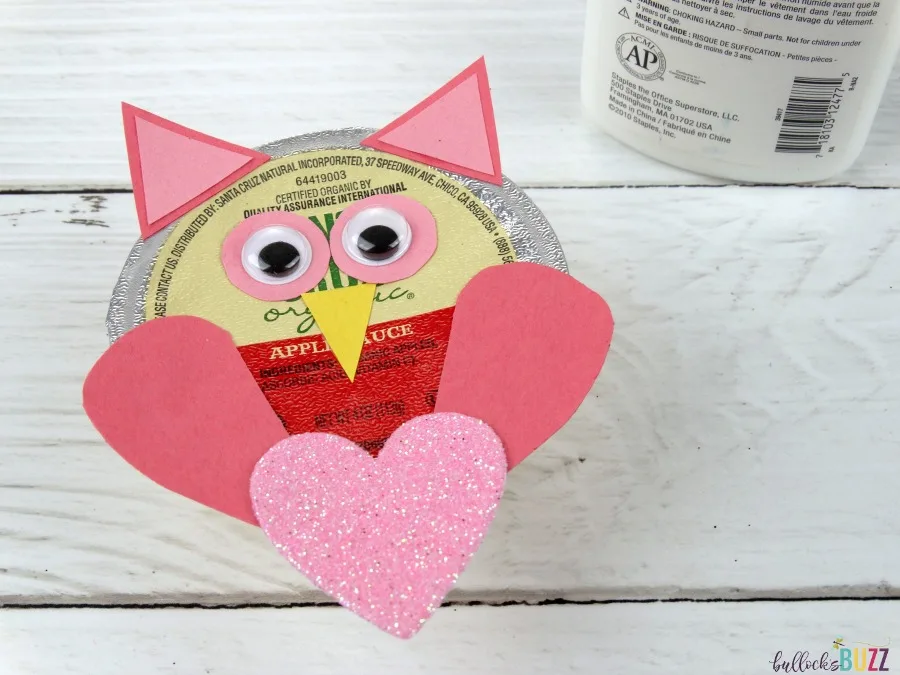 Isn't he cute? I think he would also make great non-candy Valentine's for classroom parties!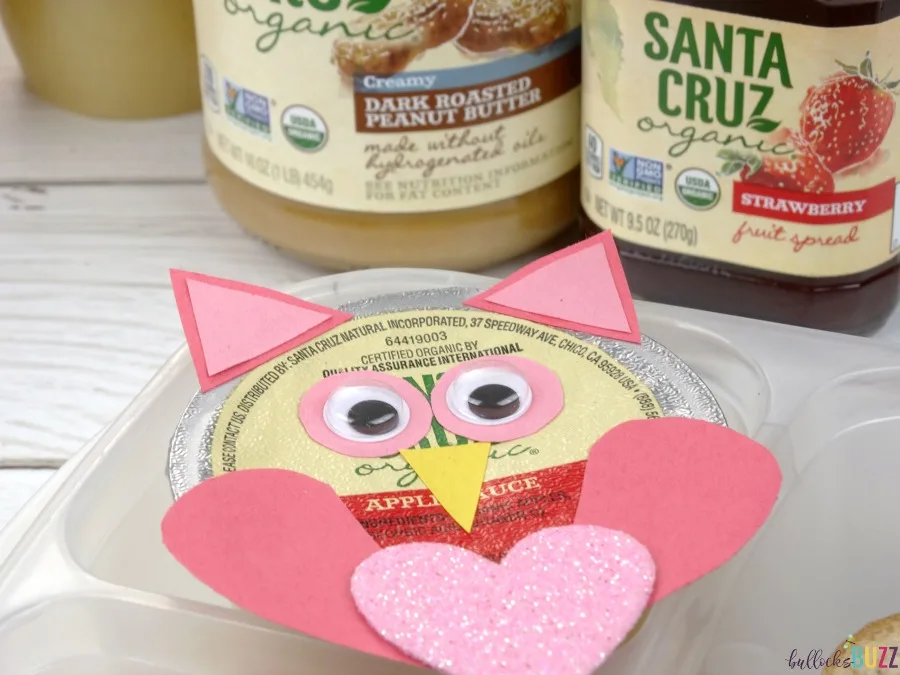 Peanut Butter and Jelly Sandwich Owl
Next up is the PB&J Sandwich Owl. Peanut Butter and Jelly is such a classic lunch box item, but when you jazz it up a bit like this owl-themed sandwich, that winning flavor combination will once again become a favorite.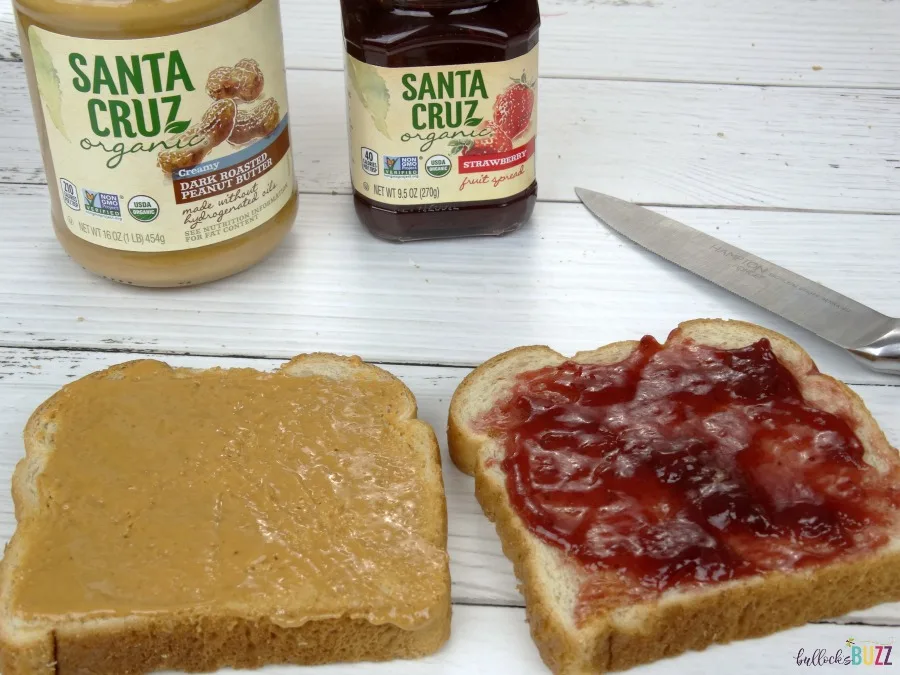 To make the owl sandwich go ahead and prepare a PB&J like you always do. Next, take a knife and carefully cut the two bottom corners of the sandwich into a wedge shape to form the wings. For the beak, cut a small triangle from a piece of bread crust. Next, add the two chocolate hearts as eyes, and your sandwich owl is complete!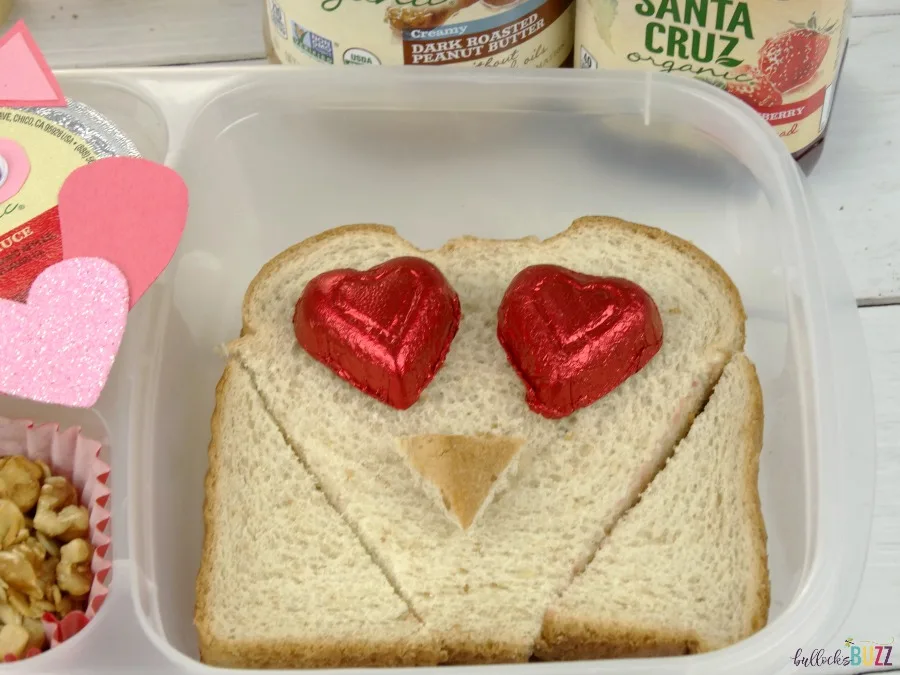 Cupid's Arrows and Other Sides
For the Cupid's Arrows, simply spear a few small red grapes on to a heart-topped skewer. I found these skewers at my local dollar store.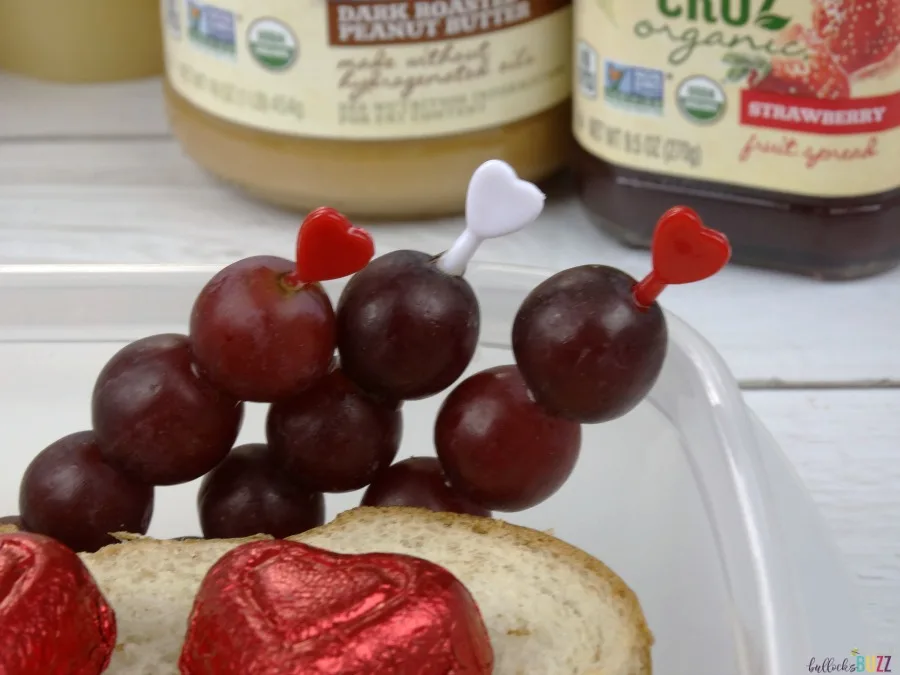 Next, place a handful of organic granola inside a Valentine's Day colored cupcake wrapper and this super sweet owl-themed Valentine's Day lunch is almost complete!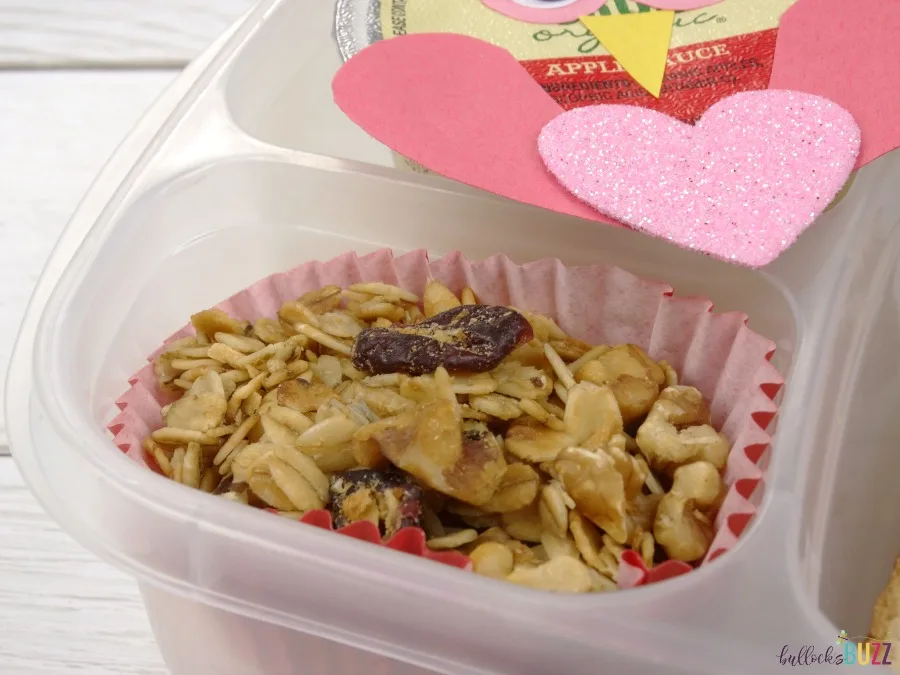 Free Printable Valentine's Day Lunch Note
I say 'almost' because what would Valentine's Day be without a Valentine's Day lunch note? Send your child a little extra love with this adorable free printable "Owl Always Love You" lunch note!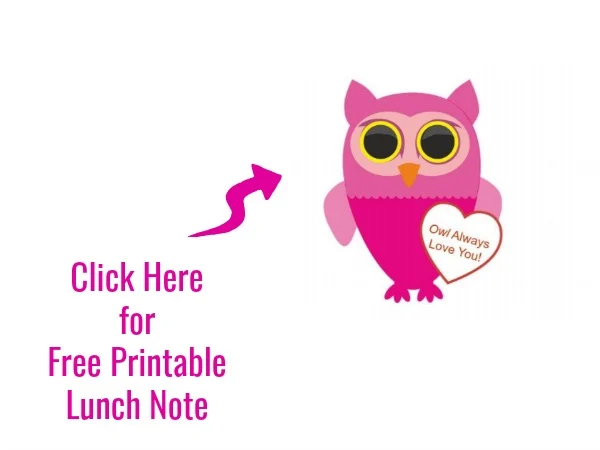 Simply click on the picture or the link up above to download the note, then print it out, sign it and add it to the lunch box. There's plenty of room to add a special message as well! It's sure to put a smile on their face!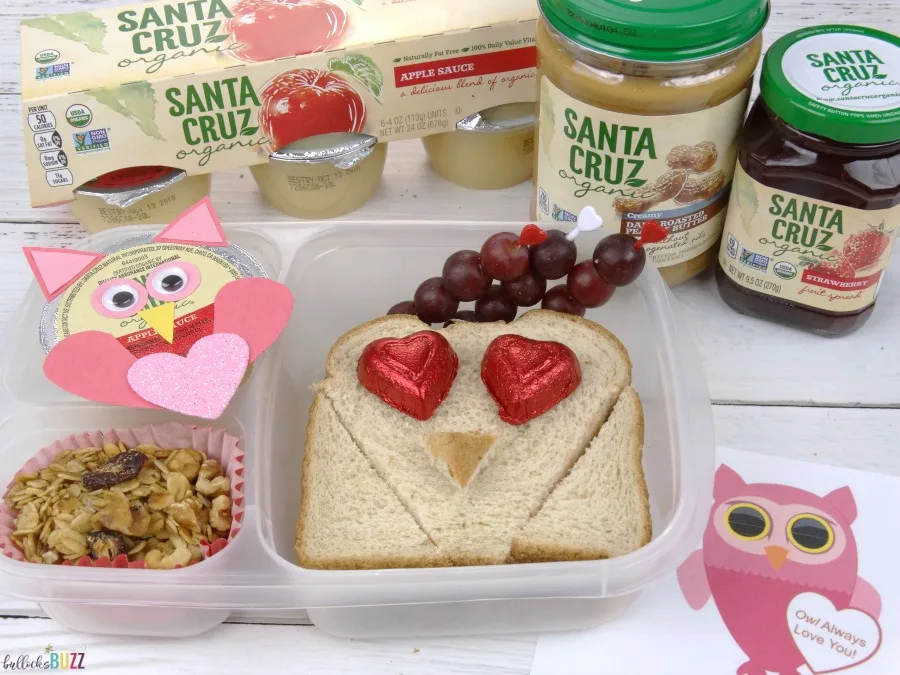 Santa Cruz Organic
Over the past year, we've been slowly transitioning to organic foods. We've tried many different brands in order to find the ones we like the most. One brand we recently tried is Santa Cruz Organic, and it is quickly becoming a family favorite!
Santa Cruz Organic products are all Certified USDA Organic and Non-GMO Verified. They are made with pure, organic ingredients, and are also gluten-free. And I appreciate that they support sustainable resources and practices.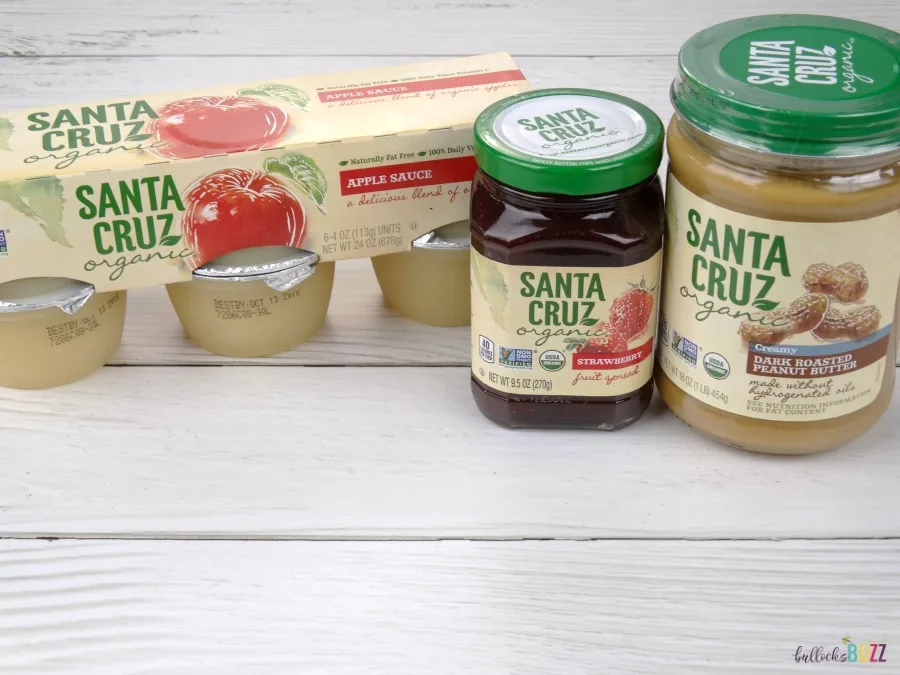 My family loves how their products taste, and I love that they are made with healthy, pure and organic ingredients. You know what else I love about Santa Cruz Organic? Their products are affordable, and they are available at Target! Save 25% on Santa Cruz Organic fruit spreads and peanut butter products until 2/24 with Cartwheel.
This post featuring an owl-themed Valentine's Day Lunch for kids is sponsored by Santa Cruz Organic and Womensforum. Regardless all opinions expressed are my own.
Have you tried any Santa Cruz Organic products? Which are your favorite?