UPDATE – this site appears to no longer be working. Try sites like Dealspotr and Groupon Instead!
Verified Codes – Find Online Coupons and Deals Up To 50% and More!

One of my New Years resolutions is to start being a smarter shopper. Over the last few months I made a list of everything we had spent money on, hoping to find a way to save more and budget better. The one area that stood out the most is shopping online. While I love the convenience of shopping online, I don't like how expensive it can get – especially since I am so used to using coupons and deals when shopping at the grocery or the mall. That's when it dawned on me that I was not being a savvy internet shopper because I wasn't taking advantage of any online coupons and deals!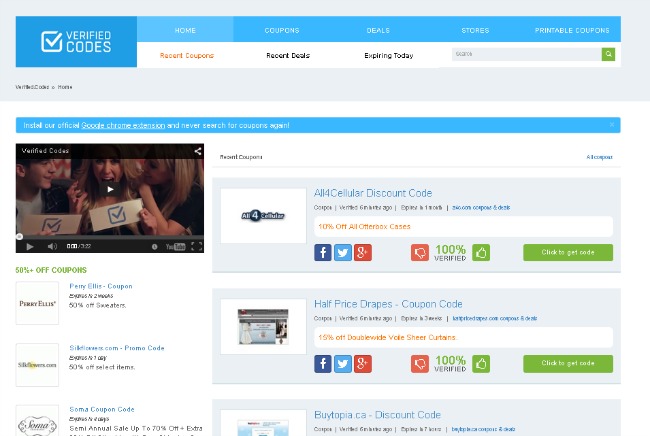 Verified Codes is the ultimate source for online savings featuring the latest coupons, discounts and promo codes for over 25,000 online retailers. While there are many online savings sites, Verified Codes stands out from the rest for several reasons. First of all, unlike other sites, they actually verify all coupons before they go live on their site. If they come across a deal that has expired, that coupon is instantly removed. Verified Codes also updates their database every 15 minutes in order to bring you the most recent deals. But what makes Verified Codes really stand out from the rest is their innovative 50% off page! Yes, you read that right,50% off! This is where you can find all sorts of deals for great savings starting at 50% off and more! In fact, just today I saw a coupon code for 60% off items at Crate and Barrel – and that was just one of the many great savings they featured!
Another reason I like Verified Codes is because the site is very user-friendly. It has a very simple, straight forward layout that makes finding deals fast and simple. There is no sign up or registration required, and the pages are not cluttered with ads and other distracting information. At the top are tabs where you can search by Deals, Coupons, or Store (by name), and then below that is a sub menu where you can search through the most recent deals, the most recent coupons, and the ones that are expiring today! There is also a search bar you can use. In addition, there is a tab for Printable Coupons where you can find the most current coupons searching by your city and state. On the sidebar you will find lists of coupons with the biggest savings along with soon-to-expire coupons and deals.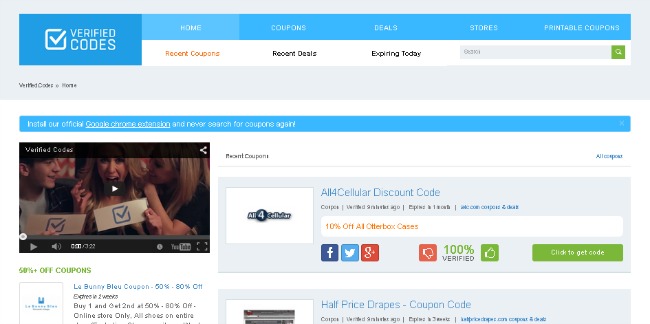 Once you find what you want, simply click to get the promo code, copy it, shop the site, then use the code when you check out. I noticed on some of them I would click and it would open a new window taking me to that site, but if I went back to the Verified Codes window, there would be a small pop-up where the actual code is listed that you can then copy and paste to use. Another fun feature is that under each deal are social sharing buttons so when you find a super awesome deal, you can easily share it with all your friends!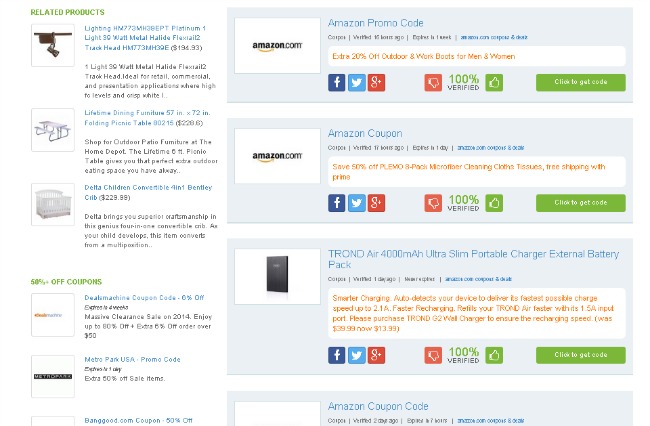 Next time you are ready to shop online, head over to Verified Codes first and start saving! If you are a Google Chrome user, make sure to install the chrome extension to get instant notifications for coupon codes & deals on over 25,000 stores!
Connect with Verified Codes: Shop