As drivers, we all realize that there are certain, inherent risks in driving. Risks that are present whether we are driving locally to work or run errands, or heading out on a cross-country road trip. Thankfully most trips will go off without a hitch. But what if things don't go as planned? Do you know what to do if your car breaks down?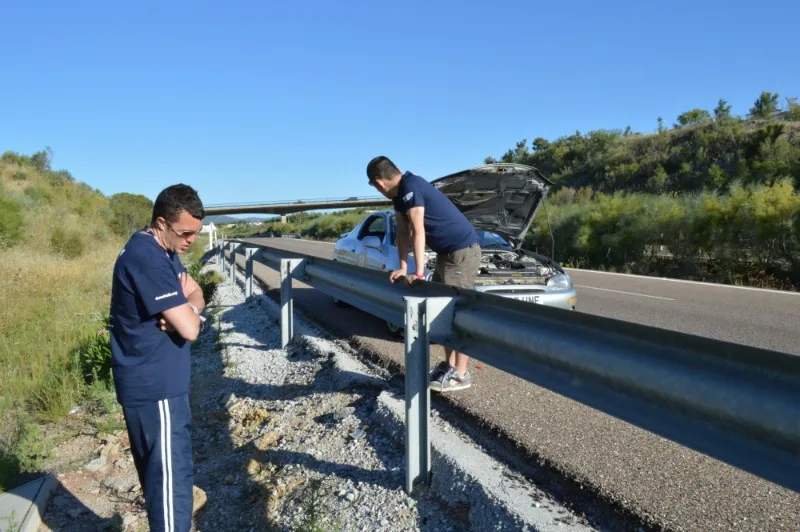 Image via Flickr
Below I've listed some steps to take if your vehicle breaks down, and remember, always take extra precaution if you are in a busy intersection or on a highway.
1. Pull-Off to the Side of the Road
First on the what to do if your car breaks down list is to get the car out of the flow of traffic if possible. When things go seriously wrong, a moving vehicle will not usually stop working entirely, so hopefully, you'll have a bit of time and momentum to get your car to the side of the road. If for some reason you are unable to make it to the side of the road, turn on your hazard lights and do not get out of the car. Being stranded in traffic can be unnerving, but getting out of the car can be deadly.
If you are able to reach the side of the road, then put the car in park, engage the emergency brake, and turn your wheels away from the road so your car won't accidentally roll out into oncoming traffic. Turn on your hazard lights, too.
2. Call for help.
Next on the what to do if your car breaks down list is to call for help. Luckily the majority of drivers have cell phones, so odds are good that calling for help will not be a problem. Additionally, many vehicles come equipped with (or you can purchase) some type of a roadside assistance device like OnStar FMV.
3. Let other drivers know that you're in trouble.
While hazard lights are a start, if you can get out of the car safely and you have road flares available, make sure you place a few of them about 50 feet behind your car. Another good idea is to raise the hood.
4. Stay with the car.
Always stay with your vehicle. Why? First of all, roadways are dangerous places for people on foot – especially the highway where cars are flying by at 60 to 70 miles per hour. Secondly, if you've called roadside service, they typically can't do anything to a vehicle without the driver present.
Final Thoughts
Knowing what to do if your car breaks down can make the entire situation less stressful and a whole lot safer. Of course, the best way to avoid breaking down in the first place is to keep up with the manufacturer's recommended maintenance schedule found in your car's owner's manual.