Seattle is a vibrant, bustling metropolis in the beautiful Pacific Northwest. Known for its stunning natural landscapes, thriving arts scene, and renowned coffee culture, Seattle offers many activities and attractions for visitors to enjoy during summer.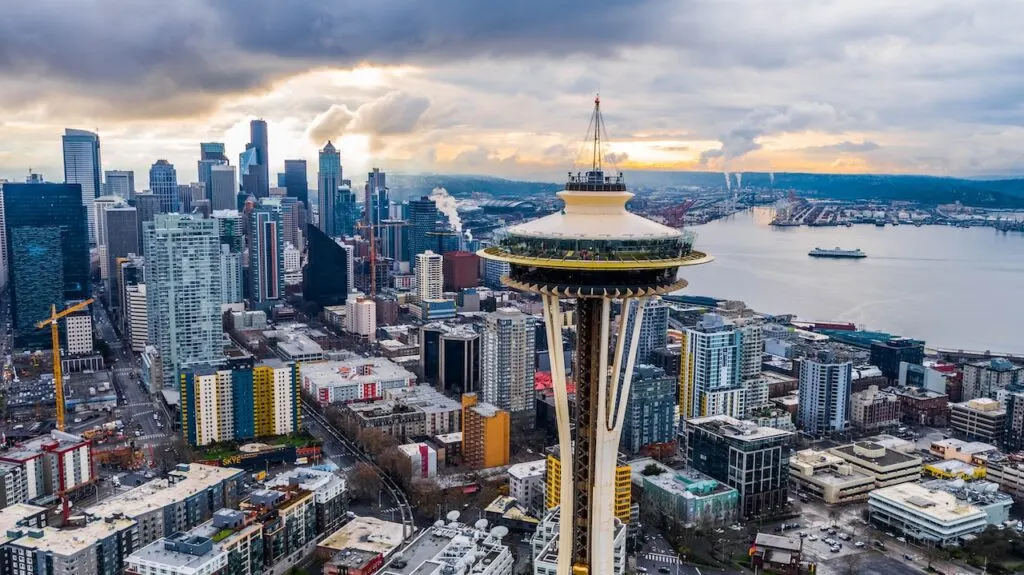 1. Explore the Great Outdoors
The breathtaking, natural beauty of this wonderful city makes it an ideal destination for outdoor enthusiasts. Take a hike through the lush forests, marvel at the stunning waterfalls, and enjoy panoramic views from Hurricane Ridge.
2. Indulge in the Coffee Culture
No trip to Seattle is complete without immersing yourself in its world-famous coffee culture. Begin your caffeine-fueled journey at the original Starbucks store in Pike Place Market, where you can sip on a cup of history. Explore the city's numerous independent coffee shops, each with its unique ambiance and specialty brews. Take a coffee-tasting tour to learn about different brewing methods and the art of latte art.
3. Wander Through Museums and Galleries
The typical American citizen spends 90% of their time indoors (according to HouseFresh), and in a rainy city like Seattle, it's understandable that you'd want to find shelter. Though, this city is a haven for culture and art lovers. Visit the Seattle Art Museum to admire its extensive contemporary and indigenous art collection.
4. Enjoy Waterfront Delights
Seattle's waterfront offers many attractions and activities. Take a stroll along the bustling piers, where you can indulge in fresh seafood at waterfront restaurants or shop for unique souvenirs. For a family-friendly adventure, visit the Seattle Aquarium, where you can witness the fascinating marine life up close.
5. Discover the Charming Neighborhoods
Seattle is a city with a high cost of living, and plenty of diverse and vibrant neighborhoods, each with its distinct character. Spend a day exploring the trendy and eclectic Capitol Hill, known for its lively nightlife and bustling food scene. Wander through the charming streets of Ballard, where you'll find boutique shops, craft breweries, and a thriving Nordic heritage. Walk around and find out why so many people love to call this city home.
6. Immerse Yourself in Music
You'll find that this city is the home of a rich musical heritage, being the birthplace of legendary artists like Jimi Hendrix and Nirvana. Experience the city's vibrant music scene by catching a live show at one of the many iconic venues, such as the historic Paramount Theatre or the intimate Crocodile. Don't miss the Experience Music Project Museum, where you can explore interactive exhibits and learn about the evolution of music.
7. Sample Local Cuisine
A food lover's paradise, Seattle offers various culinary delights. Indulge in fresh seafood, including the iconic Dungeness crab and succulent Pacific Northwest oysters. Explore the area's diverse international cuisine, from trendy farm-to-table eateries to authentic ethnic restaurants. Remember to try Seattle's beloved dish, the delicious and comforting bowl of clam chowder.
8. Embrace the Dog-Friendly Culture
Seattle is a city that loves its furry friends. With over 63 million households in the United States owning at least one dog, it's no surprise that Seattle is a haven for dog lovers. Take your four-legged companion to one of the many dog-friendly parks, such as Magnuson Park or Marymoor Park, where they can roam off-leash and socialize with other dogs. Explore pet-friendly cafes and shops, where your pup will be welcomed with open arms.
9. Take in the Stunning Views
Don't forget to enjoy the breathtaking views of the city from various vantage points. While the city's cost of living is higher than the national average, taking in the scenery won't cost you a penny. Drive around and ask locals for the best lookout spots.
Seattle, with its vibrant culture, stunning landscapes, and friendly atmosphere, is a place that has something for everyone. Whether you're exploring the great outdoors, sipping on a cup of coffee, or immersing yourself in art and music, your summer trip to Seattle is sure to be an unforgettable adventure.