You send your kid to school after making a wholesome breakfast, and of course, you pack a nutritious lunch. But even after all that effort, you can pretty much count on your kid being hungry after walking through the front door at the end of the school day. Learning, recess, and everything else that goes on in school can leave a growing kid hungry! So here are 10 easy after school snack ideas for kids that are nutritious and filling enough to curb their hunger until dinner time.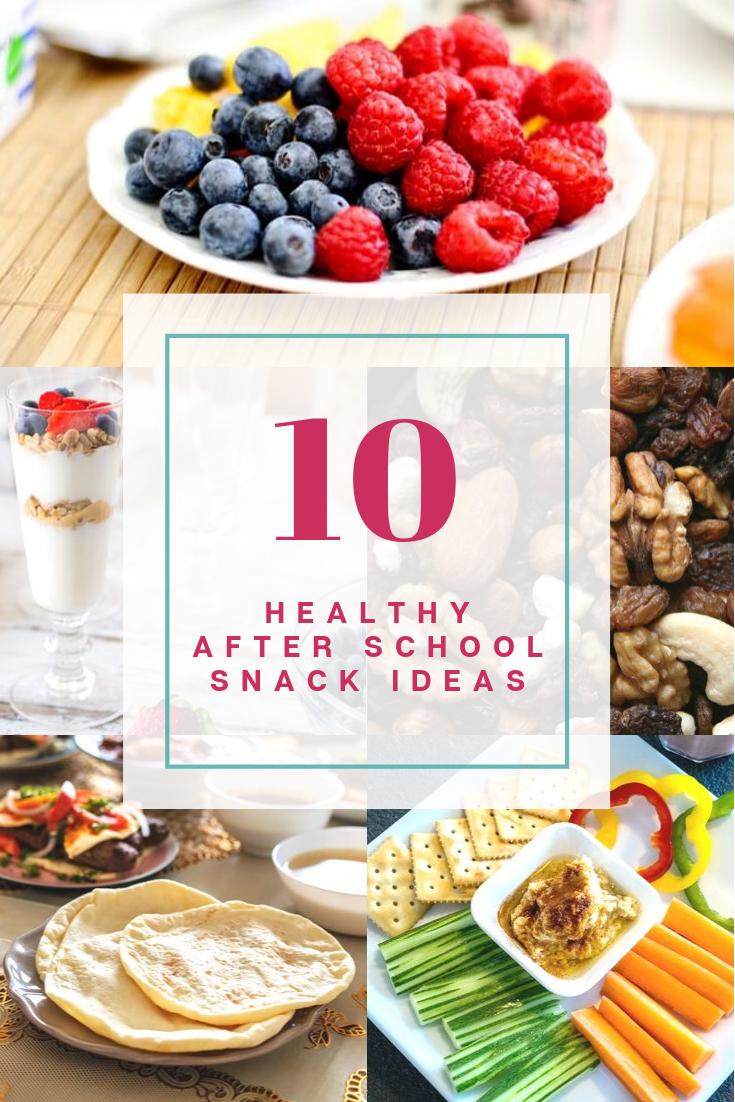 10 Delicious After School Snack Ideas for Your Kids
Ants on a Log
There's no snack that's more nostalgic than ants on a log. Chances are you ate this snack as a kid! Ants on a log are simply celery slices with peanut butter and raisins. This is a fun and tasty way to encourage your kid to eat vegetables.
Ants on a log are the perfect combination of protein, fats, and carbs. Plus, you can minimize sugar content by using peanut butter without added oils or sugar.
Fruit & Cheese
Fruit and cheese are one of the best after school snack ideas to give your child, and you can count on even the pickiest of eaters to love this protein-packed snack. The fruit is full of vitamins and nutrients, while cheese offers protein and healthy fats.
Try pairing organic mozzarella cheese sticks with fresh sliced tomatoes. Or serve up cheddar cheese with apple slices. Add even more protein by pairing fruit and cheese with nitrite-free lunch meat, nuts, or a hard-boiled egg.
Hummus & Veggies
There's nothing better than a salty, crunchy snack! While kids love feasting on chips and crackers, these items don't always make for healthy snack options.
Give your kid the crunch they crave with hummus and veggies. Carrots, bell peppers, cucumbers, and even broccoli are all delicious when dipped in hummus.
Plus, hummus offers tons of protein and healthy carbs, while vegetables provide the vitamins and nutrients that little ones need to grow big and strong.
Yogurt with Fruit & Granola
Yogurt is another great after-school snack idea because it's chock full of protein, calcium, and other important vitamins and nutrients. Yogurt also has tons of live bacteria that encourages a healthy digestive system.
When serving yogurt as a snack, you should try to avoid yogurts that are high in sugar. Look for healthier yogurt options such as plain, full-fat yogurt. Since plain yogurt can be tart, add honey or agave for a hint of sweetness.
A yogurt parfait topped with fresh fruit or granola is also sure to please your kid's taste buds. As would a yogurt popsicle!
Banana Ice Cream
Who could say no to ice cream after a hot school day? Traditional ice cream is full of sugar, but banana ice cream is a tasty option that comes without the carb spike.
To make banana ice cream, simply freeze two ripe bananas and then blend them using a blender. Add a dash of vanilla and you've got amazing soft-serve banana ice cream!
Kick this after school snack idea up a notch by adding cocoa powder, peanut butter, or even strawberries.
Pita Bread Pizza
What kid doesn't love pizza? While pizza is usually served for lunch or dinner, pita bread pizza is a lot lighter and less calorie-dense. To make pita bread pizza, all you need is pita bread, tomato sauce, and cheese. Let your kid pick out their own toppings, such as mini pepperonis or mushrooms, for a tasty snack.
Homemade Snack Mix
Another one of our delicious after school snack ideas is to make a homemade snack mix. Everyone loves Chex Mix, but why buy it when you can make it at home? Homemade snack mix is sure to become an after school snack staple in your household.
To make a homemade snack mix combine a bowl of pretzels, nuts, and popcorn. Create an Italian snack mix by combining these ingredients with Italian seasoning and parmesan cheese. You can also use dry ranch dip seasoning for a tasty ranch snack mix.
Fruit or Veggie Chips
Chips are well-loved because of the awesome crunch they offer, but store-bought potato chips are anything but healthy. The good news is that you can create fruit or veggie chips at home. There are all sorts of foods you can use, including:
Apples
Sweet potatoes
Kale
For a super hungry kid, pair chips with a yogurt dip, hummus, or peanut butter. The extra protein will quell even the hungriest of tummies.
Trail Mix
Store brought trail mix is often full of sugary ingredients like chocolate, peanut butter chips, and candy-coated nuts. Some versions have more than 30 grams of sugar per serving! Not only is homemade trail mix healthier, but it's also cheaper!
You can create a delicious trail mix as an after school snack idea at home by using dried fruit, mixed nuts, and whole-grain cereal. Set up a mini-trail mix bar at home and let your kiddo make their own snack!
Fruit Kabobs
During the summer months, fruit is one of the best snacks. There's nothing more delicious than ripe fruit. After school, you can continue the fun by making rainbow fruit kabobs. Simply cut up a variety of fruit, such as strawberries and melon along with kiwi, blueberries, and even cherries.
Using wooden sticks, you can make tasty (and pretty!) fruit kabobs that look as good as they taste.
After School Snacks for Kids Final Thoughts
A snack for kids should be wholesome and healthy. Keep these 10 after school snack ideas in mind to keep your growing kid's hunger at bay.