The sweetness of fresh strawberries mingles perfectly with the tanginess of vanilla Greek yogurt in these deliciously refreshing (and healthy) Strawberry Yogurt Popsicles. A quick and easy yogurt popsicle recipe the whole family will love!
School may be back in, but that doesn't mean that summer is over! Here in Alabama, we've been in the mid-to-upper 90s for several weeks now, and there isn't any relief in sight. So what better time for an icy-cold treat! And one of the best hot-weather treats I know is popsicles. And especially my Strawberry Yogurt Popsicles!
Popsicles are such a fun and delicious snack! They are easy to make, and you can use all sorts of tasty ingredients to make them. There's fruit juice popsicle recipes, soda popsicles, pudding popsicles (like these S'mores Pudding Pops), and coconut water popsicles (like these Firecracker Fruit Pops)! And of course, yogurt popsicles.
In fact, one of my all-time favorite popsicle recipes is Strawberry Yogurt Popsicles! Not only is this yogurt popsicle recipe tasty, but it's also healthy – and with 2 simple ingredients, it's incredibly easy to make!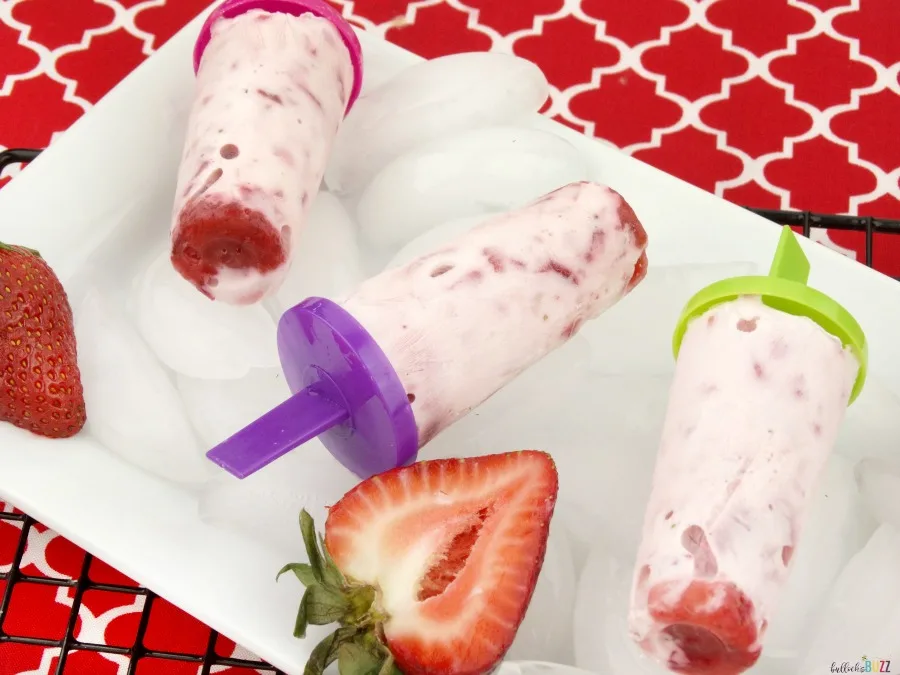 How to Make Strawberry Yogurt Popsicles
These strawberry yogurt popsicles are so creamy and refreshing! All you need is some fresh strawberries, vanilla-flavored Greek yogurt, and about 5 minutes.
And although I love using strawberries, these yogurt popsicles will also taste great with any kind of fresh fruit. I've made them with cherries, blueberries, raspberries, and even pineapple. Yummy!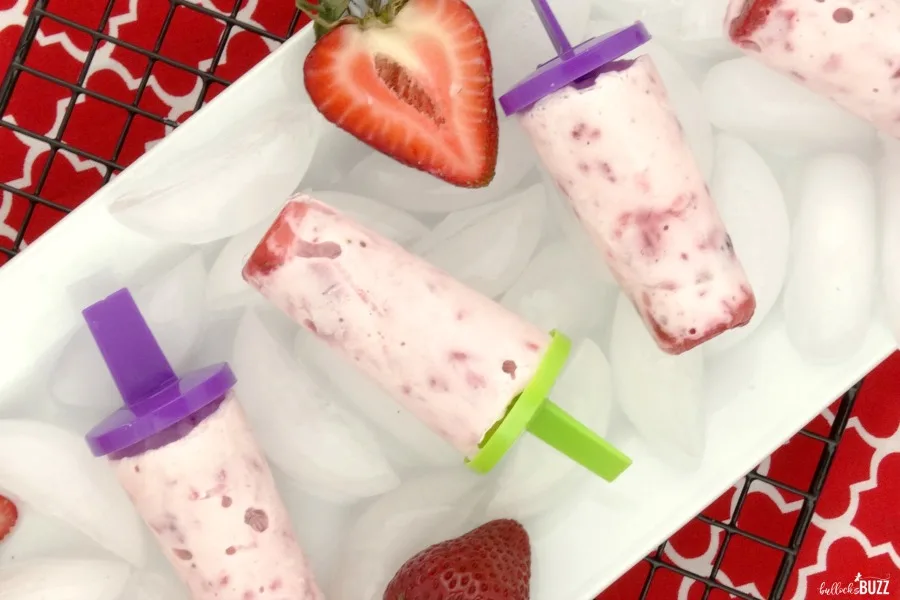 Kitchen Tools Needed to Make Strawberry Yogurt Popsicles
Disclosure: This blog post contains affiliate links for products or services I use that I think you'll like. This means if you make a purchase from one of these links, Bullock's Buzz may make a small commission at no additional cost to you. All opinions are based upon personal experience.
In addition to the ingredients, you'll also need a few kitchen tools including a knife, a food processor or blender, a large mixing bowl, and some popsicle molds. If you don't have a blender or food processor, you could always use a potato masher or the backside of a fork.
I like to use either this popsicle mold or this mold to make all my popsicle recipes. They work great!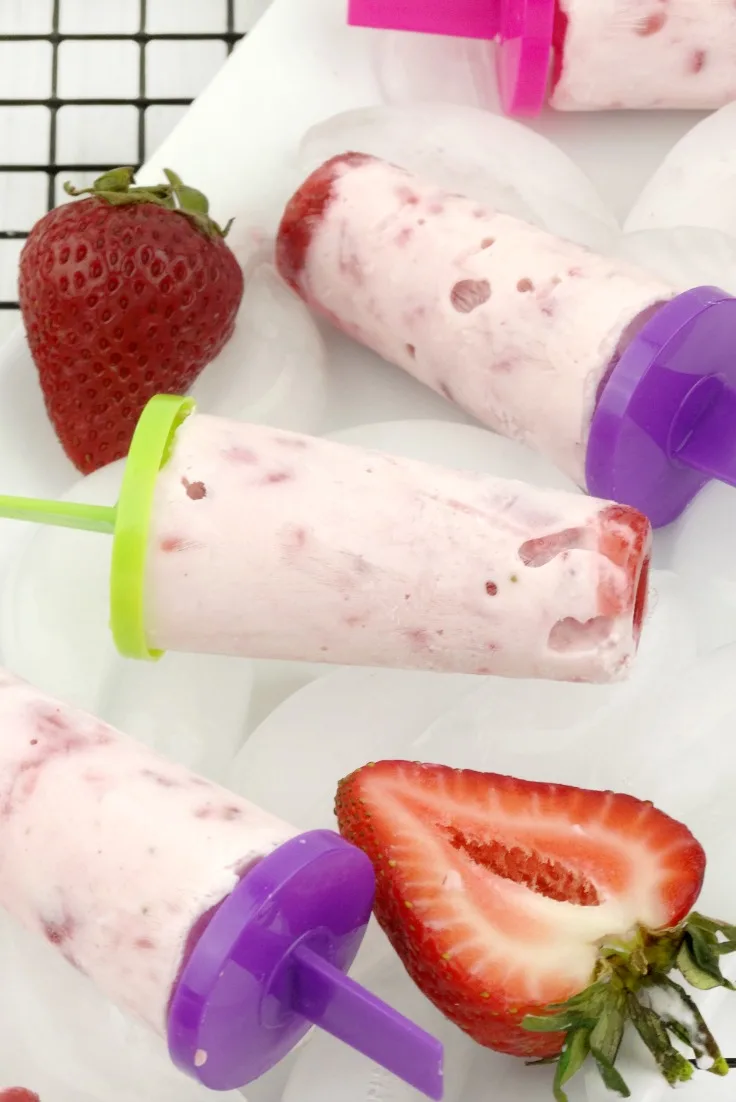 Printable Strawberry Yogurt Popsicles Recipe
Yield: 8 popsicles
Strawberry Yogurt Popsicles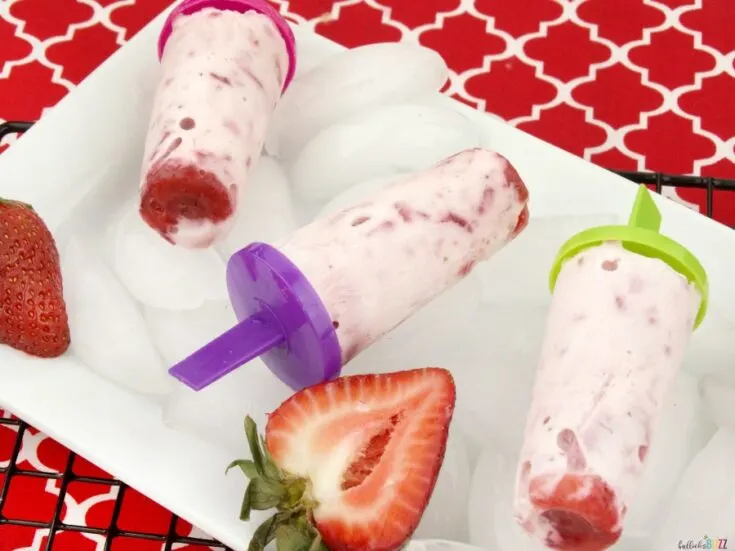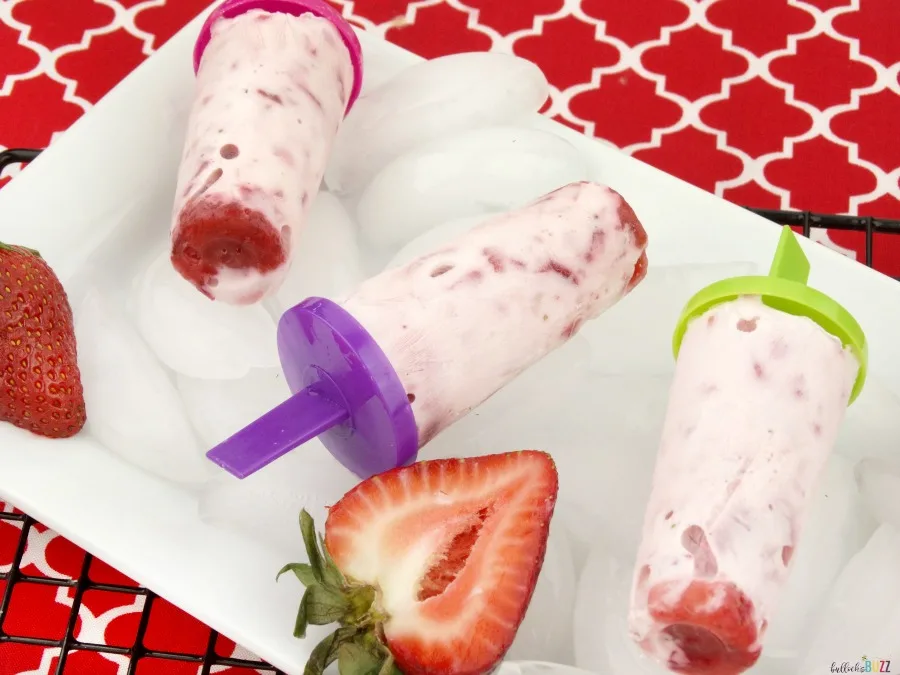 Made with fresh strawberries and creamy Greek yogurt, these Strawberry Yogurt Popsicles are perfect for a refreshing (and healthy) snack on a hot summer's day!
Total Time
5 hours
5 minutes
Ingredients
1 pound strawberries, fresh
2 cups vanilla Greek yogurt
1 tbsp sugar, optional
Instructions
Rinse and hull strawberries.
Place the strawberries in a food processor, then cover and pulse two or three times. You want to get small chunks of strawberries with only a few larger pieces remaining. If you don't have a food processor you can always use a potato masher or even a fork.
Place the vanilla Greek yogurt into a large bowl, then gently fold in the strawberries.
Spoon the yogurt mixture into popsicle molds and freeze until completely solid and set. Usually 4 to 6 hours.
To remove the popsicles from molds run the sides under warm water for a few seconds.
Nutrition Information:
Yield:
8
Serving Size:
1 popsicle
Amount Per Serving:
Calories:

68
Total Fat:

0g
Saturated Fat:

0g
Trans Fat:

0g
Unsaturated Fat:

0g
Cholesterol:

2mg
Sodium:

20mg
Carbohydrates:

12g
Fiber:

1g
Sugar:

10g
Protein:

5g
Nutritional information is automatically calculated with ingredients and serving size and may not be accurate. Please always double check with your own nutritional apps as well.
Can I Store Strawberry Yogurt Popsicles?
Yes, you can! While you could leave them in their molds, I've found they last longer if you remove them and store them in a Ziploc bag. They will keep for 1-2 weeks.
How Many Calories Are There in a Yogurt Popsicle?
The amount of calories count varies depending on the specific brand of yogurt, and whether or not you add additional sugar. If you make them without adding sugar, then each popsicle has around 65kcal.
What Can I Use for Popsicle Molds?
While reusable molds are the most convenient way to make popsicles, there are plenty of easy ways to make popsicles without them. Just don't forget the popsicle sticks. Some containers you use include:
Paper or Plastic Cups
Loaf Pans
Ice Cube Trays
Small Yogurt Containers
Small baking tins
More Delicious Popsicle Recipes
If you liked this Strawberry Yogurt Popsicles recipe, then I bet you will love these other delicious popsicle recipes!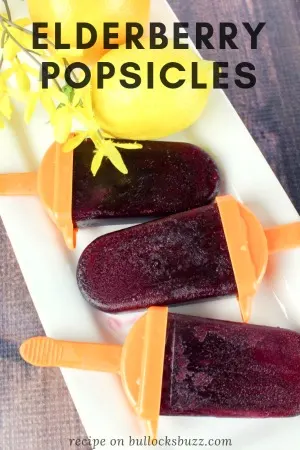 HUNGRY FOR MORE EASY AND DELECTABLE RECIPES? Then sign up for my newsletter and follow along on Facebook, Pinterest, Twitter, and Instagram for all of the latest BUZZ!
I hope you enjoy these Strawberry Yogurt Popsicles as much as I did! I'd love it if you'd share with your friends and family! Simply use the social sharing buttons below the post title to share.