10 Mother's Day Gifts That Will Make Her Smile

Mother's Day is all about the special mom(s) in your life – and it's just a few weeks away! It's a day to show her just how much she means to you, and just how special you think she is. And it doesn't have to be about spending a lot of money, either. Here are 10 fun and unique Mother's Day gifts that will make Mom feel loved and appreciated – all without breaking the bank!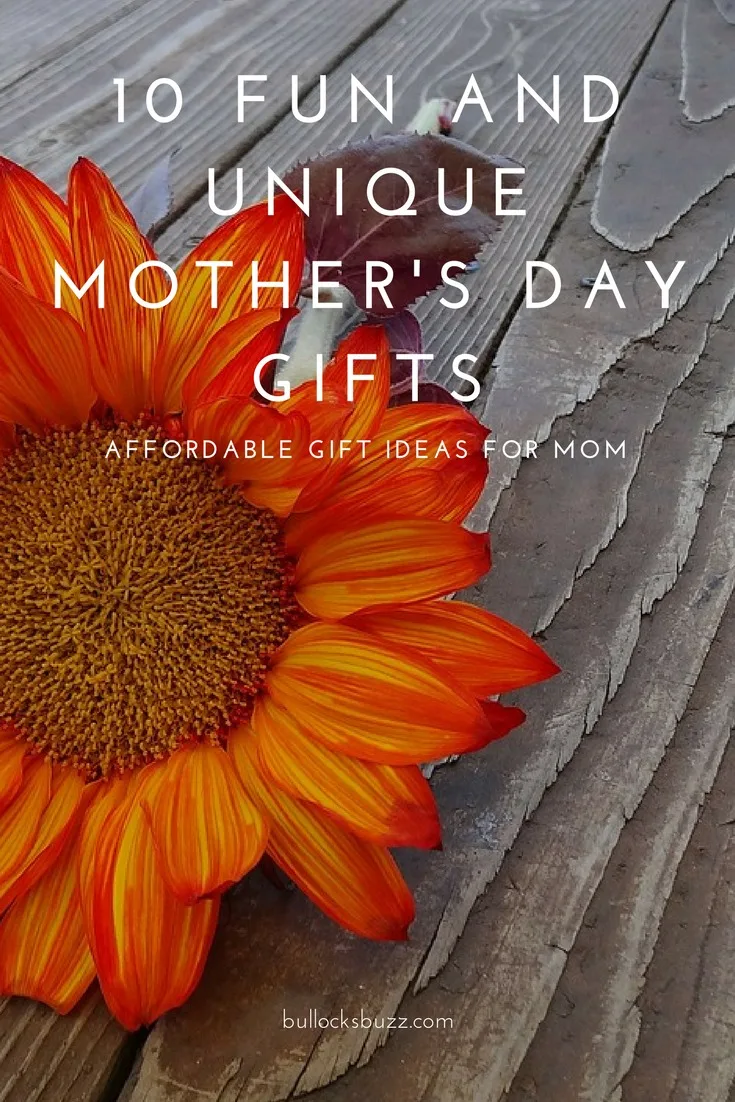 Make Her Dinner
Instead of taking Mom out to an expensive lunch or dinner, cook for her. She'll appreciate the effort and you'll save on cost. It's a sweet and affordable alternative to dining out.
Lost for recipe ideas? There are many recipes available online if you need some inspiration. And you can save even more money on food by searching for local grocery coupons! Extra points for breakfast in bed!
Mom's Day Off
Moms do a lot! A well-deserved day off could be just the thing she needs! Declare a 'Mother's Day Off' day. Inform your Mom that she is not allowed to do any household tasks or errands. Instead, you take over and let Mom have a day of relaxation. This is the perfect time to repay her for all she has done for you.
Clean her house, wash and detail her car, do her laundry, and do her weekly grocery shopping. This won't cost you much of anything at all and it is a priceless gift that she'll truly appreciate!
Flowers
Flowers have long been a popular gift idea – especially for Mother's Day. And although many florists are known to hike up their prices in advance of special holidays, there are still plenty of ways to save.
One way is to head to your local grocery and scope out their selection. You can often find stems and bouquets for a lot less than ordering through a florist. I like to pick out two or three of the smaller arrangements (usually less than $8 each), then find a larger vase and make my own arrangement.
If you want to order a bouquet through an online company, be sure to choose the perfect flowers from Bouqs. You can browse and look for coupons or promo codes before you place your order.
Plant Her a Garden
If your mom loves to cook with fresh herbs or vegetables, help her create a backyard garden. If she likes ornamental plants or flowers, add some pretty planters to the porch or backyard. You could also give her a garden-lovers gift basket that you put together yourself. Simply fill a pretty basket – or even better, a large decorative pot – with gardening necessities including everything from gloves to seeds to gardening tools.
Personalized Gifts
Personalized gifts give you all sorts of creative options. Check out online marketplaces like Etsy for cute jewelry, accessories, or other knickknacks. Or take a favorite photo of your mom and digitize it. Then use that photo to make a fun throw, a pillow, a coffee mug, or even a tote on sites such as Shutterfly/Tiny Prints.
Day at the Movies
Treat Mom to the movies – either at the theater or at home. To save money, go to a Sunday matinée which is much less expensive than regular movie ticket prices. Or you could treat her to a movie day or night at home. Rent some of her favorite movies, pop some popcorn, or bake some Mother's Day flower cookies – and don't forget the soda!
DIY Gift
Remember when you were little and you heard your Mom or Dad say that a present you made was the best present to get? It's true! Gifts that you make are gifts that truly come from the heart, and there are all sorts of creative presents you can create.
One of my dad's favorite presents was when my sister and I put together a mural made up of photos of us as children and us together with him. We designed a layout, mounted the photos, and then put them in a pretty frame. That collage held the place of honor on his walls.
In this age of digital photos, gathering some great photos of you, any siblings and your Mom should be easy. From there, a quick trip to Michaels or your favorite craft store for the backing, matting, photo-safe glue, and a frame – and you'll have everything you need.
Got kids yourself? Have them craft a special card that shows off their love and place it in the center of the photo collage. It's one of those Mother's Day gifts that Mom will love!
A few other DIY Mother's Day gifts include faux flower arrangements, flower vases, a personalized mug, and homemade sugar scrub. You also can make artwork with the tiny handprints or footprints of her grandchildren which she'll treasure for years to come. A simple search online will unearth tons of simple DIY Mother's Day gift ideas that she will absolutely adore!
Gift a Subscription
Gift subscriptions are gifts that truly keep on giving. Purchase Mom a monthly or yearly subscription suited to her taste. For moms with young children that don't get many breaks, a magazine subscription to read during nap time might be just what the doctor ordered.
For moms who love beauty or fashion, Birch Box and Stitch Fix are great options. Is Mom tired of cooking all the time? Give her a break with a subscription to companies like Blue Apron or Hello Fresh. These meal delivery services take all of the hard work out of what goes on the table. Plus, as a bonus, many are easy enough for dads or even older children to prepare.
Spa Day
Treat your Mom to a day of ultimate relaxation. Book her a massage or a body treatment and let her relax her cares away. Or, if a spa day is not in your budget, create your own spa gift basket! Find a cute basket or tin at the craft store and fill it with her favorite scented beauty products including bath salts, lotions, and a candle. And don't forget to make sure you take the kids and clear her schedule so she can really relax and enjoy her own 'spa' time!
A Hobby Basket
What does your mom do for fun when she's not busy taking care of others? Think about what your mom really likes to do and create a Mother's Day gift basket centered around that interest or hobby. For example, if she likes to draw or paint then her basket could include watercolors, paper, and brushes. If she loves to read you would include some books from her favorite authors along with perhaps a mug and a sampling of teas or coffees. Get creative with both the basket and the items you will include in it.
Save More Money When Shopping
Whether you go with one of the above Mother's Day gifts or shop for something different, there are always plenty of creative ways to save money on Mother's Day gifts. In fact, you can start saving money on in-store and online purchases right now by using Coupon Sherpa.
Coupon Sherpa provides both coupons that are exclusive to the app and general coupons posted on the Internet in one easy-to-find place – on your phone. You can easily and quickly search by store or by product to find digital coupons and promo codes, and then present the bar code at the register and watch the savings add up.
You'll have access to thousands of in-store, local, and online coupons and promo codes for your favorite retailers, restaurants, and shops, helping you to save money on everything from groceries to clothing, office supplies to restaurants, and even events and happenings.
I've been using Coupon Sherpa and the app for several years now and have been very happy with the results. The app is very user-friendly, and it's loaded with lots of helpful features including favorites lists, a store locator, and even social sharing options so you can share awesome deals with your friends via social media. Best of all, the Coupon Sherpa app is free and available for both iPhone and Android.
What are you doing to celebrate your mom? Do you have some other creative and unique ideas for Mother's Day gifts? Share with us in the comments below!