After the cold, dark winter months are over, and the days begin to grow longer, I get the urge to start on that yearly ritual known as Spring Cleaning. And while cleaning has never been a favorite activity of mine, the following spring cleaning hacks using baking soda make it much easier!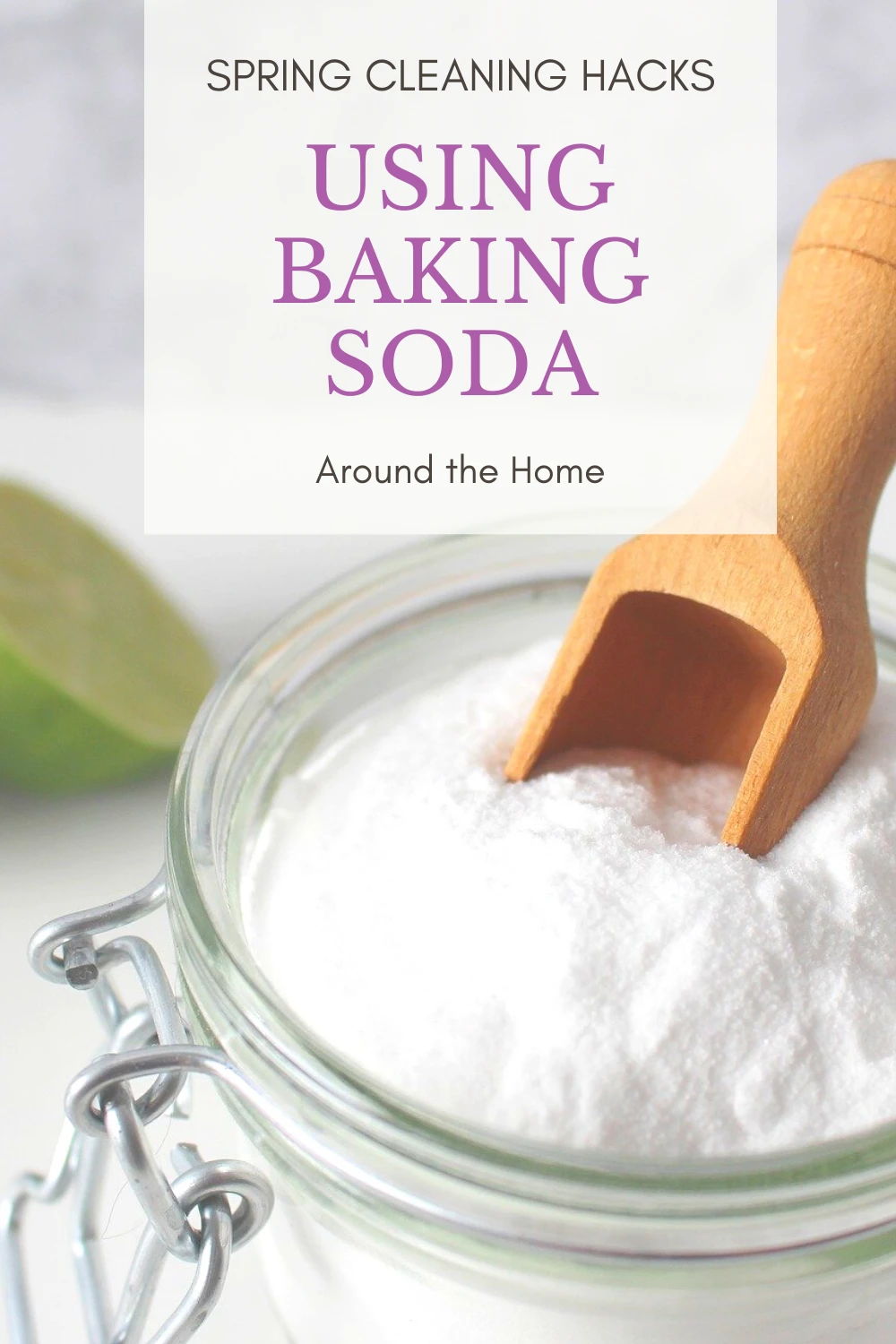 While I want my home to be as clean as possible, I am fully aware that using conventional cleaners can expose my family to harsh chemicals that have not only been linked to many health problems but are also harmful to our environment. Luckily there are several other products that work just as well as chemical cleaners but without the toxicity and danger to our health and environment. Many are common household items, and today I am sharing 25 Spring Cleaning Hacks using one of those common and inexpensive items – baking soda!
How Does Baking Soda Work to Clean?
Baking soda, also known as sodium bicarbonate, not only helps neutralize pH (the acidity or alkalinity of a substance), but it also stops further changes in that pH balance. Therefore it can neutralize acidic odors (like in your refrigerator) as well as maintain neutral pH (like in your laundry water which can help boost your detergent's power). It also is a mild abrasive, so it literally scrapes away dirt without harm on many harder surfaces.
25 Spring Cleaning Hacks Using Baking Soda
A few days ago, just in time to start my Spring Cleaning, I received a box of Arm & Hammer Baking Soda. Not only is Arm & Hammer baking soda non-toxic and eco-friendly, but it's also very inexpensive! So as promised, and in honor of Earth Day, here are those 25 Spring Cleaning Hacks using Arm & Hammer Baking Soda.
KITCHEN
1 This is one of the spring cleaning hacks that I am sure you know: freshen the fridge by placing an open container of baking soda to absorb the odors.
2. Get rid of that dank, dismal smell on rags by soaking them in 1/2 cup baking soda and a sink full of warm water.
3. Deodorize drains by pouring 1/2 cup baking soda down the drain while running warm water.
4. Control garbage can and diaper pail stink by sprinkling baking soda between layers of trash as it accumulates. Or make these adorable DIY trash can and diaper pail deodorizing discs!
5. Sprinkle baking soda on a clean, damp sponge to gently clean the inside and outside of the microwave without leaving a harsh chemical smell! Rinse well with water.
6. Sprinkle the cutting board with baking soda, scrub, then rinse.
7. Remove burned-on food from pots and pans by soaking them in a sink full of warm water and baking soda for 10 minutes before washing. Leave overnight for super tough grime.
8. Clean the oven by sprinkling baking soda onto the bottom of the oven, then use a spray bottle of water to dampen the baking soda. Let it sit overnight, and in the morning, scrub, and scoop the baking soda and grime out with a sponge and rinse.
9. Remove the grime from your tile or no-wax floors by adding 1/2 cup baking soda to a bucket of warm water. Mop, then rinse.
BATHROOM
10. Get the grub out of the tub by sprinkling baking soda on a clean, damp sponge then scrubing as usual.
11. Get the mildew off your shower curtain by sprinkling baking soda on clean, damp sponge, scrub, rinse, then hang to dry.
12. Add 1 cup of Arm & Hammer to the toilet, let sit for 1 hour, then flush – it cleans and deodorizes.
DEODORIZING ROOMS
13. Freshen the air by mixing baking soda with your favorite perfumed bath salts, and putting the mixture in small sachet bags.
14. Make your carpets smell fresh by sprinkling baking soda and letting it sit for 15 minutes before vacuuming.
15. To help freshen up your fireplace, clean the ashes out, then place a bowl of baking soda in it.
LAUNDRY
16. Freshen sheets or musty towels by adding 1/2 cup baking soda to the rinse cycle.
17. Give colors a boost by adding 1 cup of baking soda to your liquid laundry detergent.
18. Clean cloth diapers by dissolving 1/2 cup of baking soda in 2 quarts of water, then soaking diapers thoroughly.
SURFACES AND FURNITURE
19. Make a paste of baking soda and toothpaste, dip a soft cloth in the paste and rub water spots on finished wood away.
20. Clean plastic, porcelain, and glass with dry baking soda on a damp cloth. Rinse and dry.
21. Pour a small amount of baking soda in a bowl, add enough water to make a paste and use it to clean and polish stainless steel and chrome.
22. Put three tablespoons of baking soda in a quart of warm water, then use the mixture to wash marble-topped furniture with a soft cloth.
23. Remove crayon marks from vinyl floors and walls by sprinkling baking soda on a clean, damp sponge and gently scrubbing. Wipe off with a clean, dry cloth.
PETS
24. Deodorize the cat's litter box by covering the bottom of the kitty box with 1 part baking soda, then adding a layer of three parts kitty litter on top. Add more if needed by sprinkling a light layer each time you clean out the box.
25. Clean plastic and rubber pet toys using a solution of 4 tablespoons baking soda to 1-quart water. Clean cloth pet toys by sprinkling baking soda on the toy, letting it sit for 15 minutes then brush it off. It works great on stuffed animals too!<
Do you have any Spring Cleaning Hacks using baking soda that I missed? Share with us in the comments below!