Did you know that the air you breathe inside your home can have up to five times as many pollutants as outdoor air? Pollen, dust and other allergens can float in the air inside your home for hours, and even the flu and cold viruses can live in the air for several hours. And if you live in an apartment or condo, then you are also getting all of the allergens from your neighbors as well, because despite the duct work being as separate as possible, the air from other apartments still seeps in. And now with Spring in full bloom, pollen and other allergens are everywhere and so are itchy eyes and runny noses! Enter the AeraMax 200 Air Purifier by Fellowes.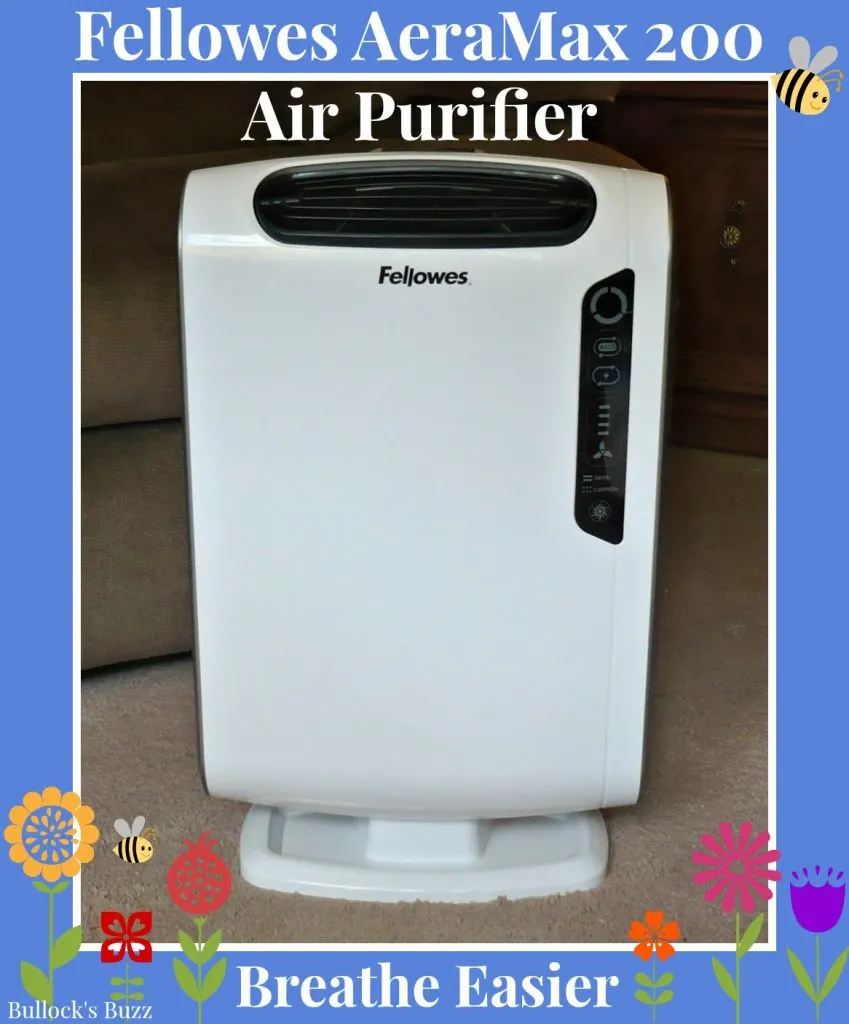 The AeraMax 200 is a small, but very effective air purifier that safely removes 99.97% of airborne particles including pollen, ragweed and other allergens, viruses, germs, dust mites, mold spores, pet dander and even cigarette smoke. It owes its effectiveness to the fact that it uses two superior filters and a four-stage purification system. The first filter is an activated carbon filter that works to remove odors and capture large airborne particles. The second filter is a True HEPA filter which removes the smaller (as small as 0.3 microns) airborne particles such as pollen, ragweed, viruses, germs, dust mites and others. This filter has also been treated with AeraSafe™ antimicrobial treatment which prevents the growth of odor causing bacteria, mildew and fungi on the filter itself. Lastly, the AeraMax 200 uses PlasmaTRUE technology which creates an ionized field to help safely remove airborne pollutants.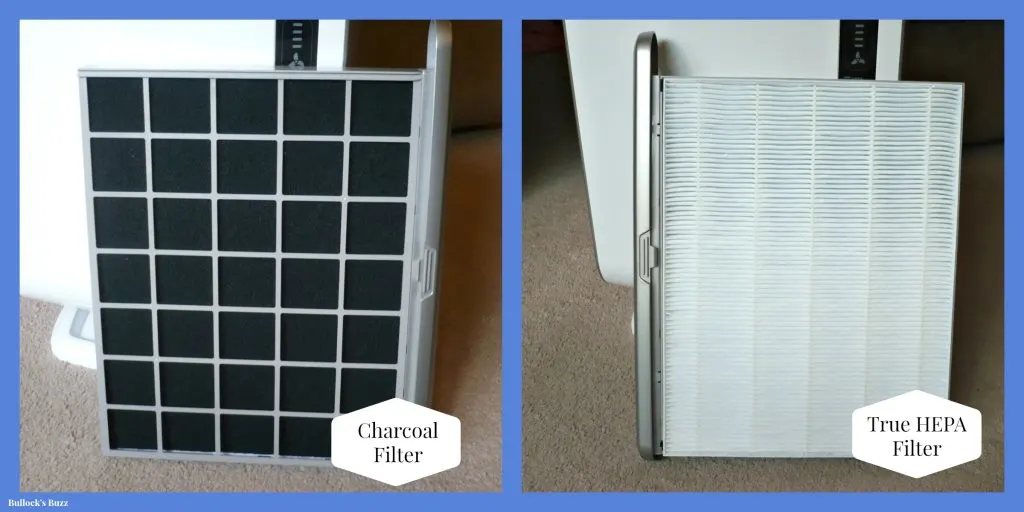 The power switch is located on the back side of the unit. Each time you turn the air purifier on it will be in auto mode, but you can easily switch between automatic and manual with the push of a button located on the user-friendly, LED control panel. There is also a fan speed indicator lets you adjust the speed setting to low, medium, high or turbo. Other features include the AeraSmart Sensor which monitors the room's air quality and automatically adjusts the fan speed as needed to keep the air purified, and the Aera+ Mode which increases air turnover by 50% to remove even more allergens from the air when selected. This is a great function to have during peak allergy and cold/flu seasons! The unit also features automatic filter change indicators which will alert you when it comes time to change one or both filters.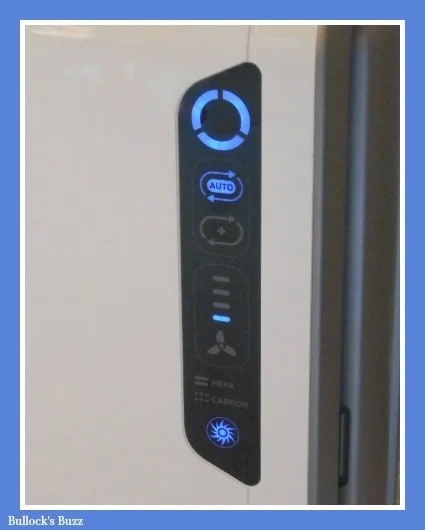 Removing the filters is a cinch. On the right side of the unit is a grey panel that you slide out, then you simply remove the filters from this panel. I am not sure of what the average life span of these filters is, but I have been using ours for about a month now, and when I went to check the filters they were still in good condition with just some lint and cat fur visible.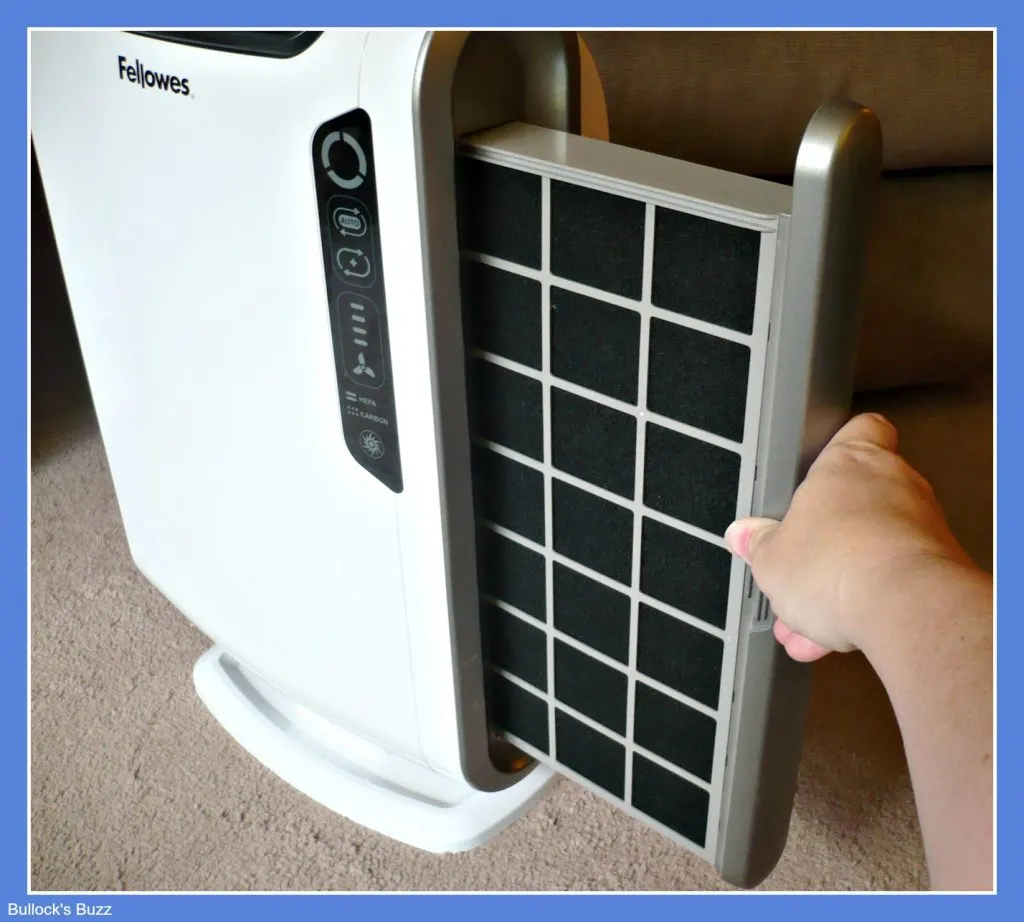 The AeraMax 200 is designed for use in medium-sized rooms up to 200 square feet. It measures around 20.5″ tall, 13″ wide and 7.1″ deep, which is small enough to not take up much room at all. Plus, with its sleek, modern design and ultra quiet operation it is very unobtrusive and looks good in any room you place it in. We keep ours in the den which is where we spend the majority of our time, and since we have been using it, I have noticed quite a change. Not only am I sniffling and rubbing my eyes less often, but we no longer smell the cigarette smoke from our downstairs neighbor that occasionally seems to find its way into our apartment. It makes the air smell really crisp and clean, and it is so quiet that we hardly notice it is on unless the fan kicks up due to us opening the front door or a window. Between the four fan speeds, the first two are definitely the quietest, the third is fairly quiet, but the fourth, turbo speed, is much louder than the rest.
The Fellowes AeraSmart 200 Air Purifier holds several certifications including being certified asthma and allergy friendly by the Asthma and Allergy Foundation of America. In addition to the AeraMax 200, Fellowes also makes several other AeraMax air purifiers for different sized rooms if this one is too small for your needs. All Fellowes Air Purifiers can be ordered directly from the Fellowes website or through Amazon.com
, and you can also find them at retailers across the US. If you'd like to find a location near you, there is a store finder on the Fellowes website.