Looking to give your house a fresh, modern look, but not sure where to start? Check out this list of some of the best chic home upgrades you can get this year. From sleek kitchen countertops to an outdoor modern fireplace, you're sure to find something to bring a little flair to your home.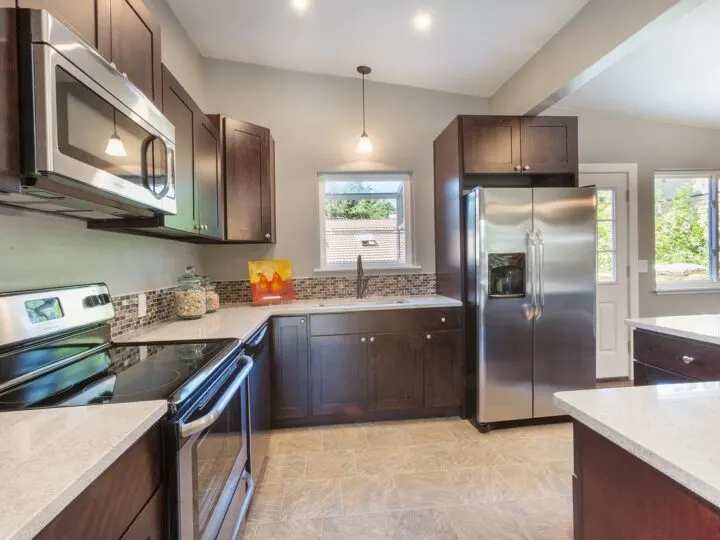 1. Quartz countertops
The National Kitchen and Bath Association (NKBA) named light quartz the top trend in kitchen countertops in 2021, thanks to its luxurious and low-maintenance surface.
Consider upgrading your kitchen counters to a light gray or white quartz. These shades are incredibly versatile, lending themselves to virtually any style of kitchen decor. Pair the countertops with brightly painted cabinets and funky backsplash, or go for classic neutrals and rotating accessories.
If light-colored quartz isn't your style, you can opt for a less-popular color too. Quartz countertops are highly engineered, meaning the color options are nearly endless.
2. A walk-in shower
What's more luxurious than a large walk-in shower with a rainfall showerhead? Not much.
Walk-in showers lend themselves well to a variety of bathroom styles, shapes, and sizes. You can get creative with the lighting, shower fixtures, and storage. With enough space, you can even add a small shower bench.
The NKBA found that bathroom decor is trending toward organic styles, with an emphasis on natural light, color, and materials. Get in on this trend by choosing muted colors that remind you of your favorite outdoor spots, or make space for a few plants in your bathroom decor.
3. Indoor and outdoor fireplaces
Fireplaces create an instant feeling of coziness, whether they're outside on your patio or serving as a stunning centerpiece for your living room. It's a perfect place to gather with friends and family or cuddle up with a mug of tea.
To skip the hassle of kindling and wood fires, consider a direct vent gas fireplace for your home. These units heat your home efficiently and offer some flexibility in your ventilation path. Plus, all direct vent fireplaces come sealed in a glass box to increase the heating performance and prevent accidental injury.
4. New garage doors, flooring, and storage
Your garage might seem like an odd place to do a home upgrade, but think about how much space you could reclaim with a little creativity.
Start by upgrading your outer garage doors to make it feel like a place you want to spend your time. You might opt for sleek wood paneling or a modern material and pattern, depending on the rest of your home's exterior.
Next, take a look at the floors. Even concrete floors can feel brand-new with paint, polish, or epoxy.
Lastly, consider your garage storage and workspaces. Will you be storing sports equipment or power tools? Opt for sturdy storage that can handle being knocked around. You might also install counters or workbenches to create an excellent surface for any type of project.
You just added a ton of useful square footage to your house.
5. Higher-end kitchen and bath fixtures
While it might seem like a simple home upgrade, changing your kitchen and bath faucets can have a huge impact on the feel of your home. Not only do you get a chance to bring a little extra style to these rooms, but you can also upgrade their function. Choose fixtures with adjustable sprays, temperature controls, and more to get exactly the water you want, where you want it.
Don't just stop at luxury kitchen faucets, though. Take a survey of your cabinet handles, light fixtures, and similar decorative hardware to maintain a cohesive style in each room.
Start living in your house of luxury
You don't have to buy a mansion to live in the stylish house of your dreams. Start with one of these chic home upgrades to bring a modern feel to your home.