Deliciously sweet sugar cookie cups are filled with a homemade vanilla frosting and topped off with candy grass, candy eggs, and a cute little chick in this easy Easter Cookie Cups recipe. These sugar cookie cups are SO simple and make the perfect Easter dessert!
Easter is almost here! Can you believe it? It's just a hop, skip, and jump away. Easter is actually one of my favorite holidays. Not only does it mark the beginning of Spring (finally), but there are so many adorable and EASY Easter treats you can make! Need a quick Easter dessert idea? Try these yummy Easter sugar cookie cups.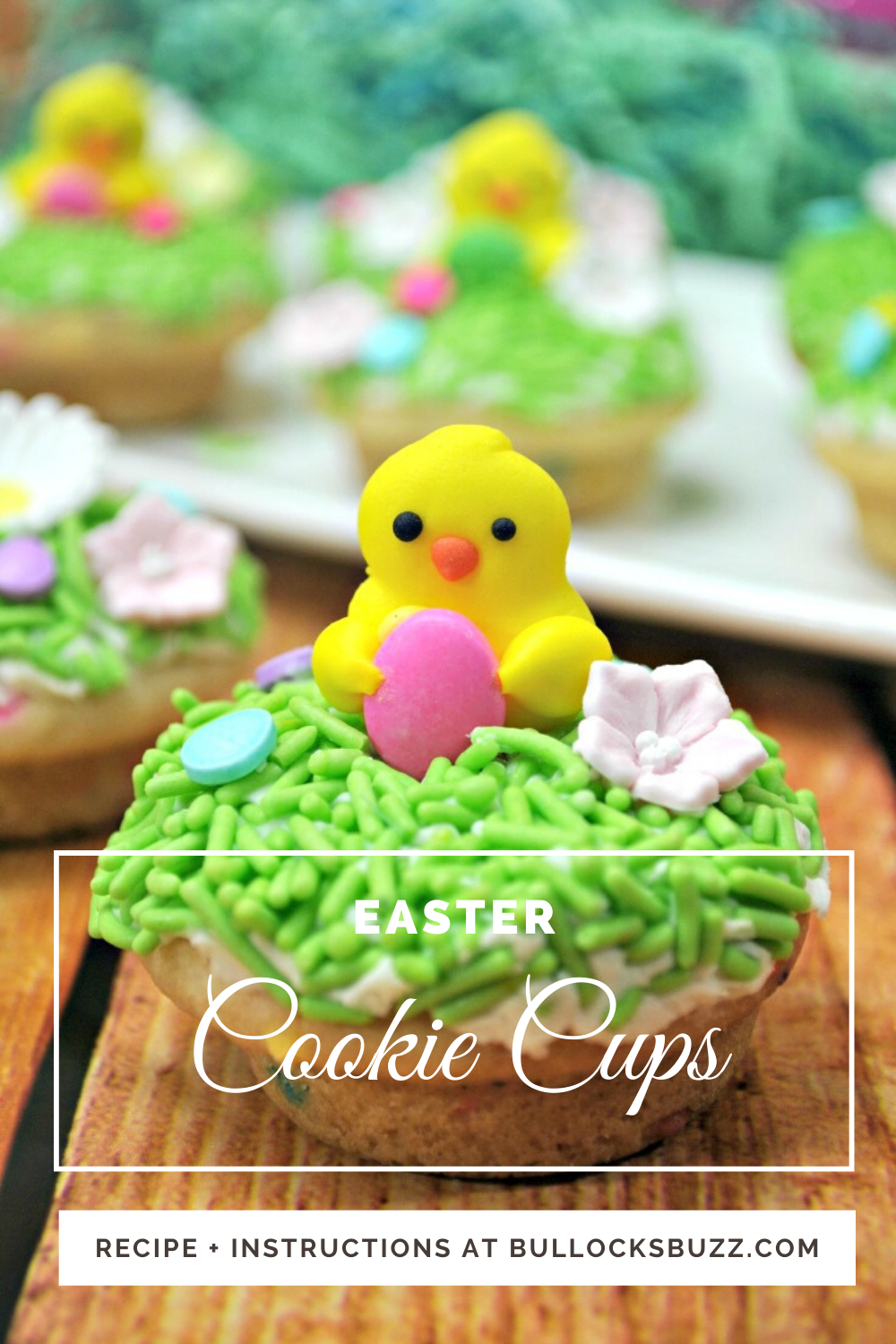 As I'm sure you know by now, I love to get creative with food! Especially around holidays! Some of my must-try favorites include my Valentine's Day Red Velvet Whoopie Pies, Halloween Frankenstein Twinkies and of course, my Jolly Rancher Rainbow Hearts.
These easy Easter Cookie Cups are one of my favorite Easter recipes! Whenever I make them, they are one of the first things to disappear. They are bright, cheerful, cute and festive, and they taste wonderful. Plus, they are so simple to make.
This easy, no-fuss Easter treat recipe is perfect for parties and any other Easter-or-Spring-themed gathering or celebration.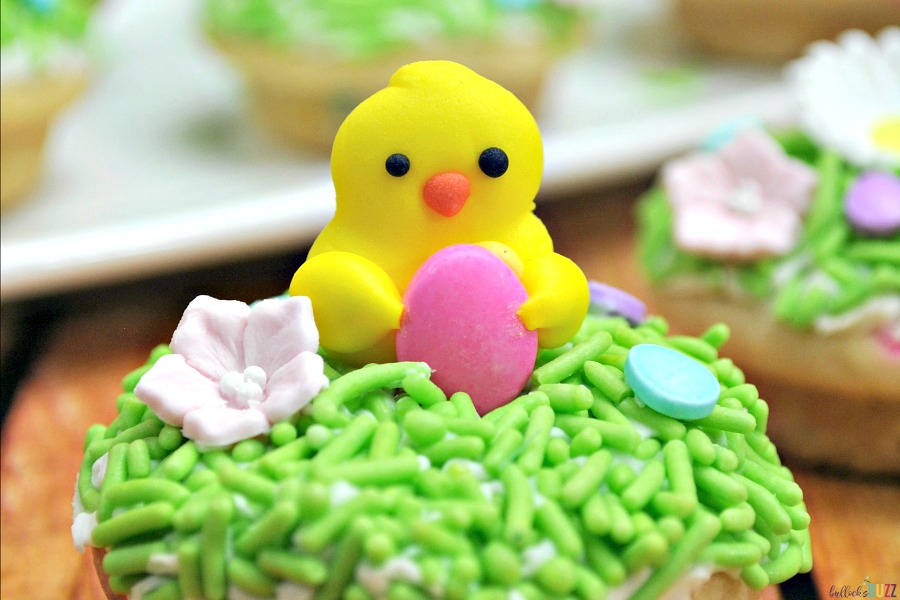 How to Make Easter Cookie Cups
One of my favorite things about this Easter-themed baking recipe is how EASY it is to make! There's no rolling, cutting, or chilling this cookie dough. All you have to do is make the cookie dough, scoop it into a muffin tin, bake, and decorate! As is, this recipe will make between 8 to 15 cookie cups.
What You Need
Disclosure: This blog post contains affiliate links for products or services I think you'll like. This means if you make a purchase from one of these links, Bullock's Buzz will make a small commission at no additional cost to you. I only recommend products that I use and love.
Luckily, you don't need any hard-to-find or special kitchen tools to make or fill these Easter cookie cups. And while you can certainly use a pastry bag to fill the cups, a plastic snack bag with the end snipped off will also do the trick! Here are some supplies and ingredients you will need (the full ingredient list and instructions are in the printable recipe card below.)
Kitchen Tools Needed
Easter Sugar Cookie Cups Ingredients
This cookie cup recipe calls for very few ingredients. You'll just need:
sugar cookie dough – see recipe in the recipe card below
vanilla frosting – see recipe in the recipe card below
green jimmies sprinkles
cute Easter topping decorations
I found these adorable Easter chicks at Michael's, but there are plenty of other options you can use. For example, these candy flowers along with these Royal Icing Edible Easter Assortment Decorations or these Easter bunnies would work perfectly! Just look for Royal Icing Easter Edible Decorations on Amazon or at your local craft store.
If you are in a time crunch, you can always use pre-made sugar cookie dough and store-bought frosting instead of the homemade recipes below.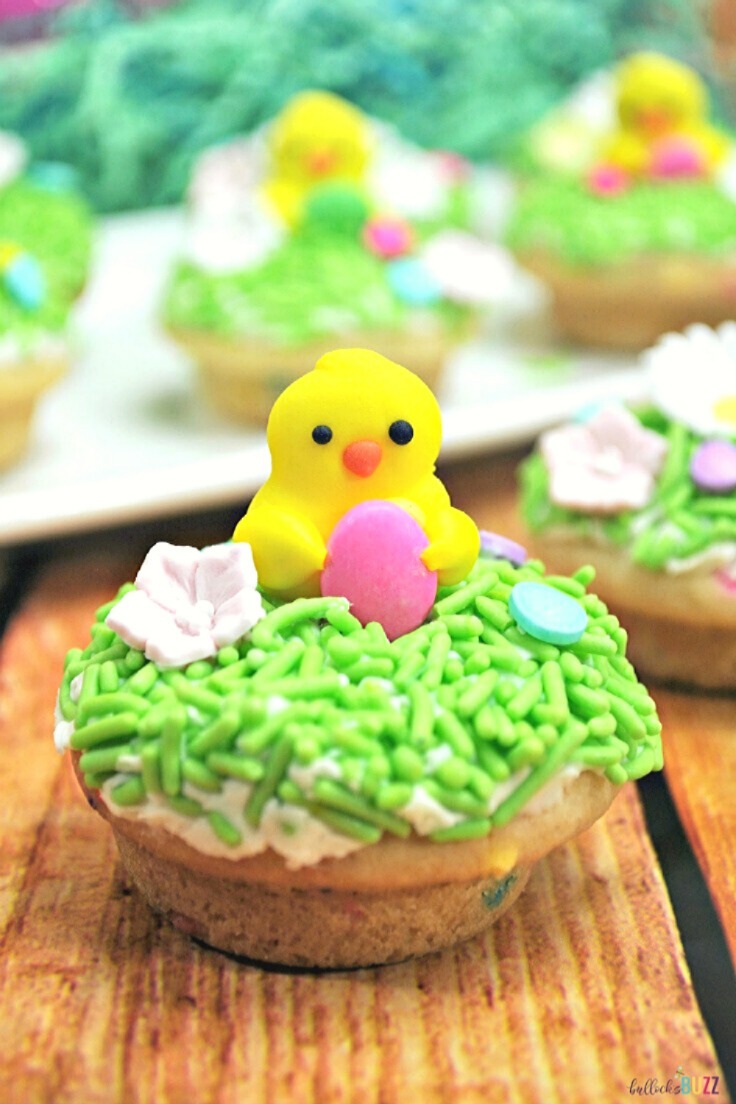 What Size Muffin Tin Do I Use to Make Cookie Cups?
You can use regular sized or mini muffin pans. I've used both and they turn out perfectly with either one. The mini-muffin pans, however, are my favorite because the end result is bite-sized cookies that are incredibly cute! Plus they work great if trying to minimize the number of sweets the kids have or if you are trying to feed a large crowd.
If you do decide to use a mini muffin tin, just reduce the cooking time to 5-7 minutes.
Easter Cookie Cup Variations
Another thing I love about this Easter-themed recipe is that it can easily be adapted to fit any holiday or special occasion. Simply use whatever seasonal candy the occasion calls for.
You could also substitute the flavor of cookie dough, too. Any kind will do! Peanut butter cookie dough, chocolate chip cookie dough, or even coffee cookie dough would make for a deliciously tasty twist!
Another variation would be to use whatever type of filling/frosting you like. Cream cheese frosting, buttercream, or even marshmallow — they all work great!
How to Store Easter Cookie Cups
While it is highly unlikely that you will have any left, if you do, you can store these sugar cookie cups in an airtight container for 3-4 days.
If you want to make them last a little longer, you can freeze them for up to 2-3 months in an airtight container. However, I suggest freezing them unfrosted if you're making them ahead of time, and then filling them when ready to eat.
If they're already decorated, you can flash freeze them (set individually on a sheet pan, uncovered) for a couple of hours to harden up the frosting, then stack them in an airtight container.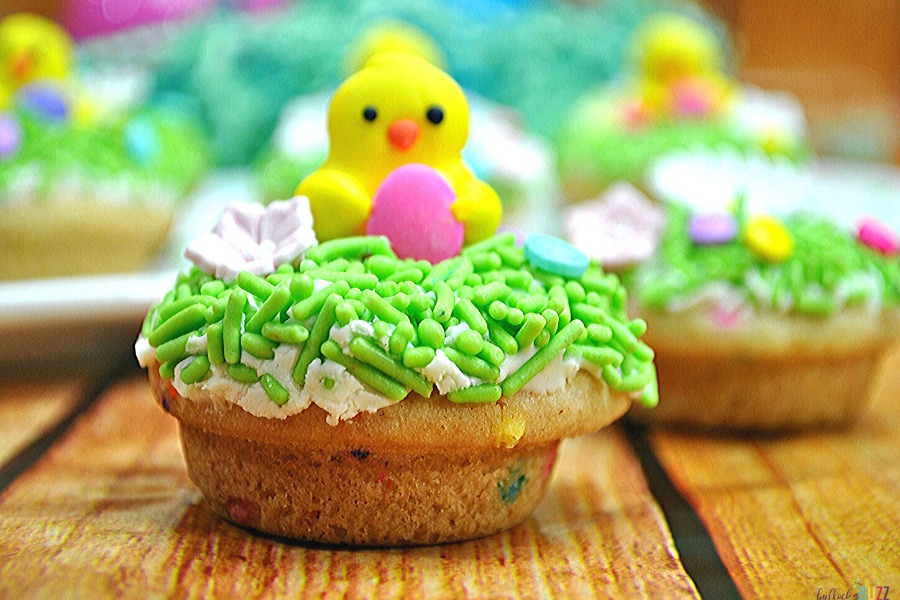 Easter Chick Cups Printable Recipe
Save this Easter recipe with this printable recipe card.
Yield: 8 - 15 cookie cups
Easter Cookie Cups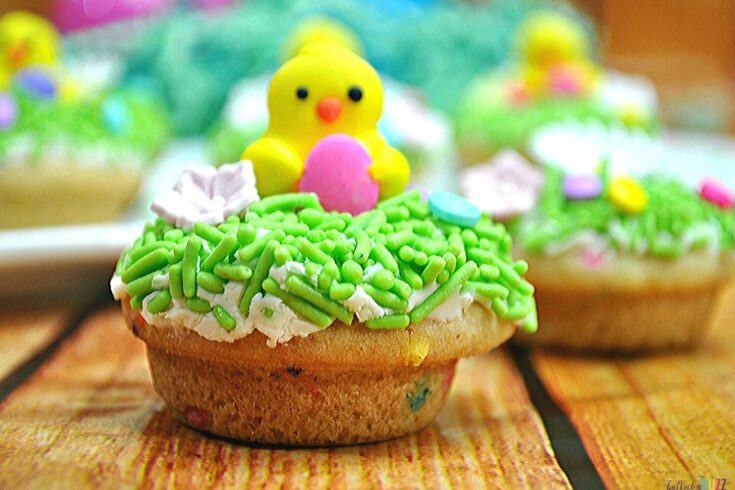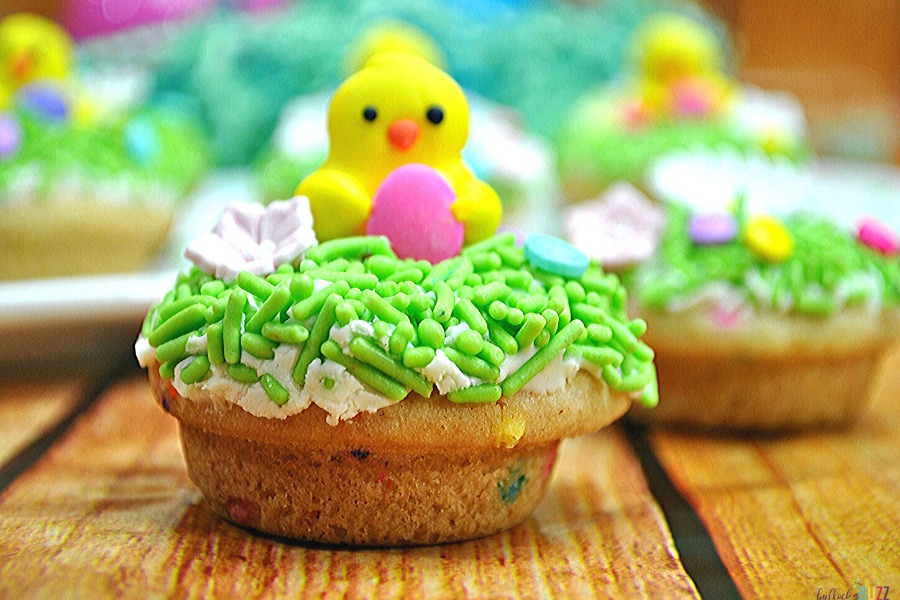 Deliciously sweet sugar cookie cups are filled with a homemade vanilla frosting and topped off with adorable candy Easter decorations in this simple Easter Cookie Cups recipe.
Ingredients
Sugar Cookie Cup Ingredients
1¼ cup unsalted butter, softened
1½ cup powdered sugar
1 tsp baking powder
½ tsp salt
2½ cups flour
1 egg
1 tsp vanilla extract
½ cup rainbow sprinkles
Frosting Ingredients
½ cup unsalted butter, softened
2½ cups powdered sugar
1 tsp vanilla extract
½ tsp salt
2-3 tbsp milk
Decorations
green jimmie sprinkles
Easter egg sprinkles
candy mini-flower decorations
royal icing Easter chicks or bunnies
Instructions
Sugar Cookie Cups
Preheat over to 350°. Spray a mini-muffin tin with nonstick cooking spray. Set aside.
In a bowl, add the butter and beat with a mixer for about 1 minute. Add in the powdered sugar, baking powder, and salt, Beat until creamy, 2-3 minutes, scraping the sides of the bowl as needed.
Beat in the egg and vanilla. Then beat in the flour until just combined.
Once the dough begins to form, stir in the rainbow sprinkles.
Using a cookie scoop, scoop out enough dough to form1-inch balls. Then press the balls into the prepared mini muffin pan. Press in the center of each doughball lightly with your thumb.
Bake for 8-10 minutes, or until the edges are light brown.
Remove cookie cups from the oven, and press the centers gently with the rounded side of a measuring teaspoon to slightly deepen the depression. Allow cookie cups to cool in the pan for about 5 minutes before carefully removing to a cooling rack to cool completely.
Frosting
Using a standing mixer or a handheld mixer, combine the butter, powdered sugar, vanilla, and salt. Add as much milk as needed to create a smooth and creamy frosting.
Putting It All Together
Pour the green jimmies sprinkles into a bowl.
Using a piping bag or a plastic snack bag with a corner snipped off, fill each cooled cookie cup with frosting.
Carefully dip the frosted cookie cup into the green jimmies to make the "grass".
Place a royal icing chick in the center of each cookie cup, then add a few Easter egg sprinkles and flowers around the chick.
Allow frosting to set for about 15 to 30 minutes before serving.
Notes
This recipe will make 48 mini-cookie cups if you make 1-inch dough balls.
Nutrition Information:
Yield:
12 cookie cups
Serving Size:
1 cookie cup
Amount Per Serving:
Calories:

550
Total Fat:

31g
Saturated Fat:

17g
Trans Fat:

0g
Unsaturated Fat:

12g
Cholesterol:

103mg
Sodium:

262mg
Carbohydrates:

65g
Fiber:

1g
Sugar:

42g
Protein:

4g
Nutritional information is automatically calculated with ingredients and serving size and may not be accurate. Please always double check with your own nutritional apps as well.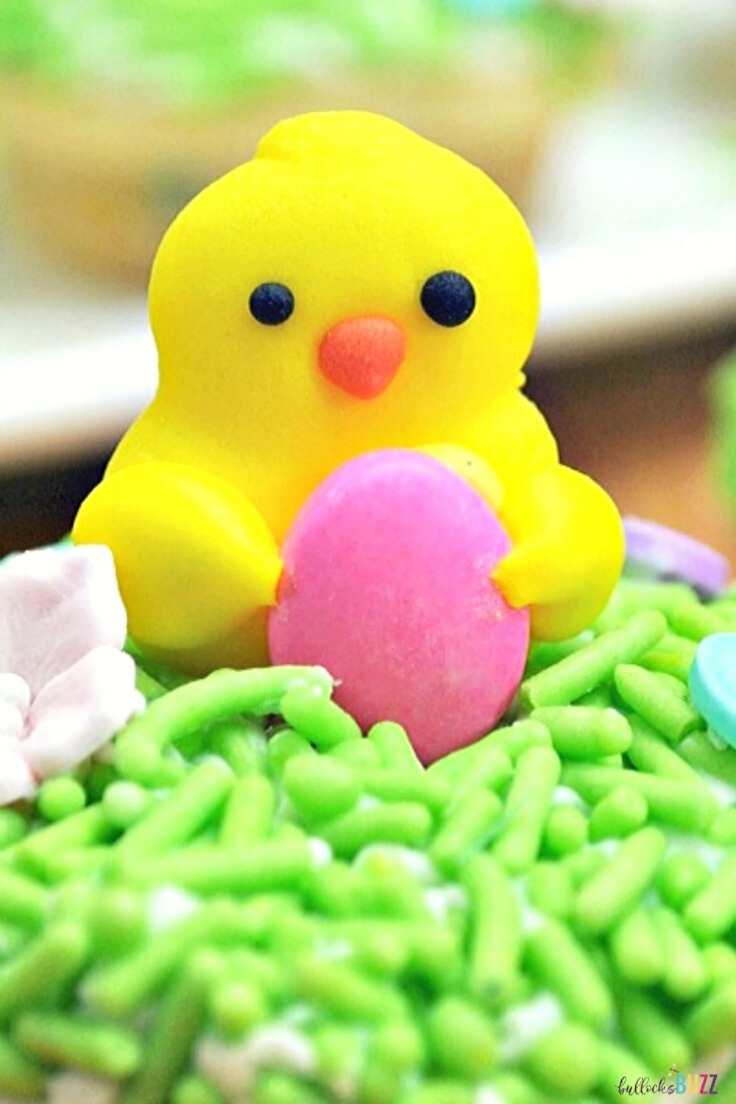 More Easy Easter Recipes
If you are looking for some more tasty Easter recipes, check out these: