The pandemic has encouraged many families to rethink their holiday traditions or create something new to make the most of a bad situation. On the bright side, this is an opportunity to create meaningful memories and spend time together.
With trick-or-treating out of the picture for many families this year, there's no better time to create new traditions. Here are five fun Halloween traditions to try this year— and all the years to come.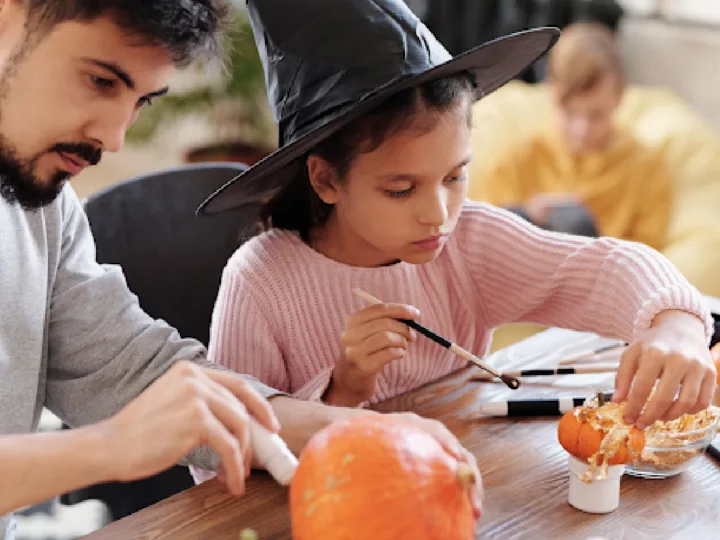 Share a Harvest Meal
Sharing a harvest meal is a fabulous Halloween tradition. Halloween marks the close of the harvest season, with celebrations dating back to Pagan times. Use this opportunity to host a harvest feast that celebrates the bounty of the year's crops and leaves you feeling full and warm when the dark, cold winter sets in.
Your harvest meal should contain hearty seasonal vegetables and spices. Alternatively, you can make it your own with some Halloween-themed recipes.
Having a harvest meal is also a great way to honor your ancestors, as it's believed that the line between the worlds of the dead and the living is thinnest on All Hallow's Eve. According to Wicca Academy, a traditional part of the Halloween feast is a "silent supper." To partake in this tradition, leave an empty place setting at the table to invite your loved ones who have passed on to join you.
The goal is to engage in lively conversation until your plates are full, at which point you'll dine in silence and reflect upon the year. However, that's not always feasible with kids around, so try for a moment of silence instead.
Host a Bonfire
Bonfire celebrations are another ancient Halloween tradition that's faded into the past. Halloween used to be a year-ender celebration filled with New Year's type celebrations. This day was the end of the harvest season and the opportunity to let things go as the trees release the leaves and settle in for the dark season.
Bring ancient Halloween traditions back with your family. Host a Halloween bonfire outdoors, and have everyone write down something they want to leave in the past: anxiety, heartbreak, a wish for the future, or anything no longer worth holding on to. Consider what you've written and why you want to let go, then throw it into the fire.
Set up some candles and burn your paper in a fireproof bowl if you can't have an outdoor fire.
Go for a Mindful Woods Walk
Walking through the woods and looking at the changing leaves is a stunning way to celebrate the natural splendor of October. Make it one of your new Halloween traditions to take a walk or hike earlier in the day, disconnecting from technology and taking time to appreciate the natural world.
If you live in an area with hunters, be sure to wear appropriate clothing when entering the woods during the fall. Stick to the trails and put on your blaze orange caps and vests.
Make Homemade Halloween Decorations
While it's tempting to head to Spirit Halloween for decor when it appears in an empty storefront, there's something to be said about taking a DIY approach. Choose a Halloween decor craft for each year that you can customize and display now and in the future. Making your own DIY Halloween decorations is a great activity to share with kids or friends, and one of my favorite Halloween traditions to do with my family.
When choosing a craft option, opt for something simple and customizable. Ideally, the craft you choose will be accessible to all.
Make Haunted Gingerbread Houses
Finally, adapt the Christmas gingerbread house tradition by making haunted gingerbread houses. You can get a house mold and make your gingerbread or find spooky gingerbread house kits.
When it comes to creating Halloween traditions, the options are endless. Find something that suits your lifestyle and celebrate the spooky season with the ones you love.