I received this product for free from Smiley360 in exchange for my honest review.
The dreaded cold and flu season is officially here, and it has already sunk its claws into our home. Nobody likes being sick but it's especially bad when it is your child.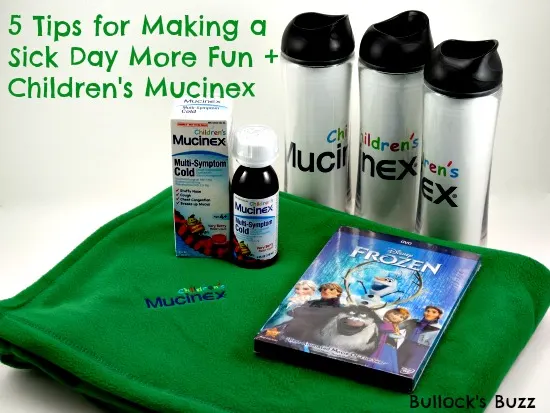 No parent likes seeing their child sad and miserable, tired and achy, with a nose running like Niagara Falls and a fever that leaves him as hot and parched as the Sahara Desert.
Thankfully there is Children's Mucinex to fight the worst of the symptoms!
And don't miss our tips down below for making a sick day more fun!
Children's Mucinex Multi-Symptom Formula – Very Berry Flavor Liquid
Children's mucinex multi-symptom cold treats spome of the worst symptoms of the common cold including:
chest congestion
stuffy nose
cough
breaks up mucus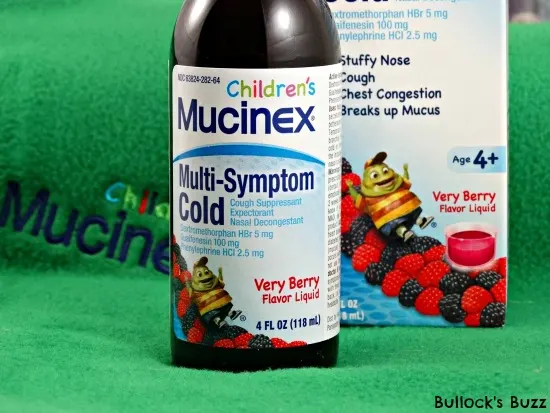 The non-drowsy, berry flavored formula has a pleasant enough taste so you don't have to fight your child to get them to take it. And within an hour we usually see an improvement in how he feels! Children's Mucinex Multi-Symptom is recommended for children ages 4 and up.
Five Tips for Making a Sick Day More Fun
To make the day a bit more bearable – for both child and parent – try the following five tips on making a sick day more fun.
1. Keep a Special Sick Day Stash
Keep a special stash of crayons, marker, pencils, puzzles, pocket games, coloring books and other small activities that are set aside only for use on sick days. This tip on making a sick day more fun will give your little one something special (and different) to do.
2. Make A Special Sick Day Personalized Drinking Bottle
Another tip on making a sick day more fun is to make a personalized water bottle. Every parent knows how important it is to get plenty of fluids when sick. To help encourage this, buy a reusable drinking bottle – like the one in the picture – to be used just for sick days.
Using permanent markers, dishwasher-safe labels and stickers, or anything else you can think of, let your child personalize their bottle anyway they want. Be sure to remind them that this special bottle is for use on sick days only.
Keep the bottle filled throughout the day with drinks your child really likes to ensure he will drink plenty of liquids. Our favorites include soothing herbal teas, hot chocolate and flavored water.
3. Make Frozen Juice Popsicles
Going along with the idea that the more fluids the better, another idea for making a sick day more fun is to make up some frozen juice popsicles together. Not only is this fun, but it is also a great way to get more fluids into your child.
After all, those fluids not only flush out germs and keep the body from dehydrating, but liquids also decrease the thickness of secretions and help reduce lethargy.
4. Extra TV Time is Okay!
I am all for limiting the amount of TV time a child gets each day, but on sick days I believe there is nothing wrong with letting her pick out 2 or 3 of her favorite movies and television shows to watch throughout the day. Settle her on the couch with a warm blanket, her favorite snuggle toy and let her rest while watching movies. This idea for making a sick day more fun will also make the day go by faster.
5. Stories
Our final idea on making a sick day more fun is stories. Nothing beats snuggling with your child and reading stories together, however when your child is sick, you may need to forgo the snuggling part. But that doesn't mean you can't still enjoy story time. Perhaps there is a long storybook they have always wanted you to read to them on a school night? Now's the perfect time!
What are some of the things you do to make a sick day more bearable?
*Remember to always talk to your child's pediatrician before using any medicines, especially if your child has any preexisting medical conditions or is on any other medications. Nothing in this post should be construed as medical advice.*