This is a sponsored post with Mums the Word Network and Amwell. All opinions are my own.
Not much is worse than having a sick child or being sick yourself and having to go to the doctor. The last thing anyone wants to do when they are not feeling well is get out of bed, get dressed, and go sit around a busy doctor's office waiting for the nurse to call your name. And that's if your doctor can even work you in. Thanks to Amwell online doctor visits, you no longer have to! Instead, you can talk to a board certified doctor from the comfort of your own home.

Founded in 2006 by two doctors, Amwell is the nation's largest telehealth company who is making life much easier for busy parents and those who need medical advice but may not need to see a physician in person.
The medical app enables you to see a board-certified medical professional any time you need via your computer, tablet or smartphone; 24 hours a day, 7 days a week, no appointment needed!
And that means no more long waits in a germ-filled doctor office while you and/or the kids are completely miserable!
All Amwell doctors are US educated, board certified doctors with years of experience. They are hand-selected, trained and certified specifically in telehealth. They cover a broad range of health and wellness needs including primary care, diet and nutrition, psychology, dermatology, pediatrics and more.
In many cases, the Amwell doctors can diagnose via the app, suggest follow ups, and even prescribe medications, if needed. And there is no need to worry about security as information you provide and your entire visit with the doctor is secure and HIPAA compliant.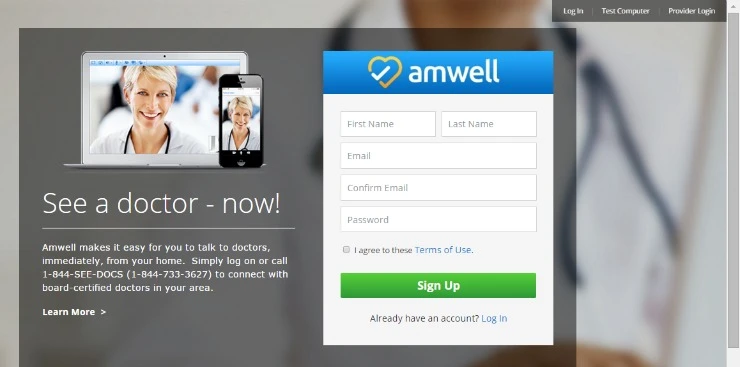 When to Use Amwell
Amwell can be used for pretty much anything that is non-emergency or non-life threatening. Those minor issues that you would usually go to an urgent care clinic for? Amwell doctors can potentially treat.
This includes health concerns such as sore throat, cough, congestion, bronchitis, sinus infection, UTI, vomiting, diarrhea, fever, even pink eye, the flu, sprains and strains, and headaches.
They can also treat depression, anxiety, weight concerns and more. In general, Amwell is ideal for minor illnesses and injuries, general health and wellness concerns, prescription refills, and chronic condition management.
Anything that may potentially be a life-threatening condition such as chest pain or pressure, poisoning, seizures, serious head, neck or back injury, or broken bones, you need to go directly to the emergency room.
Using Amwell
Using Amwell is incredibly easy. For my first visit I used the service through my computer instead of my smartphone, and though I was prompted to download the needed app software, and to run a quick test to make sure my computer was compatible and ready to go, the entire process still took very little time.
During registration you'll be asked a few generic questions about your age, the state you live in, and some other basic information. It was pretty much the same type of questions you answer when starting with a new doctor. After your register, you set up your profile and then you'll be ready to log in and use the service.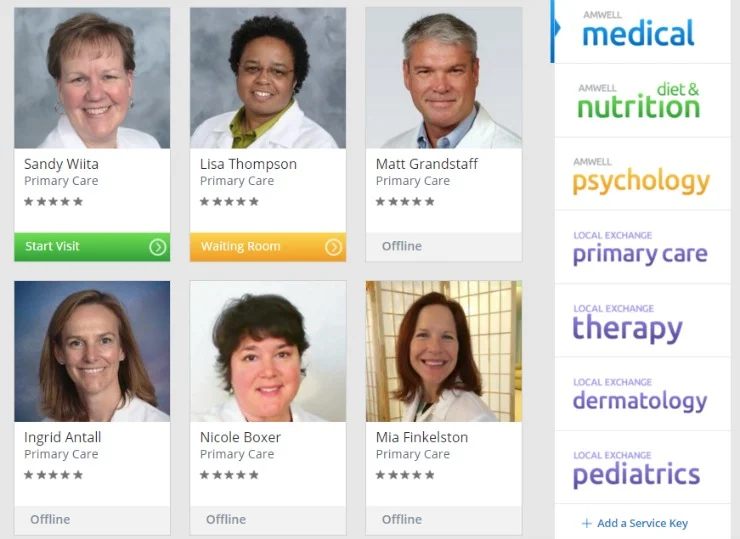 When ready to see a doctor, select the field your medical issue falls under from the provided list, answer a few questions about your symptoms, and you will then be provided with a queue of doctors who are available and their area of specialty.
You can choose from the Amwell network of providers or your local area network of providers. You are able to see which doctors are online or offline, which one's are available immediately, and which doctors have a wait time.
I really like that you can also see each doctor's credentials which include their location, are of specialty, years of experience and more, to help you decide who you'd like to see!
If you pick a doctor who has a wait, you can opt to enter your phone number and have the doctor call you when he or she is ready to see you. Plus, if a visit is taking longer than expected, you have the option to either continue waiting or select another doctor.
My wait was less than 5 minutes, and the doctor was very kind, attentive and engaged. I've had this annoying cough and congestion for several days now, but I haven't really felt bad enough, nor had the time with my stepson out of school this week, to go to my doctor.
The Amwell doctor asked several questions about my symptoms including whether or not I was running a fever, how long I've had the cough and congestion, if my lymph nodes in my neck felt swollen, and more. She was really very thorough, and the entire visit took 8 minutes from start to finish.
So much better than heading out in this cold weather to go sit in a waiting room! The entire experience was very user-friendly and convenient!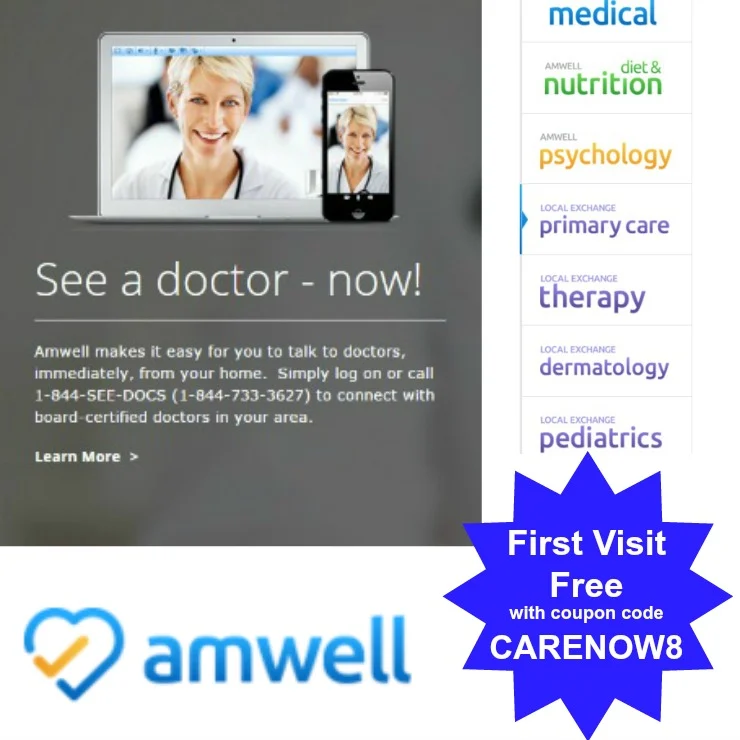 In addition to convenience, Amwell online doctor visits offer all sorts of benefits from taking the stress out of doctor visits to saving you time and money. At just $49 for a 10 minute inline consultation, it is much cheaper than a trip to your local urgent care clinic or emergency room.
And Amwell also works with some of the nation's largest health insurance companies, as well as many of the largest self-insured employers in the US.
\Be sure to check with your insurance provider, as there is a good chance they'll cover it.
So next time you need medical advice, go ahead and give an Amwell online doctor visit a try!
Connect with Amwell: Website
*images via Amwell.com
How could Amwell make your life easier? Have you ever used their service? I'd love to know how they helped you!
Alaina