It is indeed no secret that the CBD market has well and truly boomed over recent years, with 2018 being seen as the real turnaround point for the cannabinoid. Now across America, much like the rest of the world, you can get access to a wealth of CBD products, all of which offer different medicinal benefits and all of which come with plenty of ways to add CBD to your daily diet.
With a recent report done by Brightfield Group revealing that the CBD market is predicted to hit a whopping $22 BILLION by 2022, it is no big surprise that more of us are starting to sit up and take notice of this little humble cannabinoid.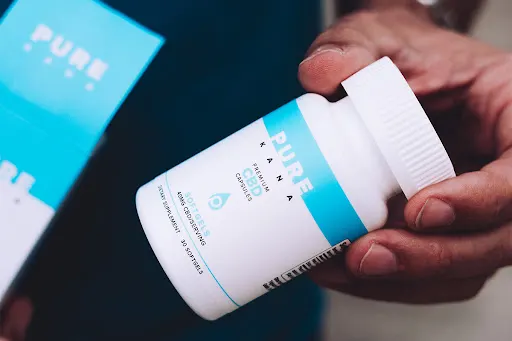 But what's all the fuss about, and should you be making CBD part of your everyday life? Whether you are fit as a fiddle or are struggling with some underlying health conditions, research is suggesting that making CBD part of your daily routine can have some impressive health benefits.
So today, we are going to be taking a look at why CBD has garnered so much interest, and five tasty ways to add CBD to your daily diet!
What Exactly is CBD?
Cannabidiol, better known as CBD, is the non-psychoactive compound found within the Cannabis Sativa L plant. CBD is one of over one hundred cannabinoids, all of which can offer their effects but few have been as well-researched as CBD. Often mixed up with its fellow cannabinoid THC, which is the psychoactive compound of the plant and the one responsible for its controversial history, CBD has been found to aid a multitude of conditions.
The first and perhaps crucial thing to note about CBD is that it does not get you high. For many of our readers this may sound like a downside, but for patients around the world seeking medicinal benefits without the mind-altering effects, this has proven to be invaluable.
Instead of working with the built-in cannabinoid receptor situated in the brain known as the CB1 receptors (which is incidentally where you can usually find THC after an indulging in weed, which is the reason for that high) CBD interacts with our body's endocannabinoid system, or ECS, to promote the natural production of cannabinoids which work to regulate a range of vital bodily functions.
What are the Medicinal Benefits of CBD?
So why bother with CBD in the first place? There have been more studies done into the health benefits of CBD than any other cannabinoid, and the results are pretty telling! From skin complaints to digestive issues, CBD has the potential to help almost across the board, so what do we know?
CBD has anti-anxiety properties
CBD is an anti-inflammatory
CBD can relieve pain
CBD is a patented neuroprotectant
CBD can help with psychotic states
CBD can have anti-tumor effects
How Can I Add CBD to My Everyday Diet?
Of course, you can opt to take CBD in capsules, tinctures, topicals or edibles – and plenty of people do across the world! However, while CBD is famed for its benefits, it's definitely not renowned for its flavor! Did you know there are plenty of easy ways to add CBD to your daily diet to reap the benefits, without the unpleasant taste?
Check out our five go-to CBD recipes for easy daily consumption as part of your healthy diet…
1. CBD Coffee
One of the best ways to add CBD to your daily diet is with coffee! We have long been fans of caffeine – who isn't?! But incorporating CBD into coffee is something extra special, and so easy we just had to share it! The ideal pick-me-up, and the perfect way to start your day, pair your favorite breakfast with our CBD coffee recipe for a productive morning like no other.
We have written a full blog post all about this, and it shared not one but FIVE incredible CBD coffee recipes (one for every day of the working week!), so go over and check it out – let us know which you opt for!
2. Chicken Salad With CBD Infused Dressing
Lunchtime doesn't need to be boring, and this next recipe goes to show that there are lots of ways to add CBD to your daily diet without spending hours in the kitchen! All you need for this simple salad is your favorite go-to vegetables, your choice of protein (we suggest organic chicken breast), and a few household staples to make the CBD infused dressing!
Any dressing will work, but the crucial part is to infuse a dose of CBD oil into your dressing before drizzling over your finished salad. It is as simple as that – your favorite CBD oil and your best salad recipe equals a match made in culinary heaven.
3. CBD Steak and Chips!
If there is one thing we love it is a good steak, and when dinner time comes there's nothing quite like tucking into a big plate of food! If you are a dab hand at cooking a steak to perfection, then this is going to be an ideal option for you, as it requires some skilled timing to get it perfectly done.
Who are we to tell you how to cook a steak and fries dinner? This recipe can be whatever you like; follow your routine, but remember that when it comes to creating that melt in the mouth garlic-infused butter at the end, you should ensure your CBD oil is correctly infused into the buttery mix before adding it to your delicious steak.
4. Mexican Guacamole
Yes, you read that right! Another of our tasty ways to add CBD to your daily diet is by using If you are looking for a tasty CBD snack that can be tossed together in no time on your lunch break, then this CBD guacamole is ideal. Pick up your favorite chips and head to the kitchen for a delicious and easy creation.
If you have ever made homemade guacamole before, you will know how easy it is! There is minimal effort involved in chopping up some fresh ingredients and whipping it together, and the addition of CBD adds nothing to the length of time this takes to make! Just take your best CBD tincture and add it to your finished guacamole, then cover it and let it sit for around 2 hours before serving.
5. CBD Brownies
Last but by no means least, we couldn't let you go without sharing a tasty, sweet treat, could we? Like all of our suggestions on ways to add CBD to your daily diet today, you can easily combine CBD into your favorite go-to brownie recipe, so there is no need for a specific step-by-step. Not your everyday hash brownie, these won't get you high (sorry), but they are just as tasty!
Infuse your CBD oil or CBD isolate into ½ cup of vegetable oil, this will then be mixed into your sugar and blended. The rest of the recipe is like any other – super simple, super chocolaty, super tasty!
Final Thoughts on a CBD Everyday Diet
We get it, cooking with new ingredients can be daunting, especially when it is for medicinal purposes. That is why today we didn't want to share specific, long-winded recipes, but rather inspire you with everyday dishes to show thaTt there are plenty of easy ways to add CBD to your daily diet to get you in the kitchen!
We would love to know what your favorite CBD recipes are and whether you will be trying one of ours – so let us know down in the comments!