Girls' Night In – It's a term that brings to mind a night filled with laughter, secrets shared in whispers, and moments that make our souls feel complete. These nights with our besties aren't just about having fun, they're also an essential part of our well-being, almost like vitamins for the soul. Today I'm sharing a few of the best Girls' Night In Activities that will make your night even better!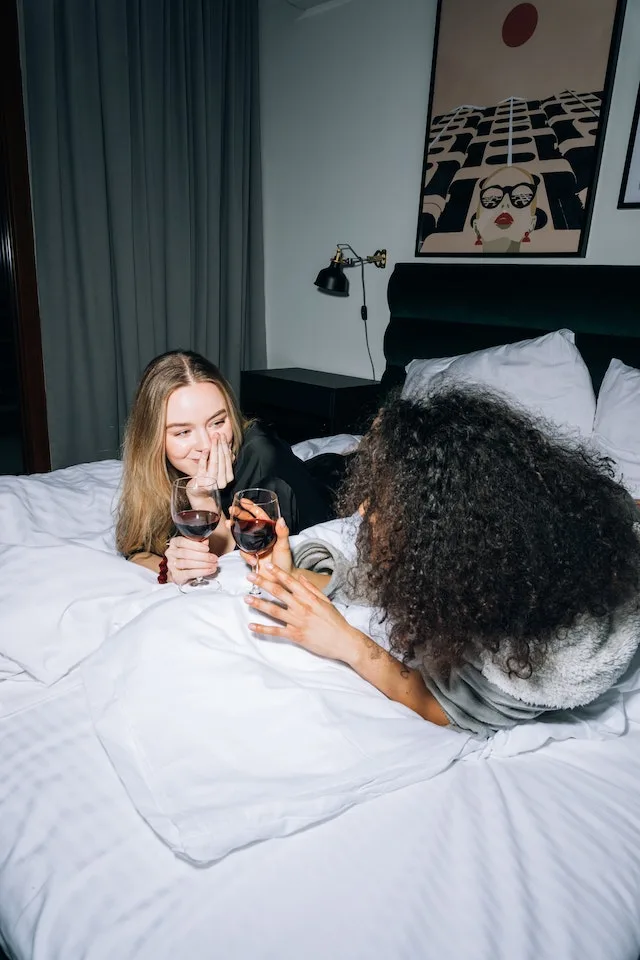 A World of Digital Connections
In some ways, it is unfortunate that we now live in an age where digital connections outnumber human ones. Where a notification ping on our phones often replaces the spontaneous joy of a friend's laughter. There is no way that the digital realm can replicate the coziness of a shared blanket during a movie marathon, the warm glow of fairy lights on our faces, or the undeniable magic of in-person chatter.
More Than Just Fun: A Reset for Our Soul
When life spirals into its relentless hustle, these cherished nights with our friends become like the ultimate reset button. They remind us of who we are, where we came from, and where we are headed. A Girls' Night In is like a refueling station for our spirit, where we can laugh freely, talk without filters, and share advice and comfortable silence without any pressure.
Time with friends isn't just about recreation. It's about rejuvenation. And if you're planning a girls' night in, remember – it's more than just a plan, it's a ritual.
6 of the Best Girls' Night In Activities
Gone are the days when a Girls' Night In consisted of watching movies and doing manicures. While those classics will always hold a special place, it's time to dig deeper and discover some exciting new activities.
While there's a plethora of Girls' Night In activities that can elevate the night from simple to sensational, below are a few of our favorites.
Bingo Bonanza: Remember the game that Grandma loved? Bingo is no longer just for the older generations. It's a fantastic game that sparks competition in the most fun-filled way. And you don't even need to head to a bingo hall. Try the top online bingo platforms to start your bingo journey from the comfort of your couch.
Memory Lane Montage: Dive deep into everyone's old photos. Maybe it's that prom picture or the embarrassing childhood snap. Make a slide show and take turns guessing who's who. The giggles are guaranteed.
Dessert Potluck: Everyone loves desserts, but here's a twist. Each friend brings a mystery dessert, and others guess the ingredients. The winner gets extra!
DIY Spa Night: Go beyond the usual face masks. Try making DIY scrubs and bath bombs. The bonus? You get pampered, and it's a learning experience.
Themed Movie Marathon: Pick a theme – be it '90s classics, rom-coms, or even documentaries. The trick? Each one picks a movie secretly, making it a surprise for the rest.
Art and Wine: Who said you need to be a Picasso? Grab some canvases and brushes, and let the wine guide your artistry. You might discover hidden talents.
Oh, and here's a tip: always have a 'wild card' activity up your sleeve – something totally unexpected. Perhaps a sudden dance-off or an impromptu story session. It's these unpredictable moments that tend to become the most memorable.
The Secret Sauce: Mixing Familiarity with a Twist
So what makes these Girls' Night In activities pop? It's the mix of the familiar and the unexpected. Take the classic game of Bingo, for example. It's not just about getting five in a row; it's the collective excitement, the camaraderie, and yes, the playful banter when someone gets close. Themes, surprises, and a dose of creativity make even the most mundane magical.
But here's the thing to remember – above all, it's about connecting. Whether you're shouting "Bingo!", reminiscing about old times, or creating new memories, the real magic lies in being together. These Girls' Night In activities, whether they're old favorites or fresh ideas, offer ample opportunities to strengthen your bond with your pals.
Remember the True Meaning of the Night
As the night winds down, and the fairy lights begin to fade, there's a certain kind of magic in the air. This magic isn't the result of elaborate plans or exotic activities. No, it comes from the shared laughter, the stories exchanged, and the knowledge that you're surrounded by people who truly care.
Girls' Night In is all about celebrating these connections. Sure, the activities – from indulging in some games to embarking on a culinary adventure – play a role. But they're really just tools to facilitate conversations, spark memories, and deepen your bonds.
So, whatever the Girls' Night In activities – whether you're diving deep into online games, setting up an art studio in your living room, or simply swapping stories – the essence remains the same. It's all about creating memories and cherishing the unbreakable bonds of friendship.
Final Thoughts
As you plan your next Girls' Night In activities, don't just focus on what you'll do. Instead, celebrate why you're doing it: for the connections, for the chance to recharge, and most importantly, for each other.