Save on Back to School Shopping and Gift Cards from Office Max & Office Depot!
While Back to School shopping can be lots of fun, it can also be quite expensive. Not only do you have a huge list of school supplies, you also have to buy clothes and shoes, too. That's why, when this time of the year rolls around, I look extra hard for ways to save. Here are some of my favorite ways to save money on back to school shopping.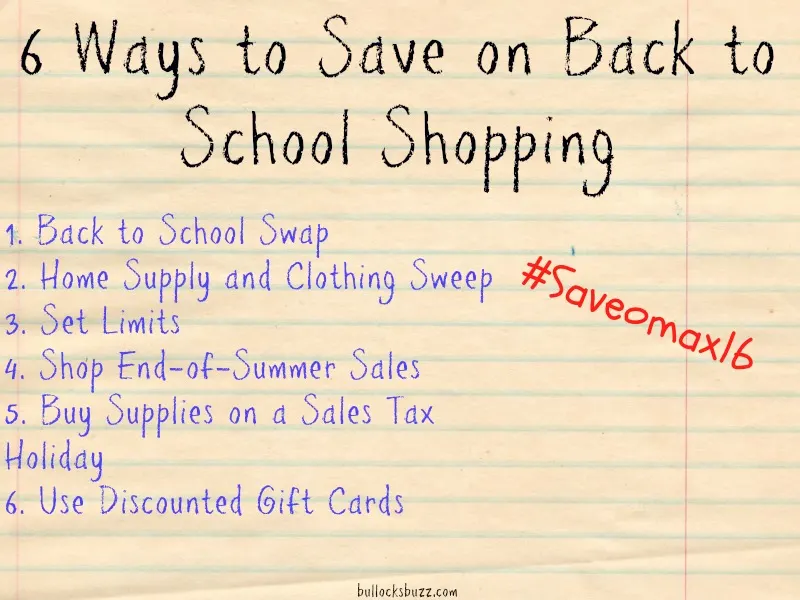 Host a back-to-school swap
Host an annual back-to-school swap. Round up a couple of other parents with kids the same gender as yours but different ages. Trade gently used clothes, books and toys. You'll be surprised at how much you'll save!
Do a H
ome Supply and Clothing Sweep
Believe it or not, lots of school supplies you need may be right there in your home! Begin by rounding up all of the school and office supplies you already own. Check in closets, desk drawers and storage bins. Put everything in a bin on the kitchen table or a desk so you can make a list of what you have and what you still need.
Your children can then select the supplies they need from what you already have. Make it fun and let them personalize their supplies in unique ways. For example, decorate inexpensive, plain binders with drawings and insert the page into the plastic outer cover.
Do the same for clothes. Have your kids try on everything from last year, and then assess what fits and what needs to be replaced.
Set Limits
Kids love having the "latest and greatest" clothes and supplies. And the older your kids get, the more name-brand and trendy stuff they'll want. Unfortunately, these products will destroy your back-to-school budget. In addition, whether it's a character from the latest smash hit movie or the current number one band, "character-focused" products go out of style almost as quickly as they come in. Before you know it, the kids will want the next 'cool' thing. So, do what I do and set limits.
Allow your kids to pick one or two 'specialty items'. Once they've chosen their items, the rest of their supplies are purchased at bargain prices.
Shop end-of-summer sales
End-of-summer sales usually begin appearing towards the end of July and through out August. Take advantage of these sales and snap up discounted clothes and shoes that can easily be worn into fall.Here in Alabama we can wear short sleeves well into October, and sometimes even the first week or two of November along with a light jacket.
Buy Supplies on a Sales Tax Holiday
Many states offer sales tax holidays right around back-to-school time. This is the ideal time to do the majority of your back-to-school shopping. You can pick up school related items including clothing, school supplies, and even computers tax-free. Find the dates for your state's sales tax holiday, and determine item eligibility and restrictions. You can also visit your state's website for more information.
Use Discounted Gift Cards for Back to School Shopping
Shopping with gift cards has several advantages, especially if you can buy those gift cards at a discount! So look around and take advantage of any sales you can find on gift cards to save even more! Here's a great offer to help you get started:
Right now, in addition to having some amazing deals on school supplies, Office Max and Office Depot are offering a great deal on Visa gift cards*. From today (August 21) through August 27, 2016, you can save $15 INSTANTLY when you buy $300 or more in Visa gift cards! That's $300 for just $285!
Plus, savvy shoppers can save even more by double dipping! Here's how:
1. Save $15 INSTANTLY when you buy $300 or more in gift cards.
2. Earn Credit Card Rewards: by using your favorite rewards credit card to purchase the gift cards, you can earn points, miles or even a percentage back on your purchase. Plus, some credit cards even offer increased rewards for purchases made at an office retailer! For example: both Chase Ink Cash® and American Express SimplyCash® credit cards offer 5% cash back on purchases made at office supply stores, and the Chase Ink Plus® credit card offers 5 points for every $1 spent on office supply store purchases. You do the math!
$15 off INSTANTLY + $15 back if you earn 5% cash back on office purchases made with your rewards credit card = $30 in savings on your $300 Visa gift card purchase!
Then you can use those gift cards for all of your back to school shopping needs. Remember to use coupons when shopping, and you can save even more! It's a win-win situation! And if you don't use it all on back to school shopping, you can always hang on to those cards and use them for the holidays, as gifts, to pay bills…the list goes on and on.
Remember, this offer is only good from 8/21 to 8/27, so hurry to your local Office Max or Office Depot so you don't miss out!#Saveomax16
What are some of the ways you save on Back to School shopping?
*See store for more details
$100 Back to School Amazon Giveaway
To help you save even more on your Back to School shopping, Tatu Digital Media, several wonderful bloggers and I have joined together to bring you this incredible $100 Amazon Gift Card giveaway! To enter, simply use the Rafflecopter below! This giveaway is open to US residents only. It will end on August 27, 2016.
GOOD LUCK!