If you want to host the perfect St. Paddy's Day party, there are a few obvious things you should do to make it fun. These St. Patrick's Day party ideas will help.
For starters, you and your home should look the part – with irish gnomes, leprechauns, shamrocks, rainbows, and pots o' gold everywhere. Making sure everyone dresses up and greeting your guests at the door with a green drink is also a sure way to spread some Irish cheer.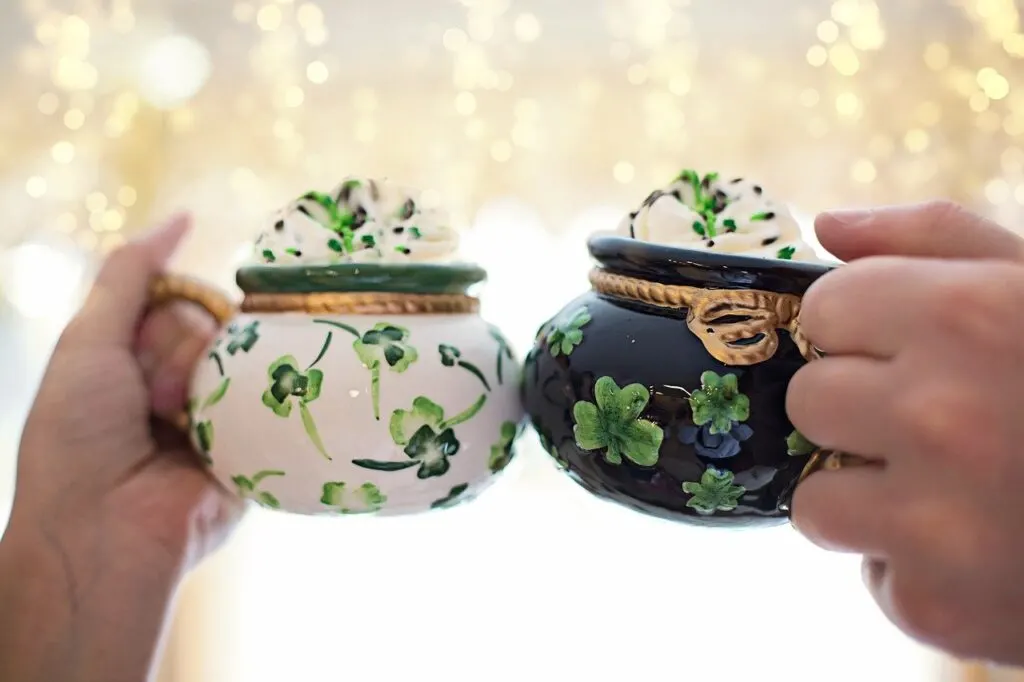 When planning a St. Patrick's Day bash, themed party food is a must. You can go all-out by serving traditional Irish food, or you can dye ordinary food green.
With these eight St. Patrick's Day party ideas, you don't need the luck of the Irish to charm your guests this year!
1. Send Irish-Themed Invitations
Nothing is quite as charming as receiving an 'old-school' paper party invitation. There are thousands of free St. Patrick's Day-themed templates online; all you need to do is print them out.
If you're into scrapbooking, why not get creative with handmade and customized St. Paddy's Day invitations? If you're feeling particularly inspired, you can follow an online tutorial and try your hand at origami or pop-up shamrocks made out of green paper.
2. Get Creative with Decorations
When decorating your home for St. Paddy's, stick to bright green and gold – bonus points if you have any ceramic gnomes and leprechauns.
If you have kids, they will love helping you make DIY St. Paddy's Day decorations! And the best part? You don't need to spend a pot o' gold to make them.
Pots O' Gold
If you have some plastic cauldron decorations left over from Halloween, repurpose them by spraying them with gold spray paint and filling them with chocolate coins.
If you don't have plastic cauldrons, you can fill large glass jars or wide-bowled wine glasses with green M&Ms for a similar 'pot o' gold' effect. Or you can make these Pot 'O Gold dirt cup treats.
Shamrock Wreath
Adorning your front door with a festive Irish wreath is a way to make your guests feel welcome before they even step inside.
You can buy a basic grapevine wreath from your local art and crafts store to act as the base. Use strings of emerald green flowers to decorate the wreath by threading them through or winding them around your base until it looks nice and full.
Add a touch of gold ribbon to complete the color theme, and hang your wreath on your front door. If you can, add some real bells of Ireland flowers – they symbolize luck.
Floral Centerpiece
Decorate your dining room table with a St. Paddy's bouquet of fresh flowers. Look for botanicals in shades of green and gold. Some flowers and plants that work nicely are yellow roses, green carnations, leatherleaf ferns, bells of Ireland, and Oregonia.
Throw on a gold table runner and use green dinnerware to elevate your table dressing even more.
3. Dress for the Occasion
Dressing for the occasion is another great St. Patrick's Day party idea. What would a St. Paddy's Day celebration be without gold and green? Be sure to mention the dress code in the invitations, and keep a few extra gold and green accessories (like hats and scarves) and some ginger wigs on hand just in case some guests' forget'.
While most people are just looking for an excuse to break out their all-green outfits, a few people may not be thrilled with the idea of a dress-up. Nevertheless, encourage everyone to embrace the tradition and wear at least one piece of green.
4. Make Soda Bread
Even if you're not the best baker out there, making some traditional Irish soda bread is easier than you'd think. With some flour, buttermilk, salt, and baking sugar, you can whip up this Irish essential to add a touch of authenticity to your St. Paddy's Day bash. You won't even have to bake it!
Irish soda bread is an easy recipe that originated in Ireland in the early 1800s – it was created by people who didn't have an oven or the time to make regular bread.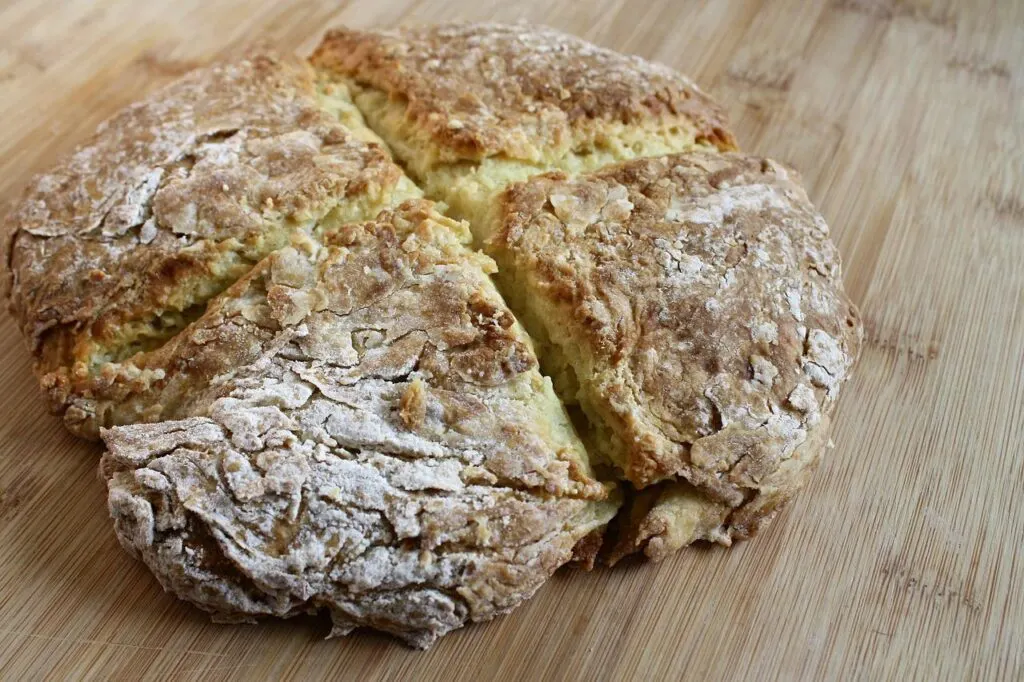 5. Serve Irish Dishes
It just wouldn't be St. Patrick's Day without some traditional Irish cuisine. Our next St. Patrick's Day party idea is to serve some delicious, hearty Irish dishes like corned beef and cabbage or Guinness beef stew is sure to bring the Irish out of anyone!
If you don't want to serve authentic Irish food, you can opt for all-green by adding green food dye to almost any food instead. Or, serve for naturally green foods – like guacamole or spinach and artichoke dip served with celery, broccoli, and chips.'For desserts, add either some authentic Irish desserts or make your own St. Patrick's Day-themed desserts like these Pot O' Gold Cupcakes, these Mint Chocolate Trifles or this Leprechaun Birthday Cake Bait.
If you're not the best cook or don't have the time to slave away at the stove, consider hiring a team of professional caterers to do all the cooking for you.
6. Play Irish Music
Next up on the list a St. Patrick's Day party ideas is to make sure you have a lineup of Irish music to play. On March 17, there's nothing quite like listening to some classic Irish music to get you in the St. Paddy's Day spirit. Grab your guests and some green drinks, throw on some Irish beats, and dance the night away.
Irish music – also known as Irish folk music or Irish trad – tends to be fast with a steady tempo, so performing a jig should come naturally to you and your guests!
7. Make St. Patrick's Day Drinks
While you can't go wrong with Irish classics like Irish beer or whisky, there are some fabulous St. Patrick's Day cocktails online. From traditional green beer to boozy Shamrock Shakes, Irish-themed drinks will wow your guests.
If you don't want to mix up an array of fancy green cocktails, keep things simple with the classic Irish cream poured into coffee. If you are looking for St. Patrick's Day party ideas for a larger party, consider hiring a professional mixologist or bartender to mix drinks for you.
8. Give Out Lucky Party Favors
To make your guests feel extra lucky to have attended your St. Patrick's Day party, send them home with mementos in the form of Irish-themed party favors or something to snack on in the car.
These party favors can be baked goods like homemade Pot 'O Gold cupcakes, green peppermint-swirl candy canes, or small trinkets (like these four-leaf clover bracelets) and other small lucky charms.