Seasoned ground beef and mixed vegetables are sauteed in a rich gravy, layered in a dish with creamy mashed potatoes, then topped with a layer of cheddar cheese before being baked to perfection in this easy Shepherd's Pie recipe. It's the ultimate comfort food!
One of my family's favorite comfort food recipes is Shepherd's Pie (aka Cottage Pie). Over the years I've played around with the recipe until I came up with what my family tells me is the best shepherd's pie recipe they've had.
In this quick and easy dinner recipe, ground beef and vegetables are sauteed in a rich gravy, topped with fluffy mashed potatoes and a layer of cheddar cheese, then baked to perfection.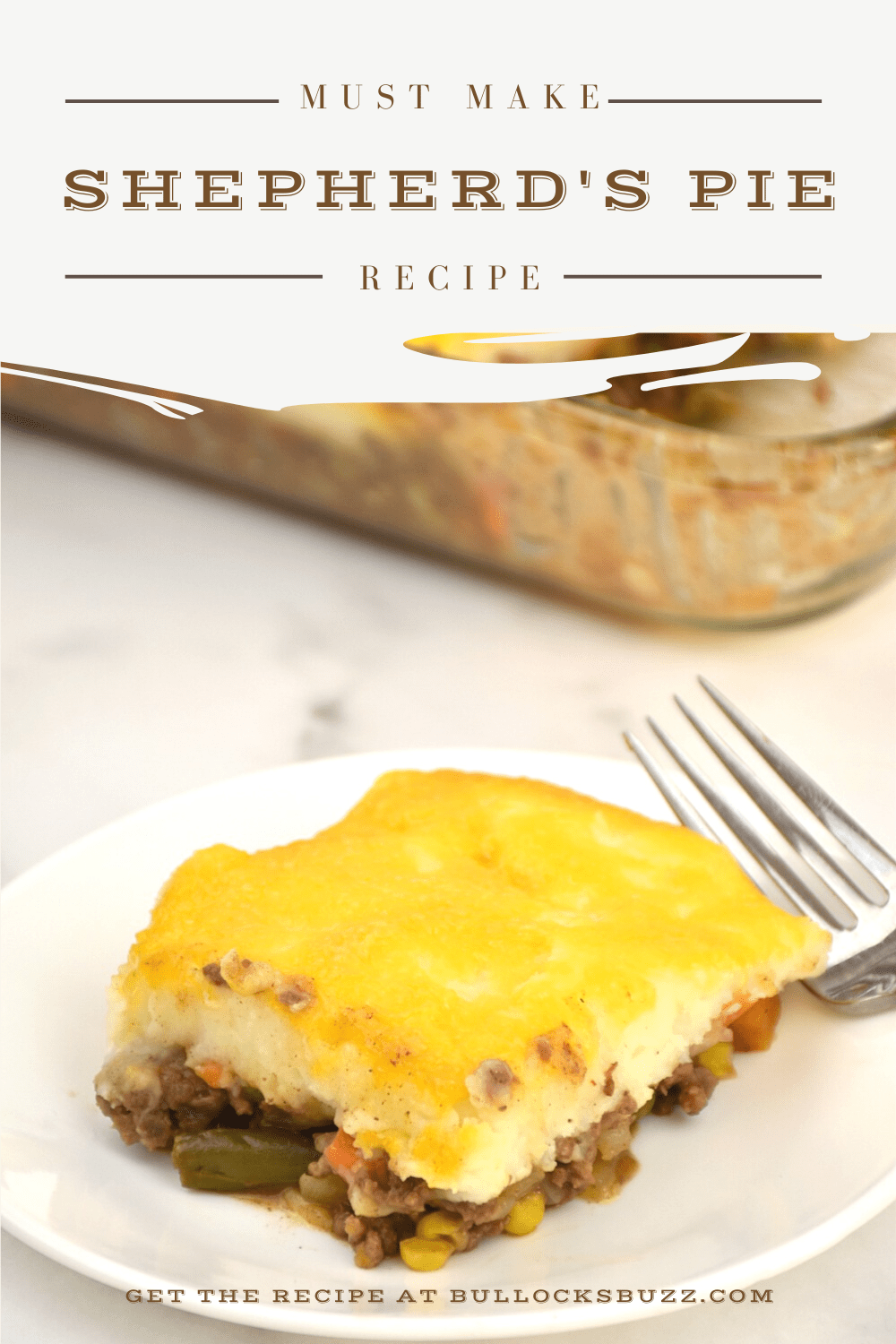 I hope your family likes it as much as mine!
Shepherd's Pie vs Cottage Pie
Shepherd's Pie is a dish that originated in Ireland and the U.K. Over time, it became very popular around the world.
True Shepherd's Pie recipes call for ground lamb instead of beef. And some versions use onion instead of mixed veggies.
When made with ground beef, some began calling it Cottage Pie instead of shepherd's. I've always called this particular version of the recipe shepherd's pie.
Whatever you choose to call it, this tasty recipe is one of the most delicious, easy, and filling comfort food recipes around!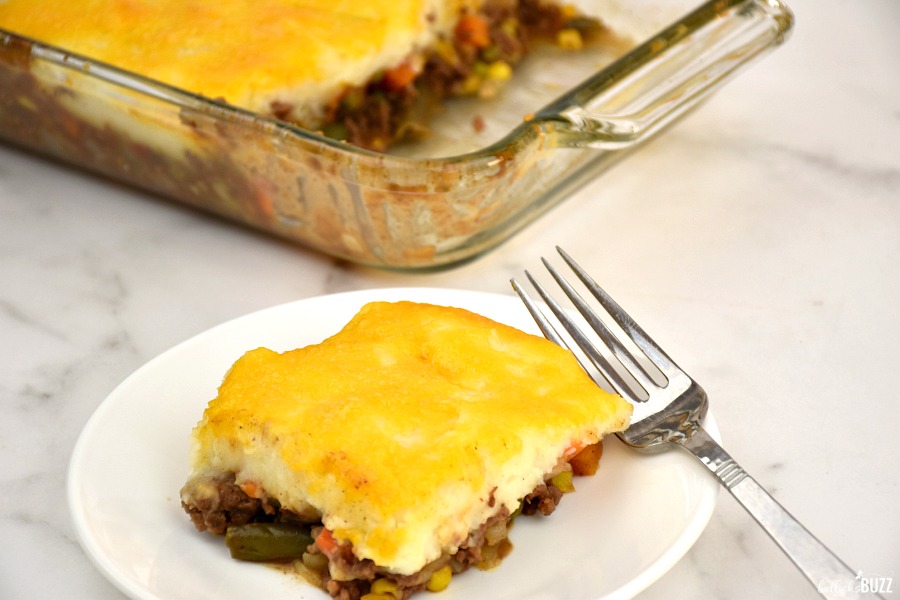 How to Make Shepherd's Pie
Made with tender beef, lots of veggies, creamy mashed potatoes, and topped with a layer of cheddar cheese, this recipe is truly one of the best I've ever made!
You'll find the complete list of ingredients and instructions in the printable recipe card at the bottom of this post.
Disclosure: This blog post contains affiliate links for products or services I think you'll like. This means if you make a purchase from one of these links, I may make a small commission at no additional cost to you. P.S. I only recommend products that I use and love.
Kitchen Tools You May Need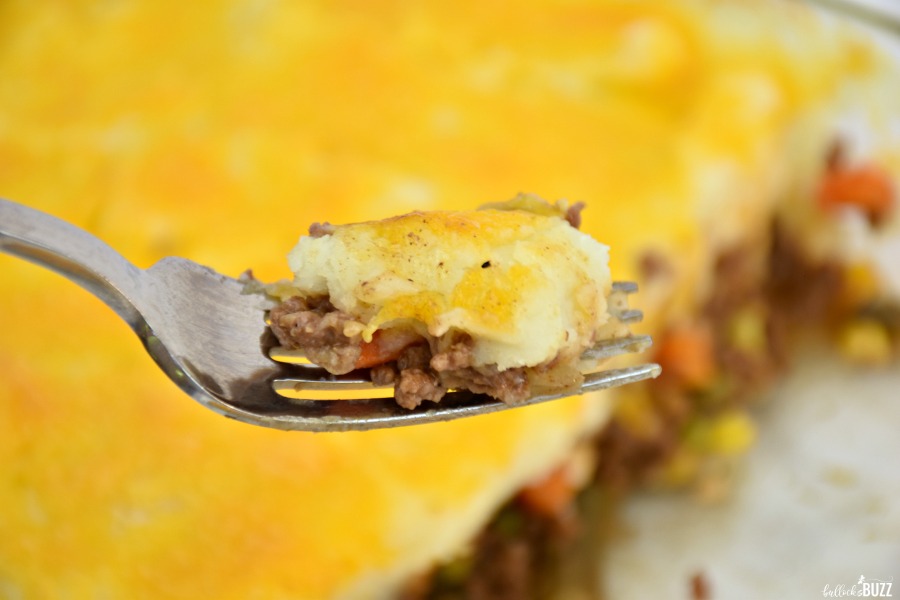 Shepherd's Pie Ingredients
This recipe is a prime example of how just a few common ingredients can be transformed into a delicious meal! In fact, I bet you have most of the ingredients in your kitchen right now.
All you need to make it is:
ground beef
instant mashed potatoes
shredded sharp cheddar cheese
onion
garlic
mixed vegetables
salt and pepper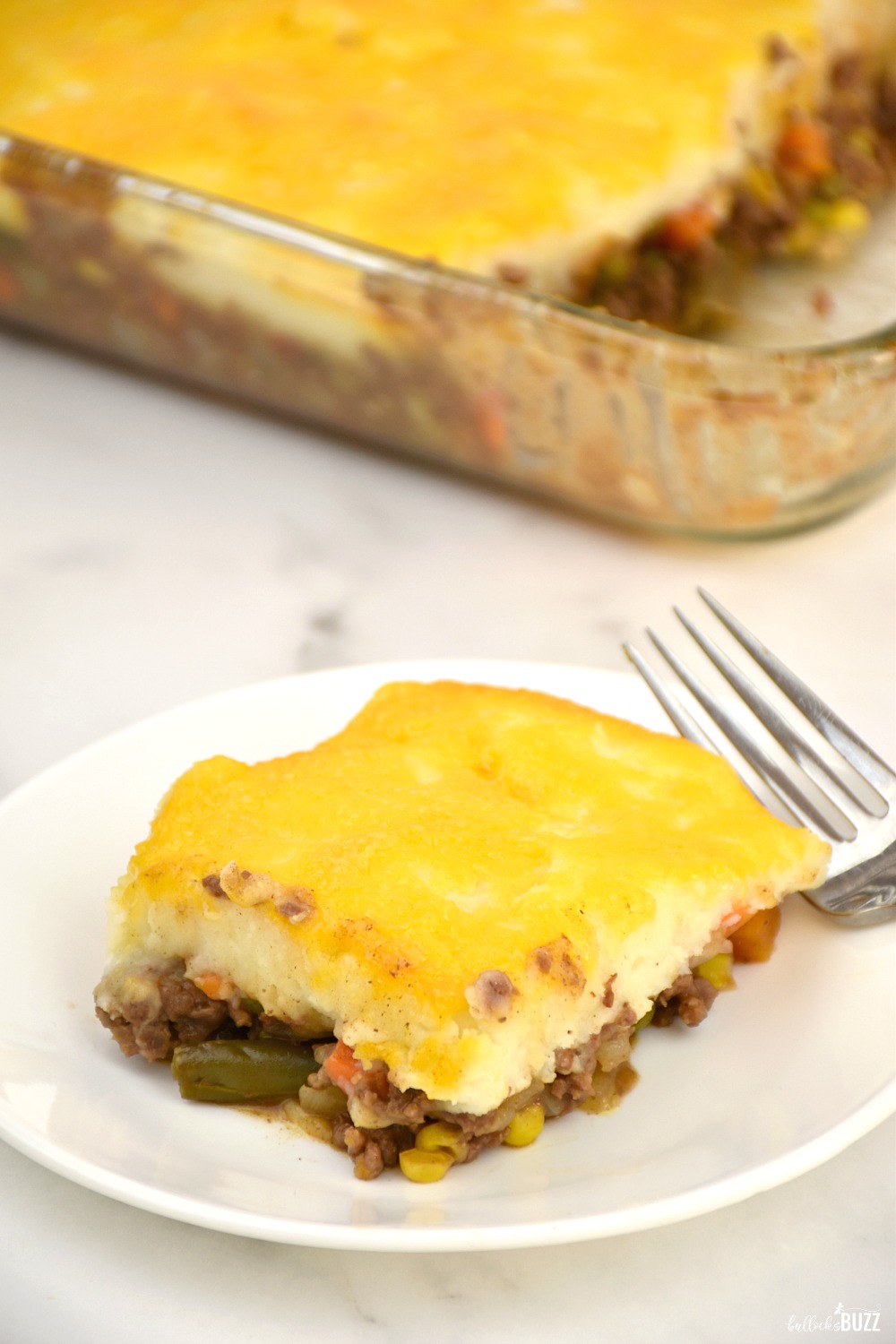 Shepherd's Pie Recipe Instructions
Another reason why I love this recipe is because it calls for instant mashed potatoes and frozen mixed vegetables. That means it comes together in very little time. In thirty minutes or less you can have a meal fit for a king!
When you do have some extra time, I highly recommend you try making it with homemade mashed potatoes and fresh vegetables. It's even better!
Getting back to this easy dinner recipe…
First you saute the onions and then brown the beef.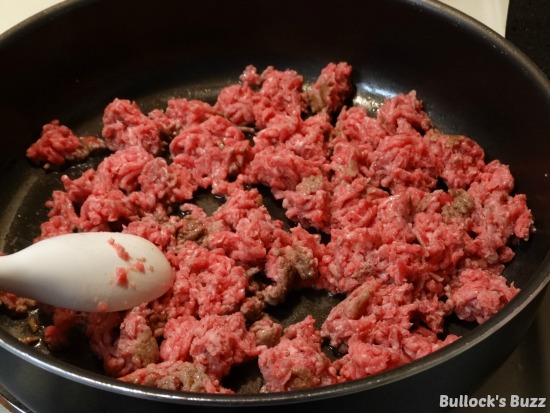 Then you add in some flavoring along with the veggies.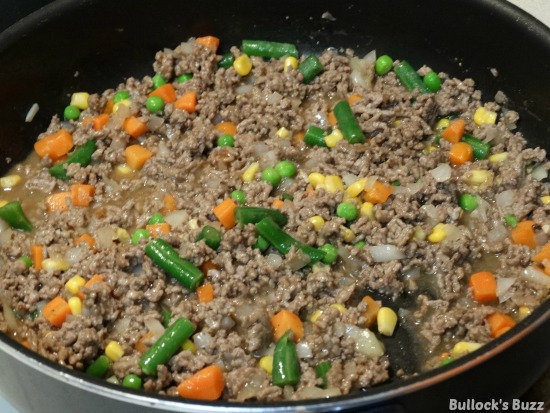 Let those simmer while you prepare the mashed potatoes.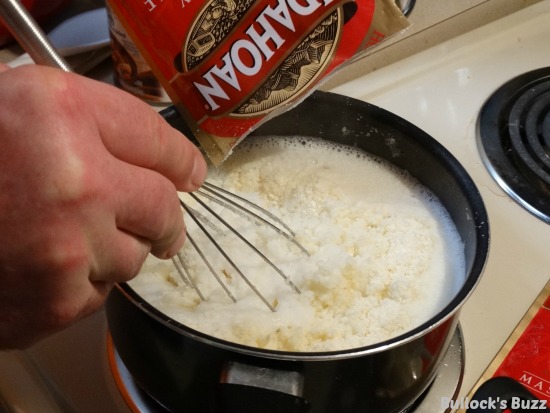 Next, tranfer the meat and veggies to a baking dish, and layer the mashed potatoes on top.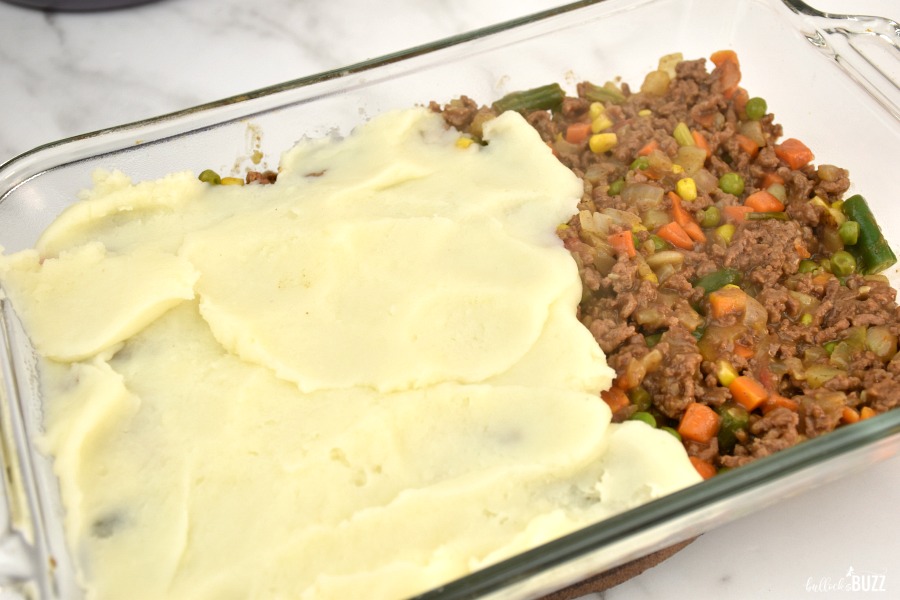 Sprinkle on some cheese and toss it all in the oven for about 15 to 20 minutes…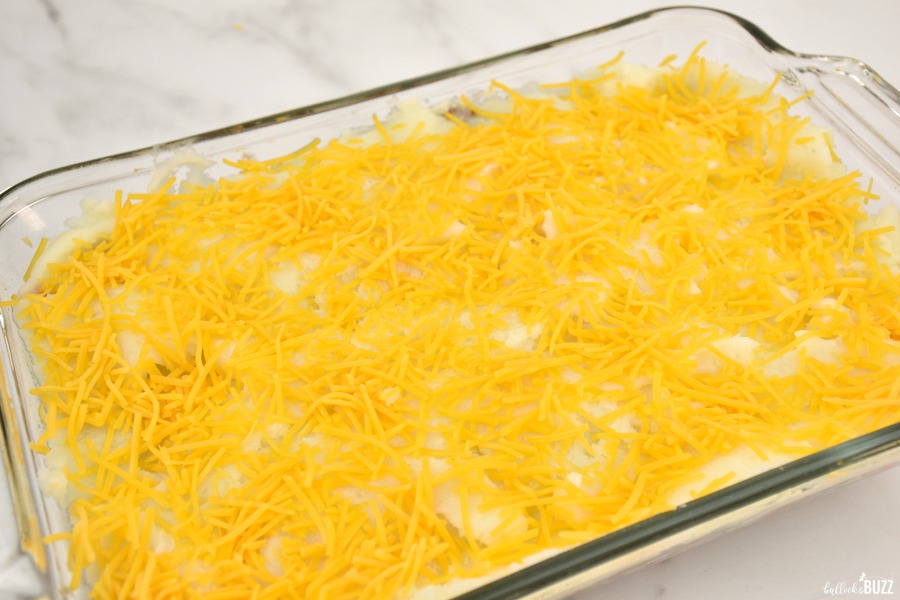 …and you're done! Doesn't it look SO yummy?!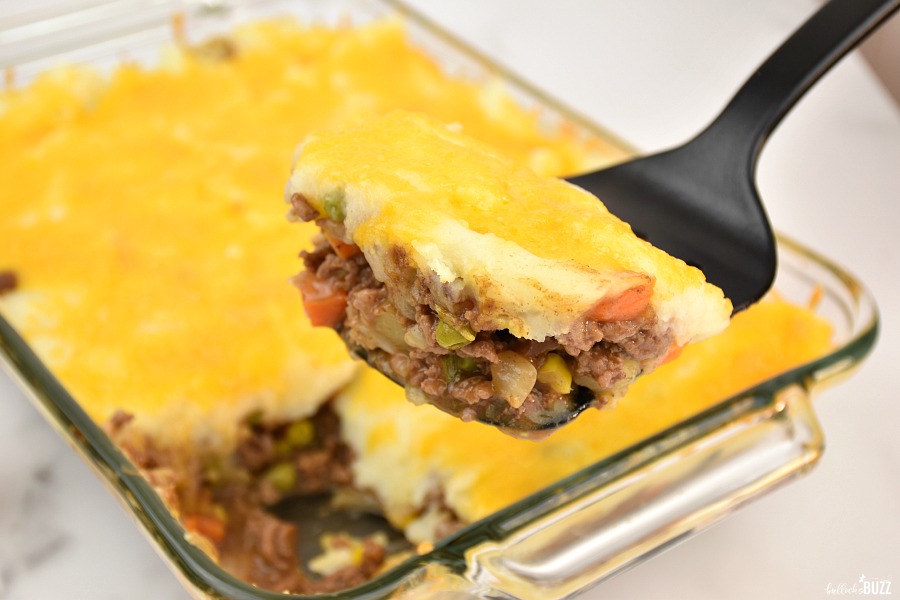 Tip: once the food is on the plate, stir it up until the potatoes, meat, and veggies are all mixed together…mmmmm…good!
How Do I Thicken Shepherd's Pie?
Shepherd's Pie is notorious for falling apart easily once you cut into it. However, there's an easy way to thicken it.
Simply mix one heaping tablespoon of cornstarch with two tablespoons of cold water. Stir this mixture into the ground beef and vegetable mixture. It will slowly thicken the sauce as you stir.
You may need to add a little more cornstarch depending on the amount of liquid in your pan.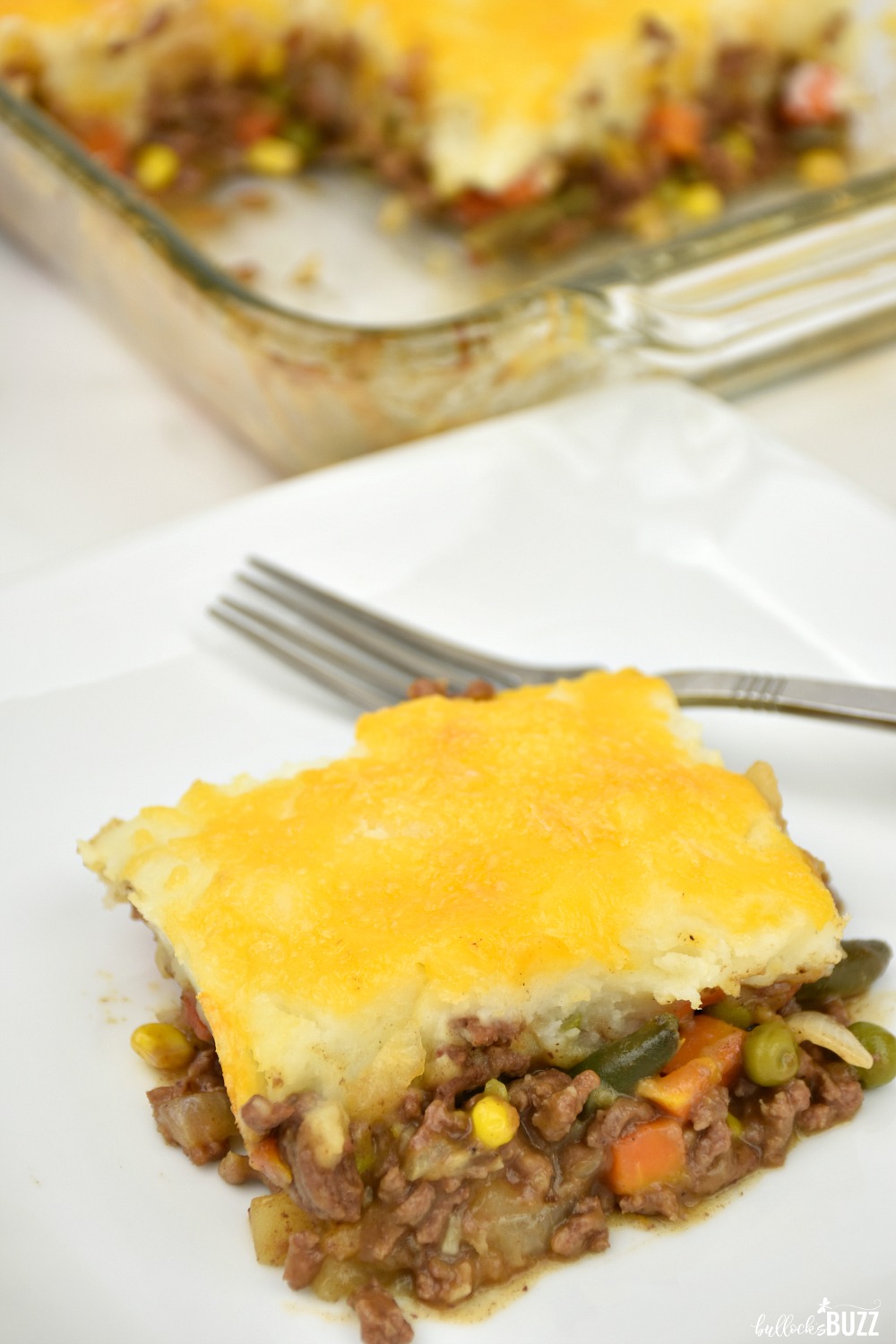 Easy Shepherd's Pie Printable Recipe
Yield: 4 people
Shepherd's Pie Recipe with Beef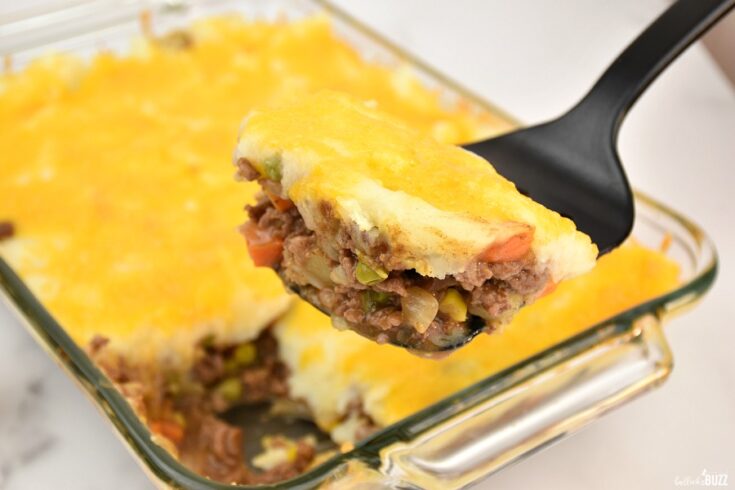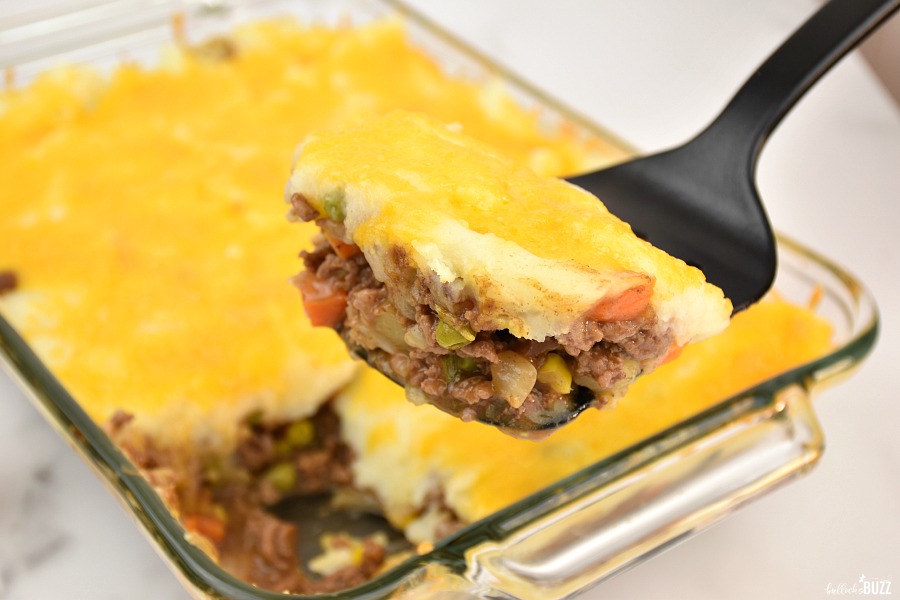 Seasoned ground beef and mixed vegetables are sauteed in a rich gravy, layered in a dish with creamy mashed potatoes, then topped with a layer of cheddar cheese before being baked to perfection in this easy Shepherd's Pie recipe.
Ingredients
1 pound ground beef
2 packages instant mashed potatoes
¼ - ½ cup Cheddar Cheese, shredded
½ large onion, chopped
1 - 2 cloves garlic, minced
2 cups frozen mixed veggies, thawed
2 tbsp all-purpose flour
1 tbsp extra virgin olive oil
2 ½ tbsp Worcestershire sauce
2 tbsp ketchup
¾ cup beef broth
salt and pepper, to taste
Instructions
Prepare Oven: Preheat the oven to 375°. Place a rack in the middle.
Saute onion: Over medium-high heat, saute the onions in the oil until tender and beginning to take on a little brown color. Remove the onions to a plate and hold until later.
Brown Beef: Add the ground beef to the pan and cook until no pink color remains. Drain the excess fat.
Thicken: Stir in the flour, cook for 1 minute.
Season: Add in the beef broth and ketchup, mix well.
Simmer: Add the onions back to the pan along with the mixed veggies, Worcestershire sauce, salt and pepper. Bring mixture to a boil, reduce heat and simmer for 5 minutes.
Make Potatoes: Prepare the mashed potatoes following instructions on the packet.
Layer: Spread the ground beef and vegetable mixture in an even layer on the bottom of a 2 quart casserole dish. Top with the mashed potatoes and sprinkle with shredded cheese.
Bake: Place dish in the preheated oven for 15 - 20 minutes, or until the cheese is completely melted.
Notes
If the sauce is still too thin, combine 1 heaping tbsp of corn starch with 2 tbsp cold water. Stir in this mixture to the ground beef and vegetable mixture. Stir well.
Nutrition Information:
Yield:
4
Serving Size:
1 serving
Amount Per Serving:
Calories:

569
Total Fat:

30g
Saturated Fat:

12g
Trans Fat:

1g
Unsaturated Fat:

14g
Cholesterol:

119mg
Sodium:

851mg
Carbohydrates:

37g
Fiber:

7g
Sugar:

7g
Protein:

38g
Nutritional information is automatically calculated with ingredients and serving size and may not be accurate. Please always double check with your own nutritional apps as well.
More Easy Dinner Recipes
If you like this Shepherd's Pie recipe, then I think you'll love these other simple dinner recipes!