The guest room is often neglected when it comes to styling a home and relegated as the family storage or study space. However, it actually plays an important role and is your chance to put your home's best foot forward and leave a lasting impression on overnight guests by creating an inviting guest bedroom.
Luckily, all it takes is a few thoughtful touches and styling solutions to transform a neglected spare room into a luxurious and inviting guest bedroom, whatever your budget and time frame.
If your guest bedroom is in need of a refresh, read on for our favorite tips. Be warned – your guests will never want to leave!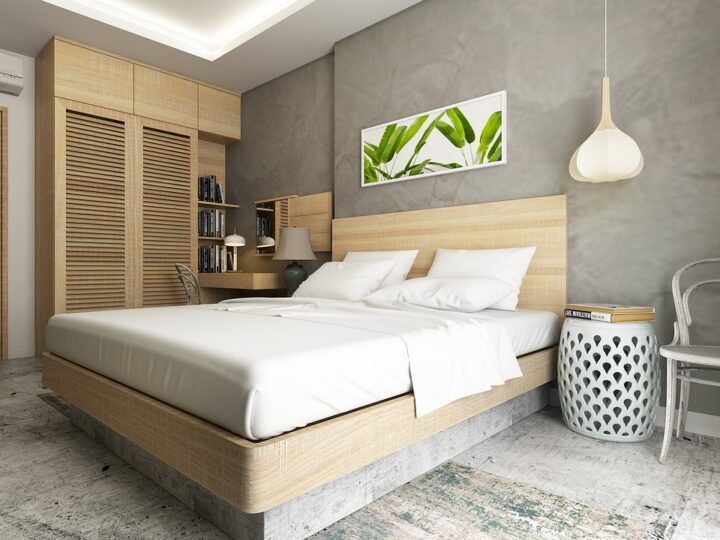 It all starts with a well-dressed bed
An inviting guest bedroom starts with a well-dressed bed. It's the quickest and easiest way to achieve a welcoming and stylish space for your guests. There's nothing more inviting than a bed layered up with pillows and dressed in some beautiful, quality linen.
But it's not just about looks. Good-quality bedding is a must to make sure your guests rest easy during their stay. Opt for a mattress with medium firmness and give your guests a few pillow options of different sizes, including European pillows.
Create a cozy cocoon by embracing moody tones
One way to style an inviting guest bedroom is to use color. A darker color scheme is a sure way to achieve a snuggly, relaxing retreat for your guests. Creating a cozy mood can be as simple as dressing the bed in darker colors, like charcoal or deep purples, and adding more texture by layering the bed with decorative pillows and a throw.
Step it up a notch with a shaggy rug, or experiment with darker paint colors on the walls and ceiling. Navy blue instantly transforms any room into an enveloping space.
Go green to create a serene space
If dark and moody isn't your vibe, create a refreshing retreat for your guests using green tones. This will instantly evoke an energizing and comforting mood.
Shades of green also pair beautifully with soft pinks, so don't be afraid to accessorize with a throw or other decorative elements to add a pop of color.
Add some sheer curtains and some soft timber accents and you're done!
Go bold with bright colors and accessories
The guest bedroom is a great space to experiment and step out of your comfort stone, so why not embrace a bold decorative style to create a boutique hotel-style feel?
A bright color scheme for the bed can really make the room pop and don't be afraid to mix and match different tones and patterns for the bed linen. A fabric headboard is another way to add a luxe vibe to the room.
Give the walls some bling with a funky wall mirror, add quirky light fixtures, and experiment with bold paint colors or wallpaper to really make the room pop.
Avoid clutter and give your guests plenty of storage
A cramped guest room does little to create a welcoming space for overnight visitors, so make sure yours is free from clutter. Add some plastic storage tubs under the bed to keep the room mess-free.
Giving your guests somewhere to store their belongings doubles as an opportunity to add some more character to your room. Placing a bench at the foot of the bed is a practical and stylish storage solution.
If you don't have space for a wardrobe or dresser, consider some stylish wall or door hooks, or a discreet clothes rack with a few hangers.
Set the mood with lighting
Lighting is an important element to consider when learning to style an inviting guest room and can make or break a space. Harsh, overly bright lights will do nothing to help your guests feel at ease, so fit overhead lights with a softer globe.
Add a lamp to each bedside table and consider a standing lamp, especially if you have space for a comfy chair to create another reading spot for your guests.
Embrace fresh florals
Fresh blooms are a lovely way to breathe life into a room and are a thoughtful touch that instantly makes your guests feel welcomed and lets them know you've been thinking of them.
A vase of fresh flowers elevates a space without any effort or huge expense from you. If you have a garden, why not snip some blooms for an extra easy and personal touch while styling an inviting guest bedroom?
Don't forget personal touches
Making sure your guests have everything they need within reach is an important step in trying to style an inviting guest bedroom and make it their home away from home.
Place some towels and facecloths on the bed and stock the bedside tables with some essentials, like spare phone chargers, eye masks, or earplugs and tissues to give your guests everything they need for a good night's rest.
Follow these tips to give your guest bedroom the makeover your guests deserve and you'll be sure to create and style an inviting guest bedroom memorable experience that will keep them coming back.