Cats are known for being perfectionists. They like to clean their fur so that it's perfect, smartly cover up their business in the litter box with dirt, and, of course, most cats like to prance about and show off.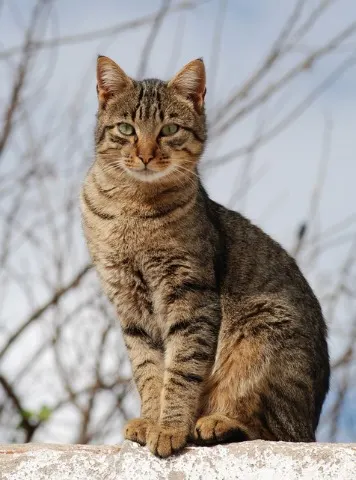 (Photo source)
But, believe it or not, your cat isn't capable of looking after themselves on their own – that's where you come in.
To help you make sure your cat is healthy and happy, we have put together some helpful tips and advice below:
Tip 1 – Make sure your cat is a healthy weight
Your cat's weight is incredibly important, so make sure you keep an eye on it. Make an appointment to visit your vet and have your cat weighed. Ask what a healthy weight for a cat is and how you can help your cat gain or lose weight. If your cat is underweighted, this could suggest that something is wrong or that your cat is unwell. If your cat is overweight, there could be an underlying problem, such as a under active thyroid gland. However, your cat may just be overweight.
Just like humans, being too thin or too heavy can cause health problems for cats. So, it is vital that you help your cat maintain a healthy weight.
Tip 2 – Feed your cat a healthy diet
To keep your cat as healthy as possible, it is important to feed them a good quality diet. While you can buy cat food for incredibly low prices, it is best to opt for a vet recommended brand – Iams and Science Plan both come vet recommended.
If you are unsure what the best type of food for your cat would be, make an appointment to discuss it with your vet. Your vet should be able to suggest the perfect type of food for your cat. The kind of food suggested, will depend on your cat's age, weight and activity levels.
Tip 3 – Groom your cat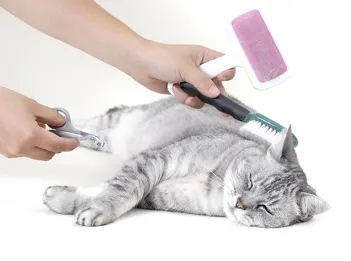 (Photo credit)
Unless your cat is a hairless breed, it is a good idea to get into a routine of brushing and grooming every day. Brushing your cat each day will keep their fur in a good condition and will remove excess hair and reduce hairballs.
If your cat's coat is healthy, it should look smooth and glossy and should not have any bald patches. If you notice any bald or sore spots, it might be a good idea to take your cat to the vet for a check up.
If your cat dislikes being brushed but has long hair, you may have to resort to shaving your cat's hair off. Before doing this, be sure to make an appointment to discuss it with your vet first.
Tip 4 – Check for fleas
Make sure to regularly check your cat for fleas and signs of fleas. For example, a cat that is suffering from fleas may have flea dirt in their coat – tiny black spots. As soon as you notice your cat itching or see a flea, it is important to get them treated for fleas immediately. If you have other pets in the house, it is important to treat them too.
For best results, treat your pet with a vet recommended spot-on flea treatment. To find out more about flea treatments, have a look online. If you are sure about what would work best for your cat, make an appointment to see your vet.
Tip 5 – Keep an eye on your cat's teeth
It is easy to forget that cat's teeth can be prone to damage and decay, just like our teeth can. That's why it is important to check your cat's teeth regularly.
While your vet should check your cat's teeth at each visit, it is important that you also check them yourself. While your cat may not appreciate you pulling their mouth open, it is a vital part of caring for your cat.
A healthy cat will have pink gums and white teeth that are free from cracks and residue. Plaque buildup, can turn your cat's teeth yellow or brown – if you notice this, make an appointment to see your vet.
Tip 6 – Check your cat's eyes
While it is normal for there to be some crustiness around the eyes, if you notice excessive discharge it is a good idea to pay a visit to your vets. If your cat is healthy, its eyes should be clear and focused.
If your cat's eyes look a little crusty, cold tea is an excellent home remedy for cleaning them up. All you need is a cold cup of black tea and a cotton wool pad.
Tip 7 – Look at your cat's ears
It is important that your regularly check your cat's ears. If you notice an odd smell or excessive wax or discharge, your cat may have an infection or ear mites.
If you notice any of these symptoms, make an appointment to see your vet as soon as possible.
Tip 8 – Check your cat's nose
Your cats nose should be clear of any discharge and should be wet and cold. If you notice a discharge, then you cat may have a cold, wait for 24 hours and see if it improves, if not take your cat to the vet.
Tip 9 – Keep your cats claws healthy
Cats love to scratch, they even use scratching to mark their territory, as a type of exercise and as a way to get rid of their old claws.
To keep your cats claws healthy, make sure that you give them a place to scratch. Invest in or make a scratching post and use positive reinforcement to encourage your cat to use it to scratch. You can also buy scratching mats that can be placed on the carpet to stop your cat from ruining your carpet or flooring.
Some people choose to declaw their cats, but it is cruel and unnecessary. If your cat's claws cause a problem, all you need to do is invest in a pair of claw clippers and clip them every now and then.
What are some of the things you do to keep your cat healthy and happy?