This post is sponsored by Nutrience and the BlogPaws Professional Pet Blogger Network. I am being compensated for helping spread the word about the Nutrience, but Bullock's Buzz only shares information we feel is relevant to our readers. Nutrience is not responsible for the content of this article.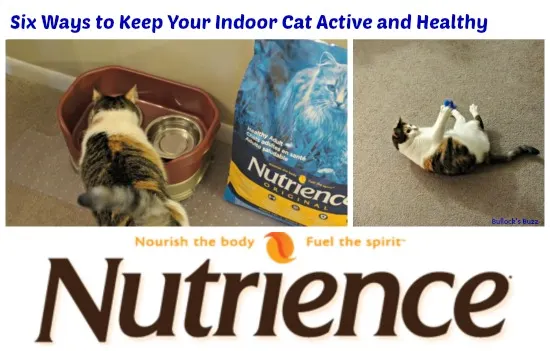 Like humans, pets need both proper nutrition and exercise to remain in good health. While outdoor pets have more ways to stay active, there is no reason why your indoor pet can't be active as well. Sookie has been an indoor cat ever since we got her. Like all kittens, the first few years of her life were a constant buzz of kitty escapades. If it moved – and sometimes even if it didn't – it was fair game! As Sookie grew into a young adult, her natural tendency to nap grew stronger, while her tendency to play began to lessen. While she still plays, I can see an obvious difference in her activity level, so it falls to me more than ever to encourage her to remain active. After all, with regular physical activity, a cat's health improves and boredom-related behavior problems fade away.
Proper Nutrition
In order for your pet to be active, they must have the proper nutrition. This means a high quality food that has the necessary vitamins and minerals, without all of the unnecessary ingredients. Nutrience Pet Food also knows that pets are part of our family, and they believe in healthy, active lifestyles for human and pets. That's why they make their food in small batches – using only the finest, all natural, wholesome ingredients – and back their products with a "no bad anything" promise. Their food contains the nutrients pets need to live a healthy, active life.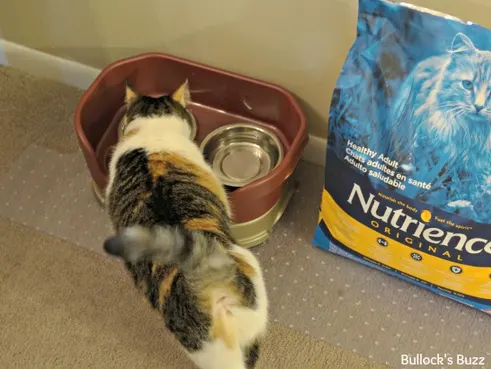 In July Sookie tried Nutrience for the first time. For a picky cat I was surprised to see her dig right in! After just a couple of weeks, I began to see an increase in her energy levels and her overall health. She began to play more and for longer periods of time, while her fur grew even softer and shinier. Nutrience Pet Food wants to encourage you to stay active with your family – pets included! Below are some ideas for keeping your indoor cat (and you!) active and living a healthy lifestyle.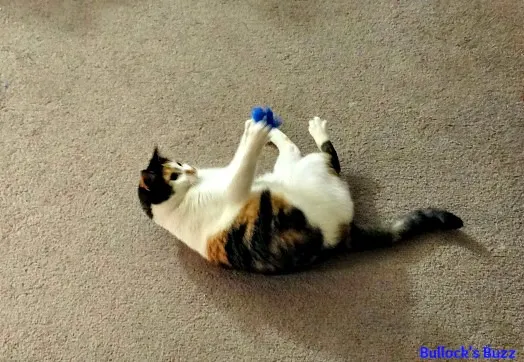 Interactive Play
The absolute best kind of exercise you can do with your indoor cat is to engage in interactive play, or play where a human directs the toy. This kind of play is beneficial for you and your cat as it provides bonding time as well as exercise. My husband and I made a fishing pole by tying a long, fuzzy worm on the end of a string, and then attaching the string to a stick. Sookie absolutely loves it!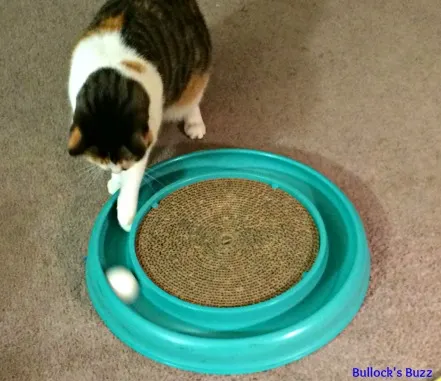 Solo play toys
These popular toys come in two different categories. The first type is small objects such as rattling balls, crinkly mice and catnip-filled birds. Cats love to pounce on these and then toss them all over the place. The second type is the toys that are attached to springs or strings, and other similar toys that can be pawed by your cat. I have even found that something as simple as hanging a long piece of ribbon from a door knob provides Sookie with lots of active entertainment! A great thing about solo play toys is that they can be left on the floor at all times to catch your cat's attention throughout the day.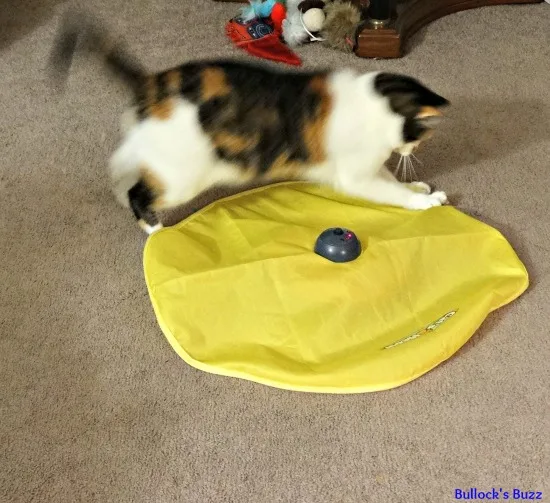 Electronic Pet Toys
Electronic toys are adored by both cats and busy people. These battery operated toys move without human interference and can hold your cat's attention for long periods of time. They are a great way to get your cat up and moving. For safety, I do not advise leaving them on while you are away from the home. Also, be sure not to make this your cat's only source of play. They are social animals.
Food Hunting
Cats are natural predators, and food hunting provides exercise that your cat will enjoy. Your indoor cat can do this too! Hide small amounts of food throughout the house, and let your cat discover it – with or without your help. Other options include food dispenser toys, which release treats as your cat plays with it, as well as puzzle feeders, which require your cat to solve a puzzle in order to receive a treat. Just be sure to subtract what you feed in these sessions from your cat's daily food to prevent obesity.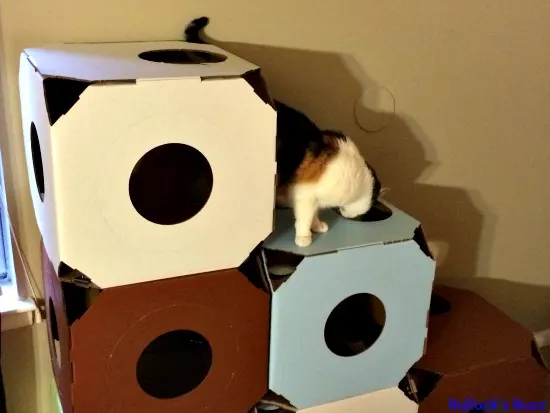 Cat Trees, Perches and Other Climbing Toys
Cat lovers know that cats adore being up high where they can observe their world from an elevated angle. Consider having some window perches available or investing in a cat tree for your cat to climb. If your cat is older and having trouble jumping to high place, create a series of steps made from sturdy boxes so she can jump from box to box. Just the act of climbing will keep your cat fit and healthy.
Leash Walking
I can see the look on your face right now as you read this – it most likely matches mine the first time I saw this, but, believe it or not, you can train a cat to walk on a leash. It does take time and patience, and is nothing like walking a dog, but what a great way to get some exercise together! Just be sure to let your cat take the lead when walking.
Where to Find Nutrience Pet Food (cats and dogs)
Nutrience is now available in the U.S. on Amazon.com. They offer several varieties for both cats and dogs, and all are backed by their "no bad anything" promise. Make sure to check out all of their products in order to find the best one for your pet. If you want to learn more about Nutrience, visit them on their website, and connect with them on Facebook, Twitter and Pinterest.