I believe in the power of aromatherapy, and after years of using everything from incense to essential oils, I have come to love scent. I am always looking for different ways to disperse scent through out my home, so when I was offered the chance to review several scented products from Aroma Delights, I was more than happy to accept!
Aroma Delights specializes in homemade scented oils and body sprays, and carries a great selection of electric oil warmers. All of their oils are made by hand, using only the highest quality ingredients with NO alcohol or cheap additives. Unlike candles, wax tarts and sprays, these oils provide continuous scent, and are said to outlast any candle, wax tart or other oil you have used – with a claim like that, I couldn't wait to give it a try!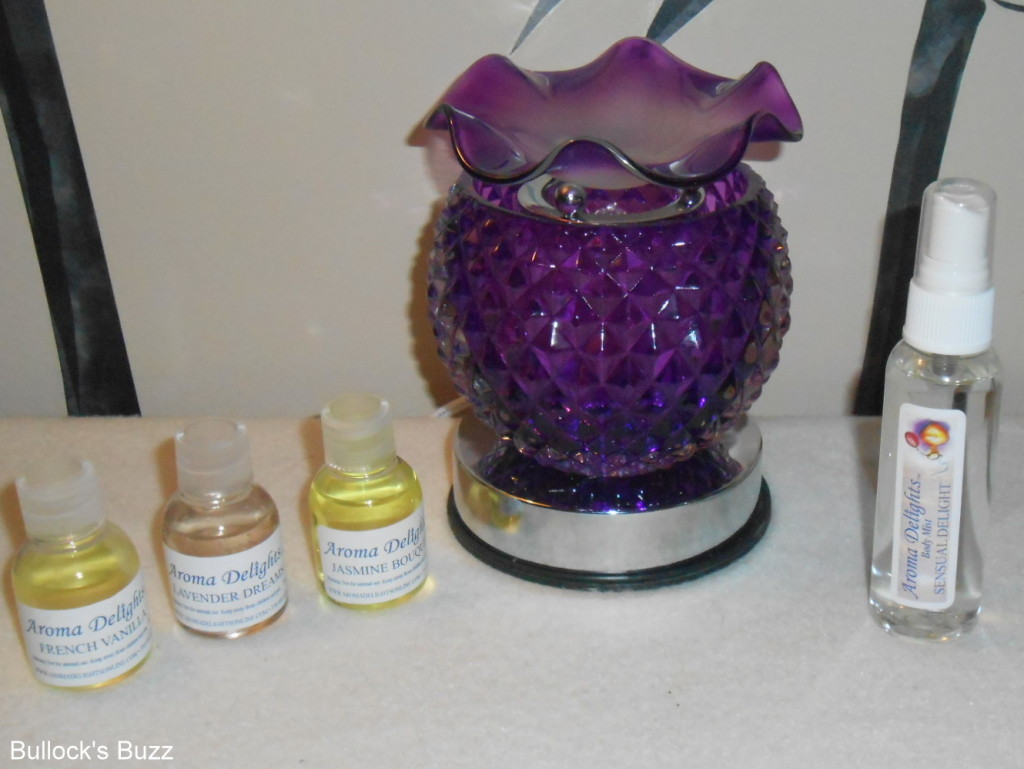 Aroma Delights sent three different bottles of scented oil, a pretty electric oil warmer lamp and one of their new alcohol-free body mists. They have a wide variety of beautiful and unique oil warmers, as well as over twenty homemade scented oils from different categories such as Bakery Scents, Floral Scents, Holiday Scents, Citrus Scents and more. I chose Jasmine Bouquet, Lavender Dreams and French Vanilla to test out in my beautiful oil warmer.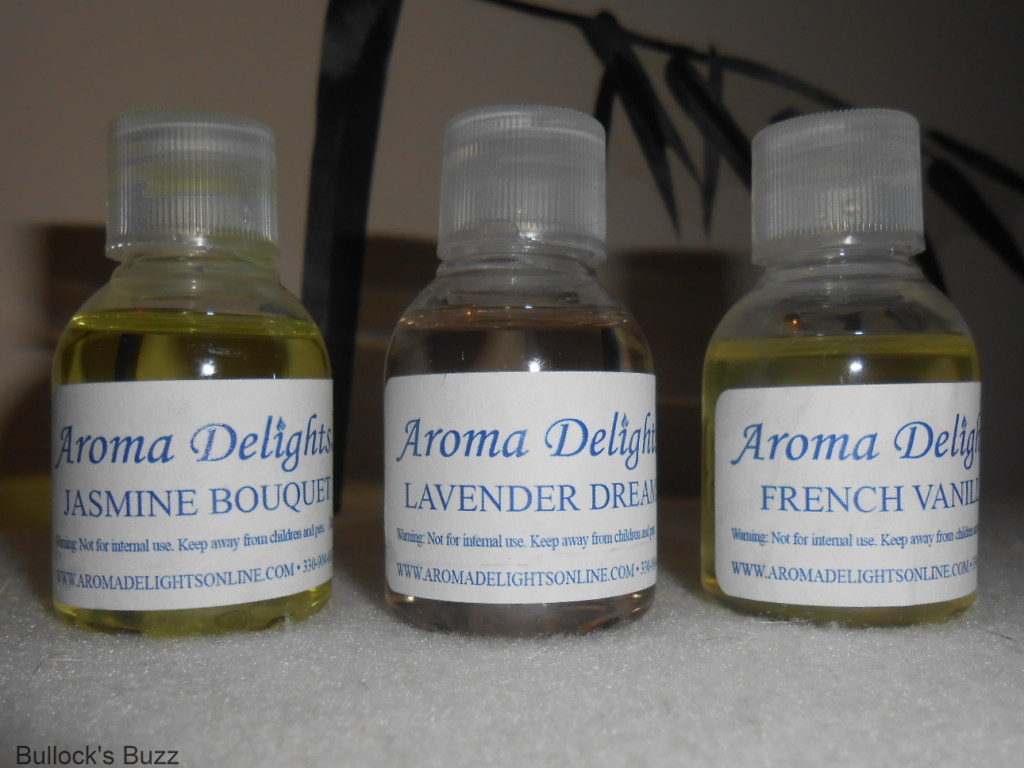 Their electric oil warmers come in a rainbow of colors and many styles, some are made of glass or ceramic, and you can find others made of pewter, polyresin, crystal and more. Almost all of the warmers include a dimmer switch and many have touch-on capability. No assembly is required with any of the warmers, and they are all UL approved and safe to use in any room.
I was sent one of the Glass Globe Touch Scented Oil Warmers which not only provide hours of scent, but look beautiful, too! These warmers have touch-on capability, a dimmer switch and are available in green, orange and purple. I choose the purple globe since not only is it my favorite color, but it is very relaxing too.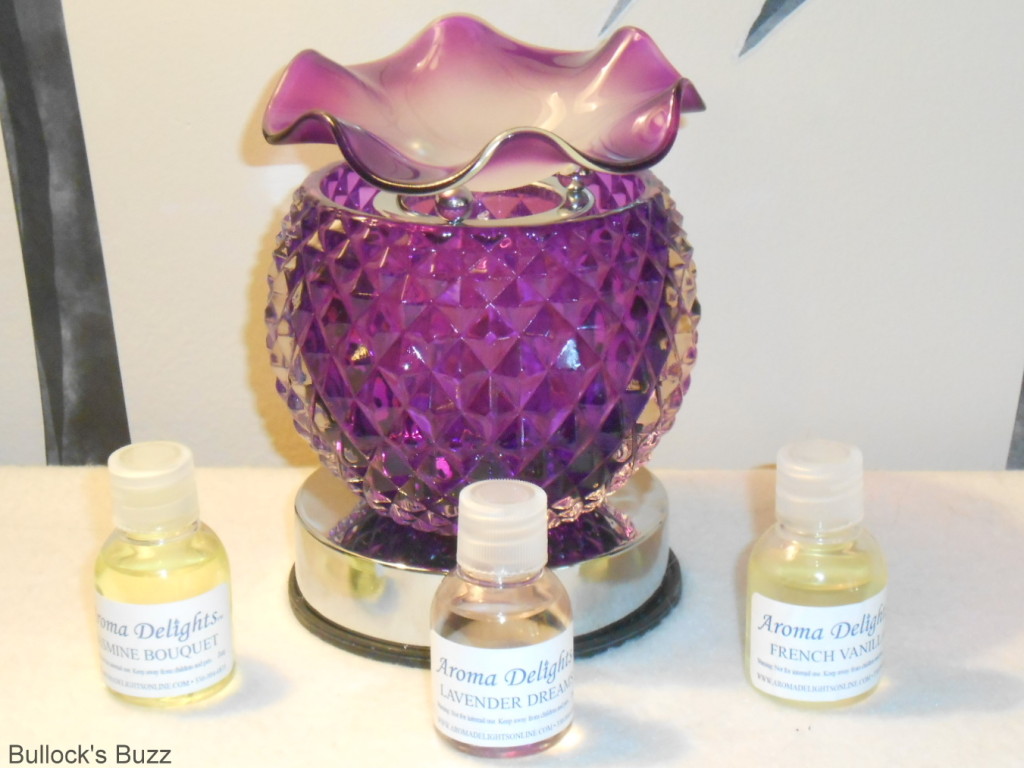 The warmer comes with two parts, the lamp globe and a separate try which sits on top of the globe and is where you add the oil. The glass globe sits on top of a silver-colored base, and has a faceted surface which reflects the light in beautiful, colored patterns along the table it sits on and the walls. The wavy, glass dish sits on top of three "prongs" which hold it directly above the light bulb allowing the oil to heat quickly and evenly.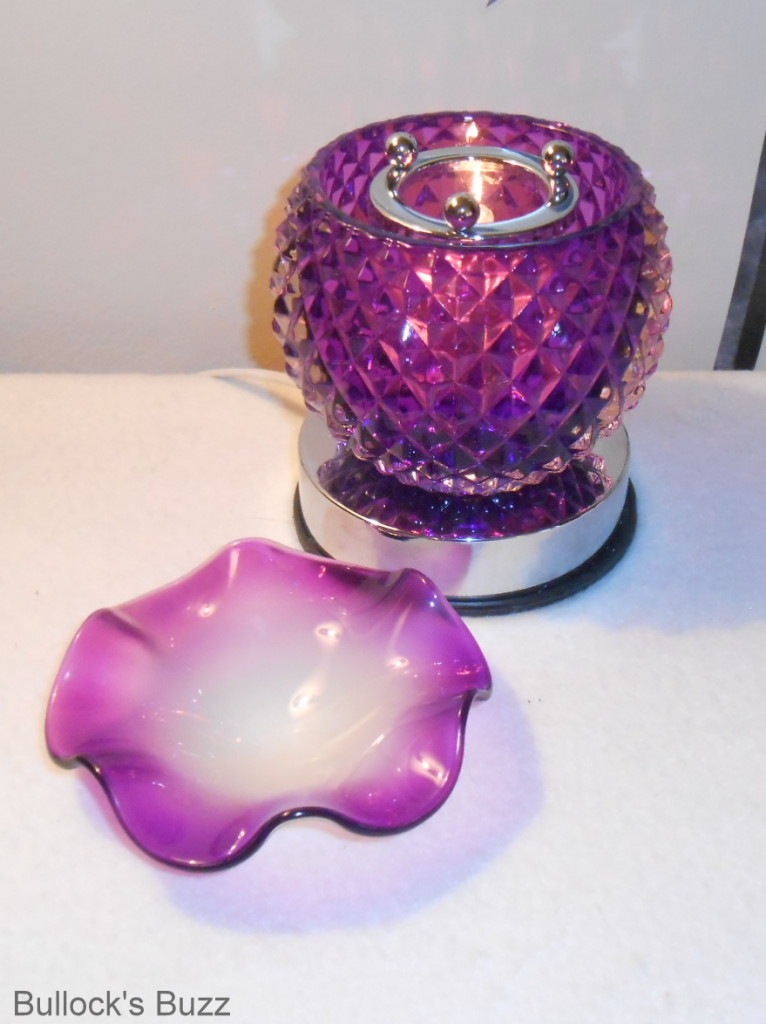 The warmer is extremely easy to use, and you only need to add a small amount of oil (up to 1/2 teaspoon). To turn the lamp on you simple touch the silver base, and it has three setting, low, medium and high. Once you have added the oil, turn it on high for about 15 to 20 minutes, then cut it back down to low. I have found that it will scent our home for hours, and there will still be some oil left in the tray which I have been able to reuse a couple of times before it no longer produces the scent. I can definitely see how one bottle will last for 1 to 3 months!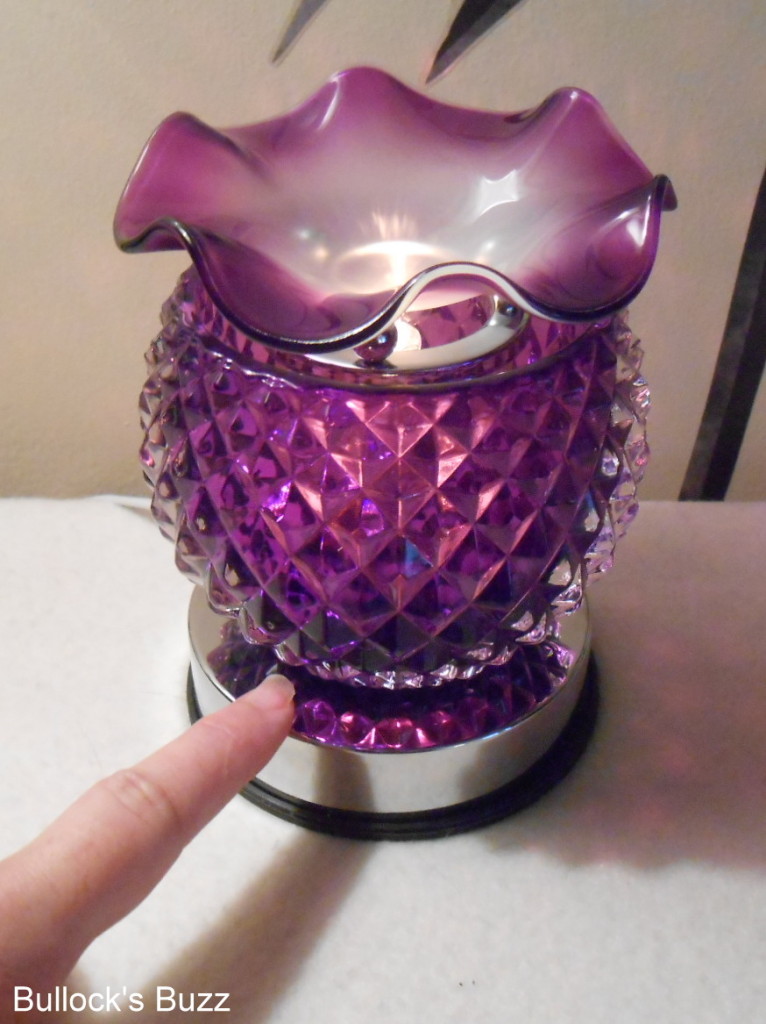 There were several times that when I poured the oil from the bottle into the tray some oil would always run down the side of the bottle. I found that if I hold the bottle a bit higher instead of right above the dish, it doesn't go down the side as much. You can also add the oil either using a dropper (although you have to either clean it between oil scents, or buy several droppers) or pour the oil in a spoon and then into the tray.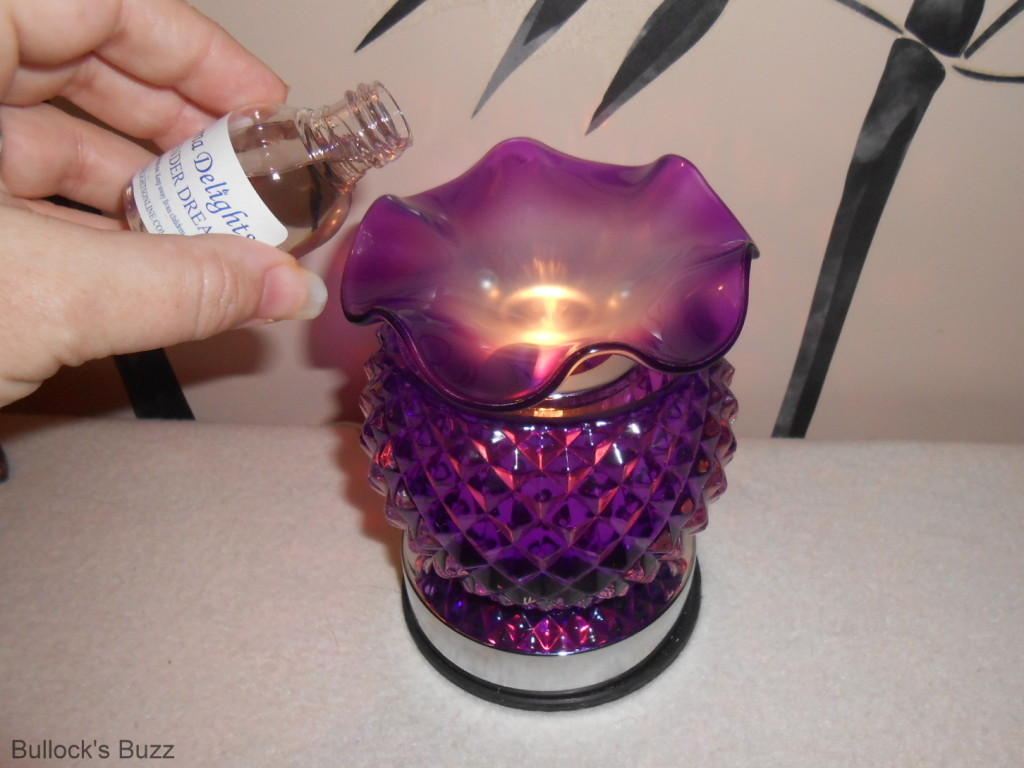 If asked, I would have a hard time choosing my favorite scent! They are all wonderful in their own way, perfect for different moods. Each oil is true-to-scent, smelling exactly as it does in the bottle, and there is no acrid or chemical undertones like I have found with other oils. Just as Aroma Delights claims, the scent from these oils really does last longer than any other oil, wax tart or candle I have used! I love using the warmer as the main source of light later in the evening. It fills the room with a rosy, purple hue which, combined with the right scent, creates an incredibly relaxing atmosphere.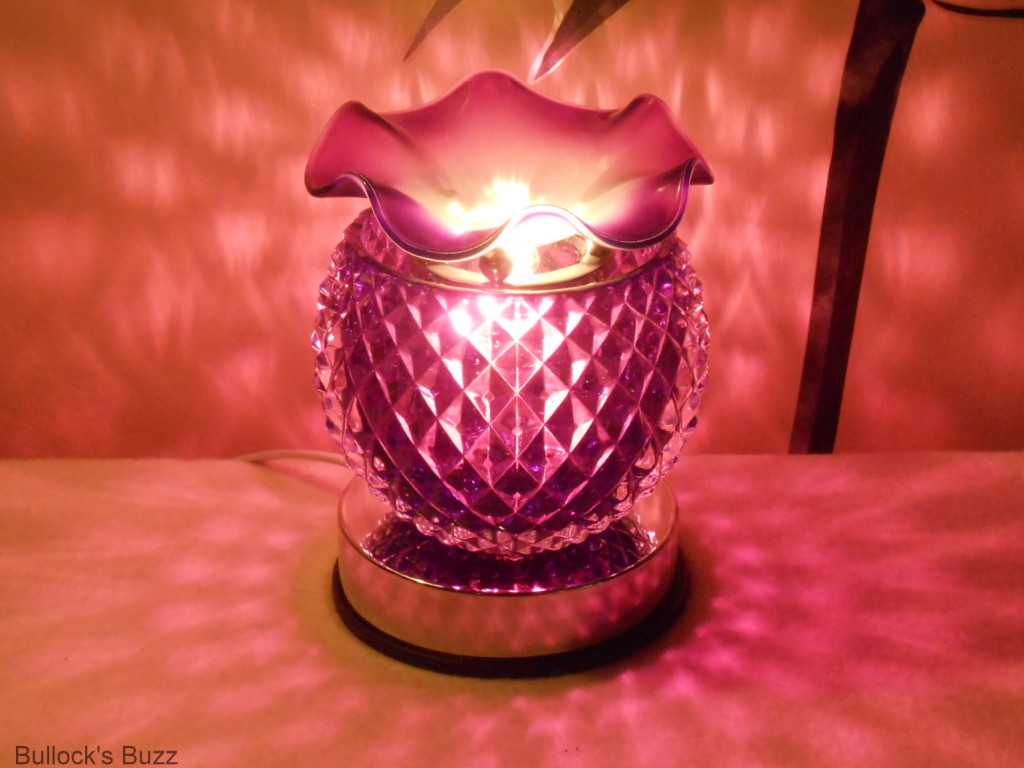 I was also sent a bottle of Aroma Delights homemade body spray in the Sensual Delight scent. These body mists are completely free of alcohol, have no petroleum products or other harsh chemicals that many mists and perfumes contain which can cause terrible allergic reactions. They have 5 different scents and are working on adding more!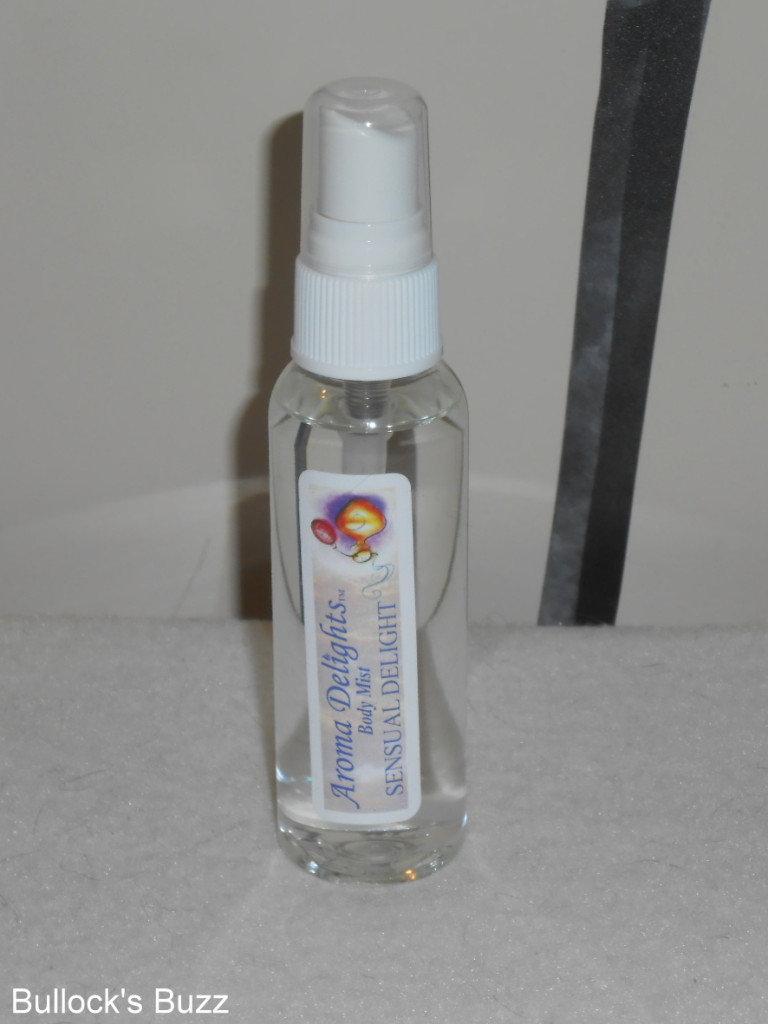 I am not a fan of overpowering perfumes or body sprays, so before I sprayed myself, I opened the lid to find out exactly how strong this scent may be. In the bottle, it was light and very pleasant, so I gave myself just a few sprays and discovered that was the perfect amount of scent. Like the oils, this body mist also remains true-to-scent, and smells exactly as it does in the bottle on your skin. It does not change over time, and the scent lasted for hours! I especially like that the mist is quickly absorbed and leaves my skin soft and silky smooth!
Aroma Delights really makes some amazing scented products! I am very impressed with the quality of their products, from the wide selection of scents from which to choose to how good they smell and long they last! I cannot wait to try more of their unique scents, both for the warmer and for my body! Their products would make a great gift for anyone who loves scented products.
You can purchase all of the above products and more directly through the Aroma Delights website. Their prices are very affordable, and the selection is broad enough that everyone will find something they like. In addition to the warmers, oils and body mists, they also carry replacement parts for the lamps in case you need something. Be sure to visit the site to enter their weekly and monthly contests, sign up for their newsletter, watch informative videos, discover other uses for the oils and to keep an eye out for money-saving coupons!
I received one or more of the products mentioned above for free using Tomoson.com. Regardless, I only recommend products or services I use personally and believe will be good for my readers.