Back to School Guide 2015
Atomic Clock with Dual Alarm, USB Charging and Temperature – Review
Getting back in the groove once school starts can be a bit difficult – especially when it comes to making sure you and your kids are up, fed and ready to go by the time the bus rolls around. If you've struggled – as we have – either making sure your child gets up when he is told to or even getting up yourself, perhaps it's time you tried a new clock from AcuRite!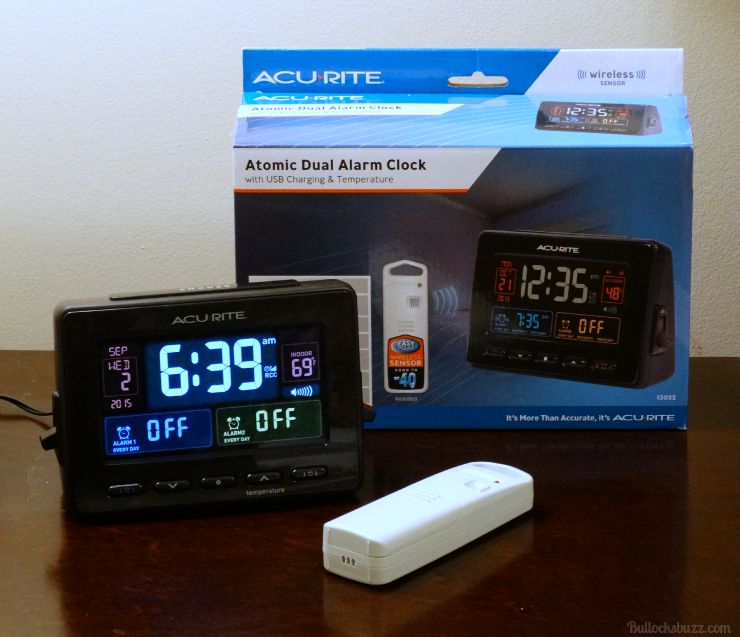 AcuRite is one of the leading manufacturers of weather stations, home weather stations, wireless weather stations, thermometers, weather radios, alarm clocks, atomic clocks, digital wall clocks and more. Their history with timekeeping goes all the way back to 1943 with Chaney Instrument Co., their parent company. The Chaney Instrument Co., a leading manufacturer of precision time, temperature and weather products, was also the company that invented and patented the glass tube candy thermometer. Today, AcuRite's line of clocks offer advanced technology and a stylish, eye-pleasing design.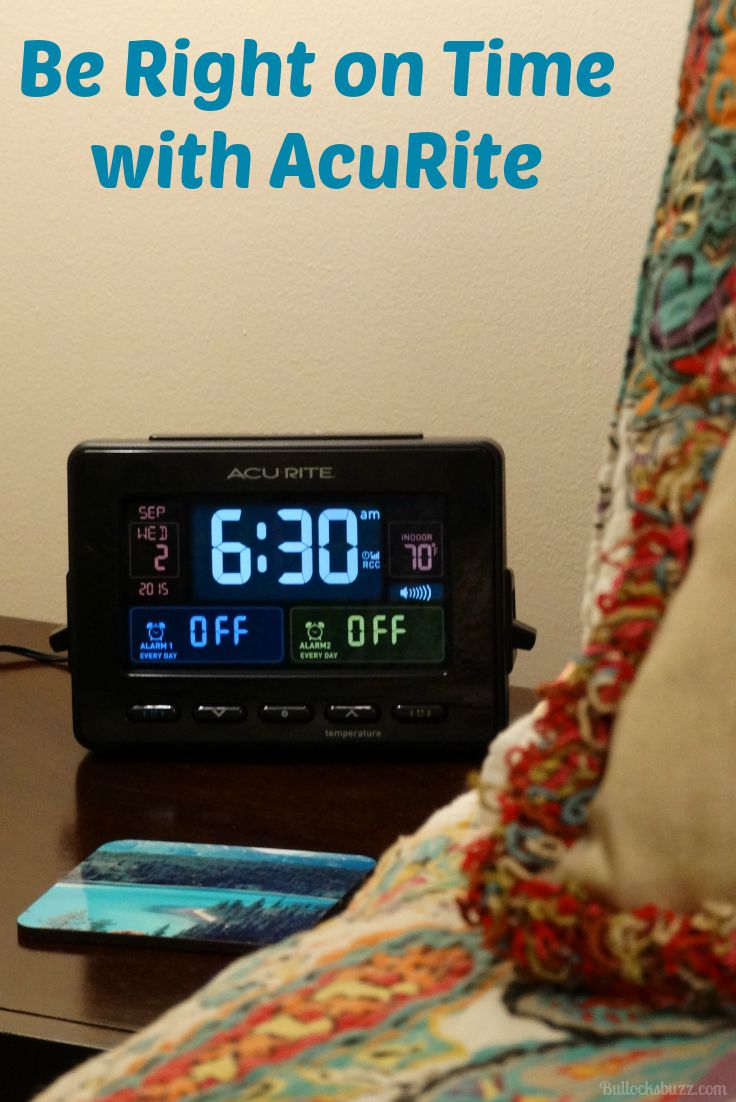 The Atomic Clock with Dual Alarm, USB Charger and Temperature is just one example of the many clocks AcuRite makes. This innovative clock not only automatically synchronizes to the correct time broadcast by the National Institute of Standards and Technology, it also charges your phone and keeps you informed of weather conditions! Yes, you read that right, this clock can also let you know the current temperature and humidity which really comes in handy when deciding what to wear! No more having to go online or wait for the morning weather report – how cool is that?!
The clock's large illuminated color display with dimmer shows both indoor and outdoor temperature (ºF or ºC) , the time, a calendar showing the month, date, day of the week, and year, and two alarms. Each of the dual, programmable alarms can be set for everyday use, weekdays or weekends only, and both come equipped with the ever-important snooze button. There are several alarm sounds that I cannot stand, so the first thing I checked with this clock was what the alarm sounded like. Thankfully, it's a series of 4 high pitched beeps that is repeated until you turn it off, instead of an annoying screech that alarms some clocks have!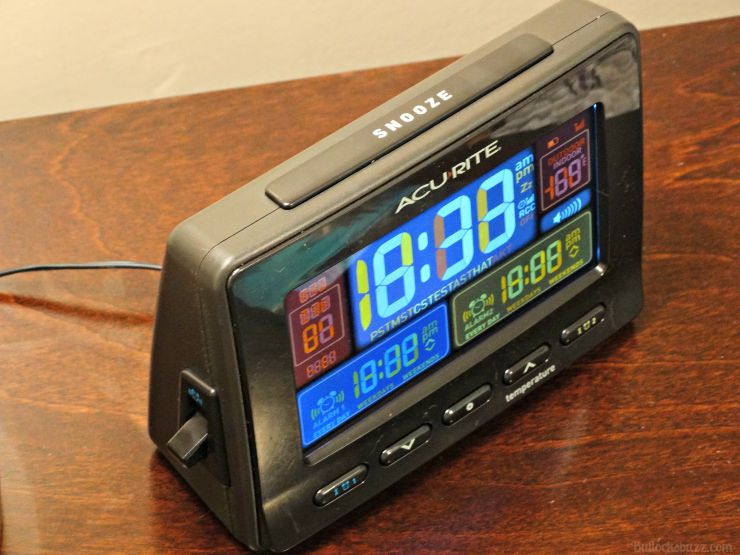 AcuRite's atomic clocks use a radio-controlled signal to synchronize to the correct time and date which is broadcast by the National Institute of Standards and Technology (NIST) Radio Station WWVB. Located near Fort Collins, Colorado, WWVB broadcasts the current time and date with split-second accuracy. In addition, atomic clocks set themselves and automatically adjust for daylight saving time (DST) in order to provide the most accurate timekeeping standard possible – forget having to remember to set the clock back or forward – it does it itself!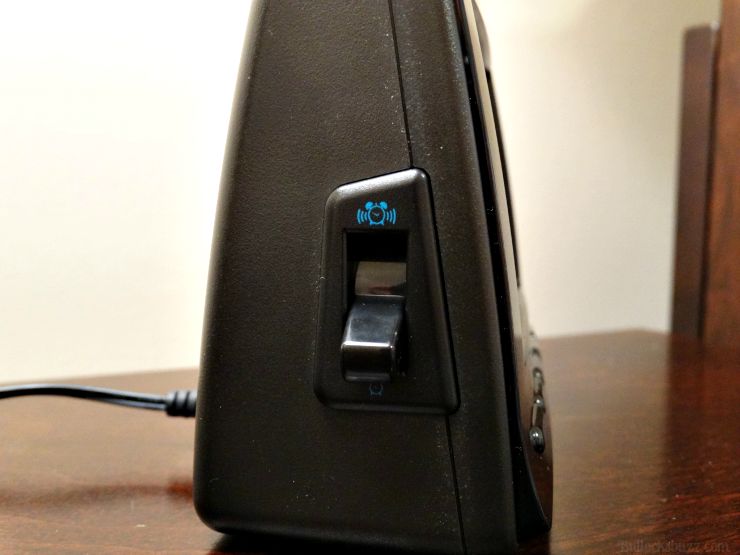 The clock also comes with a wireless Temperature and Humidity Sensor which you sit or hang outside in order to pick up the current temperature and humidity levels. This information is then sent to your clock every 16 seconds so you always have the most up-to-date and accurate weather readings.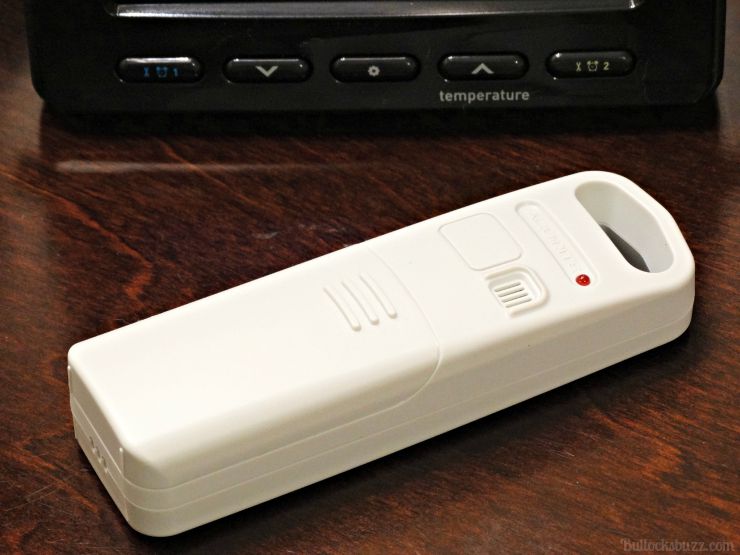 The sensor runs off of 2 AA batteries, and its built-in hanger makes installation a breeze. Made with a durable, all-weather construction, the sensor will work in rain or shine and in temperatures ranging from as hot as 122° F to as low as -40°F! As long as you don't exceed its super long-range of up to 330 feet, you can count on knowing the current temperature with a simple glance at the clock.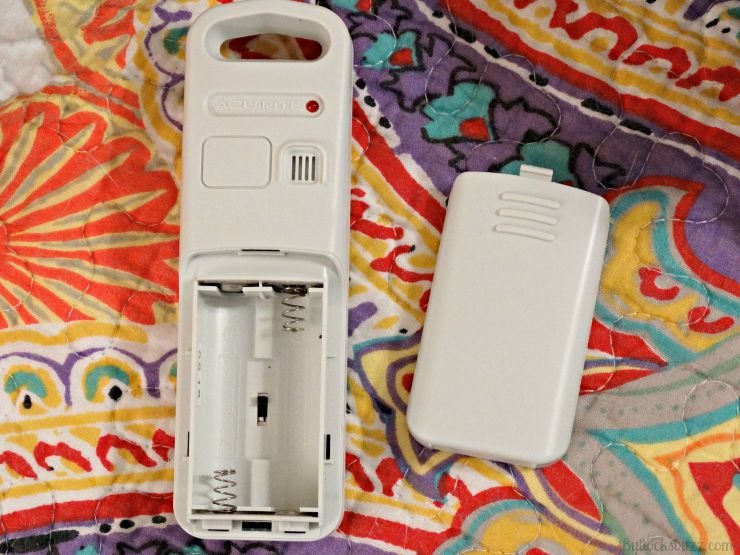 But that's not all! This cool clock also has a convenient USB port for easy smartphone or tablet charging. Simply plug-in your device to the USB port on the back, and you are good to go. Worried about power outages? No need, simply install 3 AA batteries, and if the power fails, the batteries will provide back up power to ensure the clock retains all records. Note, when the clock operates on battery power, you cannot see the display unless you push the Snooze button on top.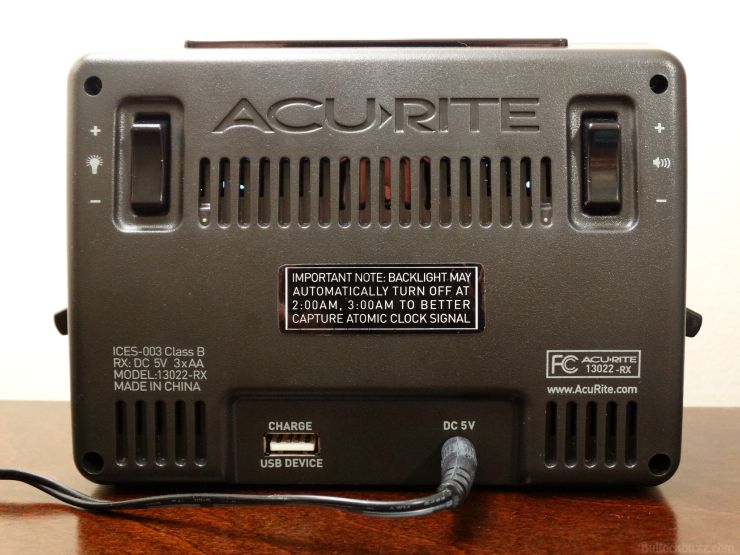 Measuring around 4.3″ in height, 6″ in width and 2.2″ deep, the AcuRite clock is the perfect size for your bedside table. It comes with everything you need for use including an AC power adapter, wireless sensor, and instruction manual, although the batteries for the back up power and sensor are not included. You can purchase the clock for around $50 directly through the AcuRite website, as well as on Amazon
.
This school year make sure you are always right on time with the Atomic Clock with Dual Alarm, USB Charger and Temperature Sensor by AcuRite!
Connect with AcuRite: Web| Facebook | Twitter
Do you find it hard to wake up in the mornings?