By now I am sure you've heard about how detrimental single-use plastics are to our environment, wildlife, and ourselves. And perhaps you, like me, are trying to remove as much plastic from your life as possible. Unfortunately, because plastics are found in such an unbelievable amount of products, it's easier said than done. However, by making a real effort to stop purchasing single-use plastics and to use eco-friendly alternatives instead, we can take a giant step in the right direction. For example, instead of buying cling wrap or plastic food containers, start using beeswax wraps.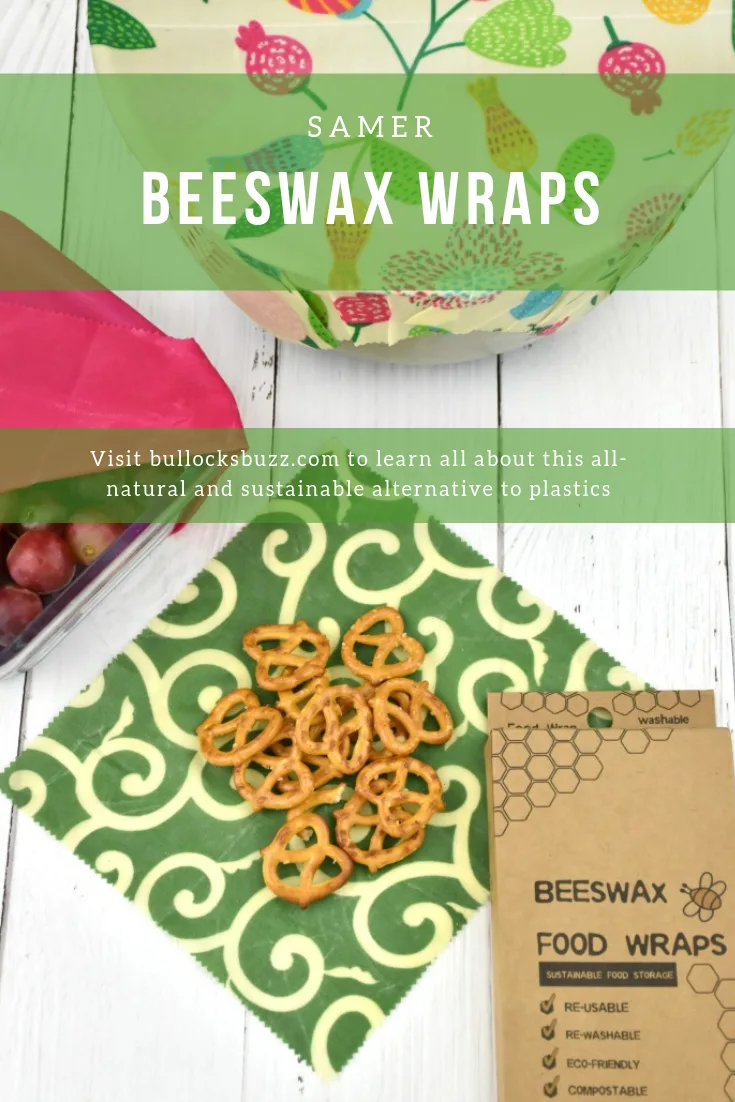 Not exactly sure what beeswax food wraps are? Today I'm sharing all about beeswax wraps and answering some common questions so you can see why these all-natural wraps are such a popular alternative to plastic wraps, plastic bags, and plastic storage containers.
What Are Beeswax Wraps?
Beeswax wraps are a reusable and sustainable alternative to cling wrap and other plastic food storage products. Made from a sheet of cotton infused with a mixture of food-grade beeswax, tree resin, and natural oil (usually jojoba or coconut), these self-adhesive wraps are an effective and natural way to protect food, store leftovers, and even package food for eating on-the-go.
The waxy coating makes the cotton cloth waterproof, but breathable. Plus it's also what enables the wraps to form a protective, antibacterial seal (the beeswax and oil have natural antibacterial properties) that helps keep your food fresh longer. It even works to help eliminate unwanted odors from circulating inside your fridge.
And speaking of odors, the wraps do have a faint, pleasant scent that reminds me of a beeswax candle or a warm slice of bread topped with honey. I find it to be warm, homey and pleasant. The scent dissipates quickly, and I have never had it leach into the foods I'm using them with.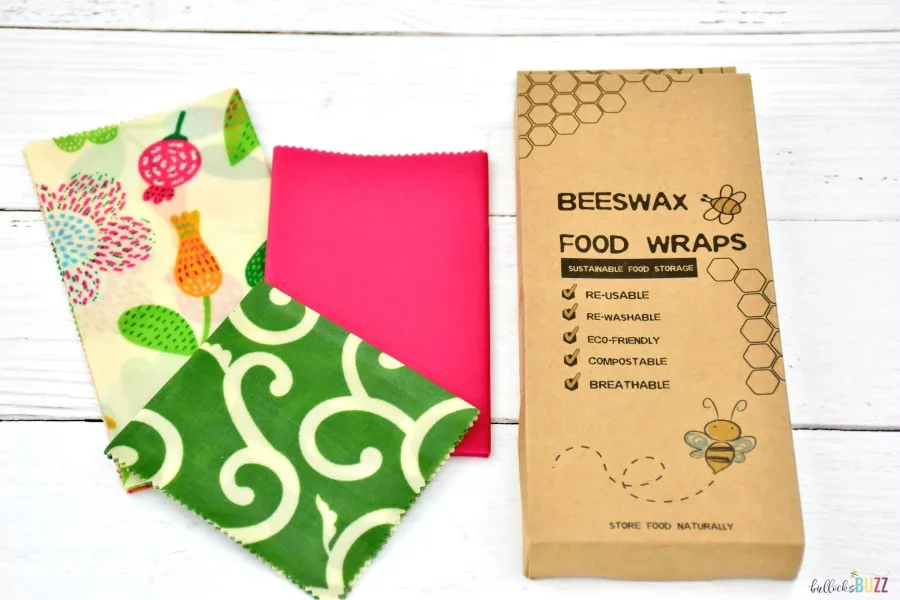 Using the Wraps
The wraps are a bit stiff but they are still foldable and easily moldable. You simply use the warmth from your hands to help it assume the desired shape, then as it cools back down a seal is formed. Since your body heat makes the wax mixture pliable, you can easily press it around the rim of a glass or metal container to form a tight seal. You can also wrap it around, say, a sandwich or half an apple, or fold it into a "baggie" to fill with chips, pretzels or other tasty snacks.
The very first time I used a beeswax wrap, one of the first things I noticed was the stiffness and slightly tacky feel. This is 100% normal. As you continue to use the wrap, that stiffness will lessen a bit, although the tackiness remains. Of course, you want that tackiness as it's what helps the wrap stick so well to containers.
I was also fully expecting the wrap to come loose from the bowl. However, after a few seconds of molding, it formed a nice, tight seal that did not come loose. I loved it!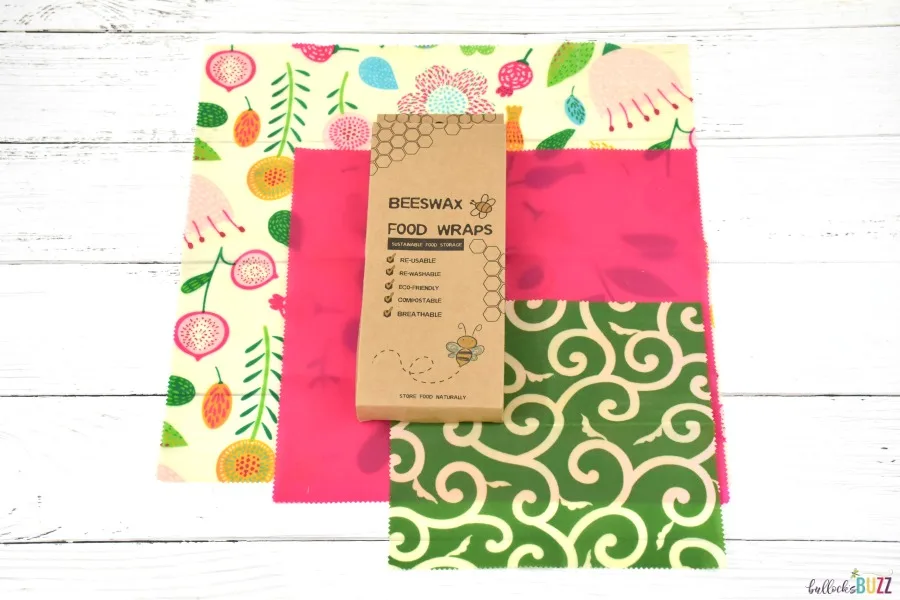 Samer Beeswax Wraps
While there are many beeswax food wraps on the market, my favorite is the ones made by Samer. Their wraps are made from FDA-approved and certified organic cotton, along with beeswax, jojoba oil, and tree resin that are all non-GMO and pesticide-free.
Even their packaging is 100% recycled cellulose which makes the entire product environmentally friendly, compostable, non-toxic, and completely harmless to you, your family, and our planet.
In addition, Samer Beeswax Wraps have two unique qualities that set them apart from others. One, their beeswax wraps are bright and colorful which makes them extra fun and chic. And two, the edges of the wraps are serrated which makes them extra easy to unwrap and use – especially for children.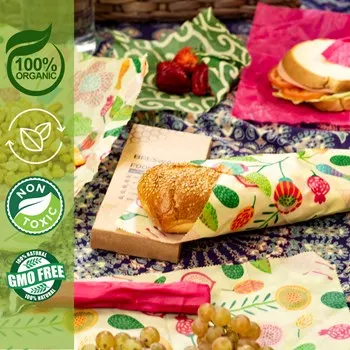 Samer Beeswax Wrap Sizes
Samer's Beeswax Wraps are sold in sets of three, and each set comes with a small, a medium, and a large wrap. You can purchase a 3-Pack (1 set of wraps), a 6-Pack (2 sets) or a 9-Pack (3 sets).
The small wraps measure approximately 7″ x 8″ and are the perfect size for wrapping items such as sliced vegetables or fruits, a handful of pretzels or nuts, or to cover the top of a glass.
The medium wraps measure 10″ x 11″ and work well for things like half a head of lettuce, baked goods, or covering a bowl of popcorn.
The large wraps are around 13″ x 14″ and are great for wrapping items like whole sandwiches, uncut vegetables like celery, and for covering mixing bowls and cake pans.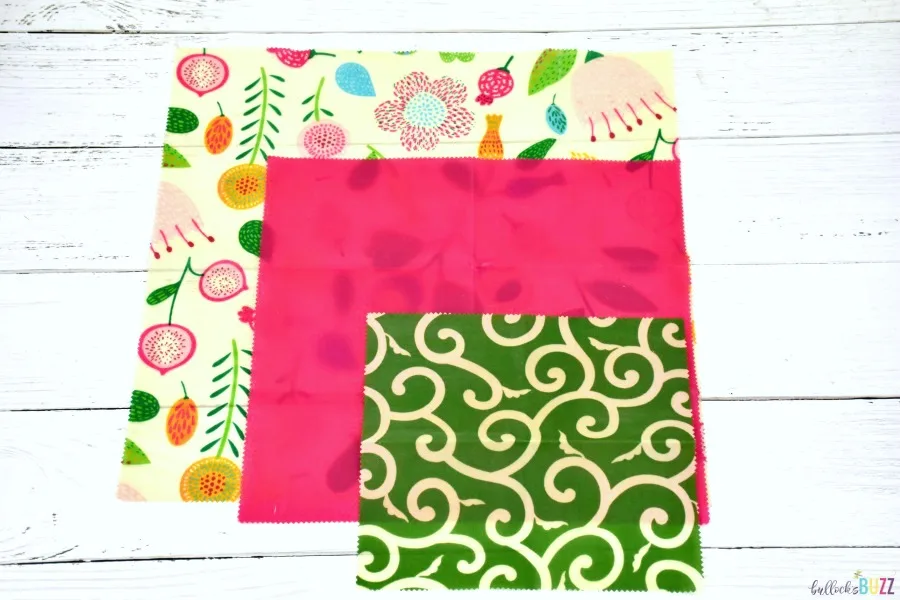 Something else I like about Samer's wraps is that each size has its own pattern so you can easily distinguish which one is which when the wraps are folded up and stored in a drawer or on a shelf. Plus they send you instructions on how to work with them and how to care for them.
Best of all, Samer offers a guarantee: love your wraps or they will buy them back.
Samer Beeswax Wraps Review
I ordered my Samer Beeswax Wraps off Amazon, and have been using them for several weeks now. They arrived quickly and came with clear instructions on using and cleaning.
The first thing I tried them out on was a glass bowl of strawberries, and they worked great! No matter how many times I removed the bowl from the fridge, opened it to get some strawberries, then resealed it and stuck it back in the fridge, the beeswax wrap held its form – and seal – perfectly.
I have also noticed that they tend to keep the food fresher longer than plastic wrap, foil or plastic storage containers do.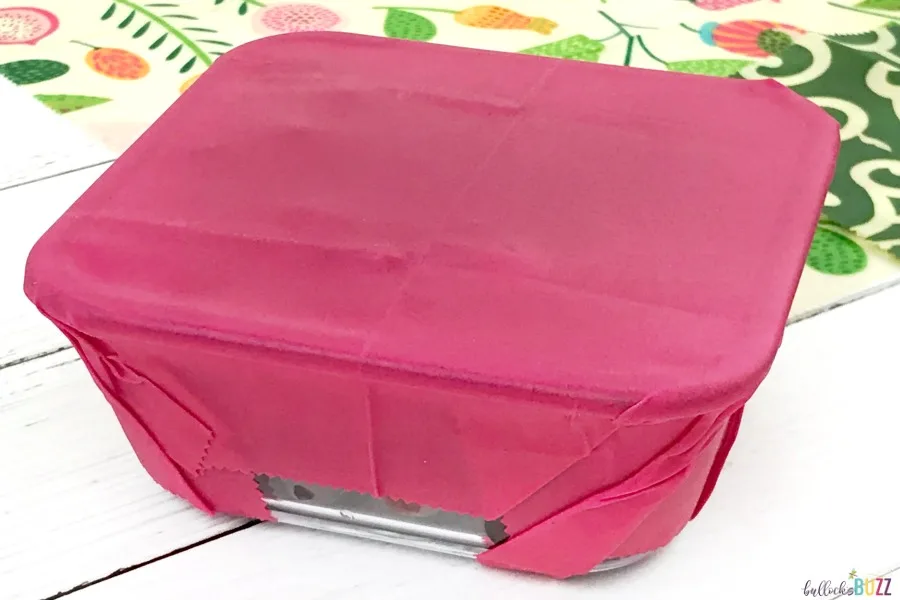 After several weeks of use and washing, they are still holding their form well no matter the shape of the container. Plus I love that I no longer have to reach for wrap only to discover I've run out. My beeswax wraps are always here.
All in all, I absolutely love using these beeswax wraps from Samer! You can find them on Amazon with free Prime shipping!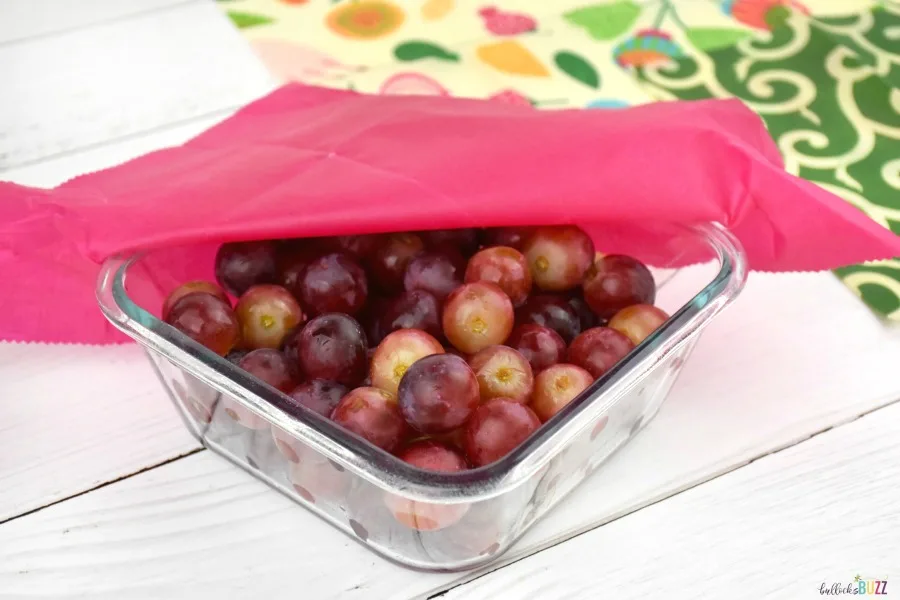 How to Care for Reusable Beeswax Wraps
While the lifespan of your wraps depends on how often you use them and how well you look after them, on average, most wraps last from six months to a year. With a little bit of care, your beeswax food wraps will last you quite a while. Here are some tips on how to care for reusable beeswax wraps.
1. Avoid Heat
With beeswax wraps, you want to avoid anything warm or hot. That means no microwaving, baking or even covering leftovers before they have cooled to room temperature. It also means no washing the wraps in hot water or the dishwasher. This is because warm or hot temperatures will cause the wax to begin pulling away from the cotton and will also cause it to begin cracking and crumbling.
2. Cleaning Beeswax Wraps
Washing reusable beeswax food wraps is as easy as pie. Simply clean with cool water and mild dish soap then hang to let air dry. Again, avoid washing your beeswax reusable wraps with warm or hot water.
3. Storing Beeswax Wraps
Store your beeswax food wraps in a dry, cool place away from anything warm like a microwave, stovetop, oven or dishwasher. You can store them in the refrigerator, cabinet, panty or a drawer. When I first started using beeswax food wraps, I kept them in a basket on the counter until it became a habit to use them. Then I moved them to a drawer where I keep them until I use them.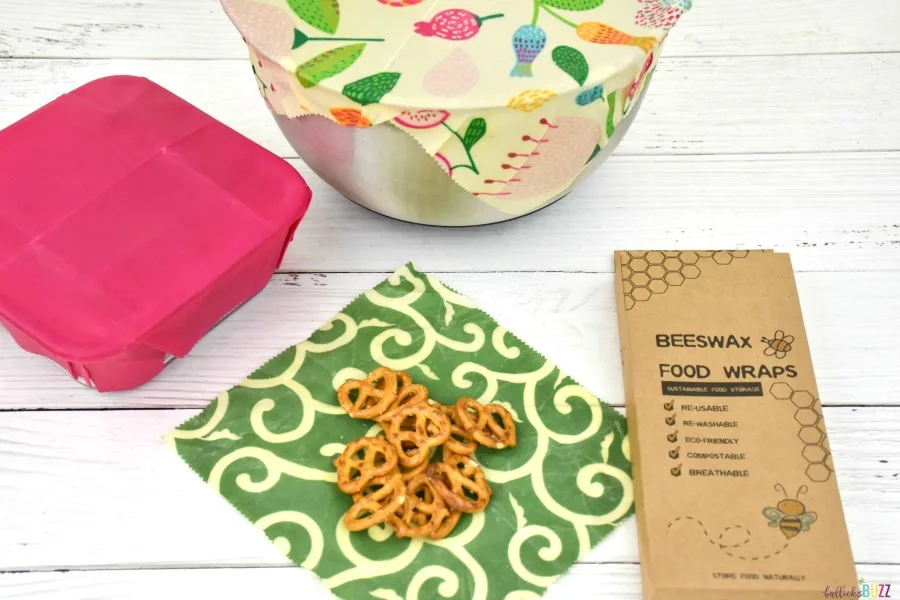 Beeswax Wraps: Common Questions
Friends and family have asked a lot of questions since I started using beeswax food wraps. Here are a few of the most common ones that I hope will answer any you may have as well. However, if you have a question I didn't cover here, feel free to leave a comment below or email me (find my email on my About Me page) and I'll do my best to answer it.
What Can Wraps Be Used For?
Beeswax wraps can be used for many things. I use them to wrap fruit and veggies, fresh herbs, cheese, sandwiches, a half loaf of bread, brownies, and even pretzels and nuts for a snack on the go.
I have also used them to cover bowls and plates. And last week I packed my husband a lunch in beeswax wraps to take to work.
Some foods that you DO NOT want to use them with include raw meats, uncooked seafood, and other similar items. Beeswax wraps should also not be used to wrap meat (raw or cooked) that is not in a bowl or on a plate. This is because you cannot wash them with hot water to ensure they get completely clean. And again, avoid wrapping anything warm or hot.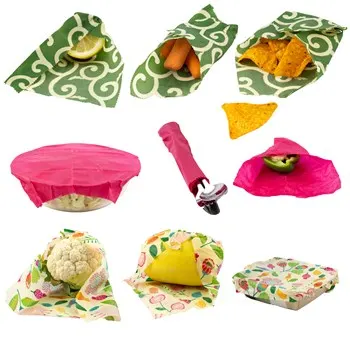 Do reusable beeswax wraps leave a residue?
Beeswax wraps will leave a bit of residue on the container, but it's not excessive and it comes right off with warm, soapy water. Besides, it's simply natural beeswax and oil, which in my opinion, is much better compared to using plastics containing harmful chemicals!
Can you freeze beeswax food wraps?
Yes! Beeswax wraps can keep food fresh in the freezer for about 2-3 weeks. Just remember, since the wraps are naturally breathable, you should check on your food at this time to ensure its freshness.
I've used mine to freeze baked goods and even pizza dough with zero problems – no freezer burn, no change in taste.
Can you revive beeswax food wraps?
I had to look this one up, but believe it or not, yes, you can revive or refresh your wraps. Although I have not tried it, it seems the process involves either heating it in the oven on low heat or placing it between two sheets of baking paper and ironing to melt the wax back to a smooth state. Google it for complete instructions.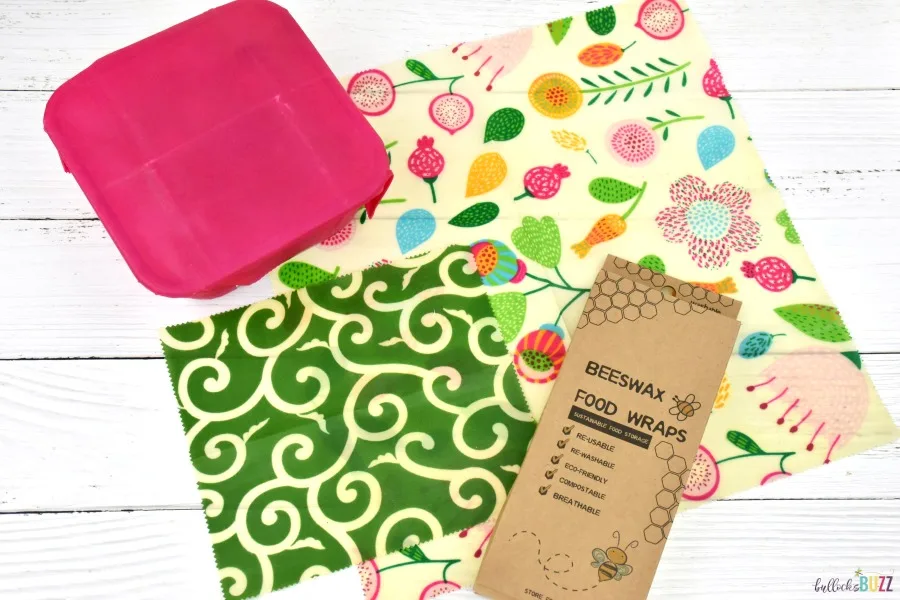 What Can I Do with Old Wraps?
Don't throw the wraps away once you are ready to get some more. Instead, get creative! Here are just a few ideas of what to do with worn-out wraps:
Use them as a food holder when eating out (for example, to hold a taco instead of using a napkin).
A pretty way to present a bouquet of flowers or herbs.
Use them to roll out your baking dough.
As storage for items when traveling.
To cover items in the freezer.
To store seeds and sprouted seedlings for easy, biodegradable transportation.
Cut-out the patterns or cut into shapes that the kids can use to make collages or other artwork.
Cut them into strips and use them as kindling.
Once you are completely finished with them, cut the wraps into strips and add them to your compost pile. This way the wraps return to nature instead of a landfill.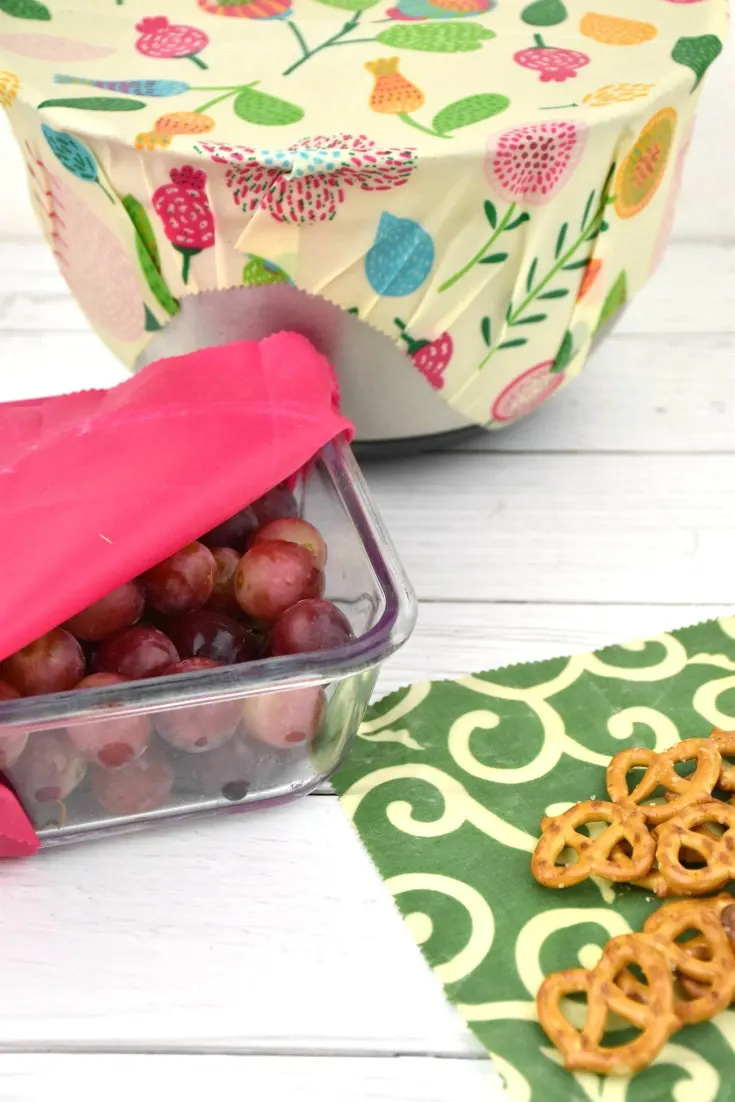 In Conclusion
There's been a lot of buzz about using beeswax wraps instead of single-use plastics, and it's easy to see why! After all, beeswax food wraps offer all of the positives of plastic-wrap without any of the negative consequences. These wraps are all-natural, eco-friendly, malleable, reusable, compostable, and more – all while helping to keep your food fresher for longer. Best of all, they don't harm our planet or pose problems for wildlife.
So if you're looking for more ways to go green and to do your part to help reduce the number of single-use plastics in the world today, then give Samer Beeswax Wraps a try. You'll not only help save our planet and wildlife, but you'll save a pretty penny, too, as these wraps can be used up to six months to a year. Give them a try. I think you'll fall in love with them just as I did.