Whether it's a quick ride to the store or a road trip across the country, it's always fun to bring your furry companion along for the ride. But it can often be a pain, too. After all, no cars are designed with your dog's safety or comfort in mind. From ensuring you and your dog's safety to keeping your car seats clean, here are some top picks for the best dog car accessories around.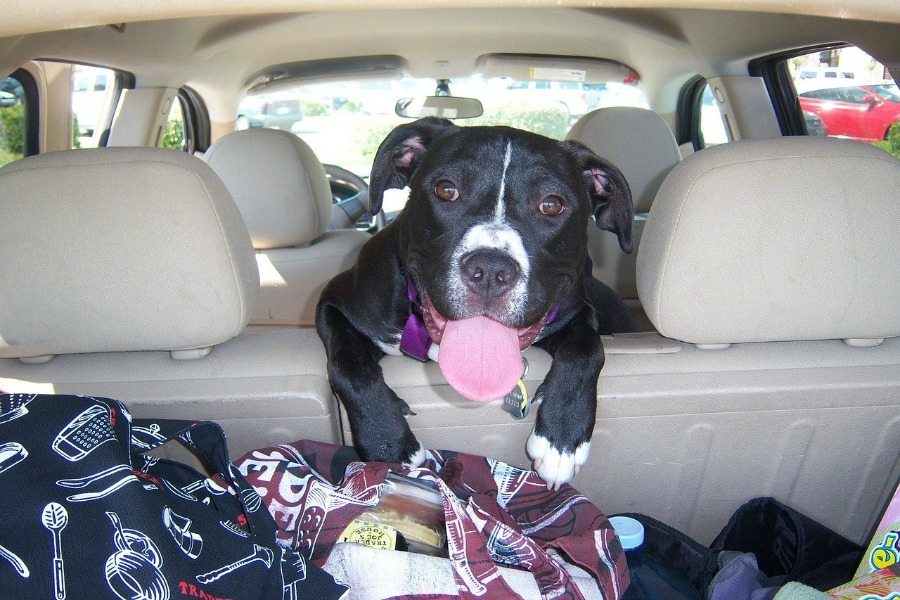 1. Dog Safety
Safety is paramount while driving or riding in a car. And allowing your dog to roam free inside the car is not only dangerous, but it's also dumb. A car crash can happen in the blink of an eye, and an unrestrained animal can spell disaster for your pet and even for yourself. In fact, many states now have laws regarding pet travel safety. So keep your pup safe with a high-quality restraint accessory.
There are many options for keeping your pet safe while riding in the car. Some of the most popular options include:
Dog seatbelts.
Harnesses that work with your car's seat belts.
Doggy Car Seats and Booster Seats.
Seat hammocks – these incredibly versatile dog car accessory not only keeps Fido safe, but they also act as seat protectors, organizers, and beds
Ziplines that use a utility hook that attaches to your dog's harness and then to a line in the car.
Pet barriers (these work best when used in conjunction with a harness, tether or other pet safety item.)
While there are tons of dog harnesses and dog seat belts, not all are proven to be 100% effective. In fact, one study by the Center for Pet Safety and Subura tested many popular car pet restraints and found serious flaws with many of them. Of all the restraints tested, only the Sleepypod Clickit Utility provided adequate protection to the dog and the passengers of the vehicle. So make sure you do plenty of research before selecting one for your dog.
2. Dog Car Seat Covers
It's happened to all of us animal owners: one minute our car is perfectly clean, and the next it's covered in fur. Especially if you ride with the windows down! The solution? Cover your seats.
Animal seat covers come in a variety of colors, shapes, sizes, and materials. Most high-quality covers will not only protect your upholstery from fur, but also from scratches, tears, bites, and accidental puddles.
Most car seat covers clip around the rear headrests and then tuck underneath the seat's edge for a snug fit. They are lightweight and easy to clean. You can also purchase custom-fitted seat covers from your vehicle's manufacturer. These covers fit your seats like a glove and do a good job of trapping the fur so that it doesn't fly around in the air too much.
If you have a hatchback, station wagon, or SUVs, you could also place durable, washable rubber mats in the cargo area to protect the carpet.
3. Pet Ramp or Stairs
While getting in and out of a car is easy for us humans, that's not always the case for dogs. Especially if you have a larger SUV, but a smaller PUP. For pets that are too small to jump, too big to be lifted into the car, or too old to jump on their own, pet ramps or stairs are essential dog car accessories. Pet stairs and ramps also save us, pet parents, the backbreaking work of having to lift reluctant or scared dogs into the car.
4. Pet Travel Organizer Bag
What better way to keep all of your dog supplies together than a configurable dog travel bag. These handy little bags ensure your pup always has access to his favorite treats, chew toys, and food. You can find specially made ones or just use an old tote bag you have laying around the house.
5. Car Door Protectors
It's pretty safe to say that almost all dogs love looking out car windows, but the majority of car owners do not love cleaning the car doors and windows after every ride. Protect your car doors from claws, muddy paws, and gallons of drool with a removable and washable car door protector. While you'll still have to clean the windows, at least the Windex is cheap.
6. Travel Water Bowl
Just as we humans have to stop for a snack and potty breaks on long car rides, so do our four-legged friends. A portable, foldable water bowl that collapses to fit in your bag or even a pocket makes it easy to keep your pup well-hydrated and full of slobber.
7. Dog Travel Kit
I've shared the importance of keeping a car emergency kit with you before, but this particular one is for the dogs – literally. Keep a small travel kit stocked up with emergency supplies for your dog in case you ever get stranded, stuck in traffic, or in an accident. Some things to include would be any needed medications, food, a bottle of water, a bag of favorite treats, doggy bags, a couple of toys, and a blanket.
You should also include a small kit of basic first aid supplies including anything that would be normally included in a human first aid kit.
8. Portable Dog Potty
When a grassy area isn't readily available, a portable dog potty is a perfect solution. Dog toilets are great alternatives to pee pads and they are designed to be used with more frequency, last longer, and save you more money. Think of these potties as cat litter boxes for dogs – minus the litter – that are available in several different options and designs.
In Conclusion
These days as more and more people are updating their cars to accommodate their four-legged furry family members, more products are appearing on the market to provide your dog with a comfortable place to sit while also ensuring that you and your dog remain safe.
Need help choosing the right dog barrier, seat protector, or another type of car dog accessory for those upcoming road trips with your four-legged family member? Most dealerships, like Reedman Toll Subaru in Exton, PA, can help you find the accessories that will work with your particular make and model.