Safety is one of the most important factors when it comes to driving. We want to ensure that our family and passengers, as well as other drivers on the road, are not injured. And when it comes to driving with pets, we also want to make sure we keep them safe. And the best way to do that is by using one or more of the following pet travel accessories.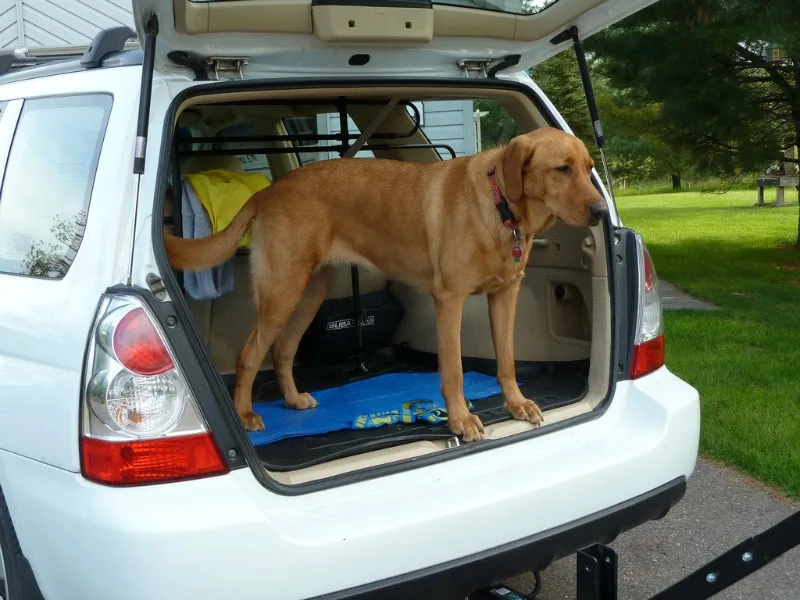 Image via Flickr
Although most people are not aware of it, many states actually have some type of law – or laws – regulating pet travel in cars. Some states such as Hawaii, Connecticut, Illinois, and Maine ban motorists from driving with their pets in their laps. Others are currently debating a law that would require pets to wear seatbelts.
Driving with Pets: Products to Keep Everyone Safe
When traveling safely with pets, the concern is not only for your pets' safety but also for your own. According to Barkbuckleup.com, a 60-lb dog traveling at 35 mph can turn into a 2,700-pound projectile in an accident!
So whether you are hitting the road for a final summer vacation or simply heading to the vet, consider using one or more of the following pet travel accessories to keep everyone safe when driving with pets.
Pet Barriers
These are often a mesh or fabric barrier that adjusts to fit between the front and passenger seat of your car. They are ideal for wagons, minivans, or SUVs. A barrier gives your pet room to move while keeping them safely contained in the back seat or rear cargo area.
Pet barriers are available in a variety of sizes and styles. Most work best when used in conjunction with another pet safety item.
If you aren't sure about what the best barrier for your specific make and model, ask your dealer. Many car dealerships, such as carry all sort of accessories for cars or, at the very least, they can point you in the right direction to finding the ones that will work best in your vehicle.
Harness/restraint/seatbelt
Another way to protect your furry family members is by using a pet harness or restraint when driving with pets. These also come in a variety of styles ranging from a leash and zipline combo to carabiners that attach to the webbing of your car's seatbelt and your pet's harness.
Harnesses and restraints are designed to allow your pet to sit or lie down on their own while keeping them restrained in an accident. Look for well-made restraints that fit your dog or cat properly to ensure the restraint does its job properly.
Pet Car Seat and Booster
Pet car seats are exactly what they sound like – a car seat designed to safely secure your pet. The majority are ideal for smaller dogs and cats. Most are buckled in using your vehicle's seat belts, and then your pet's harness or collar attaches to the clip inside the seat.
Some are similar to a child's booster seat. Some can fit in either the front or back seat of your car. Whichever one you choose, make sure you pick a size that fits the dimensions of your pet.
Pet Crates and Carriers
When driving with pets, keep them safe and secure in a well-ventilated crate or carrier. Crates and carriers come is a large variety of sizes, styles, and designs. Whichever you choose, make sure it's large enough for your pet to stand, sit, lie down and turn around in.
One of my favorites is the Pet Gear Signature Pet Car Seat & Carrier. This carrier attaches to any car seat belt and becomes a pet carrier once you've reached your destination. Your pet's harness or collar clips to the carrier's interior tether for additional security and safety as you drive.
Make sure that your pet's carrier is fastened to the vehicle at all times while driving to prevent the carrier from moving or being thrown forward into the front seat. Pro tip: get your pet used to the carrier in the comfort of your home before your trip.
Final Thoughts
Not securing your pet when driving can lead to catastrophe. There are lots of companies that make products to make driving with pets safer. All of the above items can be found in pet stores or big box outlets, as well as online from your favorite pet suppliers. And remember, never leave your pet alone in the car for any amount of time – especially on a hot day.