These soft and moist Red Velvet Donuts are topped with a scrumptious chocolate ganache glaze that makes them absolutely delicious! Plus the vibrant red color and delectable chocolate flavor make these baked red velvet donuts the perfect Valentine's Day treat for your special someone!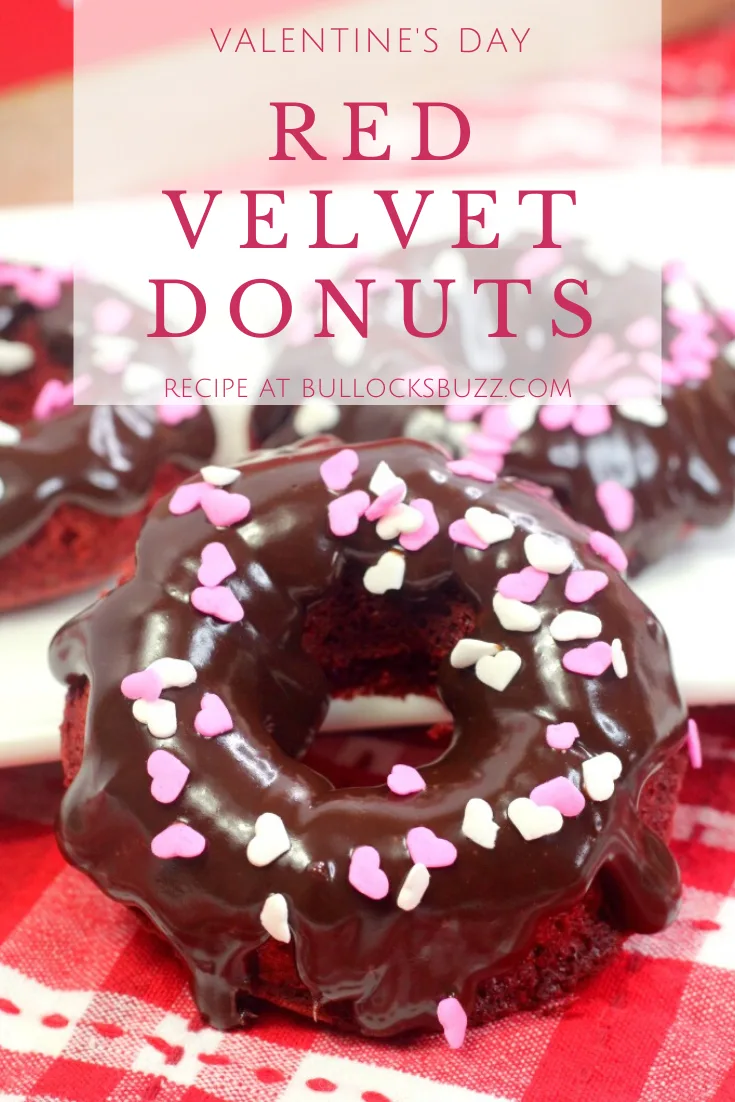 I've shared with you an easy recipe for baked donuts before, and they were delicious (have you made them, yet?), but this baked donut recipe is going to blow your mind simply because of two little words…
Red. Velvet.
If you like red velvet then you are going to love these donuts (and be sure to stick around, because I have another red velvet recipe I'll be sharing next week)! These Valentine's Day Red Velvet Donuts has a flavor like no other. They are slightly sweet and just a tad tangy. And the Godiva chocolate ganache glaze which gloriously crowns these baked donuts adds the perfect amount of rich, semi-sweet chocolaty-ness.
These red velvet doughnuts are also as pretty as they are delicious. And while they make a great treat for any time of the year, the gorgeous, rich red color and delectable chocolate flavor make them absolutely perfect for Valentine's Day.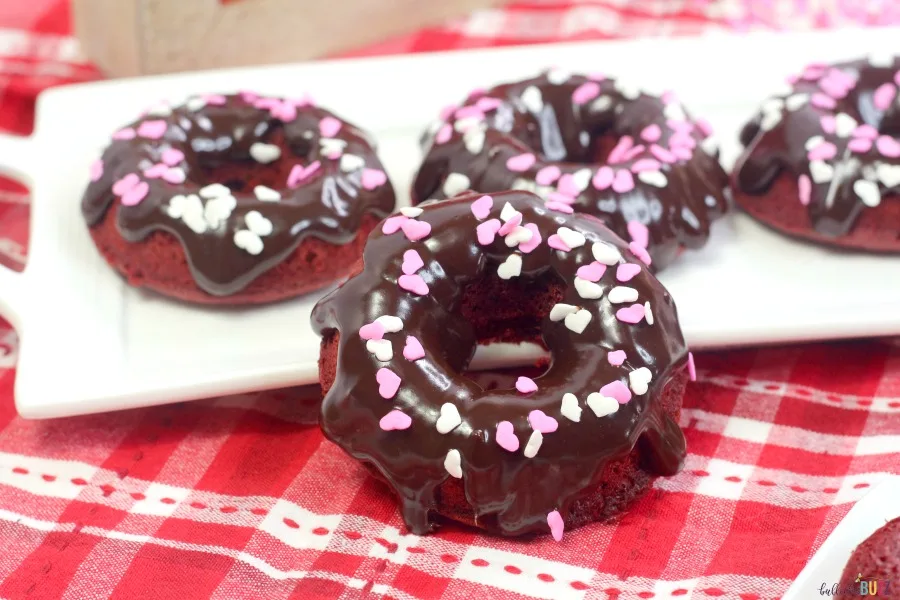 These fluffy, lightly sweetened and delicately tangy baked red velvet donuts topped with chocolate ganache glaze are the perfect treat for Valentine's Day breakfast! Or lunch… Or a snack… Or any time, really. You're gonna love 'em!
How To Make Red Velvet Donuts with Chocolate Ganache Glaze
These tender and moist Valentine's Day baked Red Velvet Donuts are super easy to make and you don't need lots of time to make them.
What You Need:
Disclosure: This blog post contains affiliate links for products or services I think you'll like. This means if you make a purchase from one of these links, Bullock's Buzz will make a small commission at no additional cost. I only share items that I use and love.
Kitchen Tools Needed:
Ingredients Needed to Make Red Velvet Donuts
The complete recipe is in the printable recipe card at the bottom of this post, but here is what you will need from the store for these Red Velvet Donuts. This recipe doesn't call for any hard-to-find or unusual ingredients.
unsweetened cocoa mix
white distilled vinegar
all-purpose flour
salt
baking soda
buttermilk
sugar
canola oil
egg
vanilla extract
red food coloring
Heavy Whipping Cream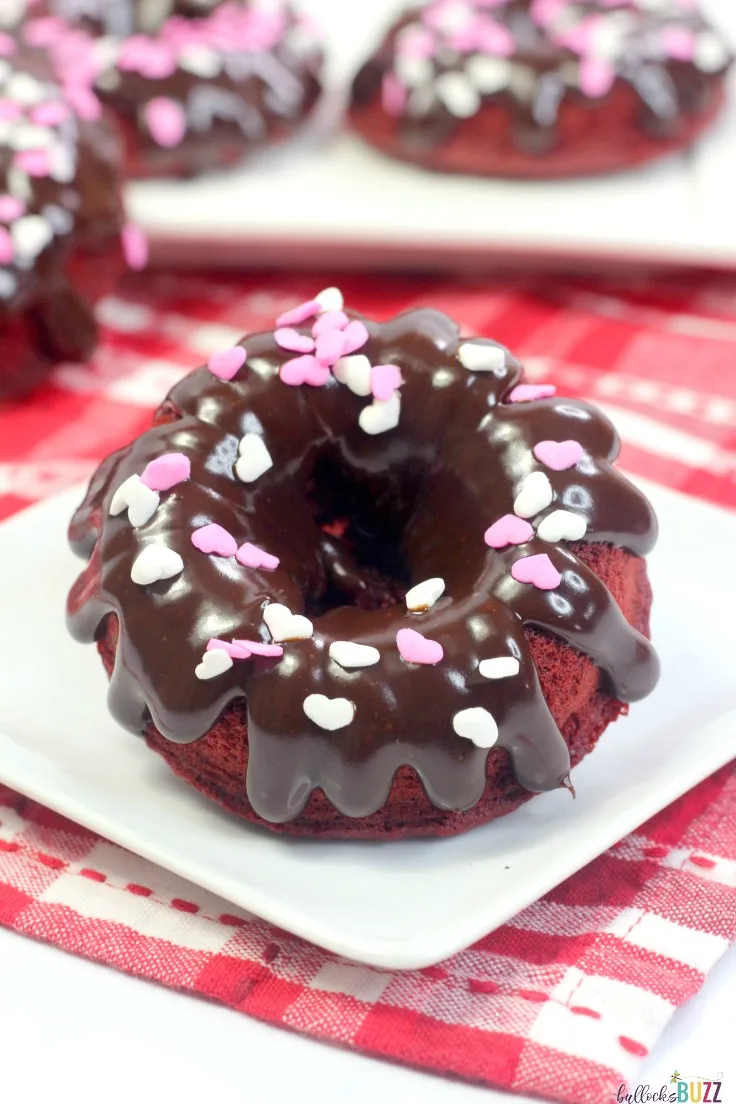 Tips For Making and Storing Valentine's Day Red Velvet Cupcakes
Here are some common questions, tips, and tricks about making and storing red velvet donuts.
Can You Make Valentine's Day Red Velvet Donuts Ahead of Time?
Yes! These baked red velvet donuts can be made a day or so ahead of time. Just don't glaze them until you're about ready to serve.
Can You Store Red Velvet Donuts?
You can store these red velvet donuts. However, just keep in mind that unlike fried donuts, baked donuts will start to fall apart as the glaze soaks in, so it's best to eat them quickly! However, if you have leftovers, you can store them in an airtight container on the counter for up to 2 days.
Red Velvet Donut Topping Ideas
Not a fan of chocolate ganache? Try using a cream cheese glaze instead. Or, you could try a vanilla glaze. This one from Alton Brown is my favorite!
You could also just sprinkle powdered sugar on top of your donuts and skip the chocolate ganache. Or add the powdered sugar on top of the chocolate. The possibilities are many!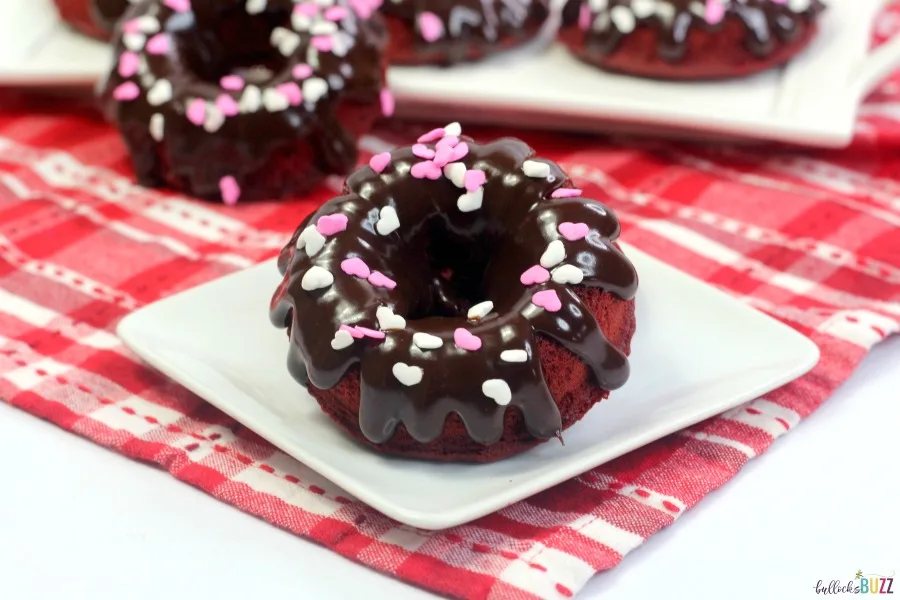 How to Make Chocolate Ganache
Chocolate ganache is amazingly delicious. And while the name may sound fancy and difficult, it's really not hard to make. Plus you only need two ingredients: heavy cream (or heavy whipping cream) and pure chocolate. Here are some tips and tricks to help if you've never made it before.
Chocolate Ganache Ingredient Tips
use a 1:1 ratio of cream to chocolate.
For the best tasting ganache, I prefer using semi-sweet chocolate.
Do not use chocolate chips because they will not melt into the best consistency.
The best chocolate to use is a pure chocolate baking bar, such as Ghirardelli or Bakers brands.
Only use heavy cream or heavy whipping cream. Do not use half-and-half, whole milk, or any other liquid as the ganache won't set up properly.
For a non-dairy alternative, use canned coconut milk.
Tips for Making Chocolate Ganache
A large serrated knife works best to chop the chocolate.
Chop the chocolate as fine as possible. The finer it is, the quicker it melts with the cream.
Warm the cream on the stove only. The microwave won't heat it evenly enough.
After you pour the warm heavy cream over the chopped chocolate, let it sit for a few minutes. The chocolate will soften and begin to melt which means no need to over-stir it.
Use real chocolate; cheap chocolate chips often result in a grainy ganache.
Use only a glass or metal bowl. Plastic bowls could melt or lead to a grainy or greasy ganache.
Use a small spatula or spoon, not a whisk, to stir the chocolate and warm the cream. Using a whisk allows air to get into the melting chocolate resulting in a greasy ganache.
Chocolate Ganache Troubleshooting
If the chocolate doesn't melt, either it wasn't chopped fine enough or the cream wasn't warm enough. Place the mixture into a double boiler OR place the glass bowl over a small saucepan of simmering water. Stir constantly over the indirect heat until it's smooth.
If the chocolate seized, it came into contact with water. Don't let even one single drop of water get into the bowl! This awesome article from The Spruce Eats explains how to fix it.
Ways to Use Chocolate Ganache
Use ganache right away for a fruit dip or drizzle it on top of cakes, pound cakes, ice cream, and so much more.
Wait and let the ganache cool completely (about 2 hours), then it can be scooped with a spoon, spread, or even piped with piping tips.
Make a whipped ganache (frosting consistency) by whipping completely cooled ganache on medium-high speed until it becomes light in color and fluffy in texture (about 4 minutes).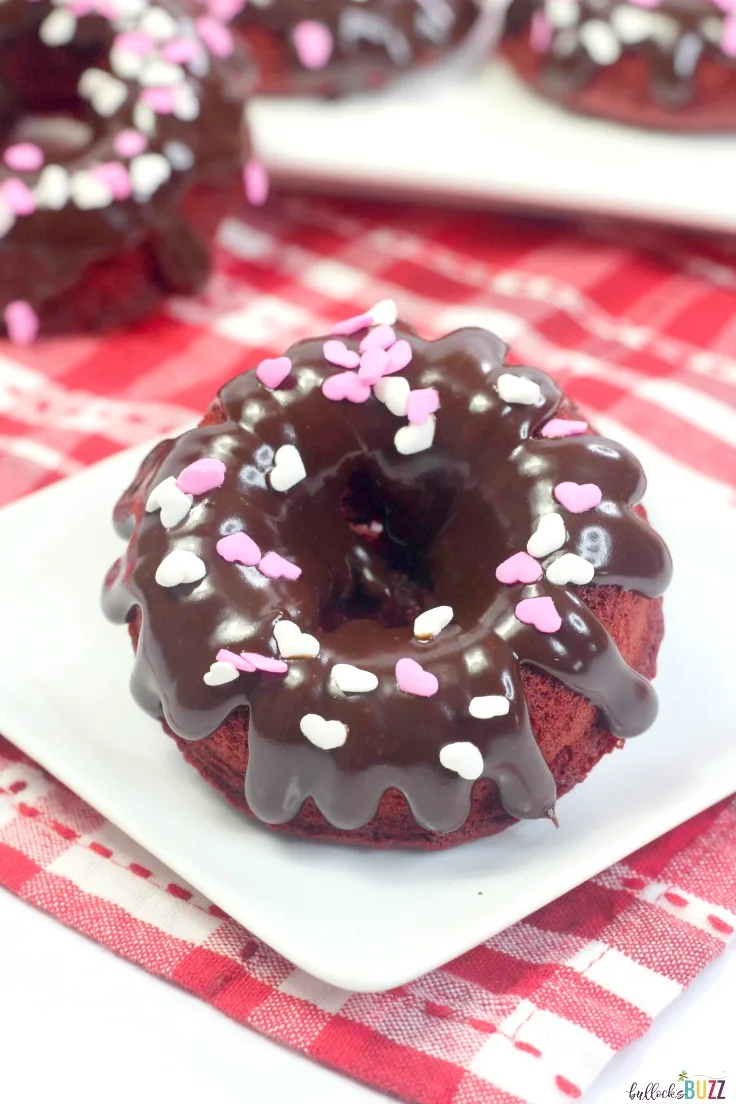 Yield: 12 donuts
Valentine's Day Red Velvet Donuts with Chocolate Ganache Glaze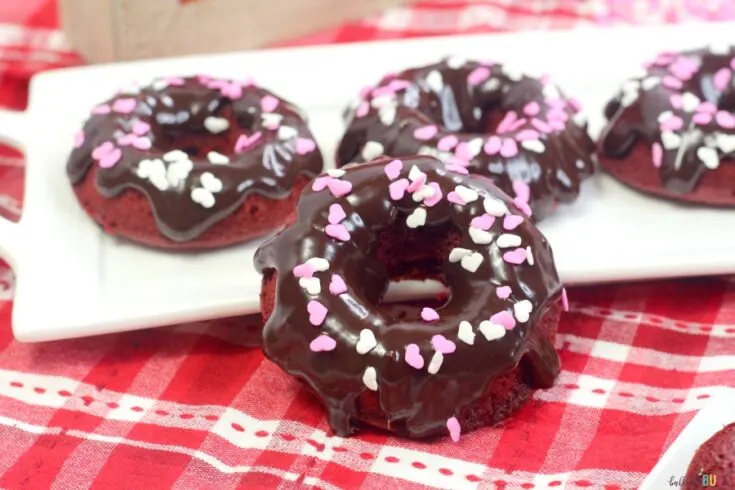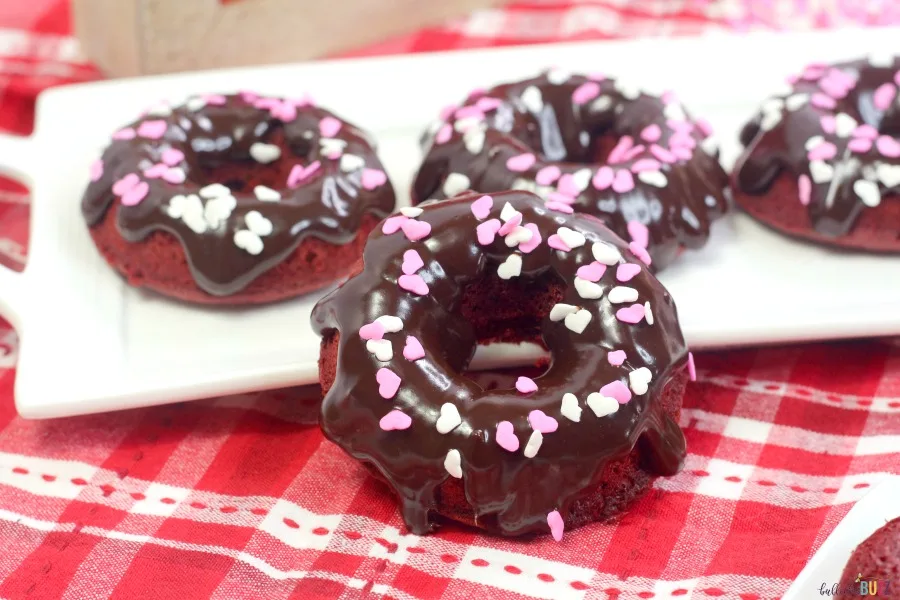 These soft and moist Red Velvet Donuts are topped with a scrumptious chocolate ganache glaze that makes them absolutely delicious!
Chocolate Ganache Prep and Cook Time
10 minutes
Ingredients
Red Velvet Donuts
1 ¼ cups all-purpose flour
¾ cups granulated sugar
1½ tsp unsweetened cocoa powder
½ tsp salt
½ tsp baking soda
½ cup buttermilk
½ cup canola or vegetable oil
1 large egg
½ tsp vanilla extract
½ tsp vinegar, white distilled
1-2 tbsp red food coloring
Valentine's Day Sprinkles pink and white hearts
Chocolate Ganache
2 4-ounce quality semi-sweet chocolate bars (113g each), finely chopped
1 cup heavy cream or heavy whipping cream
Instructions
Red Velvet Donuts
Preheat oven to 350° F. Generously coat 2 donut pans with baking spray; set aside.
In a large bowl, sift together flour, salt, baking soda, sugar, and cocoa. Whisk until well-combined. Set aside.
In a medium bowl, whisk together the egg, buttermilk, canola oil, vanilla, red food coloring, and vinegar until completely combined.
Slowly pour the wet ingredients into the dry ingredients, whisking together until all the clumps are gone. Do not to overmix - stop mixing once there are no longer any visible clumps. The batter will have a very heavy and wet texture. You can add more red food coloring at this stage to get a darker color if you want.
Spoon batter into an icing bag (or a large zip top bag with the corner cut out), and pipe the donut mix into the donut pan. Fill the donut wells about ½ full making sure not to overfill as they will fluff up a great deal.
Bake donuts in the oven for 10-12 minutes for large pans, or 5-7 minutes for mini-donut pans. Donuts are done when the tops spring back when touched.
Once finished, remove from the oven and allow donuts to cool in the pan for 5-10 minutes before carefully transferring to a wire rack to cool completely.
Chocolate Ganache
Place chopped chocolate in a medium heat-proof bowl. Using a small saucepan, heat up the heavy whipping cream until lightly boiling. (Do not let it come to a rapid boil– that's too hot!)
Pour over chocolate, then let it sit for 2-3 minutes to gently soften the chocolate.
With a metal spoon or small rubber spatula, very slowly stir until completely combined and chocolate has completely melted.
Putting It All Together
Pour the ganache over the donuts and let it sit for a few minutes before adding Valentine's Day sprinkles over the donuts.
Allow the finished donuts to sit for about 20 minutes before serving.
Notes
Donuts (especially baked ones) tend to have a shelf life of 1-2 days, so be sure to eat them while they're still good!
Nutrition Information:
Yield:
12
Serving Size:
1 doughnut
Amount Per Serving:
Calories:

356
Total Fat:

24g
Saturated Fat:

9g
Trans Fat:

1g
Unsaturated Fat:

13g
Cholesterol:

41mg
Sodium:

183mg
Carbohydrates:

36g
Fiber:

2g
Sugar:

24g
Protein:

4g
Nutritional information is automatically calculated with ingredients and serving size and may not be accurate. Please always double check with your own nutritional apps as well.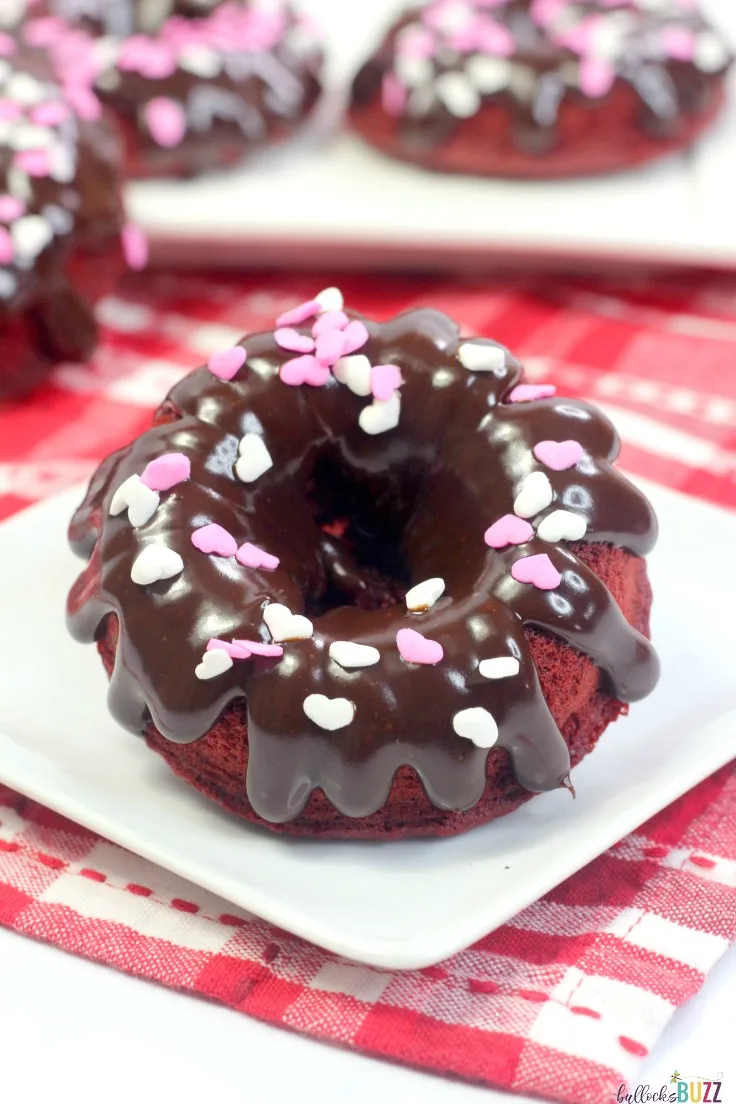 More Valentine's Day Recipes
If you liked this Valentine's Day Red Velvet Donut recipe, then I think you will love these other Valentine's Day recipes!