A Smiley360 Mission and Craft
Guess what time it is? It is time to share another awesome Smiley360 mission with you! For those of you who are not familiar with Smiley360, it is this fun site where you get to voice your opinions as a consumer, learn about and sample new products for free, meet new friends, power your social networks with tons of interesting information, and so much more! You can find out even more about Smiley360 by clicking HERE, and by reading some of my past Smiley360 posts. The latest mission I had the opportunity to participate in was the BIC Mark It™ Permanent Markers and their 36 Days of Spring Sweepstakes, and I have to admit, so far it has been my favorite Smiley360 mission!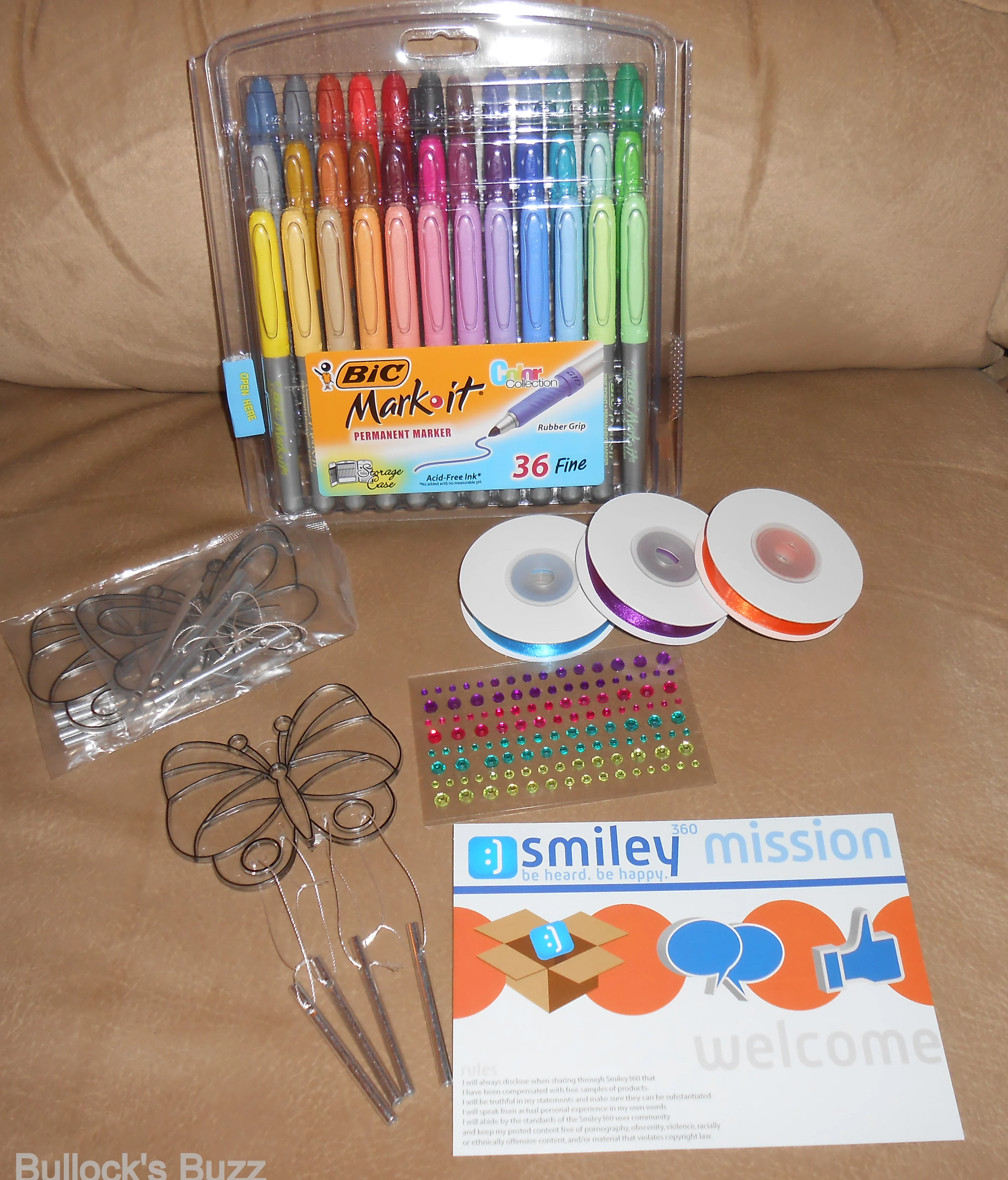 Participants in the BIC Mark-It™ mission not only received a set of BIC Mark-It Permanent Markers, but also the materials needed to create one of 3 offered crafts! I received the butterfly indoor wind chime craft kit which came with three different butterfly wind chimes to color, three rolls of colorful ribbon and a sheet of multicolored, self-adhesive sparkly gems.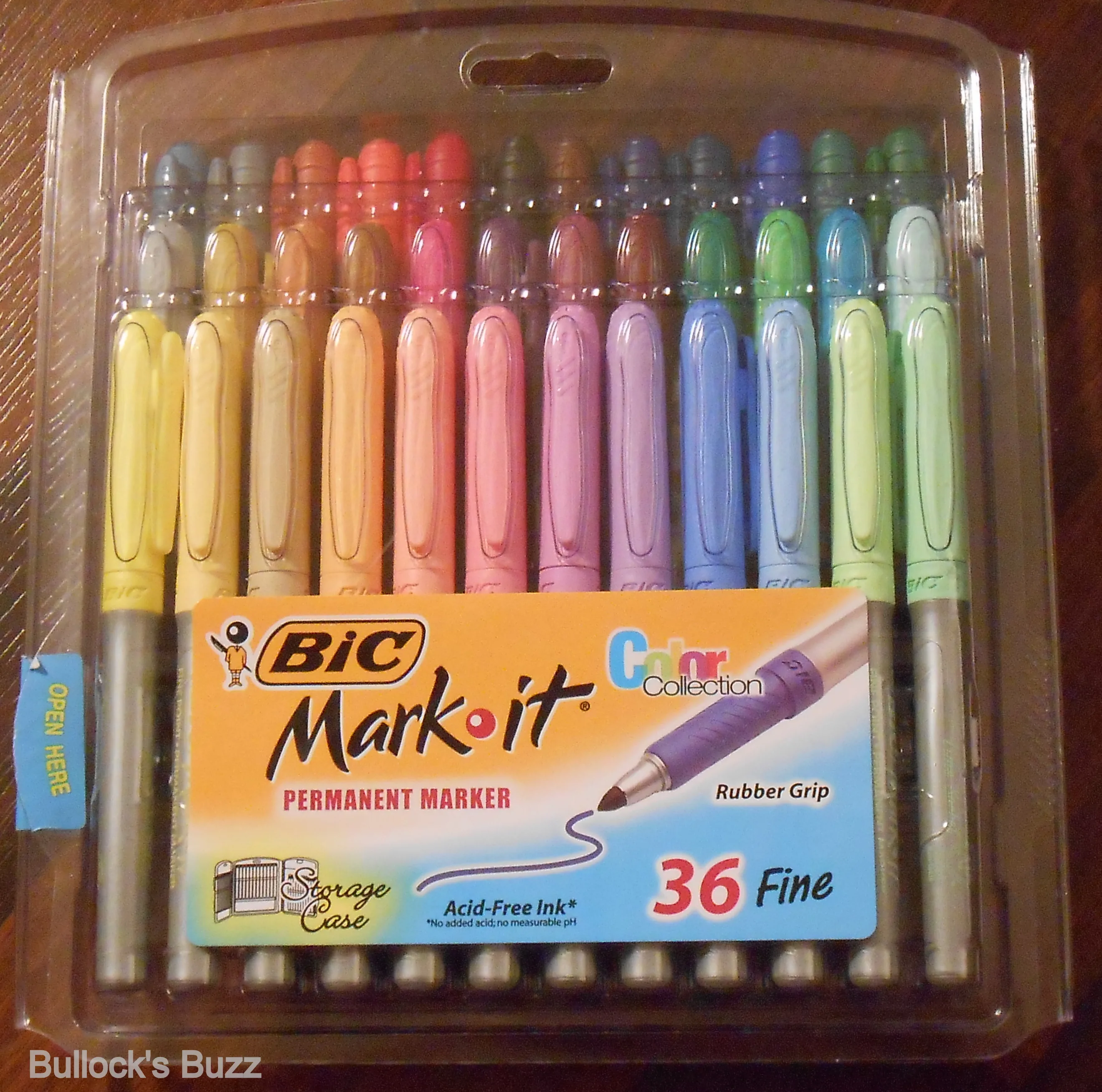 This incredible set of markers is unlike any permanent markers I have seen. Made by BIC, the set includes 36 colorful permanent markers in almost every shade of each primary color, from light pastels to deep jewel tones to brilliant bold colors! They come in a handy, three-fold storage case which not only makes keeping the collection together a cinch, but allows for easy storage. Each marker has a fine point which is perfect for small details, although coloring in large areas is pretty easy as well. They are the perfect size to fit comfortably in your hand, and have a rubber-coated grip to add cushioning and prevent slipping.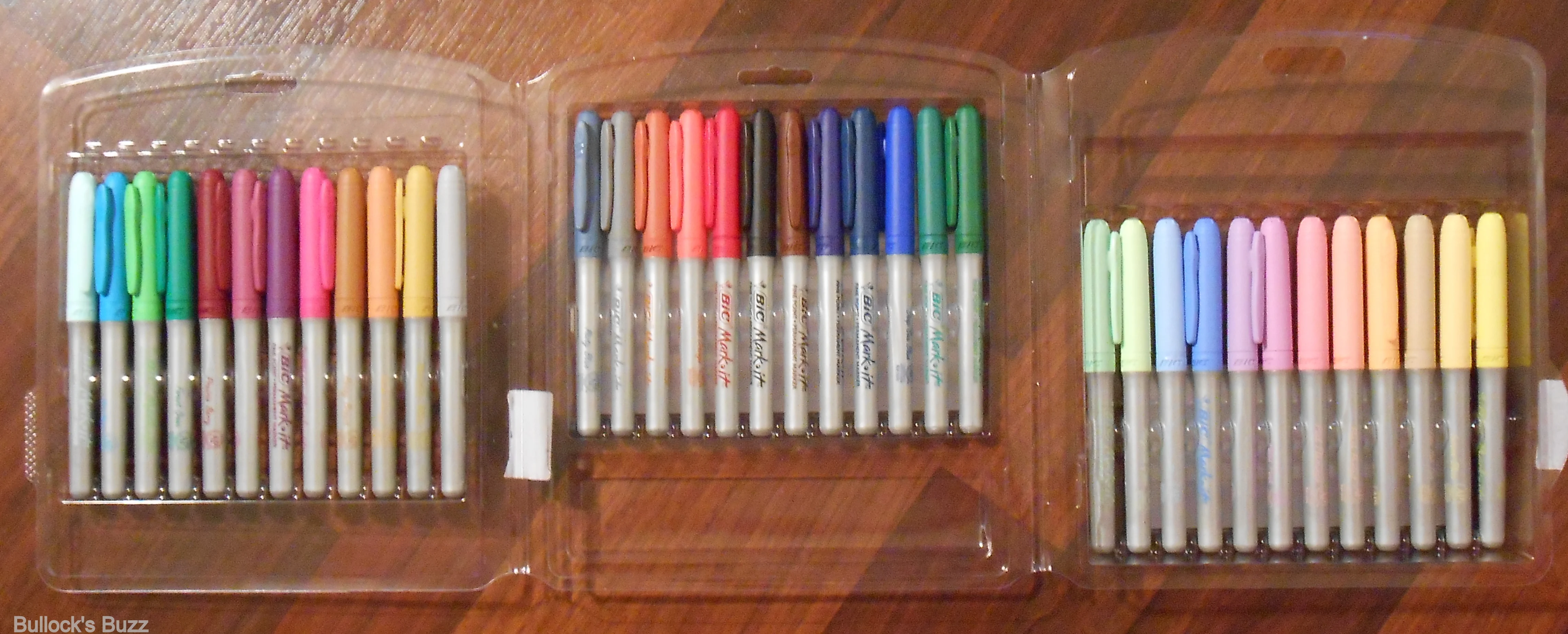 These permanent markers can be used on almost every surface imaginable including metal, plastic, glass, photos, foils, coated papers, and even oily and damp surfaces! The ink is acid-free, and the colors show up bold and bright, regardless of the medium you use. Naturally the fact that they can be used on such an awesome array of materials has my curiosity aroused, and I cannot wait to test it out, but for now, let me tell you about and show you my cute indoor wind chimes!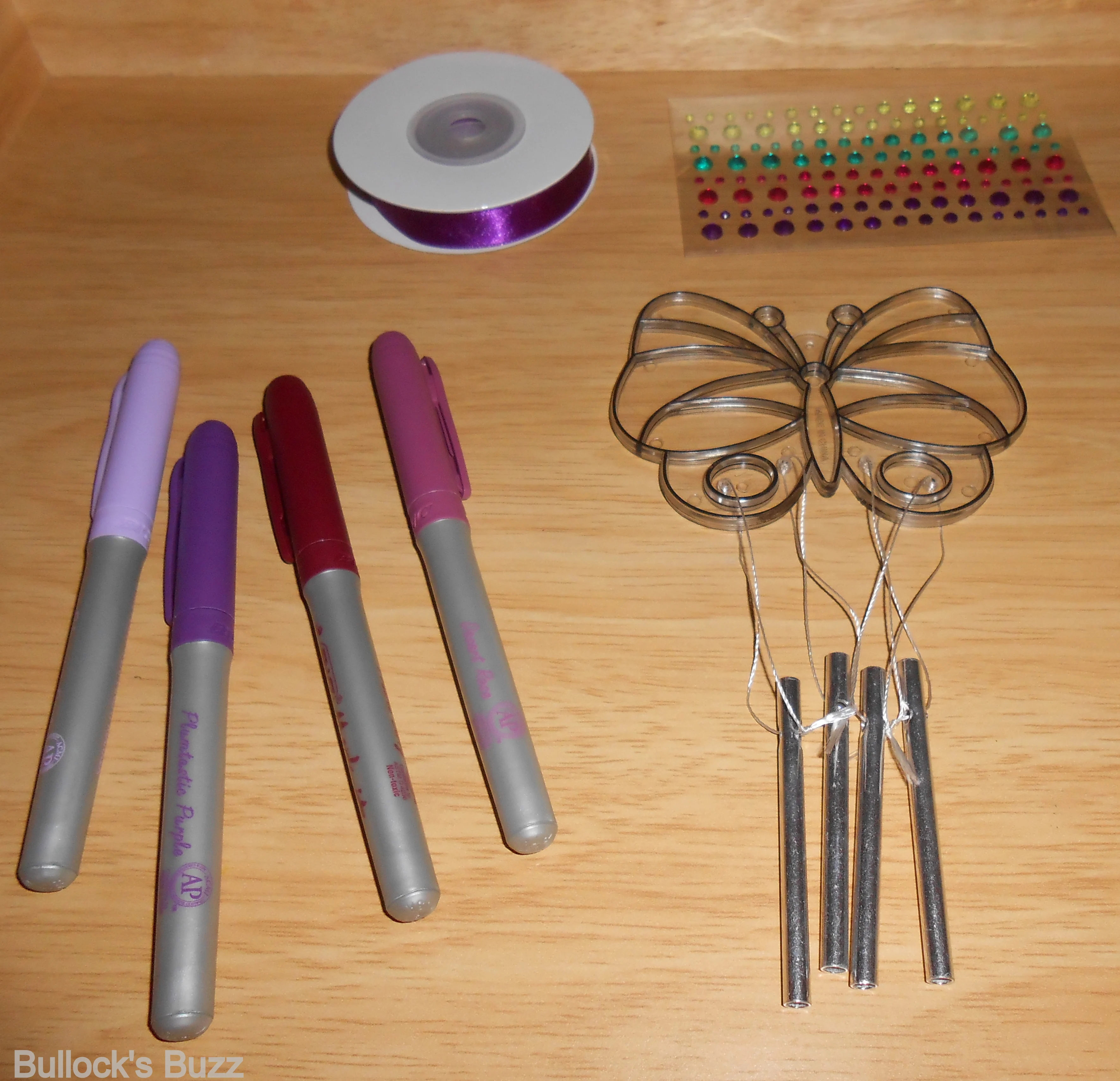 Each butterfly wind chime is made from a clear plastic, and each one is a different shaped butterfly. I was quite surprised at how well the markers worked on plastic! I have tried other markers on plastic before, and each time the ink either did not show up, or it faded away or it smeared all over the place or even came completely off, regardless of how long I let it dry. I did not have any of these problems with the BIC Mark-It collection! Every color I chose went on bright and bold, dried very quickly and stayed on without any smearing or wiping off.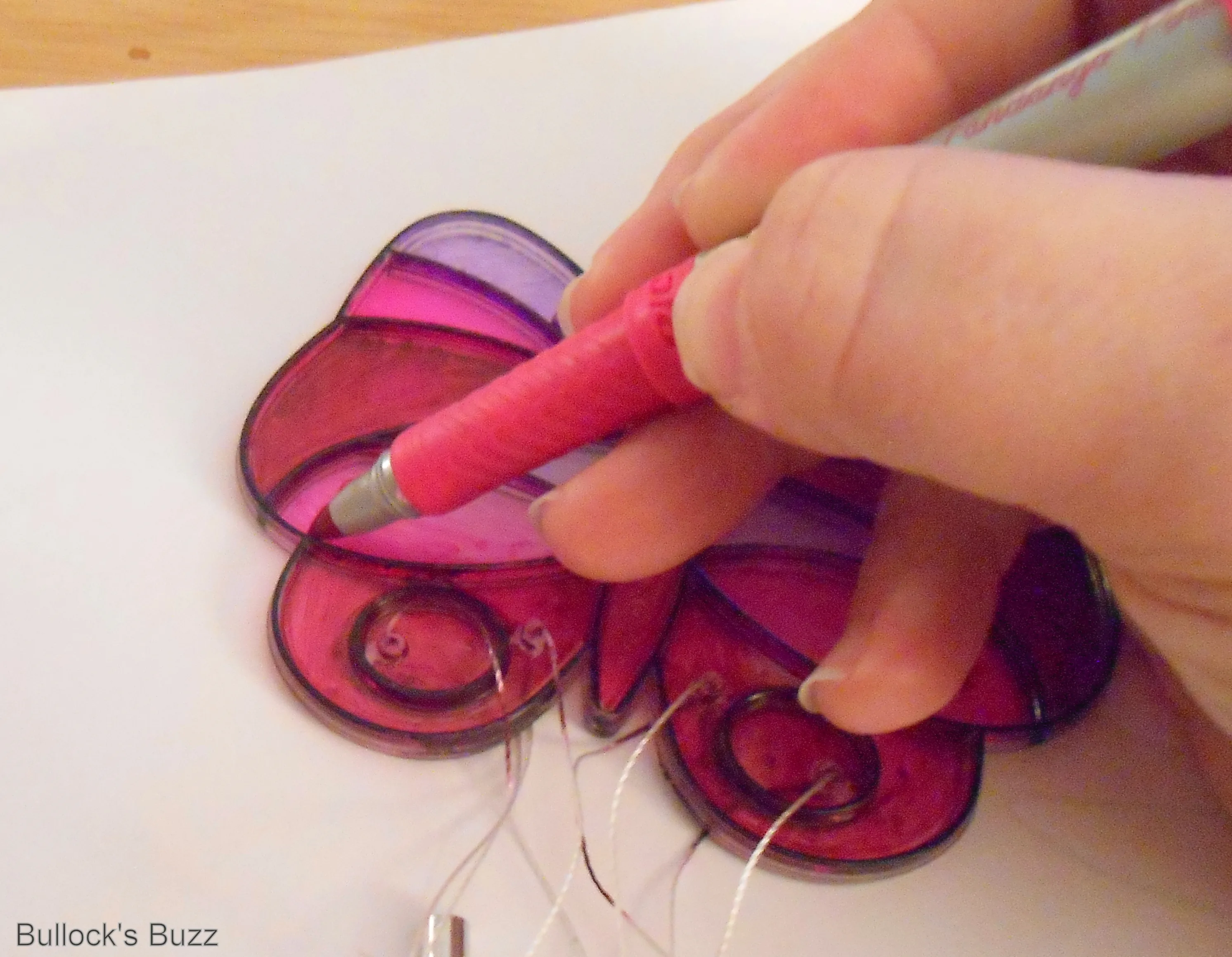 I did find that some of the very light colors were too hard to see on the clear plastic, so I opted for brighter, more jewel-tone colors. I also discovered that when you make one layer of color, it is best not to immediately go back over it or it will sort of move the first layer of color around a bit. Instead, wait about 10 to 15 seconds, then go back over with the second layer of color if you prefer and you will get a beautiful, deep and bold result.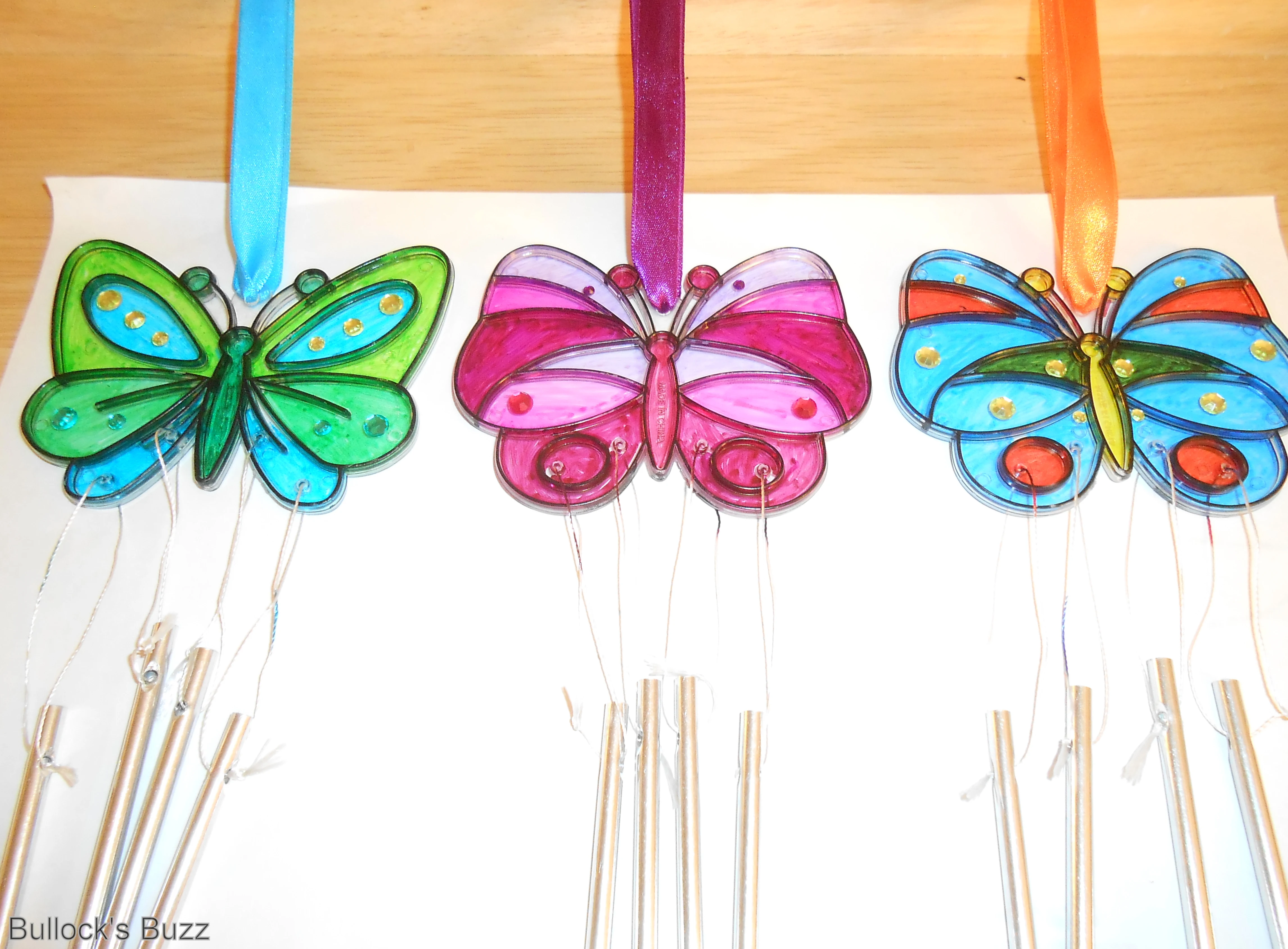 After the coloring came the application of some colorful, sparkling gems for that complementary bit of bling, and finally the threading of the ribbon through the pre-punched holes. I did have some trouble trying to thread the ribbon through the tiny holes, but eventually wound up using the point of my scissors to gently expand the width of the hole. After that, it was time to show them off! I love how they look when the early morning sun shines directly through them, and I am impressed with how much they resemble stained glass! The first day I they were completed, I hung them outside on the porch to see how they looked and listen to their light chiming!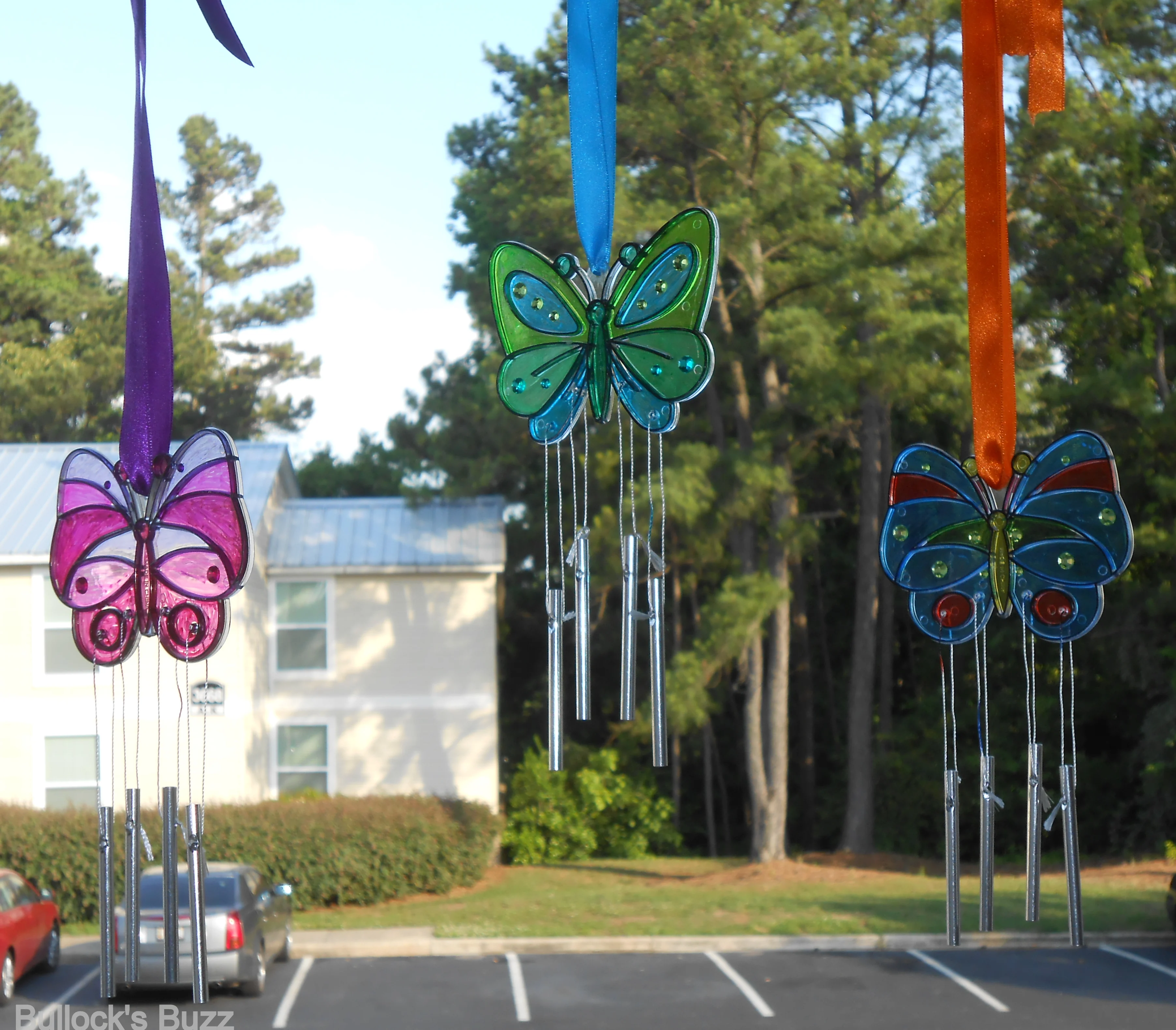 These markers and the creation of the butterfly wind chimes have really ignited my desire to be crafty! I am so excited to try them out on different materials and see how well they work! I cannot wait to share all of the projects I have planned! So be sure to check back for my next post using my new BIC markers!
SWEEPSTAKES TIME!
BIC Mark-It is hosting an awesome giveaway, The 36 Days of Spring, on their Facebook page! Each day they are celebrating Spring with a different color from the collection, and will have a color-inspired prize for that day. So there are a total of 36 different prizes you could win!
To enter visit BIC Mark-It on Facebook daily and follow the directions.
GOOD LUCK!
Be sure to check out the BIC Mark-It website for some great tips and incredibly cute craft ideas!