Whether you're an athlete, fitness enthusiast, or someone like me who is seeking relief from aching muscles and tension, Bob and Brad's T2 Massage Gun provides the ultimate relaxation and relief.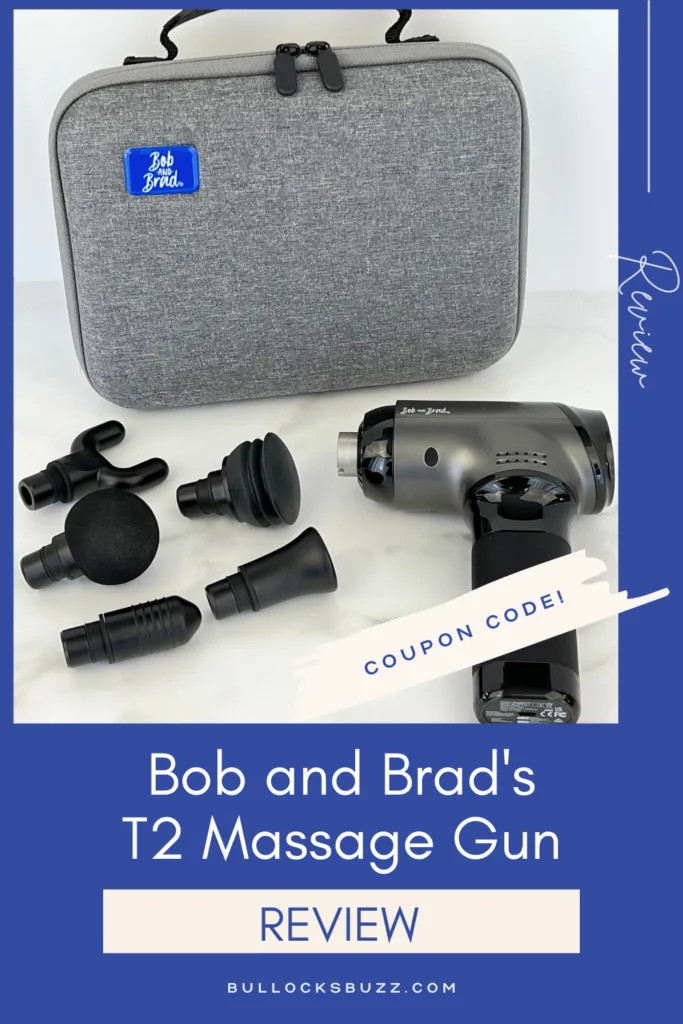 As a content creator, I spend hours hunched over my computer writing and editing, standing on my feet creating crafts and recipes, and taking photos. By the end of the day, my shoulders are beyond tense, and knots have formed all through my trapezius and rhomboid muscles. I have a sharp burning pain that starts in between my shoulder blades and travels my shoulders, through my neck, and into my head.
Having a permanent injury in my neck from a car wreck as well as two bulging discs doesn't help, either.
That muscle soreness and tension not only impairs my daily activities and overall performance, but it often disrupts my sleep and wreaks havoc on my emotional well-being, too. I desperately need some relief before it's time to start my day again.
Enter Bob and Brad's T2 Massage Gun.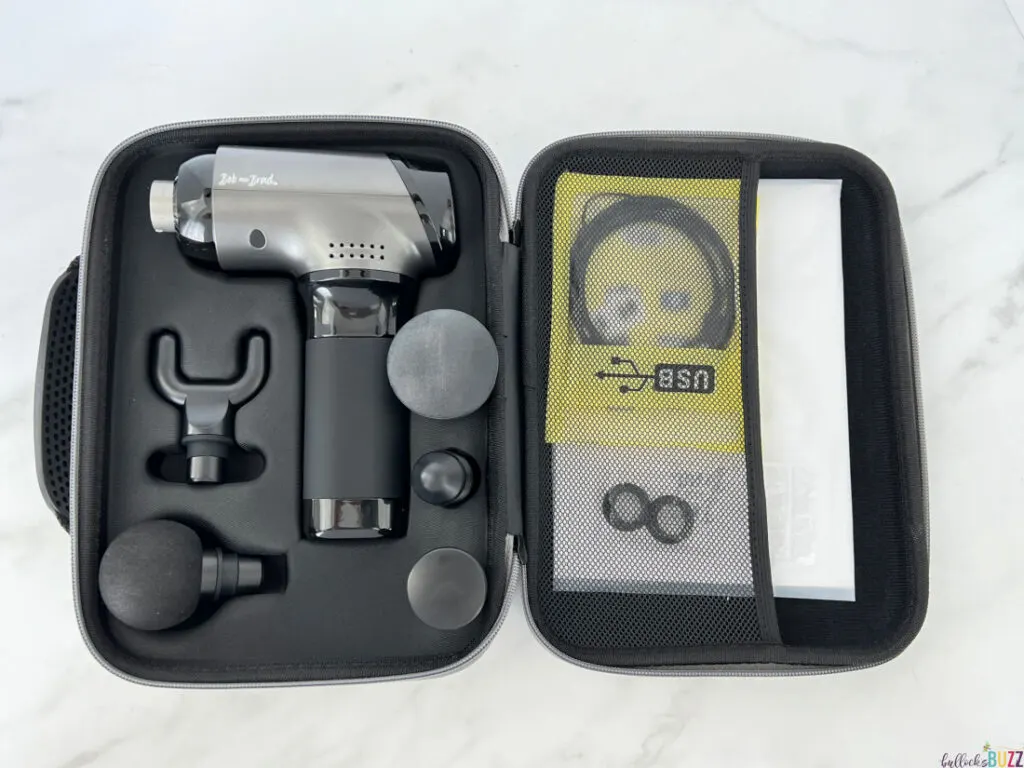 What is the T2 Massage Gun?
Created by top Physical Therapists, Bob and Brad's T2 massage gun is a deep percussion massage gun that uses advanced technology and innovative design to target and alleviate muscle soreness and stiffness, provide deep tissue relaxation, enhance blood circulation, and accelerate recovery.
How Does the Massage Gun Work?
Similar to how any deep tissue massage works, the Bob and Brad's T2 Massage Gun delivers percussions that penetrate deep into the muscle tissue. These percussions help improve and increase blood flow which in turn aids with the removal of lactic acid and other toxins to help reduce muscle soreness and promote faster recovery.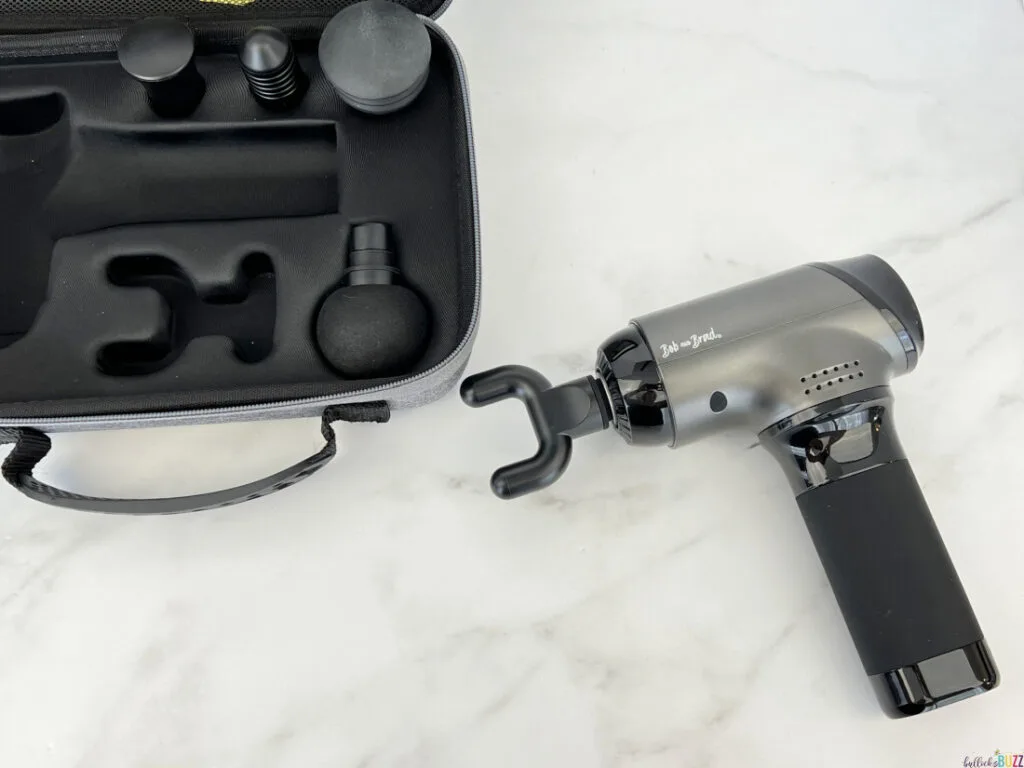 T2 Massage Gun Features
The T2 massage gun has lots of great features that I like including a long-lasting rechargeable battery, a soft and comfortable silicon grip, and a lightweight and ergonomic design that makes it easy to handle and maneuver, especially for self-use.
Two of my favorite features are that it comes with five easily interchangeable massage heads for various muscle groups and five different speed settings. This allows you to have a customizable massage experience based on your needs.
The five massage heads include:
Ball Head – for large muscle groups and joint soreness.
Air Cushion Head – for sensitive body parts and relaxation.
Bullet Head – for joints, deep tissue, trigger points, and small muscle areas like your hands and feet.
Flat Head – for all body parts.
U-Shaped Head – for neck, shoulder, and spine, as well as sensitive muscles and soft tissues.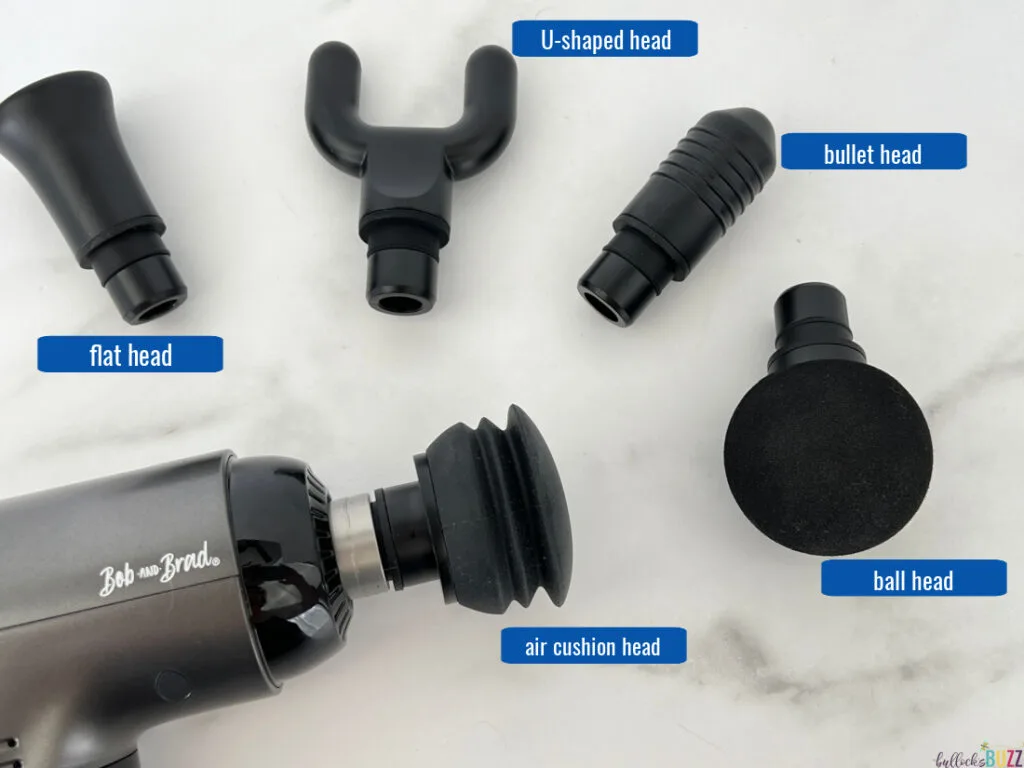 But that's not all. The T2 massage gun is packed with other features including:
A high-performance brushless motor that delivers powerful percussions for deep tissue relaxation. (25W motor runs up to 3200 RPM).
The ability to reach and massage deeply into the muscle tissue (10mm amplitude).
A 4000 mAh battery that lasts around 2 to 5 hours (depending on how you use it) and takes 2 to 3 hours to recharge.
It can be charged with the included type-C USB cable using any regular phone adapter or 5V/2A adapter on a wall socket or power bank.
The quiet operation allows for a peaceful and relaxing massage experience.
An LED screen makes for easy monitoring of speed and battery levels.
Built-in safety features such as 10-minute Auto Off to help prevent overheating and ensure user safety.
It has a lightweight and portable design, making it travel-friendly.
It includes a very nice carrying case to keep everything organized and easy to carry.
Bob and Brad's massage gun is also backed by a reliable warranty, and the company offers excellent customer service, ensuring prompt assistance for any inquiries or concerns.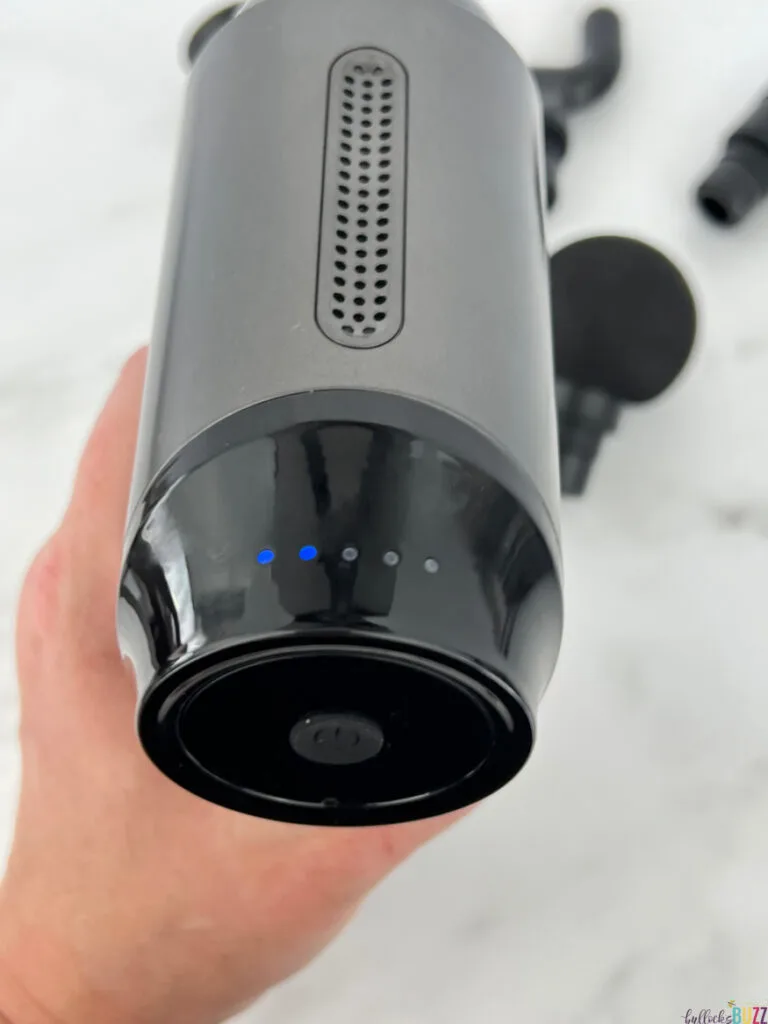 The Benefits of Using a Massage Gun
At-home massage guns have been growing in popularity, and it is easy to see why. The benefits of massage therapy are many and being able to reap those benefits from the comfort of your own home is a big plus – not to mention it is much more affordable than going to a massage therapist regularly.
Massage guns are great for trigger points and tight muscles that can contribute to pain. They also enable you to precisely target both large and small muscles which in turn provides even more benefits including:
improved flexibility
increased range of motion and function.
decreased muscle tension and pain
a reduction in lactic acid buildup (that's what causes muscle soreness)
They can also promote recovery after intense activity or injury by improving the blood flow to the injured area. And they can help improve overall wellness by helping your body get rid of toxins while supporting your immune system by improving the lymphatic flow.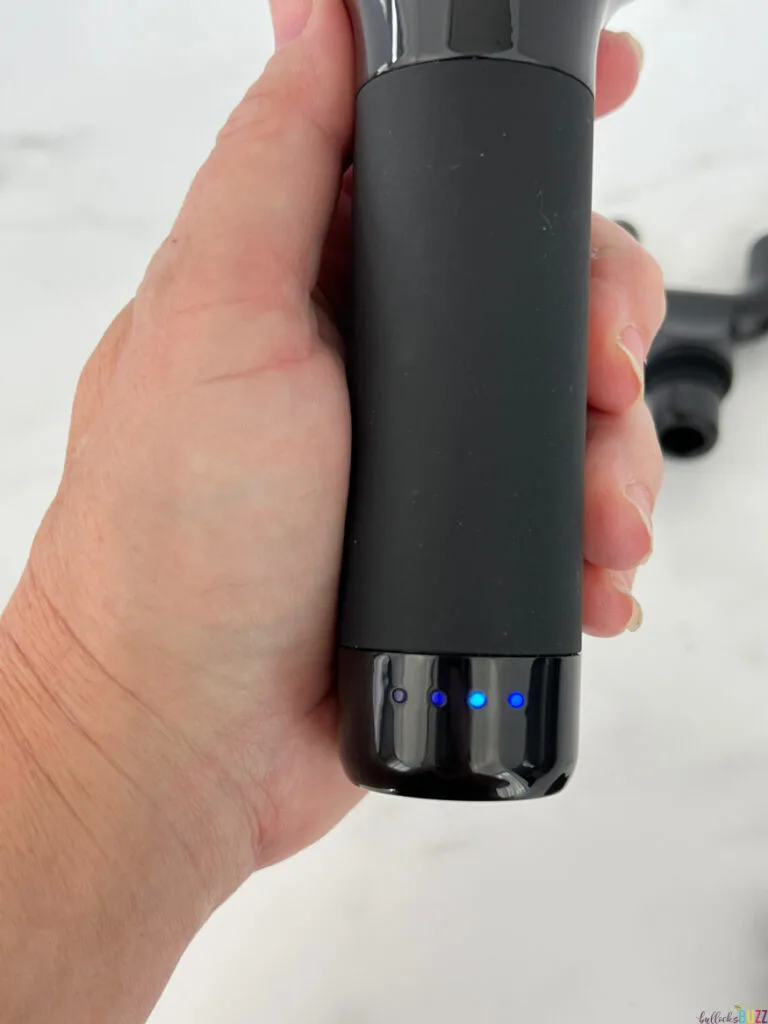 How to Properly Use The T2 Massage Gun
Massage guns can be used on various muscle groups including the back, shoulders, biceps, triceps, calves, shoulders, and more. They can also be incorporated into different routines and serve multiple purposes.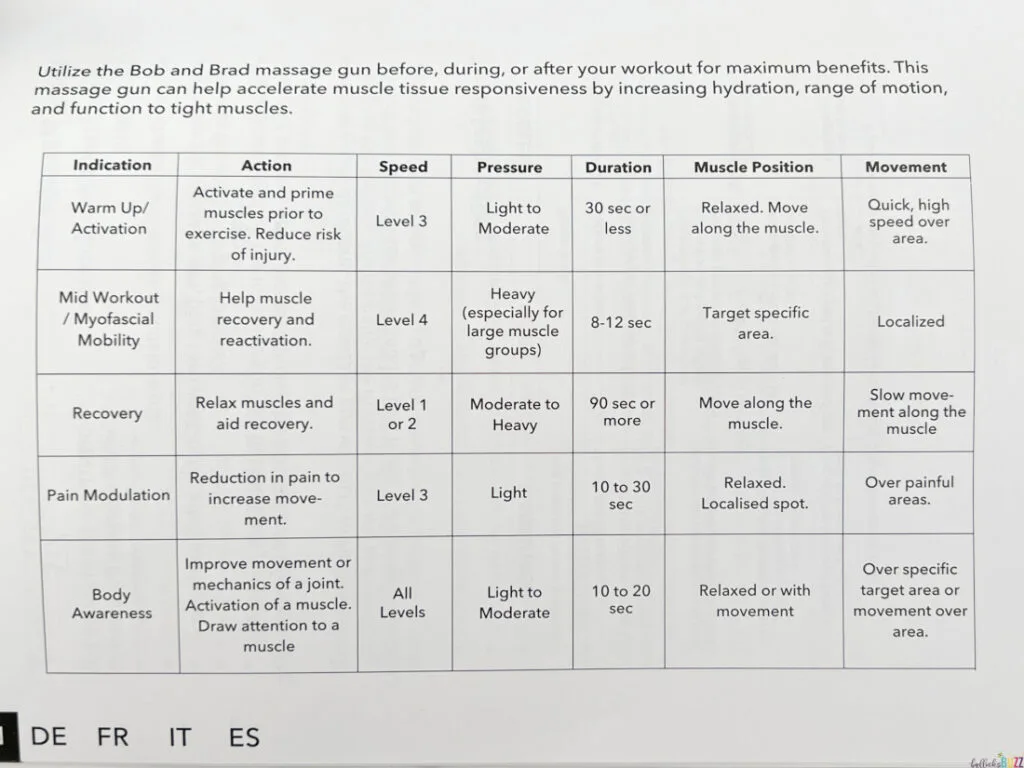 Bob and Brad's T2 massage gun comes with a great little manual that includes a detailed chart listing the common uses along with suggestions about what speed level to use, the type of movement to use, the amount of pressure to apply, and the duration of use.
For example, if you are wanting to use the massage gun for pain modulation, it suggests you use level 3 speed and apply light to moderate pressure for 10 to 30 seconds over the painful area while the muscle is in the relaxed position.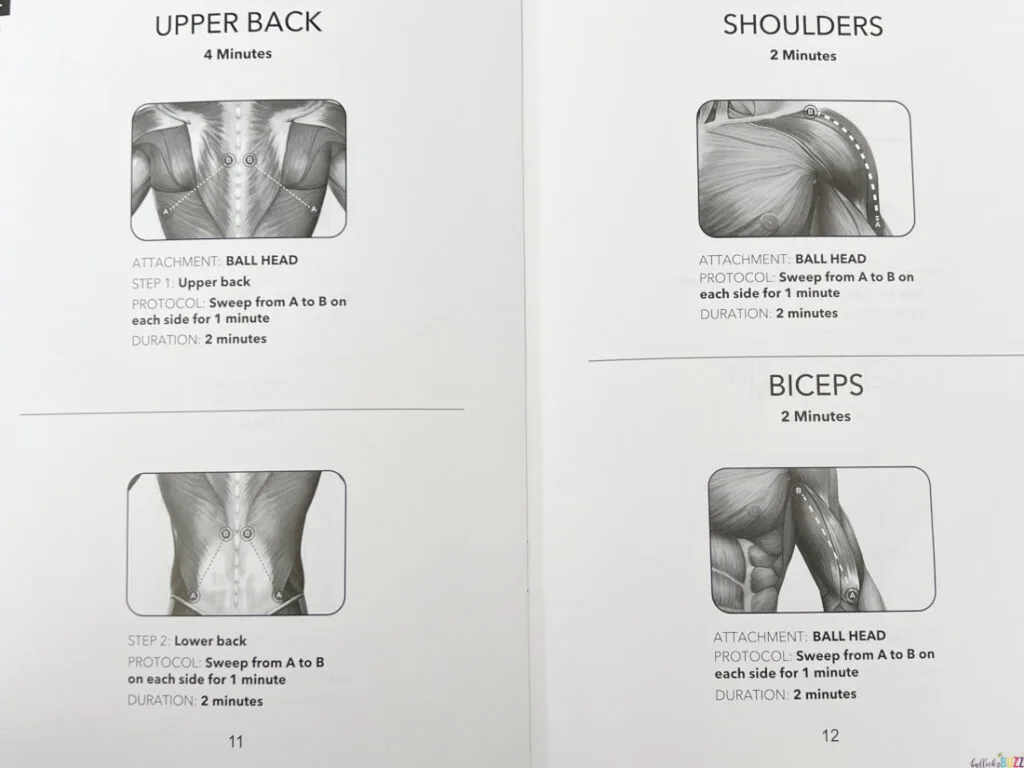 There is also a section that shows illustrations of each body area and tells you the best attachment to use, what motion to use, and how long to use it for.
My Thoughts and Experience with the T2 Massage Gun
Overall I am quite impressed with Bob and Brad's T2 Massage gun. Both my husband and I use it daily and we love it.
It does have a lot of power though, so when I first started using it, I had to keep it on the lowest speed setting and not apply much pressure. The intense percussions took a bit to get used to. My husband, however, was able to use it right off at a higher speed setting and with a bit more pressure.
Now, I use it daily and the difference it is making is huge. I am no longer constantly in pain and I have much a better range of motion in my neck and shoulders. I am also able to sleep a lot better and my mood seems to have improved as well.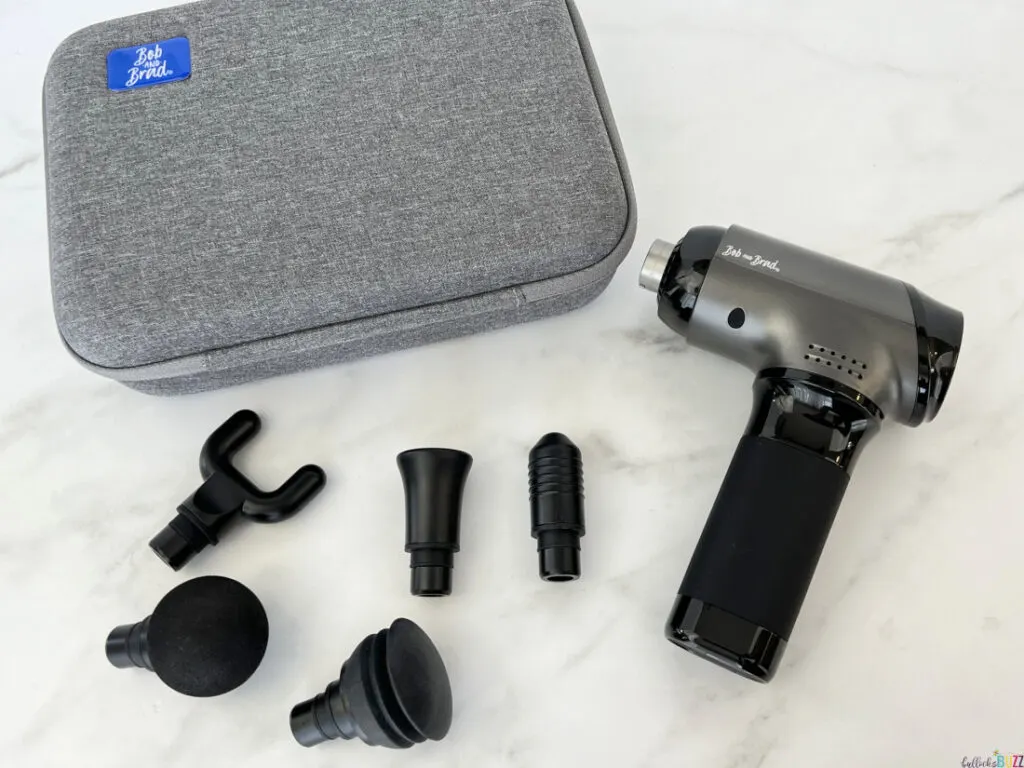 My husband who is an electrician loves it too. It helps the pain in his back and his feet.
With its user-friendly design, adjustable speed settings, interchangeable massage heads, and high-performance motor that delivers powerful percussions, Bob and Brad's T2 Massage Gun enables you to enjoy the benefits of a professional massage right in the comfort of your own home. In my option, it's d must-have tool for anyone seeking relief from muscular pain and tension.
Where Can I Buy Bob and Brad's T2 Massage Gun?
This handy massage gun can be purchased directly through Amazon.com. While the initial purchase price may be higher compared to basic massage tools, I promise you that it is well worth it!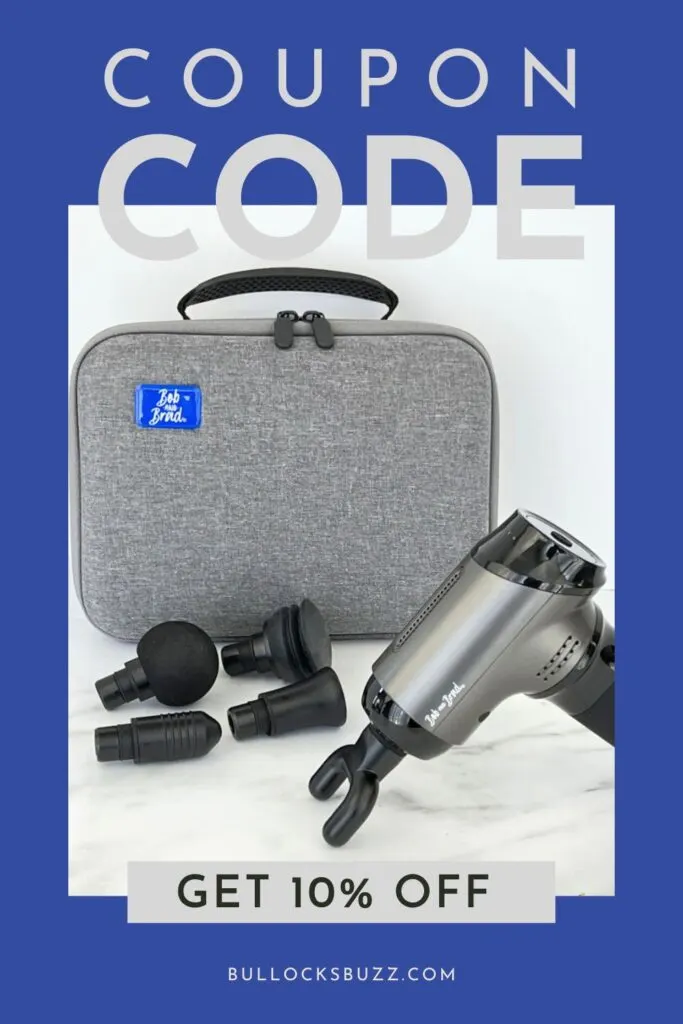 Bob and Brad's T2 Massage Gun Coupon Code
Plus, my readers can save 10% by using the following coupon code:
BobBradT2
Also, last time I checked there was a $25 off coupon on Amazon that you can use as well. I don't know how long that one will last, so hurry over and get yours now!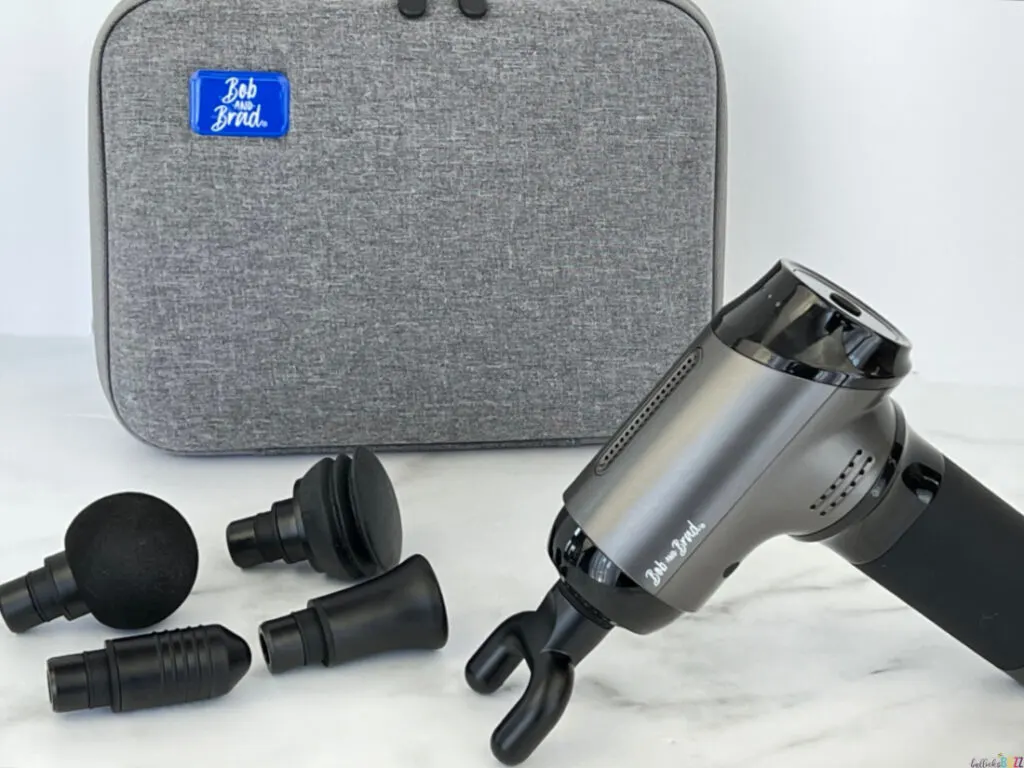 Conclusion
If you're looking for an effective and convenient way to relieve muscle tension and promote faster recovery, Bob and Brad's T2 Massage Gun is an outstanding choice. With its advanced features and reliable performance, it stands out as a top-notch massage gun!